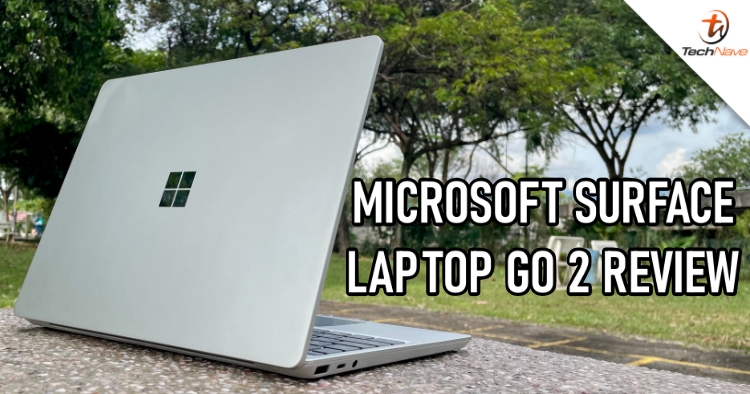 The Microsoft Surface lineup has come a long way since its debut a decade ago, with Microsoft now having an offering at essentially every form factor and price point. As for the Microsoft Surface Laptop Go 2 that we're reviewing today, it sits somewhere between the Surface Go 3 tablet and the Surface Laptop 4, which is rather apt given how the laptop seems to be a 'fusion' between the two.
With a starting price of RM3588, it's also the most affordable laptop in the Surface series. So, is this the perfect laptop for you? Well, let's dive in and find out together, shall we?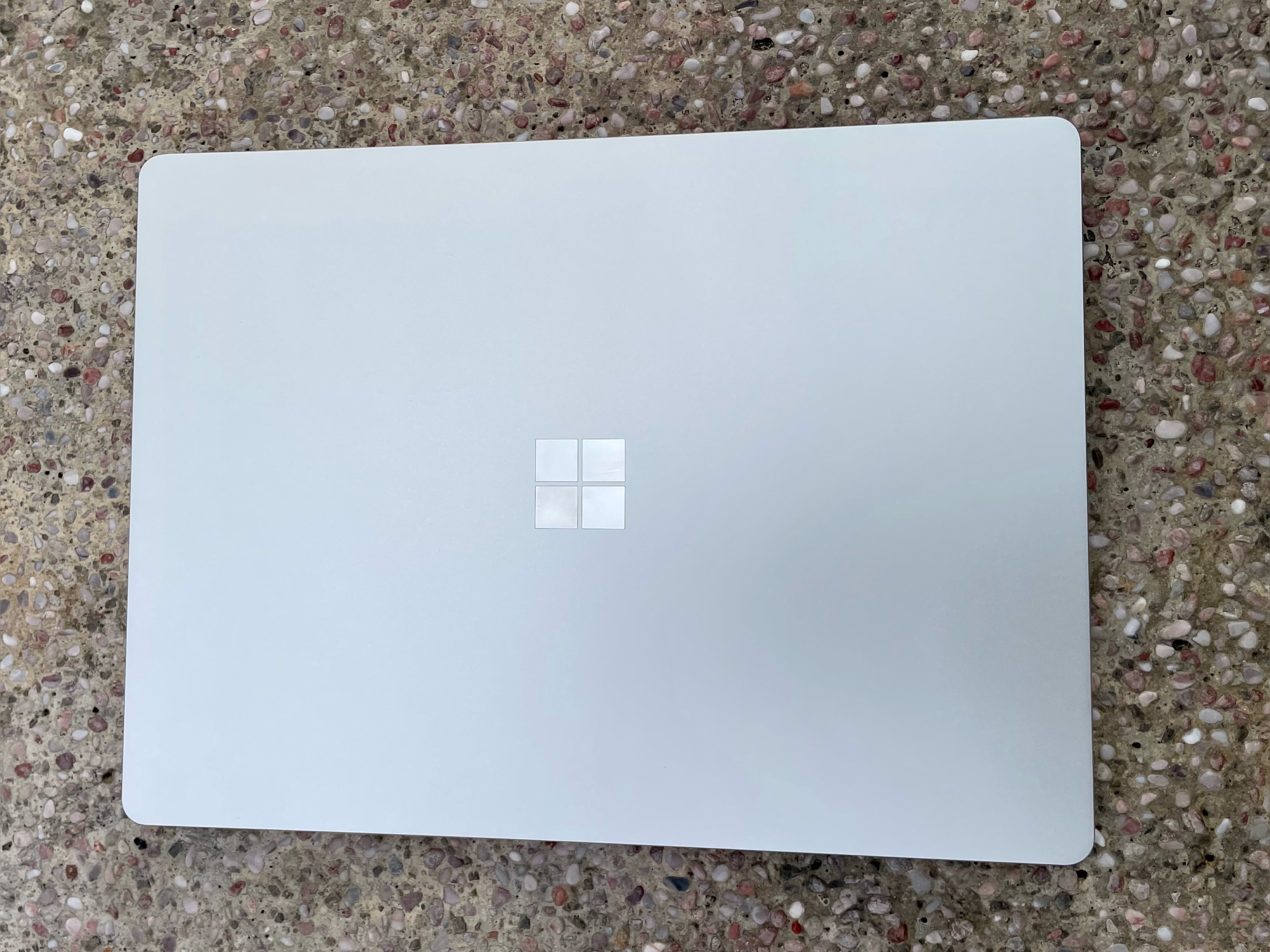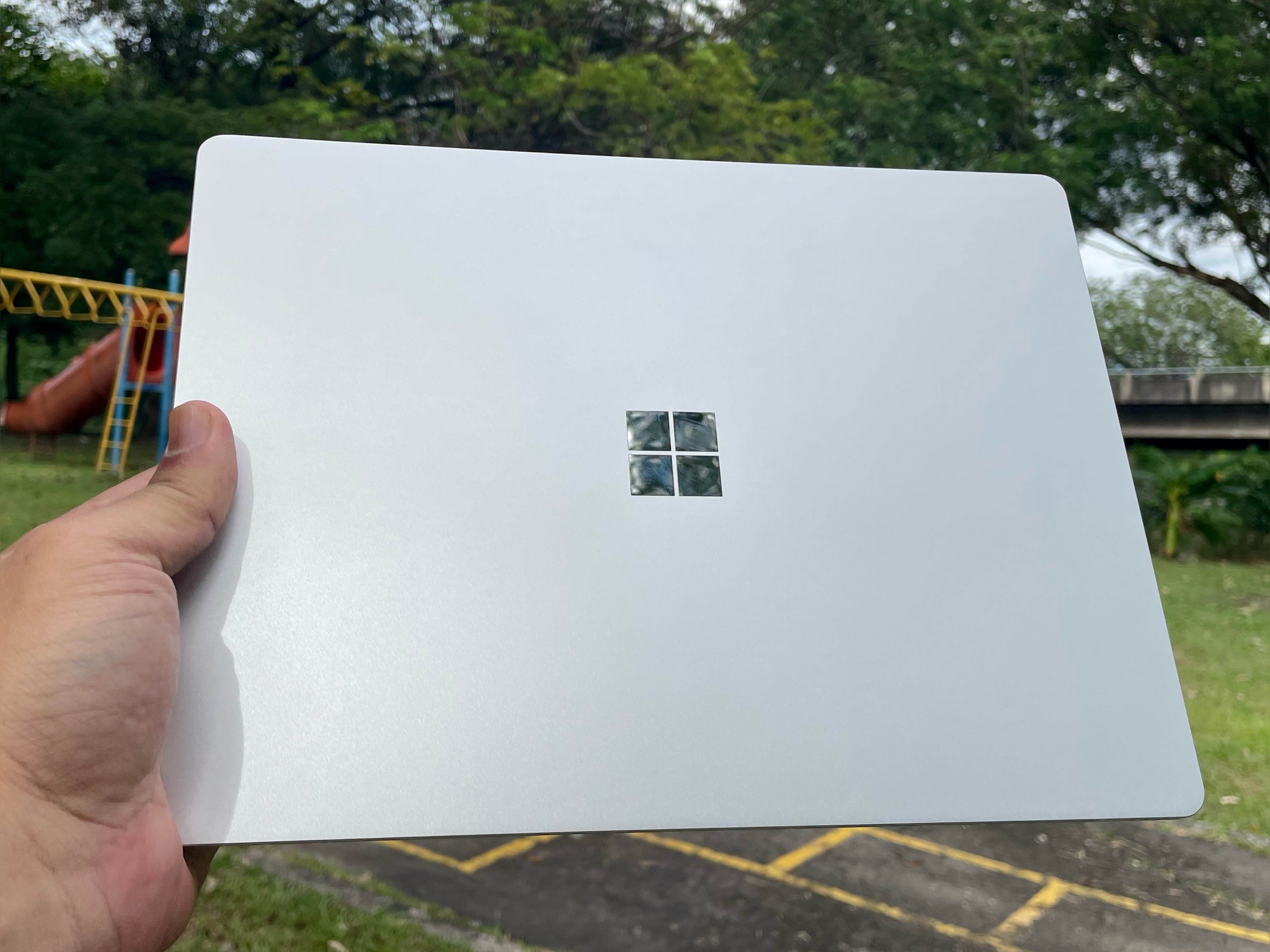 The back design is clean and minimalistic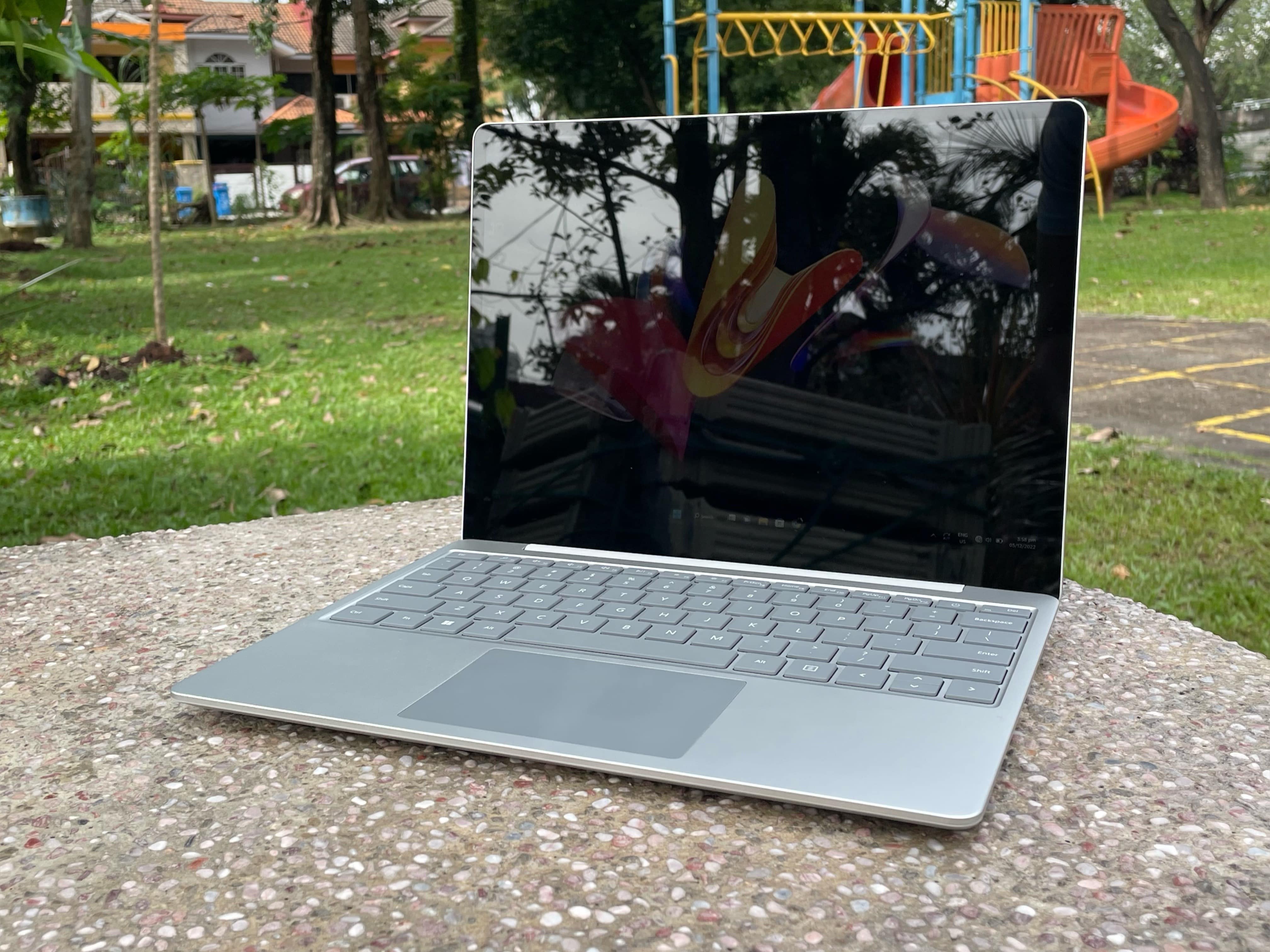 The front view
At first glance, the Surface Laptop Go 2 looks indistinguishable from its predecessor and may be mistaken for the bigger, more powerful Surface Laptop 4 if not for its compact size. It sports a sleek, minimalistic design with nothing but the Microsoft logo in chrome at its rear, which is consistent with the rest of the Surface lineup.
Despite being Microsoft's most affordable laptop, the Surface Laptop Go 2 still exudes a premium feel thanks to its excellent build quality that's unmatched at this price range. It's sturdy with close to zero chassis flex, the deck and lid are made out of aluminium and it's so well-engineered that you can open the laptop's lid with one finger.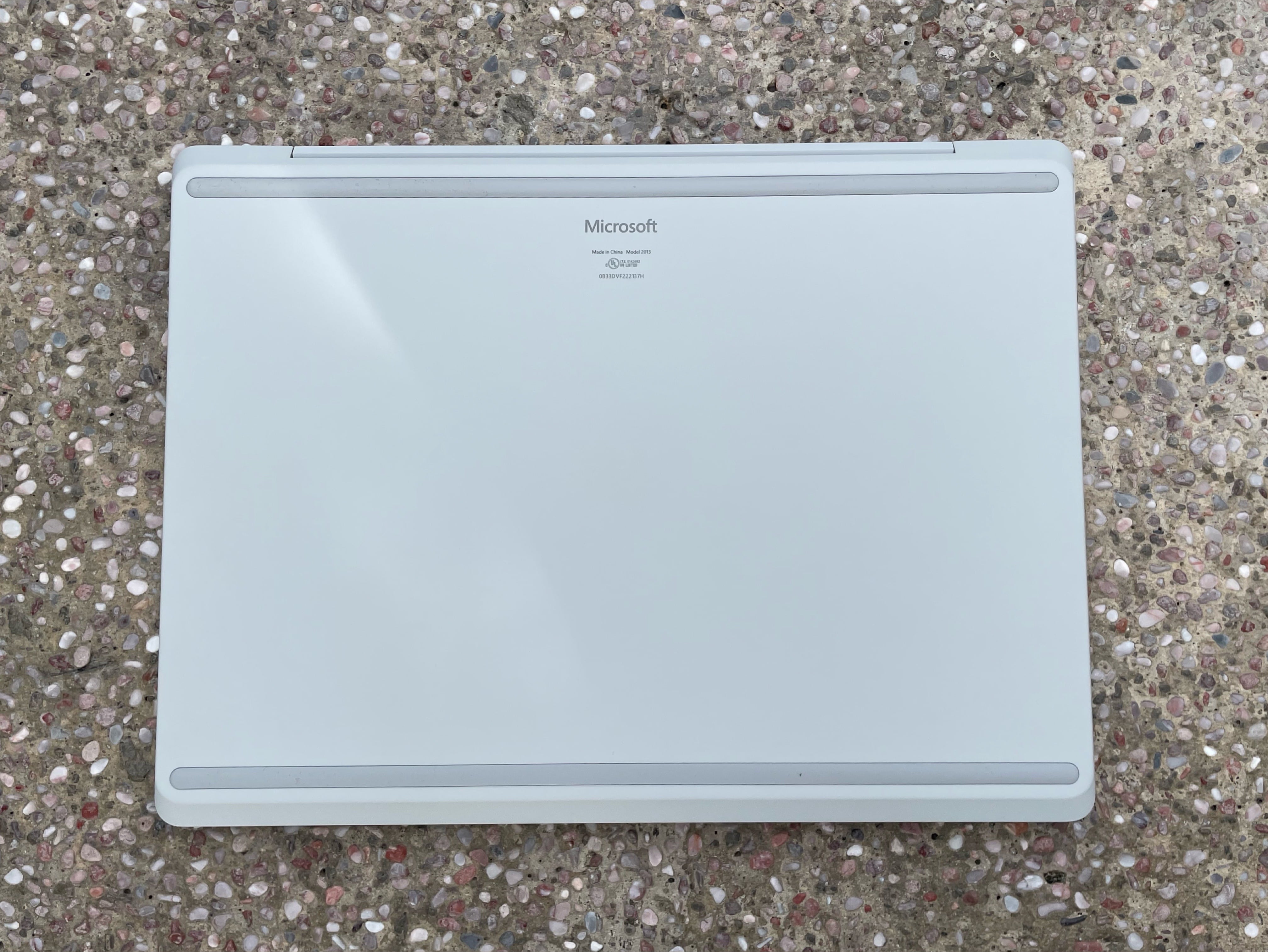 The polycarbonate bottom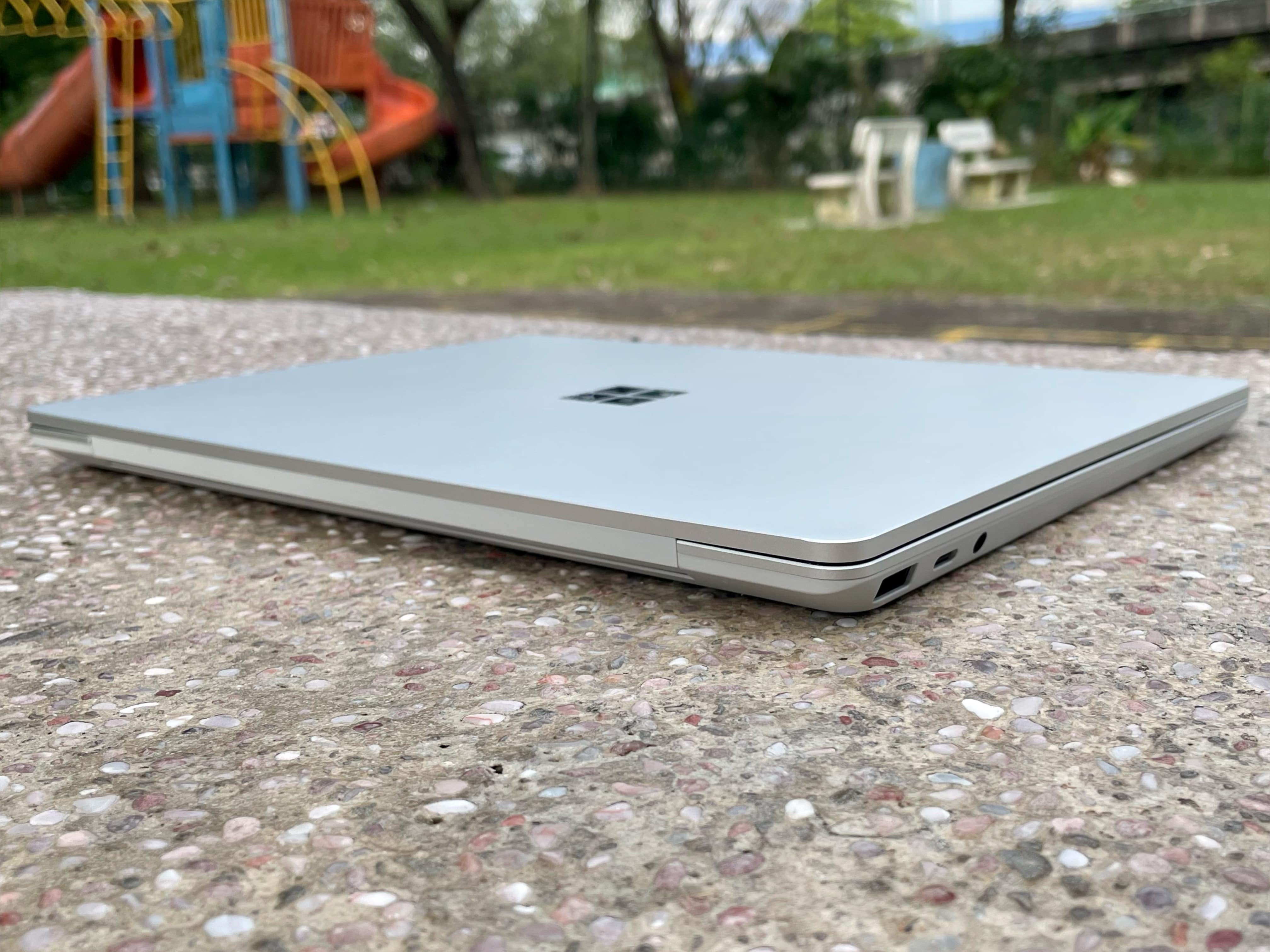 The side profile of the Surface Laptop Go 2
The only part that is not so premium is the laptop's polycarbonate bottom, though I think that's a fair trade-off as it keeps the laptop super light at only 1.127kg. Specifically, the material is made out of a polycarbonate composite resin with glass fibre and 30% post-consumer recycled content. This is part of Microsoft's sustainability initiative, as the parts can easily be replaced by users, which improves the Surface Laptop Go 2's repairability immensely too.
In Malaysia, the laptop is available in a singular "Platinum" colour option, which Microsoft dubs "a durable, cool metal finish". Personally, I'm a big fan of this colour though admittedly, more colour variants would definitely be welcomed.
Moving on to the display, the Surface Laptop Go 2 retains the same screen as its predecessor, which is a 12.4-inch Pixel-Sense display with a resolution of 1536 x 1024 pixels. It also sports a 3:2 aspect ratio that's perfect for productivity as it gives more vertical space to work with, though the bottom bezel is rather too thick for my liking.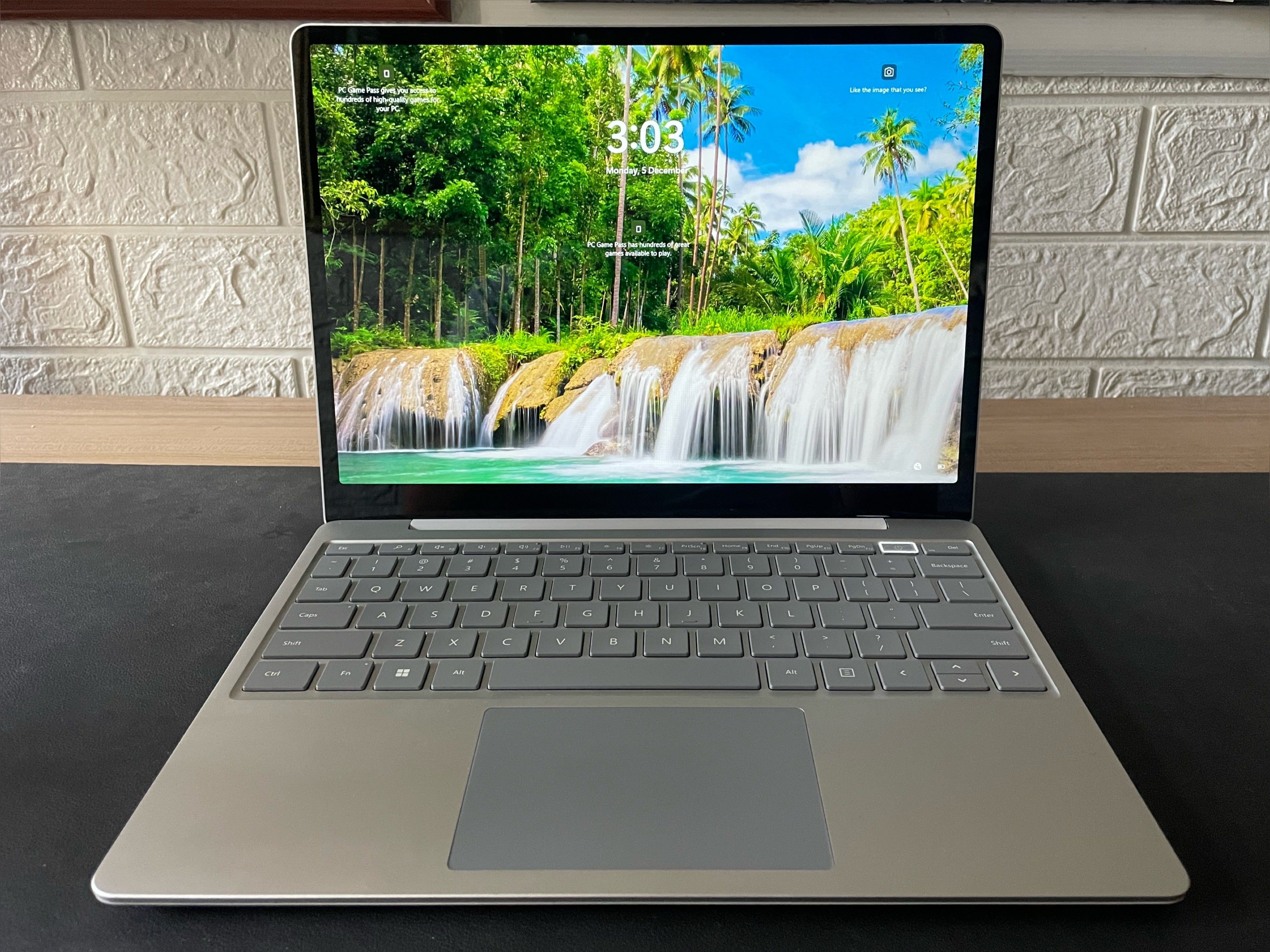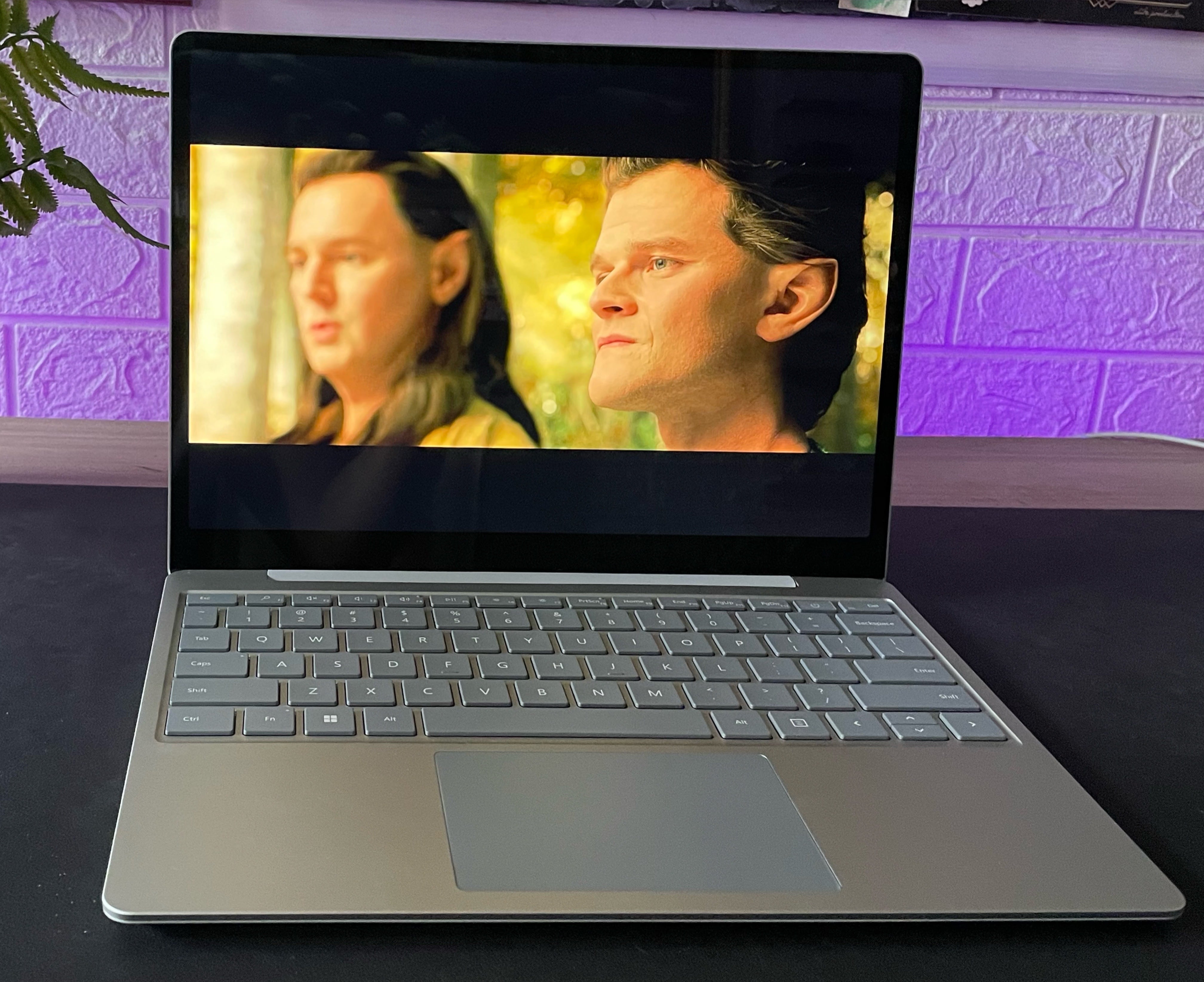 The display is vibrant and has no ghosting or colour-shifting issues
The screen is not exactly the sharpest display on the planet, but it's colour-accurate and well-calibrated enough that I was confident in using it for photo editing. The 330 nits brightness is pretty standard at this price and is sufficient most of the time unless you're using the laptop outdoors in direct sunlight.
Moreover, the touch input works perfectly too, though do note that the display is not compatible with Microsoft's Surface Pens for stylus input. To complement the screen, Microsoft included Omnisonic speakers with Dolby Audio Premium which can get pretty loud and has above-average sound quality. It's definitely not as good as the bigger Surface Laptop 4's speakers, but that's to be expected for a device with the Surface Laptop Go 2's compact size.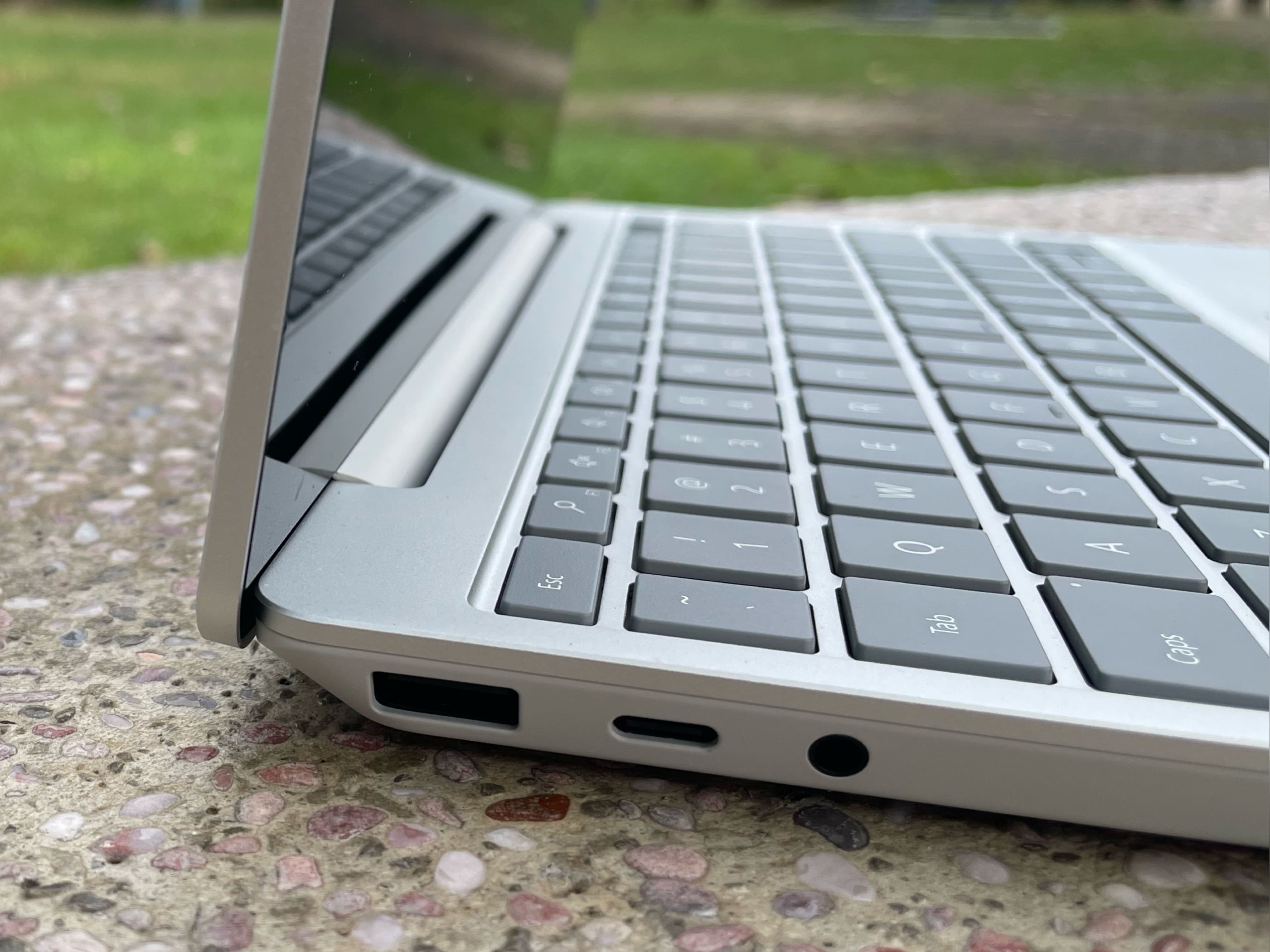 The right side houses 1x USB-A, 1x USB-C and a 3.5mm audio jack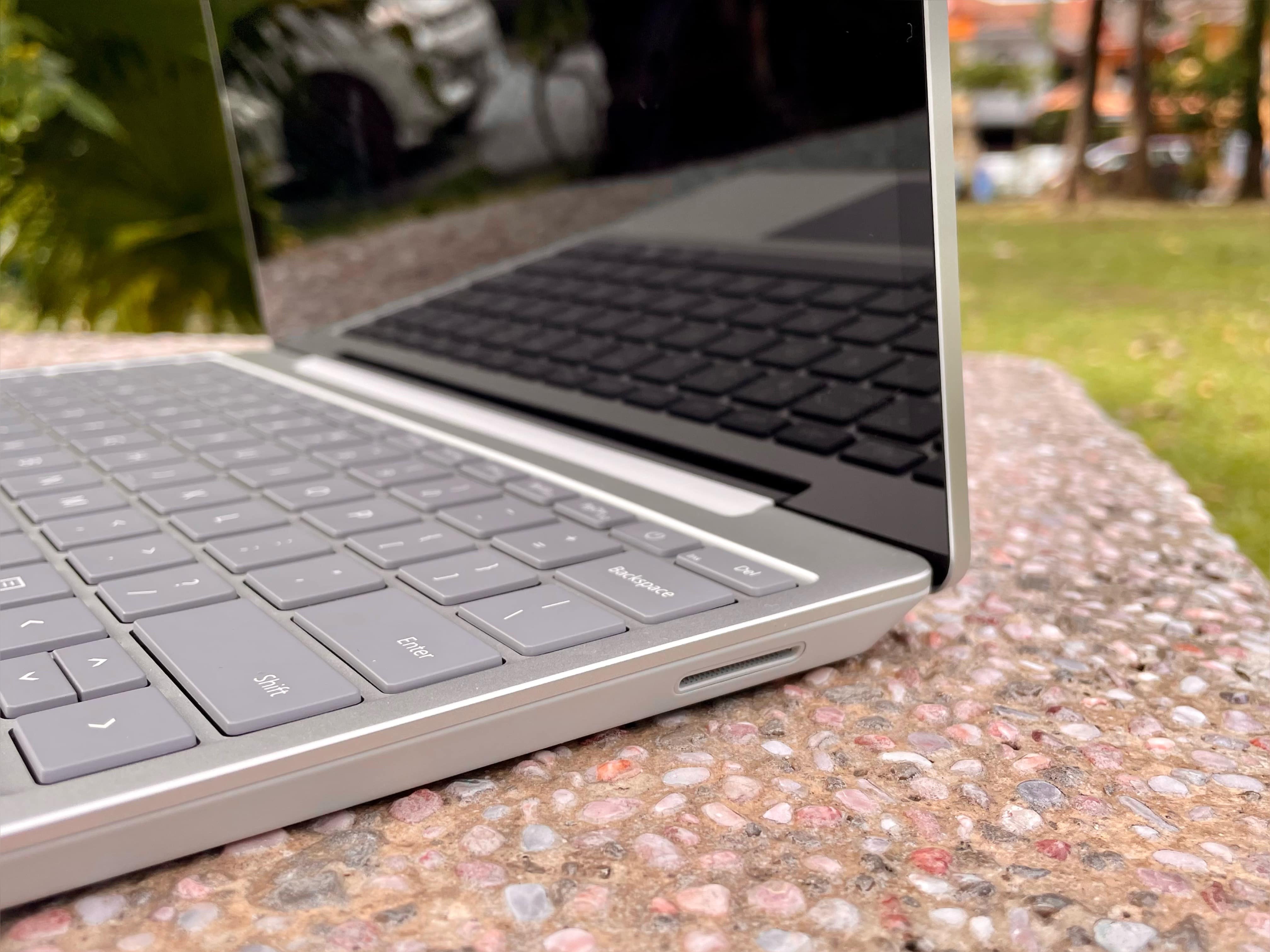 The proprietary Surface Connect port is on the right side
In terms of I/O, the Surface Laptop Go 2 is equipped with a standard set of ports, which is more than enough for most users. On the left side of the device, there's a USB 3.2 Type-A port, a USB Type-C port (with power delivery) and a 3.5mm audio jack.
Meanwhile, on the right side, there's the proprietary Surface Connect port for you to charge the laptop using the included 39W power adapter. It has a magnetic mechanism, which will ensure that you won't damage your device if you accidentally trip on the cable, which saved me from damaging this review unit several times during my testing.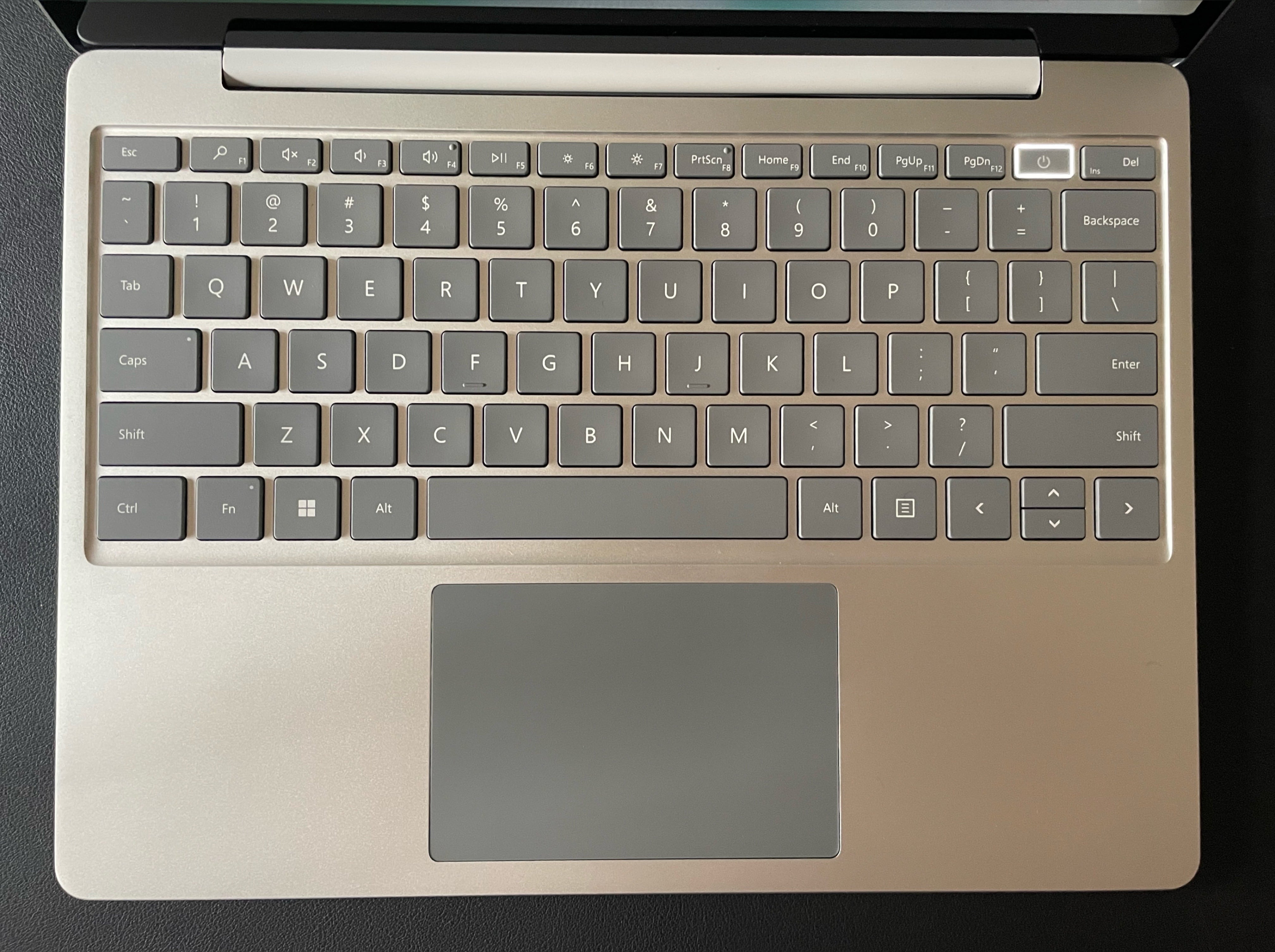 The Surface Laptop Go 2 has an excellent keyboard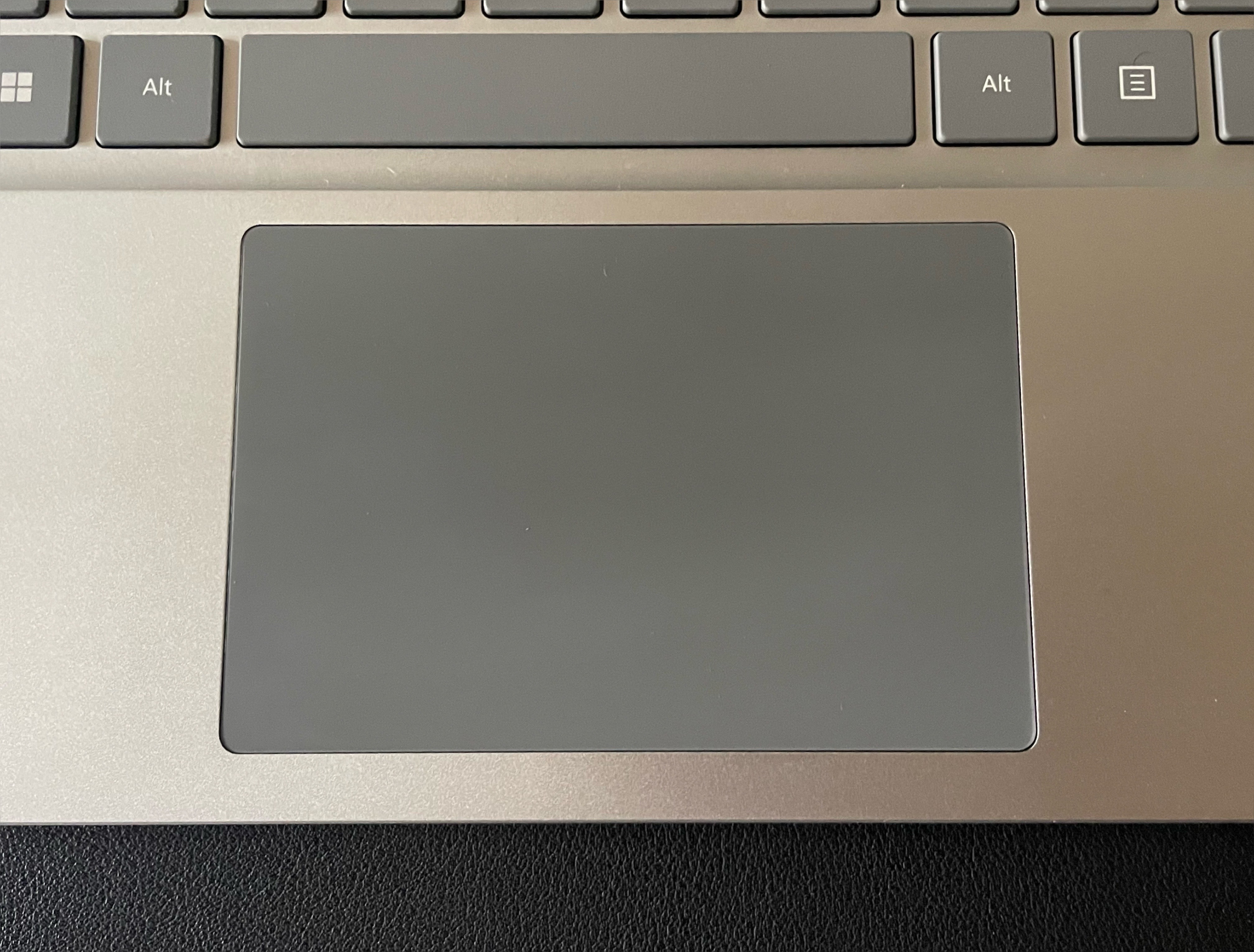 A closer look at the trackpad, which utilises a diving board design
For a compact laptop, the Surface Laptop Go 2 has a stellar keyboard, which is by far one of the best at this price point. Typing on the device is a pleasure with well-spaced keys, satisfying travel and excellent feedback. The only downside is that there's no backlight. As for the touchpad, it supports precision gestures and works perfectly fine, albeit it is a bit small for my liking.
Moving on, the webcam above the screen can record videos in 720p resolution and is serviceable for video calls. Speaking of which, you can expect good audio quality during video or voice calls thanks to the laptop's dual far-field studio mics. Since the webcam doesn't have IR, you can't log in to the laptop with face recognition. Thankfully, there's a fingerprint scanner embedded in the keyboard for you to still use Windows Hello for easy log in.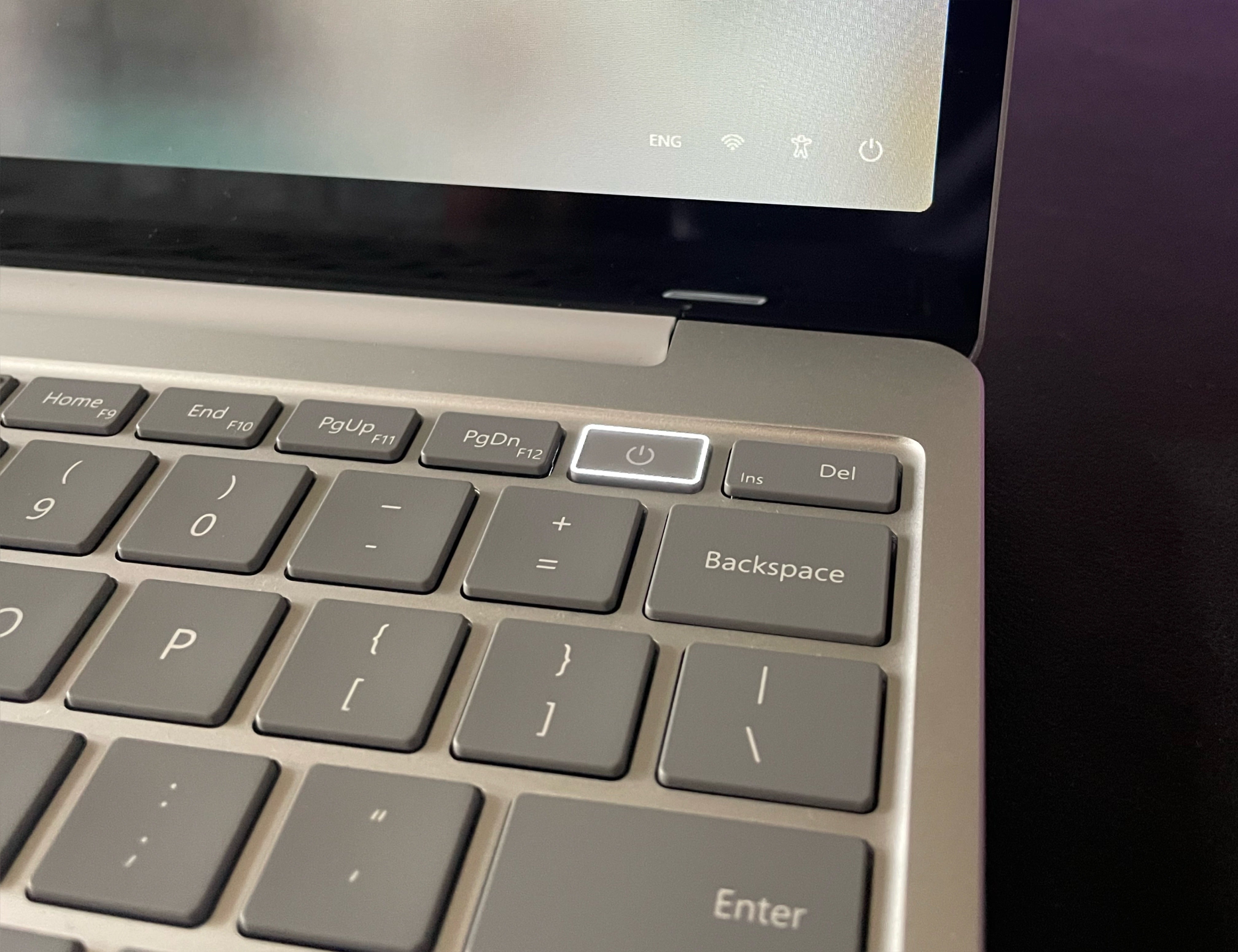 There's a fingerprint scanner embedded into the power button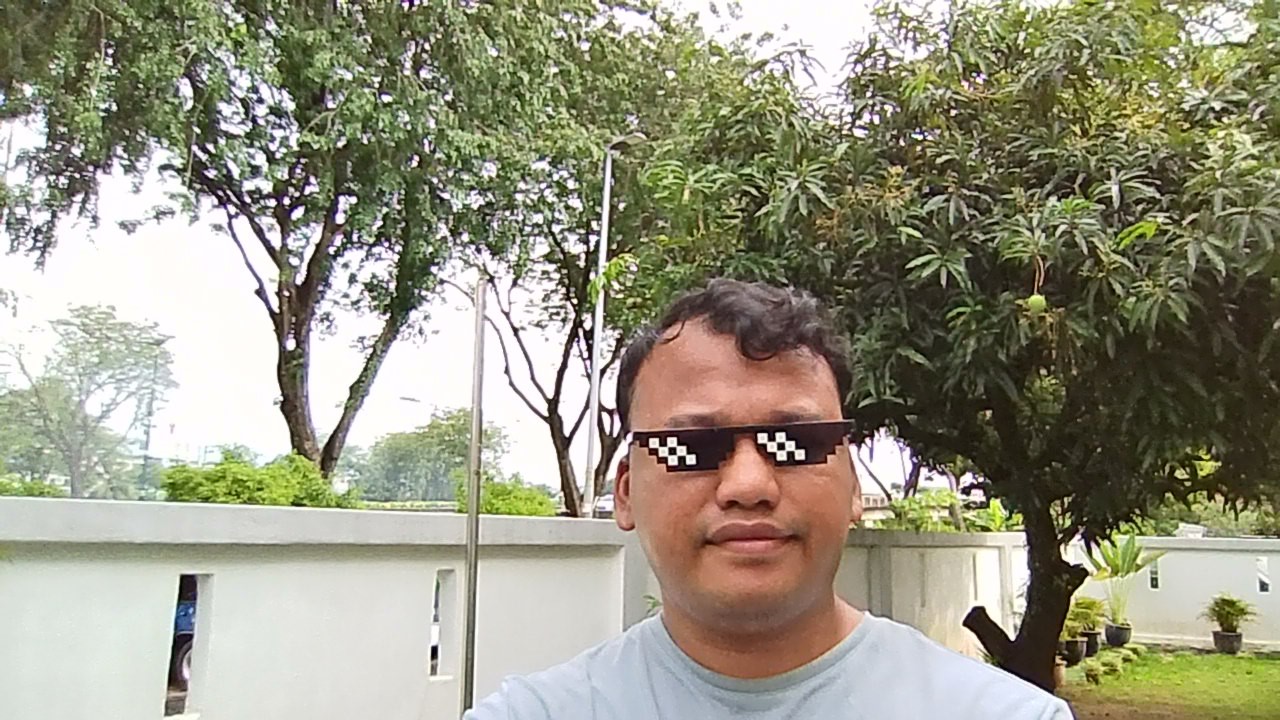 Sample photo from the webcam
Now, let's move on to performance. The Surface Laptop Go 2 is definitely an upgrade from its predecessor thanks to the Quad-Core 11th Gen Intel® Core™ i5-1135G7 processor, which is quite powerful for a laptop in this form factor. Besides that, you also get 8GB of LPDDR4x RAM and either 128GB or 256GB of SSD storage. This review unit came with 128GB of storage, which is quite limiting, though thankfully, you can upgrade it in the future as it's easily swappable.
What's not upgradable is the 8GB LPDDR4x RAM, which is fast becoming the bare minimum memory requirement these days. Nevertheless, these specs should be enough for productivity tasks such as typing documents, creating PowerPoint presentations and browsing the web (unless you're the type of person who opens 100 Chrome tabs at once). For the past month or so, I've been writing my articles and performing light photo editing on this device with no issues.
Don't expect to be playing AAA games though as there's no dedicated GPU, but that's expected for this price range. Nevertheless, the Intel Iris Xe graphics should be enough to run games such as Dota 2 or Counter-Strike at a respectable frame rate. Do note that the bottom of the laptop can get quite warm when pushed to the limits and the fan noise can get quite annoying but things never got too uncomfortable during my testing.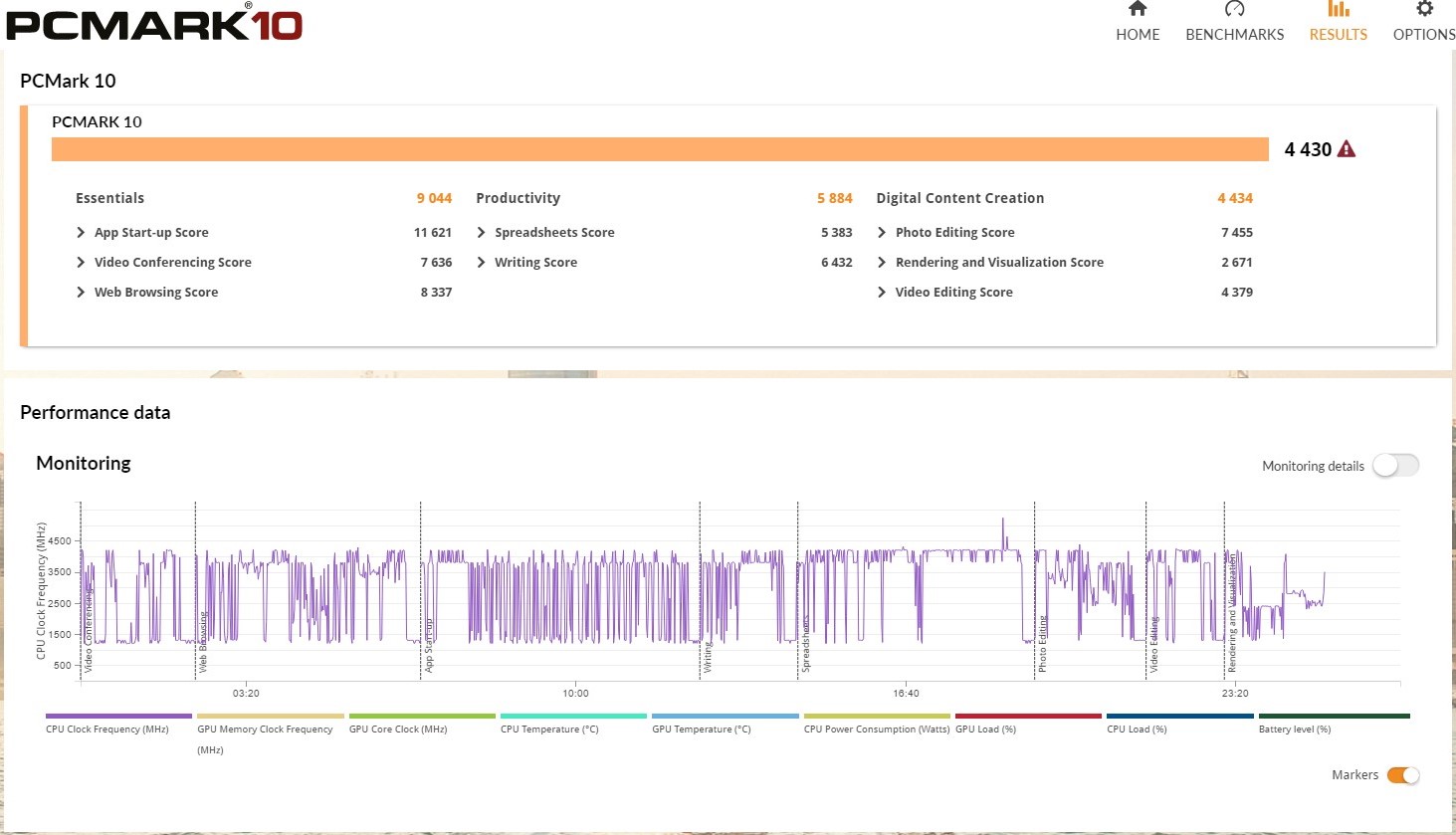 PCMark 10 benchmark result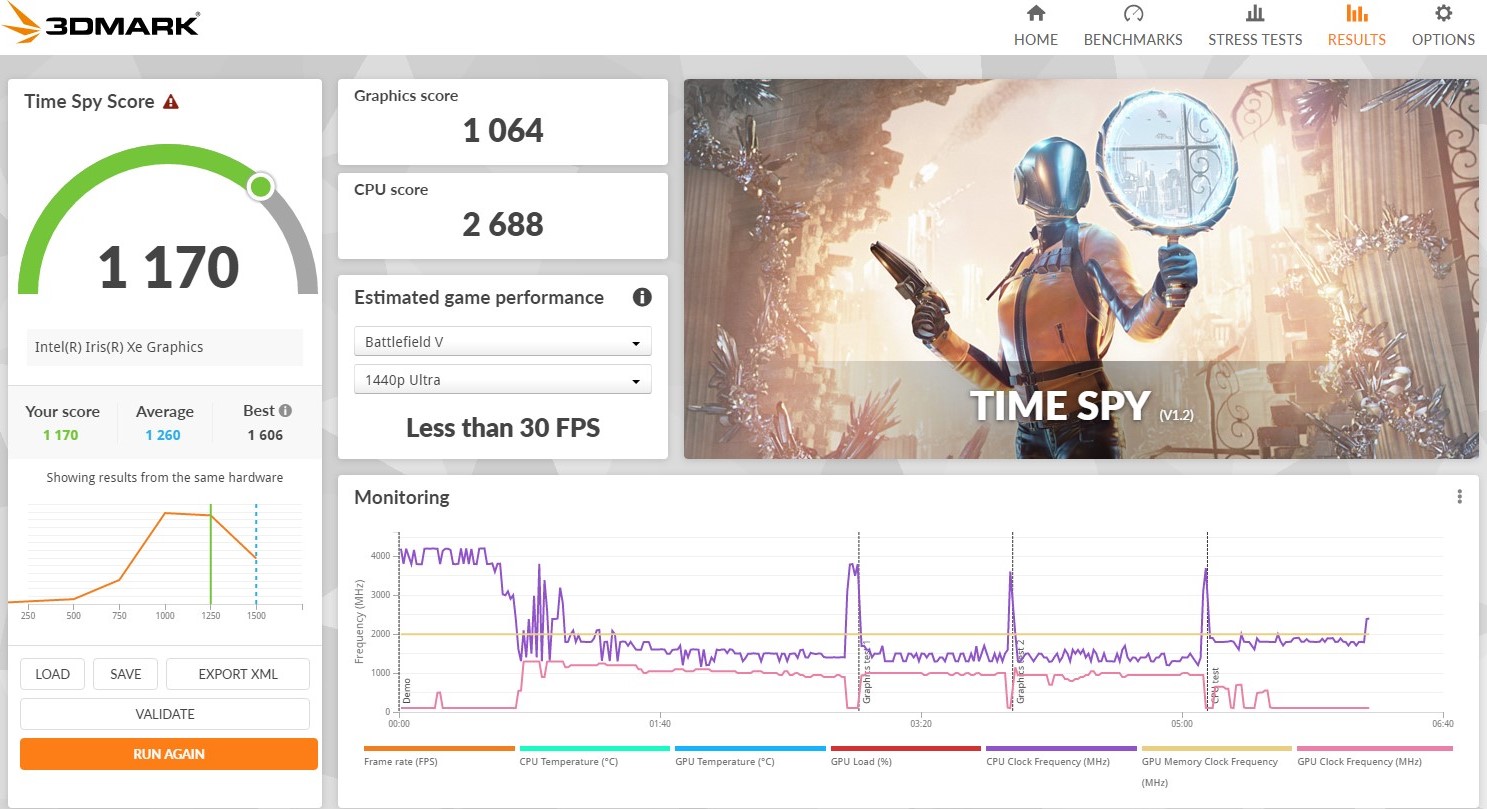 3DMark benchmark result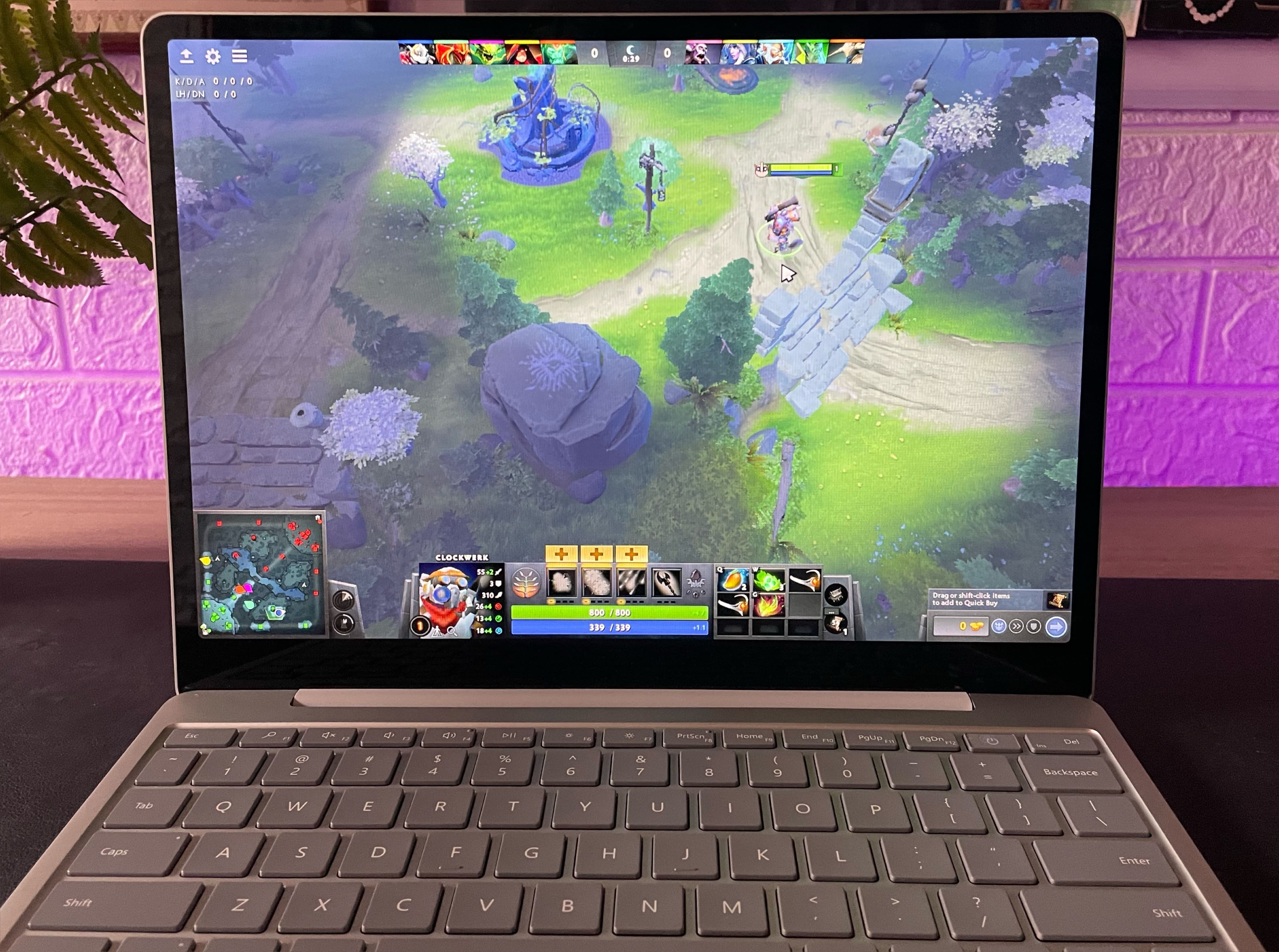 The laptop can run light games such as Dota 2 pretty well
In terms of battery, the Surface Laptop Go 2 has a 41Wh cell that Microsoft claims can last up to 13.5 hours of typical device usage. Like most manufacturers out there, that claim is quite a stretch. I've mostly gotten around 7 hours with the screen at half brightness, which itself is pretty good for a Windows machine, more so at this compact size.
Overall, I'm pleasantly impressed with the Surface Laptop Go 2, especially for its premium quality build that's one of the best in this price range. The compact size and light weight also stays true to its 'Go' moniker as this is definitely a laptop suitable for those who want to be productive while on the go.
That being said, the screen is rather average and there are definitely other laptops out there with comparable specs but sport a better display in this price range. If you don't really prioritise portability and build quality, then the ASUS Vivobook 15X OLED might be the better choice.
If you're interested in purchasing the Surface Laptop Go 2, do visit your nearest IT World or Gloo concept stores. You can also browse the online IT World Education Store and Gloo Education Store to find out more about the laptop as well as the stores' other offerings.
So, what do you guys think of the Surface Laptop Go 2? Share your thoughts with us in the comments below and stay tuned to TechNave for more tech reviews and news such as this!
Tech specs and features
12.4-inch Pixel-Sense display, 10-point multi-touch, 1536 x 1024 pixels resolution, 3: 2 aspect ratio, 330 nits brightness
Quad-Core 11th Gen Intel® Core™ i5-1135G7 CPU

Intel Iris Xe
8GB LPDDR4x RAM
128GB or 256GB removable SSD

Ports: 1x USB-C, 1x USB A, 1x 3.5mm audio jack, 1x Surface Connect port
Full-size keyboard
720p HD f2.0 camera (front-facing)
Dual far-field Studio Mics
Omnisonic speakers with Dolby Audio Premium
WiFi 6, Bluetooth 5.1

41Wh battery, 39W Power Supply
Dimensions: 278.2mm x 206.2mm x 15.7mm
Weight: 1.127kg
Price: RM3588
Pros and Cons
Pros: Premium build quality, excellent keyboard, replaceable SSD and super light at 1.127kg
Cons: Keyboard is not backlit, average screen and webcam
Conclusion: A capable and portable laptop for those who want to be productive while on the move, with one of the best build qualities in its price range