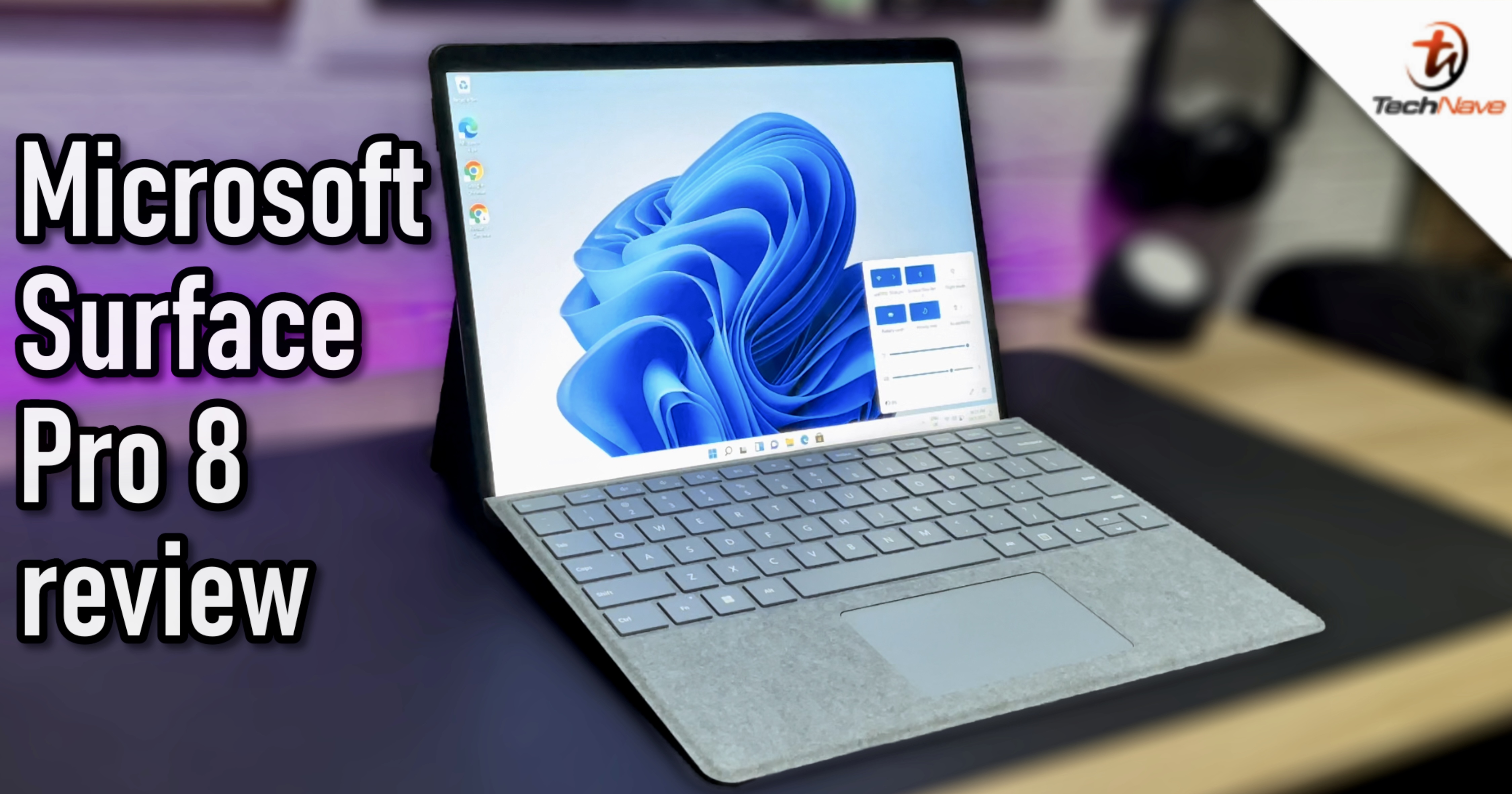 Since its debut back in 2013, the Microsoft Surface Pro lineup has pretty much changed the way we see 2-in-1 devices. While not perfect, the original Surface Pro proved that it is possible to have a full Windows desktop experience on a compact tablet form factor.
Now some 9 years later, Microsoft has refined the lineup with the release of the Surface Pro 8 - the tech giant's most powerful 2-in-1 device yet. However, at a hefty starting price of RM4950, and up to RM8750 for its most specced out variant (without the keyboard case and stylus), is the Surface Pro 8 worth it? Well, let's find out together, shall we?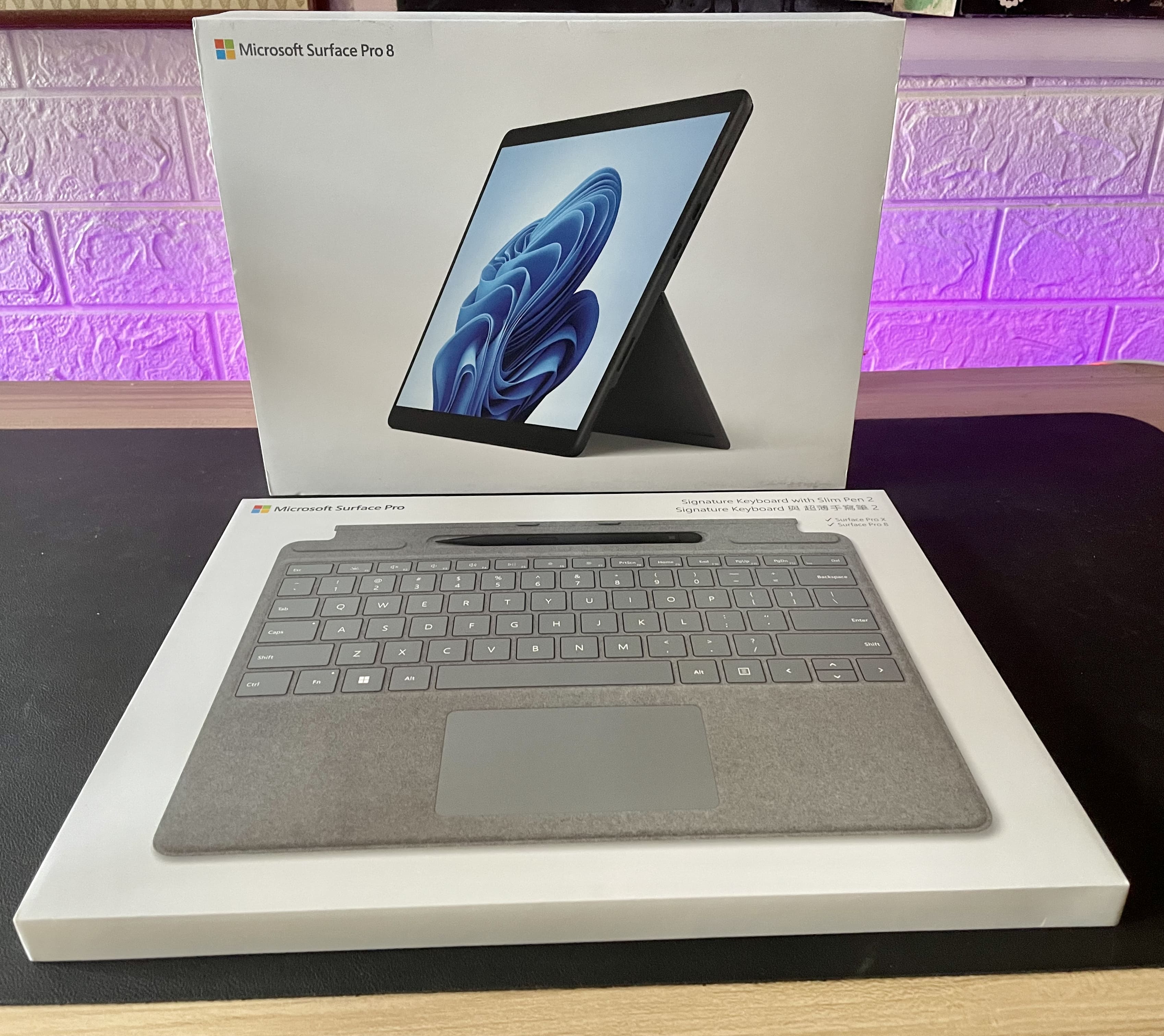 The packaging of the Surface Pro 8 and its accessories.
At first glance, the Surface Pro 8 looks very similar to its predecessors. The iconic built-in kickstand is still there, assuringly sturdy and surprisingly robust with its solid metal hinge.
The kickstand is adjustable to your preferred viewing angle, from fully vertical to just slightly raised off the surface you put it on. However, like previous Surface Pros, it's not that comfortable or stable when placed on your lap, unlike a traditional laptop.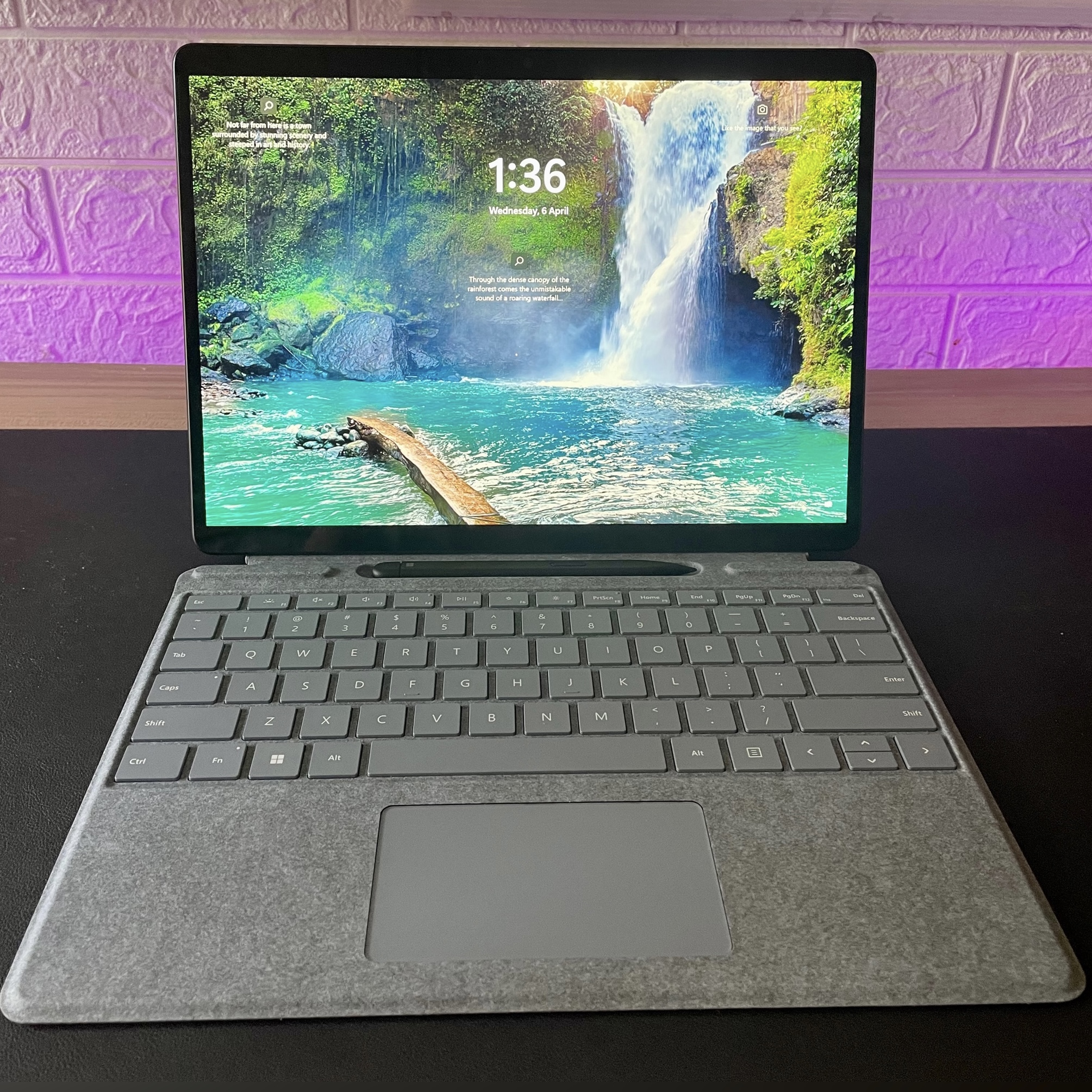 Front view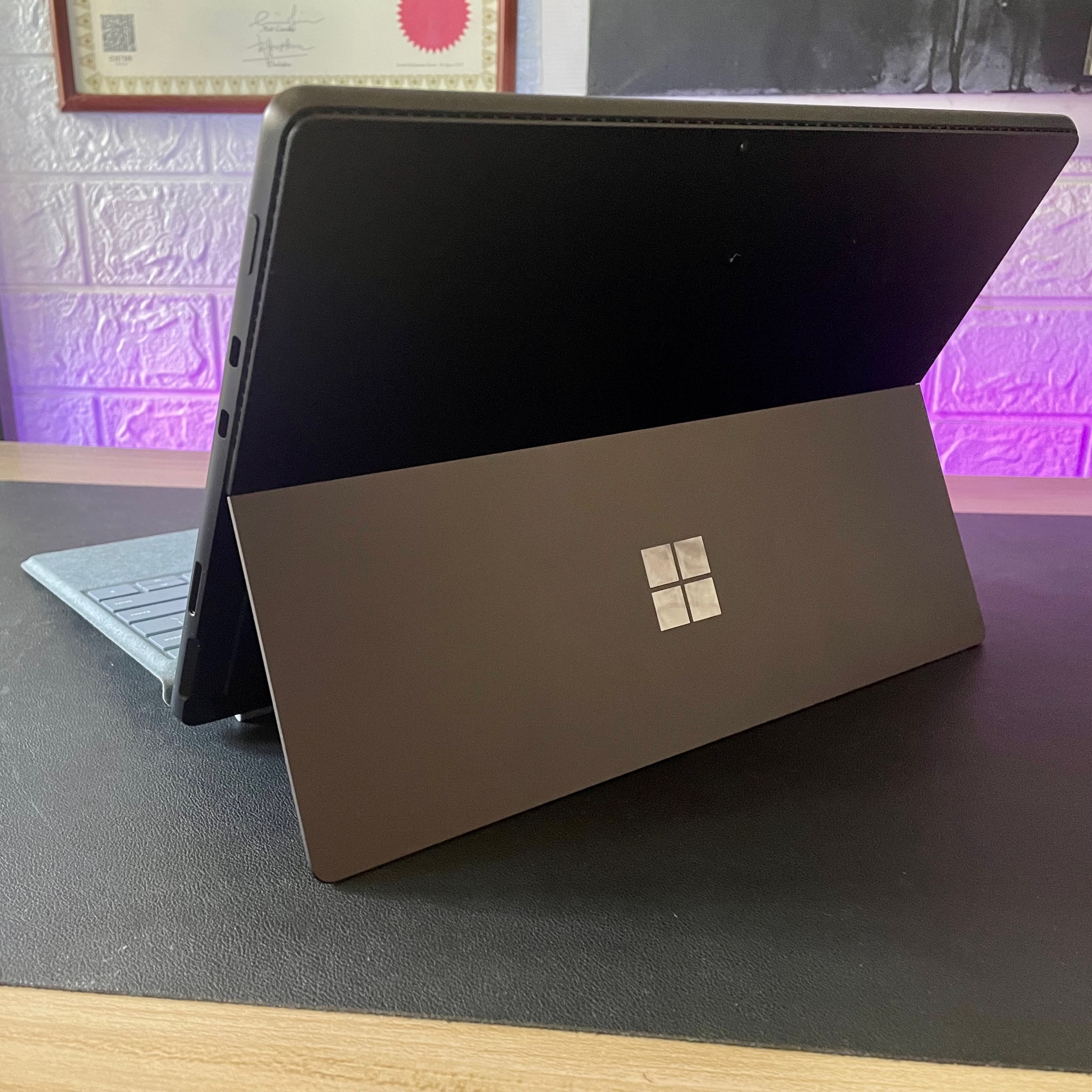 The iconic kickstand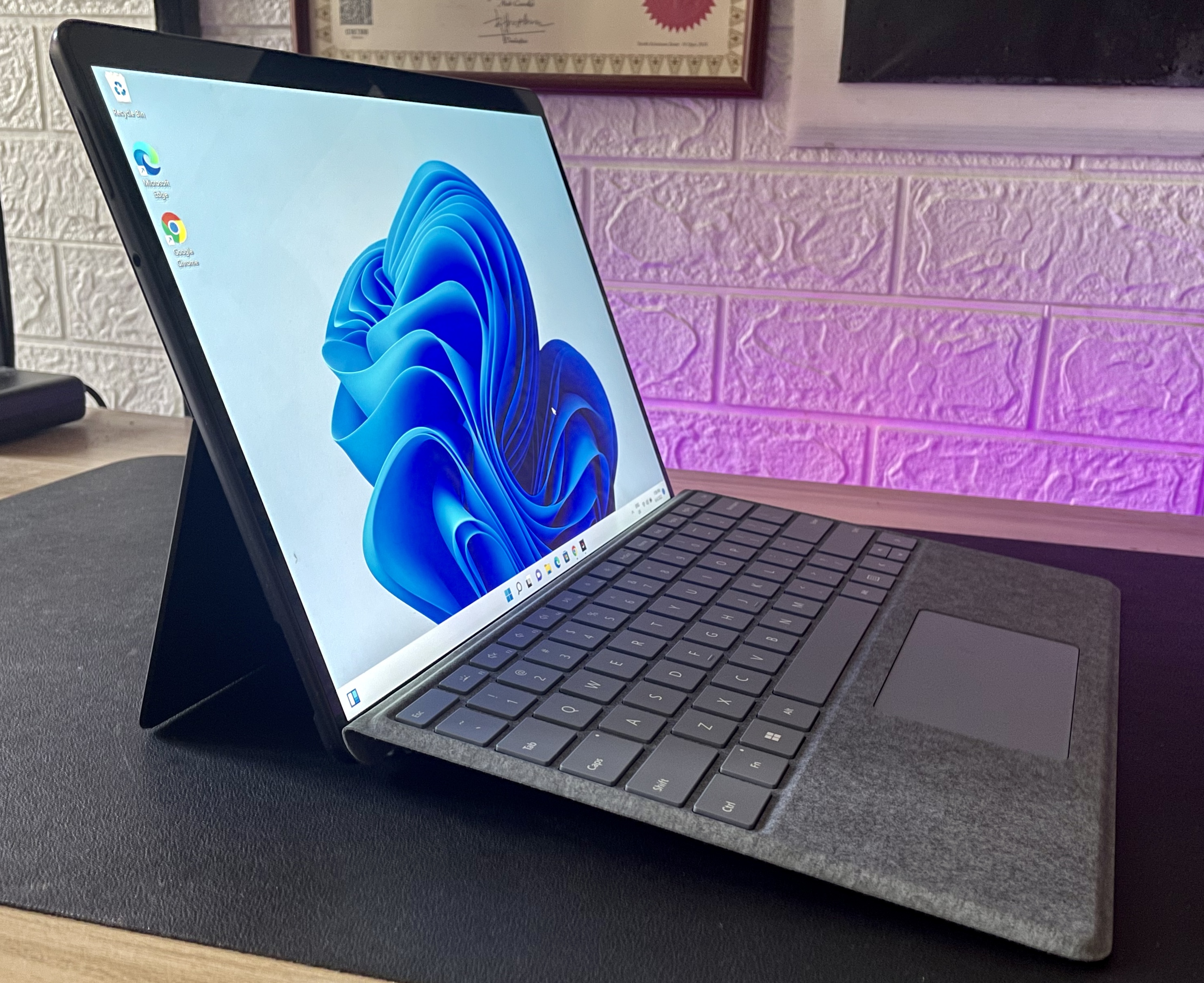 Side view
The device comes in either a platinum or graphite colour option, and we got the latter as our review unit. I think that this colour option looks better than the two, plus the matte finish makes it easy to grip the Surface Pro 8 when used in tablet mode.
Furthermore, its elegant and sleek design exudes a premium feel that matches the Surface Pro 8's magnesium alloy body. The device's 891g weight is also manageable in tablet mode. But it can get quite tiring holding it for an extended period.
In front, the Surface Pro 8 sports a gorgeous 13-inch display with a 2880x1920 resolution. It has a 120Hz refresh rate and a 3:2 aspect ratio, perfect for productivity. However, you have to live with thick black bars when watching videos.
The black bars are also quite distracting and noticeable since it's an LCD screen. Hence, the blacks aren't as deep as on an OLED display. Nevertheless, the Surface Pro 8's display is still stellar, and its 120Hz refresh rate also makes the device feels super smooth.
The display looks vibrant and bright.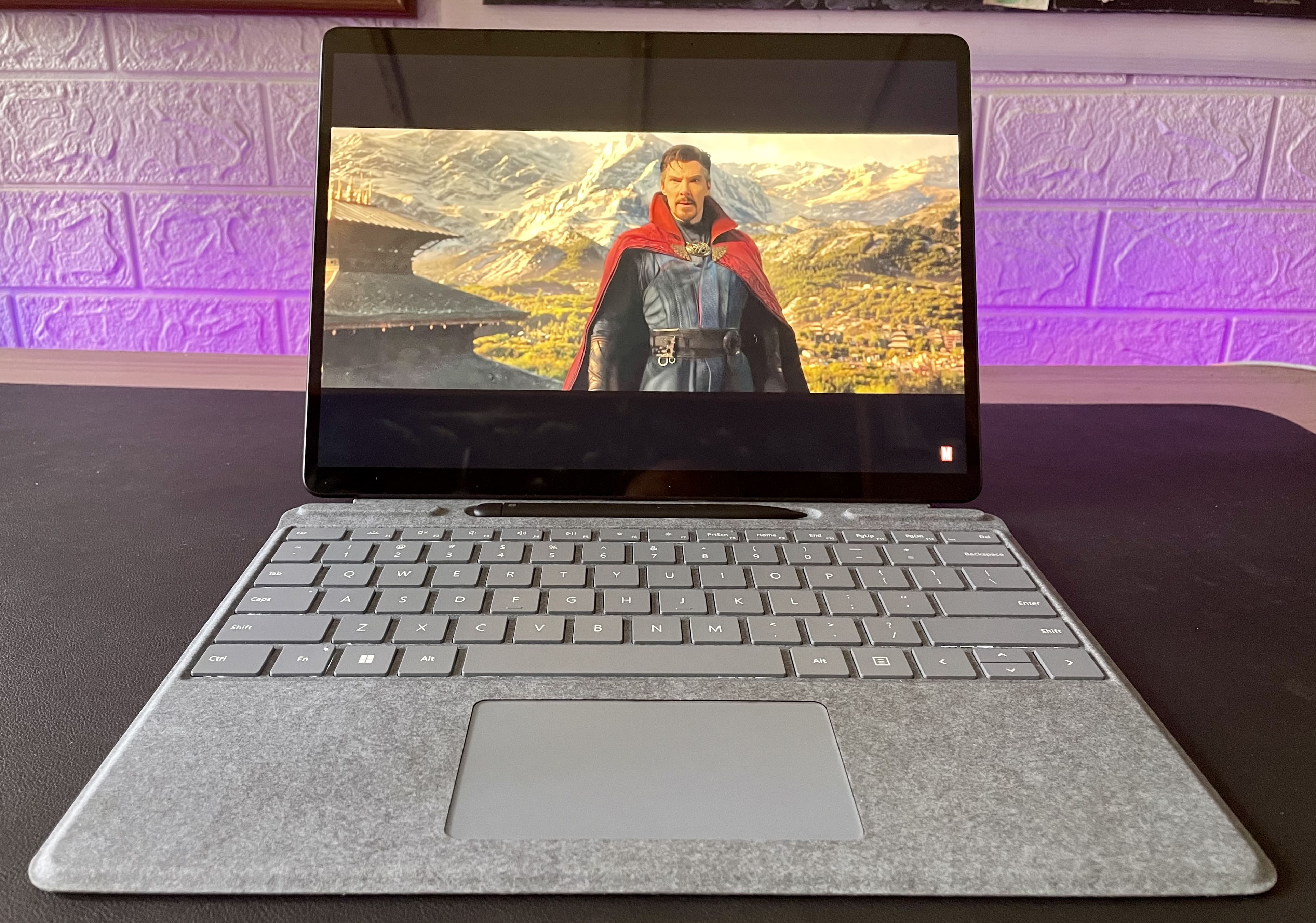 Most videos will have these huge black bars due to the 3:2 aspect ratio.
To complement the display, Microsoft included dual 2W Dual Atmos stereo speakers. Viewing content from the usual apps like Netflix and Amazon Prime was awesome. Besides that, the display also supports pen input, preferably with the Surface Slim Pen 2.
Speaking of which, there are two accessories for the Surface Pro 8, the aforementioned Slim Pen 2 and the Surface Pro Signature Keyboard. Well, both are optional. But using the device without the accessories, especially the latter, just doesn't make sense.
Plainly speaking, the Signature Keyboard is what makes the Surface Pro 8 a 2-in-1 device. It is compatible with the Surface Pro X Keyboard if you're looking to save a few bucks. However, I do recommend getting the Signature Keyboard. It is hands down one of the best keyboard cases available on any device so far. Its trackpad is one of the best on any Windows device!
Typing on the Signature Keyboard is a pleasure with decent key travel. Its full-size keyboard also makes the Surface Pro 8 feel like an actual laptop. Moreover, the keyboard is backlit and coated with a soft-touch Alcantara fabric that feels super nice and premium.
The Signature Keyboard with Slim Pen 2 bundle for the Surface Pro 8.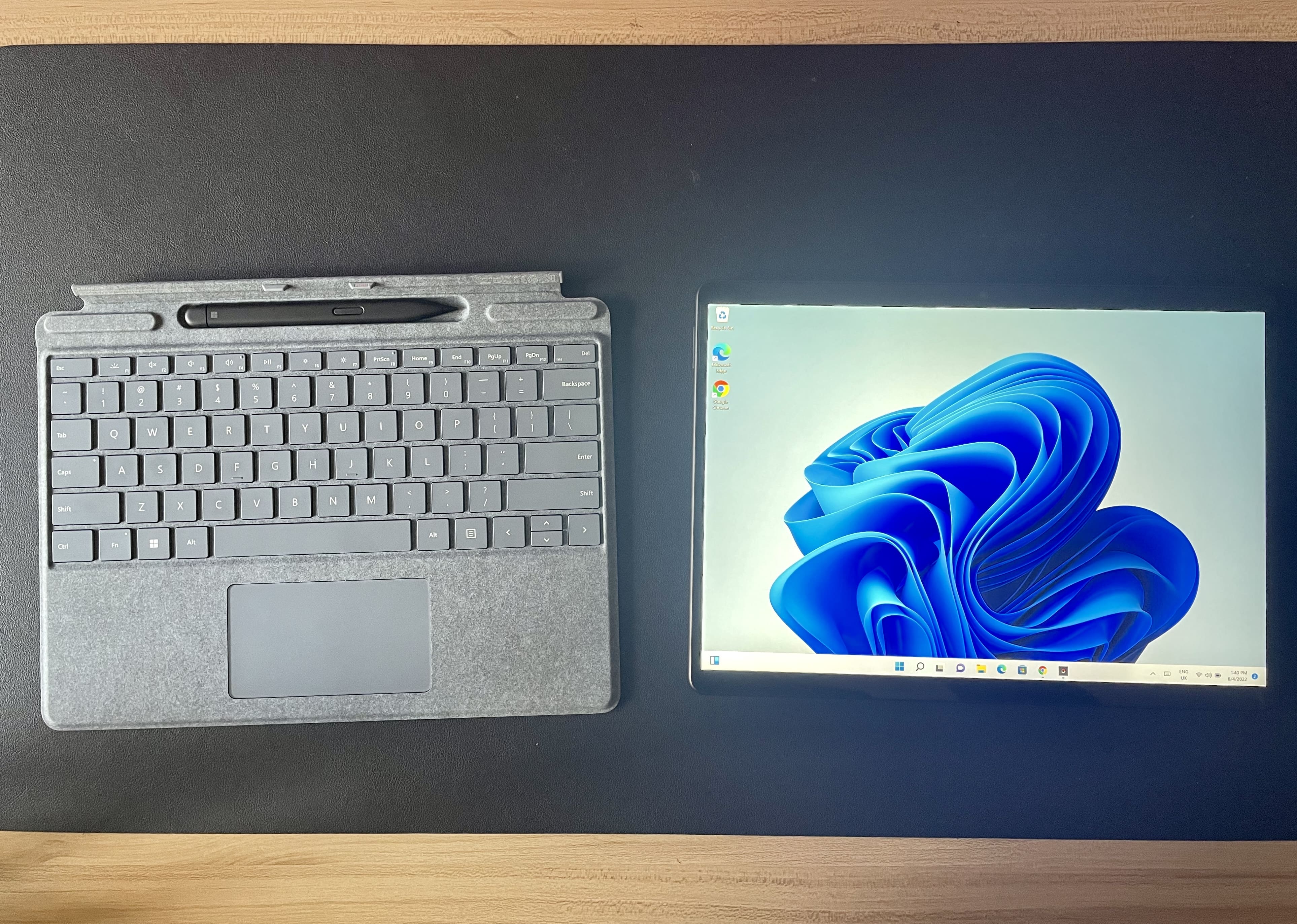 The Surface Pro 8, along with its must-have accessories.
The Signature Keyboard also has a built-in slot for the Slim Pen 2 that charges it. You can even prop it up to hide the stylus and have a slightly angled keyboard. This makes for better typing ergonomics.
As for the Slim Pen 2, it has a flat design that feels more natural for writing. There's also a physical button that will provide quick access to specific apps or tools when pressed.
The 120Hz display definitely helps make the Slim Pen 2 feel like an actual pen, with no noticeable input lag when scribbling on the screen. Microsoft claims that the stylus supports 4096 levels of pressure sensitivity, and it definitely feels so when we use it.
In terms of pricing, the Surface Pro Signature Keyboard would cost you RM699, while the Slim Pen 2 is RM499. There is also a bundle option for both bundled at RM1099, which we received together with our review unit.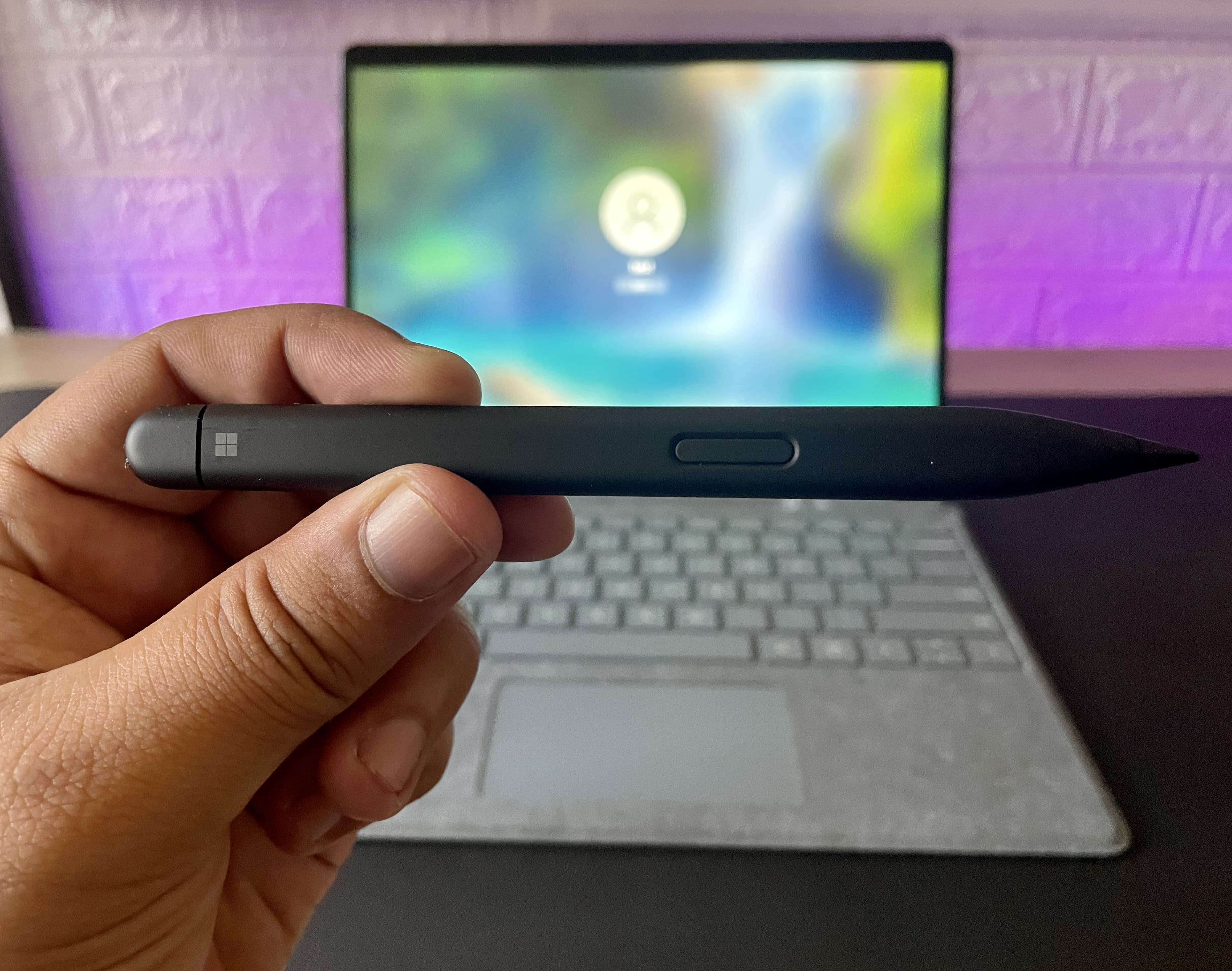 A closer look at the Slim Pen 2.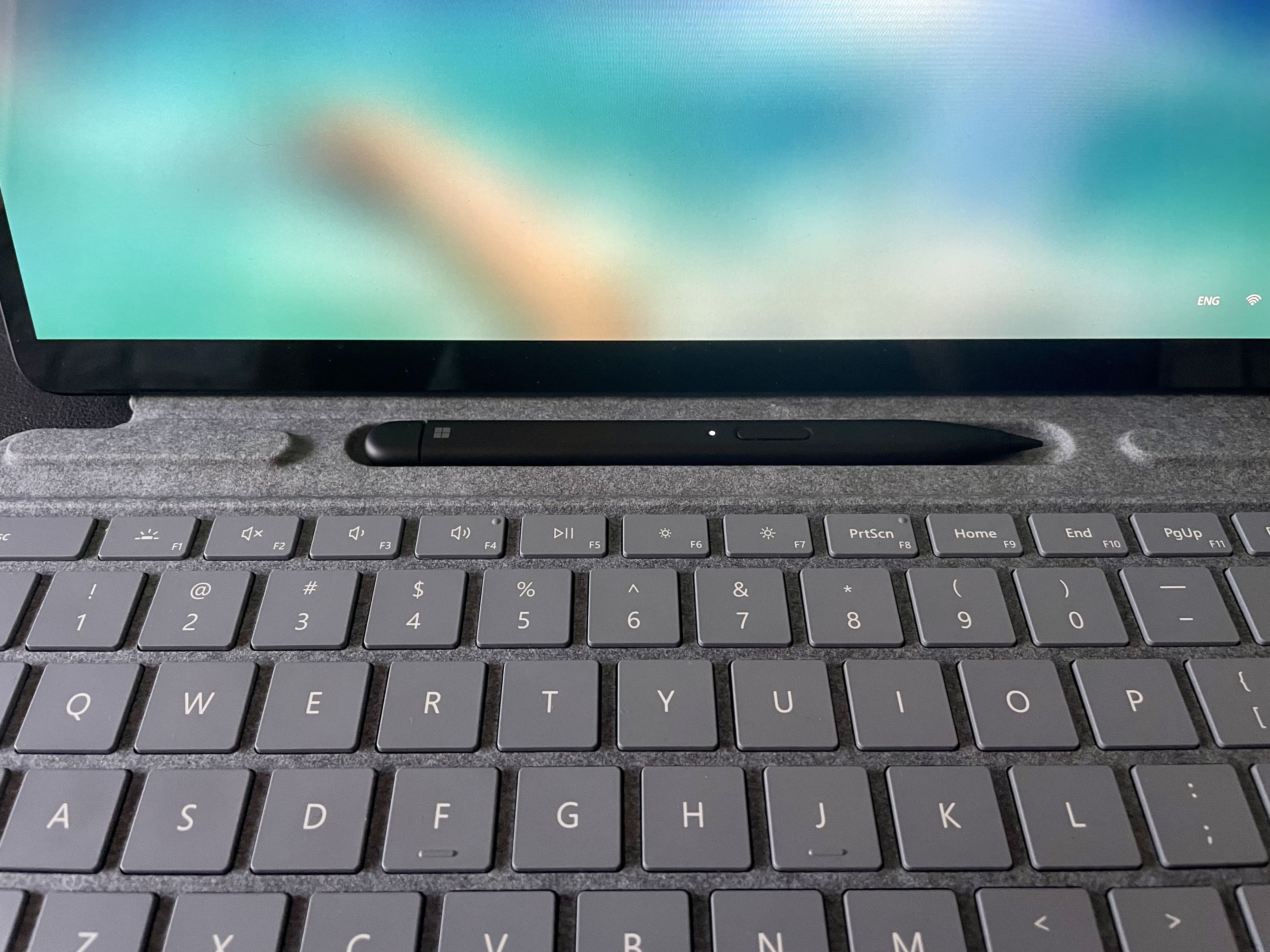 The built-in slot for the Slim Pen 2.
In terms of I/O, the Surface Pro 8 has two Type-C Thunderbolt 4 ports with power delivery, so you can charge your device through either port. But for optimum charging, do use the proprietary adapter that connects to the Surface Connect port.
The Surface Connect adapter also has a magnetic mechanism, which will ensure that you won't damage your device if you accidentally trip on the cable. You can also find a 3.5mm headphone jack and a Surface Type Cover port to attach the optional keyboard.
Besides that, another unique feature this 2-in-1 has compared to a traditional laptop is a rear camera. This 10MP autofocus camera can record Full HD and 4K videos, but don't expect much in terms of image quality.
On its front, the Surface Pro 8 has a 5MP camera that supports Windows Hello and can shoot video up to 1080p. It's a decent quality camera for your Zoom meetings and more.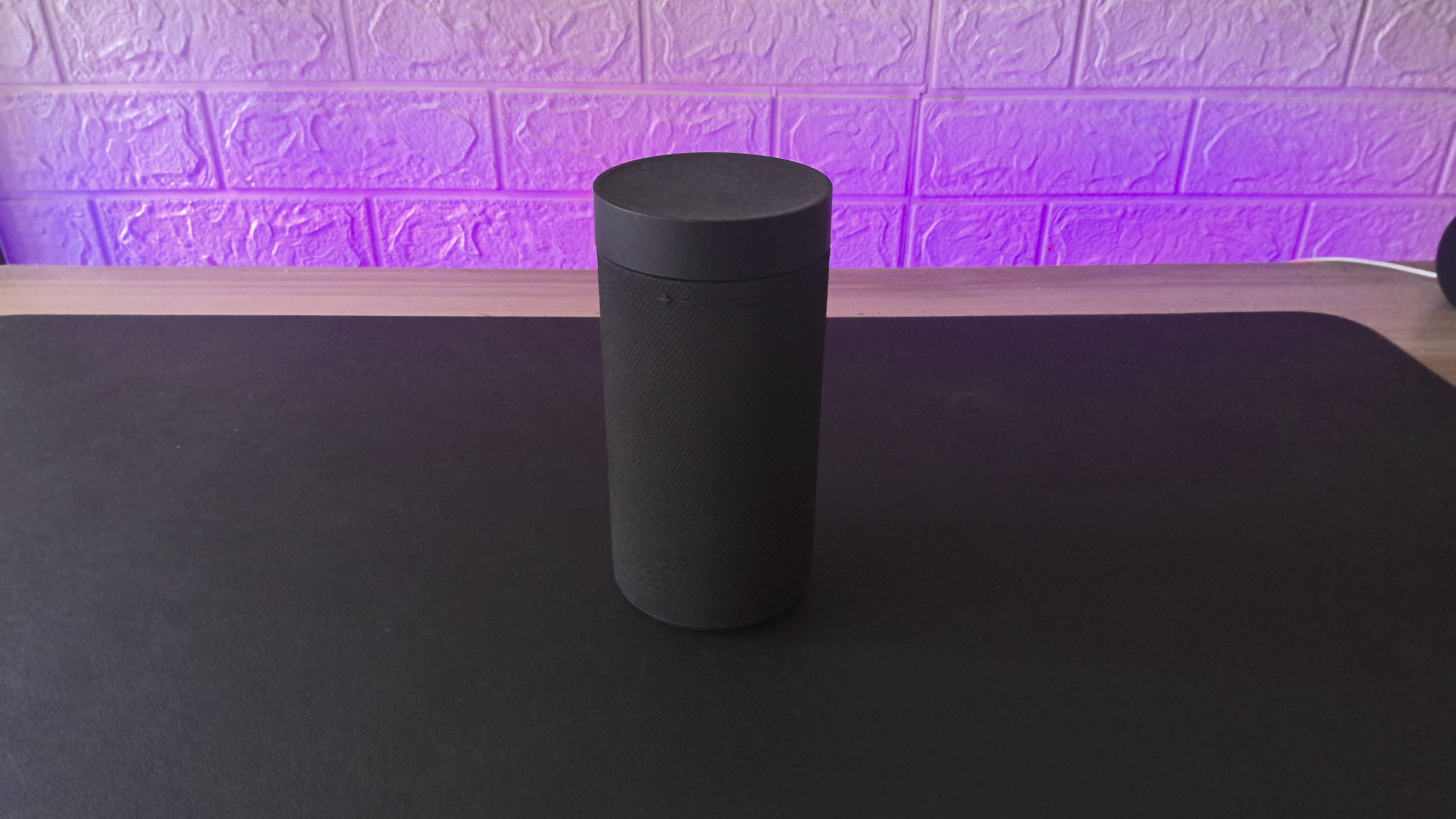 An image sample from the Surface Pro 8's rear camera.
The front-facing camera has decent quality.
Now, let's talk performance. The review unit sent to us comes equipped with a Quad-core 11th Gen Intel Core i7-1185G7 processor. There's also 16GB of LPDDR4x RAM and a removable 256GB SSD.
Running on the Intel Evo platform, the Surface Pro 8 is incredibly powerful, considering its form factor. Throughout my time with the device, productivity apps ran smoothly with no hiccups or lag.
So far, I've been writing my articles and performing light photo editing on this device with no issue. Multitasking on what is essentially a tablet has never been so seamless. The fact that it's running a full desktop Windows 11 experience seems crazy.
However, I did notice that the back of the Surface Pro 8 gets quite warm when pushed to its limits. The fans will also start kicking in and become loud to the point of being annoying.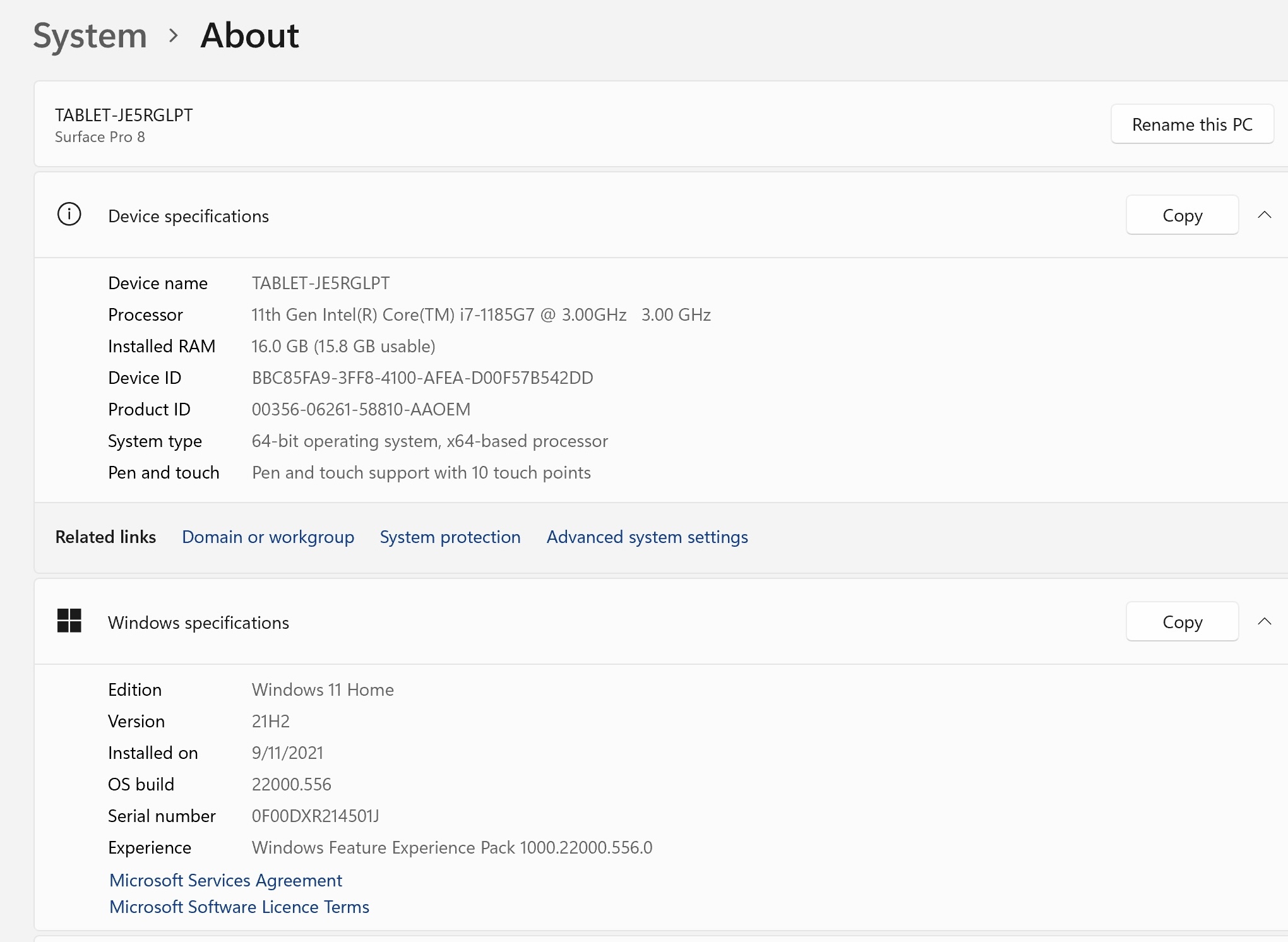 Tech specs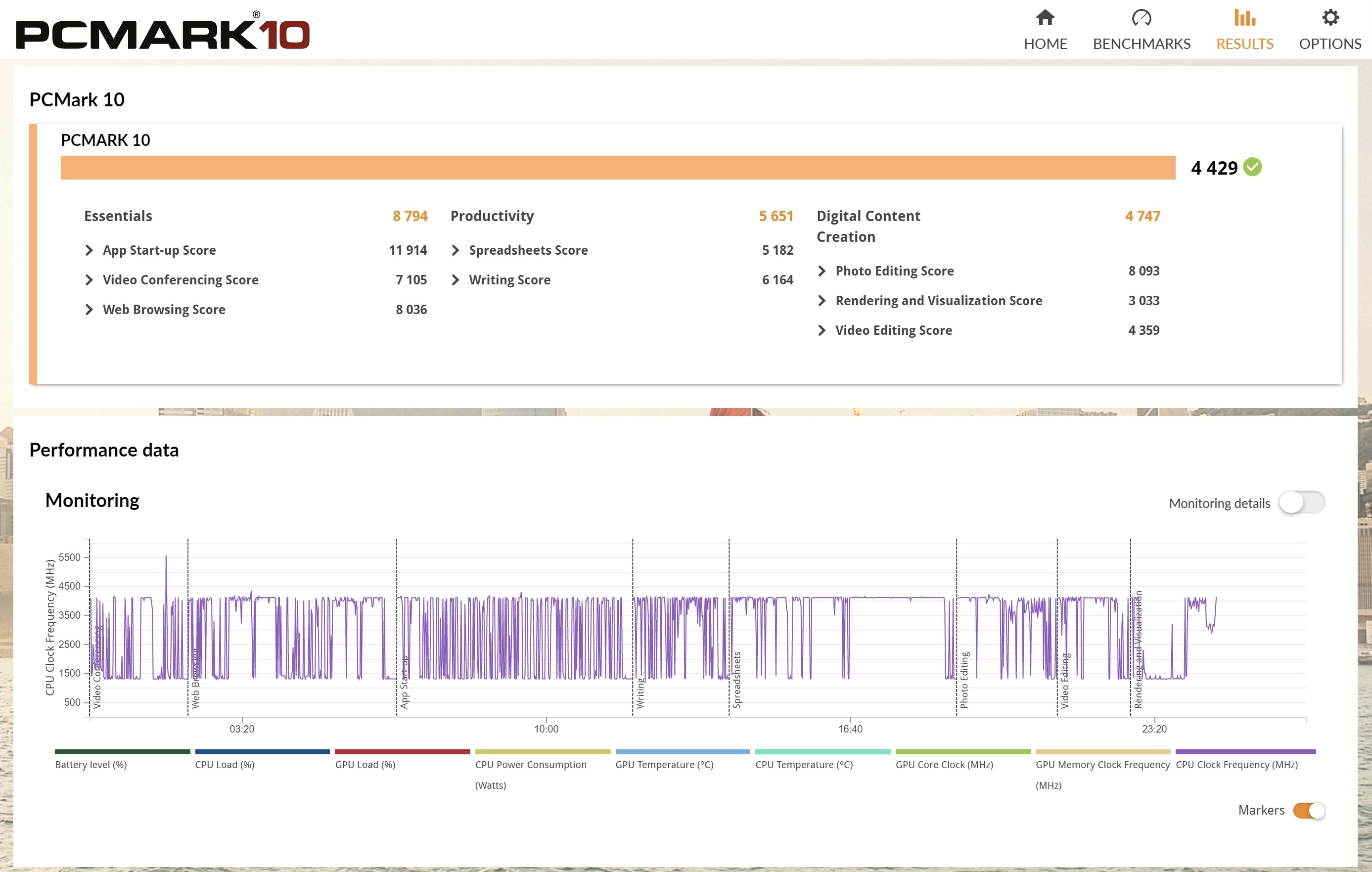 PCMark 10 benchmark score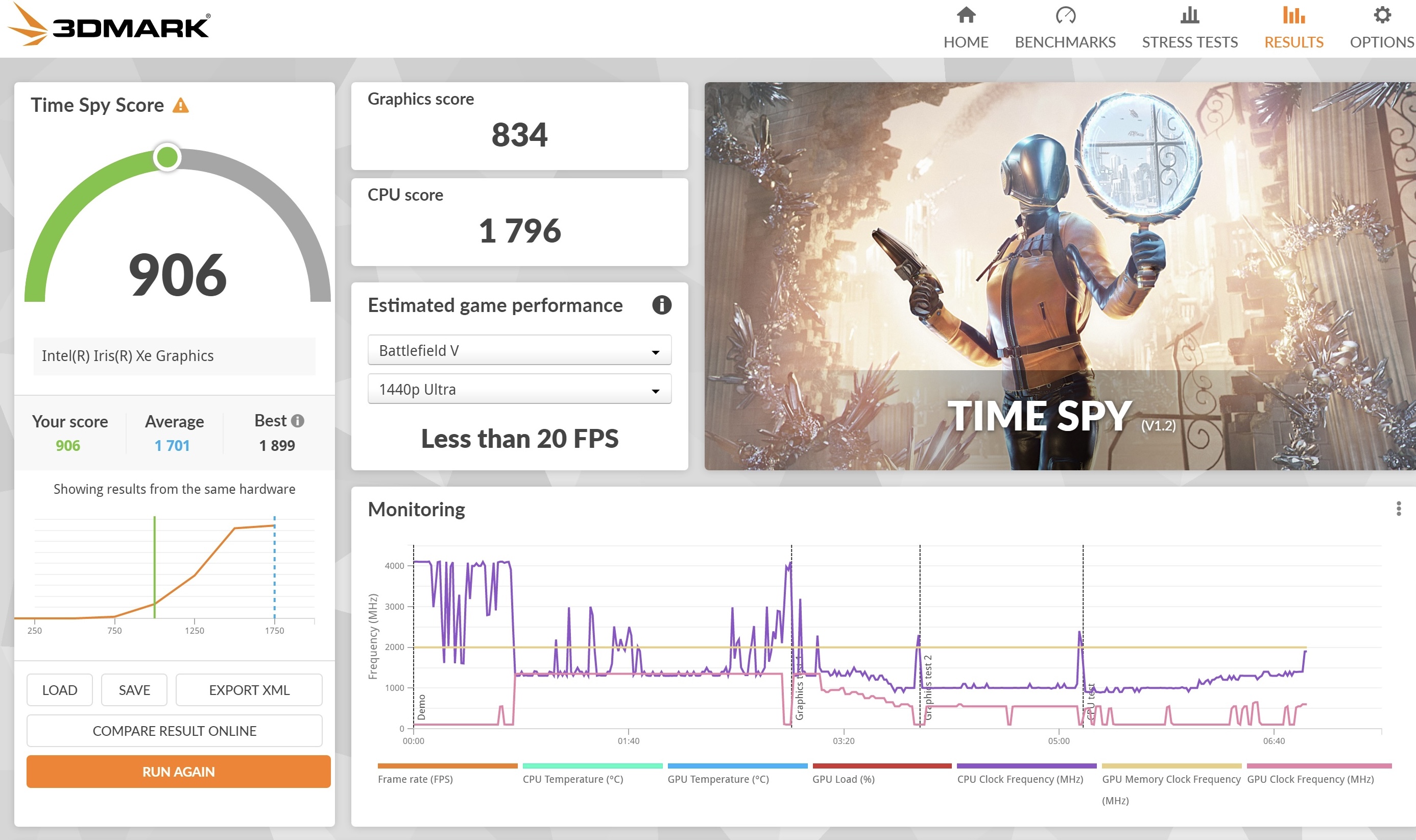 3DMark benchmark score
For graphics, the Surface Pro 8 is equipped with integrated Iris Xe graphics, which is good for some light gaming. Don't expect to play any AAA games, as you've got to remember that this is a portable device aimed at professionals, which is quite in line with the benchmark results of the device.
In terms of battery, the Surface Pro 8 has a 50.2Wh cell that Microsoft claims can last up to 16 hours of typical device usage. Like most manufacturers out there, that claim is quite a stretch. I've mostly gotten around 8 hours with light use and the screen at half brightness.
The battery would last me around 5 hours with heavy use at 75% screen brightness, which is excellent for a device as portable as this. Furthermore, the Surface Connect charger can fill juice up the battery relatively quickly, making this the ultimate productivity tool for professionals who are always on the go.
Overall, the Surface Pro 8 is a premium device with a matching price tag that, unlike its predecessors, has no compromises in terms of performance. As of right now, there are no other 2-in-1 devices out there that could directly compete with the Surface Pro 8 in terms of its impressive specs and sleek design.
That being said, one thing to consider before purchasing the Surface Pro 8 is whether you really need its flexibility and form factor. If not, you're better off buying a traditional Windows laptop that offers better performance and graphics prowess around the same price, such as the Dell XPS 13.
Tech Specs and Features
Quad-core 11th Gen Intel Core i7-1185G7 Processor
16GB LPDDR4x RAM
Removable 256GB SSD storage
Measures 287 x 208 x 9.3mm, weighs 891 grams
13-inch touchscreen 2880x1920 IPS display (120Hz refresh rate)
Ports - 2x Type-C (USB / DP / Thunderbolt 4), 1x Surface Connect port, Surface Type Cover port, 3.5mm headphone jack
Keyboard compatibility - Surface Pro Signature Keyboard, Surface Pro X Keyboard
Pen compatibility - Microsoft Pen Protocol (MPP) support, Tactile signals support with Surface Slim Pen 2
Features - Windows Hello face authentication camera (front-facing), 5MP front-facing camera with 1080p full HD video, 10MP rear-facing autofocus camera with 1080p HD and 4k video, Dual far-field Studio Mics, 2W stereo speakers with Dolby Atmos,
Supports - 802.11 AX Wi-Fi 6, Bluetooth 5.1
Battery Capacity Nominal (WH) 51.5Wh, Capacity Min (WH) 50.2Wh
Windows 11 Home
Pros and Cons
Pros: Premium build, ultra-lightweight and portable, powerful for its class, and has a gorgeous display.
Cons: Very much on the pricey side, runs a bit hot when pushed, and is practically a glorified tablet without its official accessories.
Conclusion: One of the best 2-in-1 Windows devices in the market and a great portable powerhouse for working professionals who are always on the move.