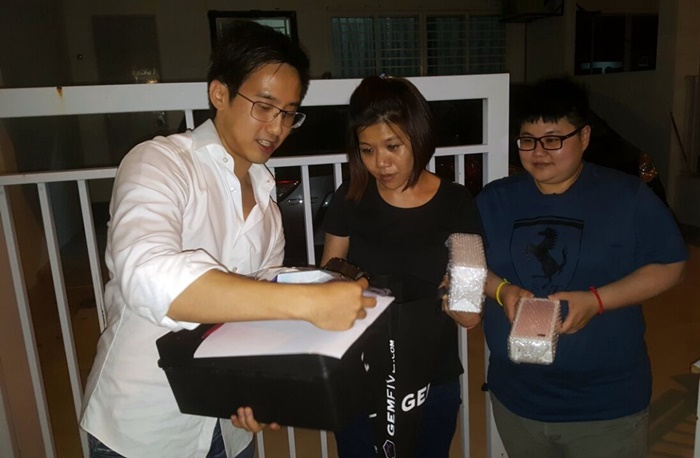 Chief Executive Officer (CEO) Kwek Kon Chao (left), handing over the Apple iPhone 7 to Stephenee Won (centre)
During the midnight launch of the Apple iPhone 7 & 7 Plus today, GEMFIVE Malaysia was also up moving around making a special delivery to 5 lucky customers who placed pre-orders for the new Apple iPhone flagships at the stroke of midnight. One surprise delivery was made specially by Chief Executive Officer (CEO) Kwek Kon Chao to Stephenee Won at her residence in Klang.
Kwek said of the delivery: "We've had a great response to our iPhone 7/7 Plus pre-orders, and so I thought that it would be a nice gesture to personally deliver the first few orders to our valued customers at the stroke of midnight itself!"

"For the rest of the customers who have pre-ordered the phone, we are contacting and making arrangements to make deliveries directly either to their office or residence. At GEMFIVE, we really want to delight and surprise our customers. We're smaller and a start-up still, compared to some of our competitors, but we still aim to delight our customers on all their online shopping experiences," he added.
In conjunction to that, GEMFIVE has also launched a limited-time promotion for the iPhone 7 & 7 Plus which will end on 31 October 2016.
A discount of RM225 + 1% cash rebate in store credit will be given to customers who purchase either one of the iPhone models. Furthermore, they will also receive RM 300 worth of Expedia shopping vouchers.
"We're sharing the excitement with many iPhone fans in Malaysia and want to make it extra sweet to grab the latest iPhone 7 right now," said Kwek.
To purchase an iPhone 7 or 7 Plus before the promotion ends, head over to GEMFIVE Malaysia website to check it out.