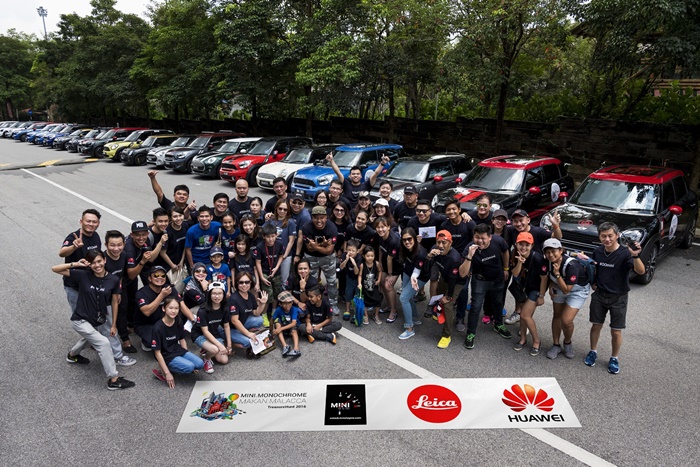 A Crossover by Huawei Malaysia, Mini Owners Club Malaysia and Leica Malaysia
With National Day right around the corner, Huawei Malaysia partnered with Mini Owner Club Malaysia , Leica Malaysia, and Auto Bavaria MINI to host the "Mini, Monochrome, Makan, Malacca" Treasure Hunt 2016. Over 100 members from the Mini Owners Club Malaysia were taken on a road trip to Melaka to capture the many unique aspects that embodies the story of Malaysia by using Huawei P9; from art and culture, to food and sports - anything at all during a walkabout around Jonker Street.
"It is our honor to collaborate with Huawei Malaysia, Leica Malaysia, and Auto Bavaria in this prestigious event, in conjunction with our merrily celebrated National Day. This event also serves a good platform for our members to explore Melaka town by capturing the beauty of Malaysia using the Huawei P9, which matches the true spirit of our club - Let's MINI, Be MINI," said Roslyn Kong, active member at Mini Owners Club Malaysia.

"We are pleased to support this meaningful event during Merdeka month. It is great to have MINI Owners Club members to discover, capture and preserve the memorable moments along the treasure hunt trip by using Huawei P9, which partnered with Leica on its dual-lens camera," said Ng Chi Loon, Business Development Manager, Leica Camera Asia Pacific Pte Ltd.

Matthew Ng, Deputy Country Director, Consumer Business Group, Huawei Malaysia, said: "Malaysia is a beautiful country with rich cultural heritage. We are excited to leverage Huawei's global social media platform to promote our country to international audiences through the lens of the Huawei P9 and inspire them to visit Malaysia. We hope this venture will establish more opportunities with potential organizations to venture into greater innovation in the future."
Participants were required to submit entries captured during the treasure hunt by uploading their images on to their Facebook and Instagram with the brand's official hashtags - #OOMINIxLeica #ColourfulMalaysia #OOmyfoodstories #HuaweiP9 #HuaweiMobileApac.
In addition, Huawei APAC is also hosting 'MYFoodStories'- a social media contest for the P9 and P9 Plus users in conjunction with Merdeka month. For a full description of the contest's terms and condition, please visit Huawei Malaysia's #OOmyfoodstories.