Motorola Moto 360 review - The best looking Android Wear smartwatch yet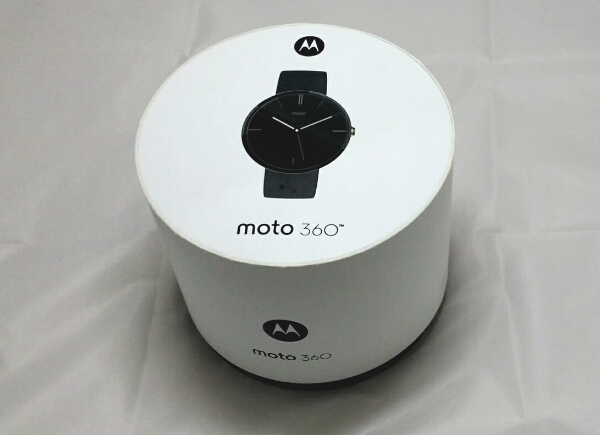 The first smartwatches to come out often looked like thick squarish slabs of touchscreen on a strap. They offered limited usability as companion devices to your smartphone or mobile device and couldn't do much on their own. The Motorola Moto 360 smartwatch changed all that by by being the first round smartwatch and now, there are many other round smartwatches as well. Motorola went on to claim that the Moto 360 would actually look and feel like existing watches. Did they manage to do that and still deliver an awesome smartwatch experience? We find out in the full review of the Motorola Moto 360 below.
Design, Features and Tech Specs - Premium looks and feel but limited functionality
In terms of design, the Motorola Moto 360 is elegant, light and one of the thinnest smartwatches we've tried so far. Coming with a fine leather (imported Horween leather no less) strap the smartwatch is one of the few that can fit my huge wrist and at 49g is super comfortable to boot. The round touchscreen watchface also looks awesome with a premium brushed metal side and chamfered glass touchscreen. A heartbeat monitor and other sensors line the bottom but don't require you to have the watch strapped tight to work. In addition, the Moto 360 charges wirelessly with a Qi charger cradle included in the bundle so there are no unsightly ports either. In terms of functions, the Moto 360 packs a pedometer and accepts Android Wear compatible notifications and commands via Bluetooth. So while most of the functionality comes from your smartphone, it can also do some stuff on it's own.
Ti OMAP 3 processor

512MB RAM

4GB storage

1.56-inch display (320 x 290 pixel resolution, 205ppi pixel density, backlit LCD, Corning Gorilla Glass 3)

46mm diameter x 11.5mm thin | 49g / 124g for 23mm metal band / 104g for 18mm metal band

Features Wireless charging, IP67 Water resistance, built-in pedometer, optical heart rate monitor, dual microphones

Supports Bluetooth 4.0 LE, syncs with Android 4.3 smartphone or higher

320 mAh battery

Android Wear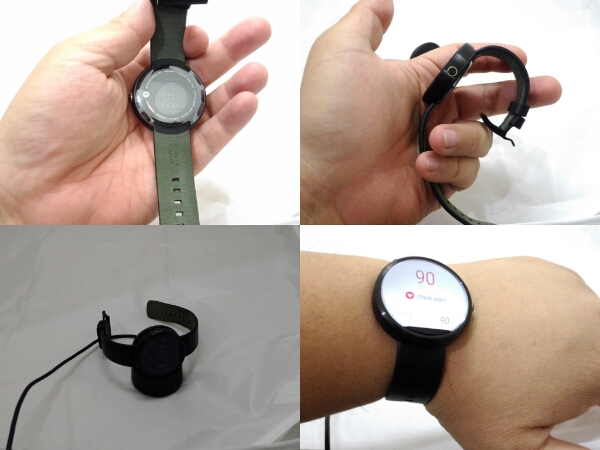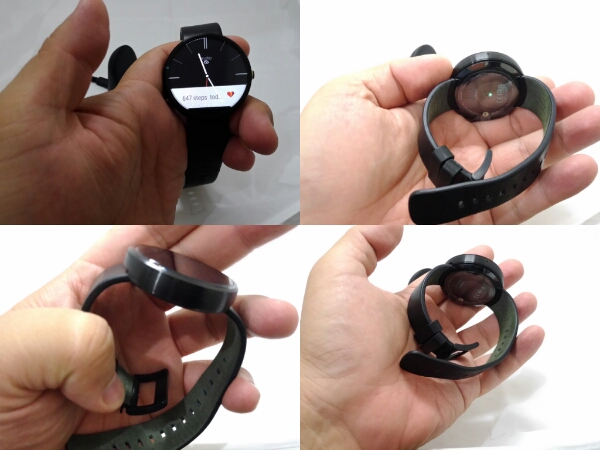 This is the best looking and most comfortable smartwatch we've tried so far
While we only had the comfortable leather strap to play around with, it is interchangeable and there are different materials (metal, plastic, etc.) and other coloured straps to go with it. The watch face designs are also interchangeable but regardless of which design you choose, there will always be a small portion of the watch face blackened out at the bottom. According to Motorola this is because the ambient light sensor is there and needs the black coloured bit to work properly. This is the only part of the design that seems a bit off as no other smartwatch has this black coloured bit that does nothing.
Check out the unboxing video
Check out our hands-on video of the Motorola Moto 360 smartwatch
Performance - Limited and inaccurate but has potential to grow
Let's face it, while Android Wear has potential, the amount of things you can do right now with it are severely limited. Yes, you can use WhatsApp and a few other apps to check notifications, but trying to get answer messages, either with the keyboard or through voice commands is both irritating and inaccurate. Trying to send a message to my wife through voice to "be safe" alternately got interpreted as "sex", "Do you think" and "Redbox" so it isn't nearly as good as Google Translate just yet. Typing on the tiny keyboard isn't very easy either. However, despite the older TI OMAP 3 processor, there was nearly no lag. There were some hangs once in a while, but this can be resolved with a reboot. While the pedometer works it also isn't very accurate but thankfully the heart-rate monitor makes up for this by offering fairly accurate readings.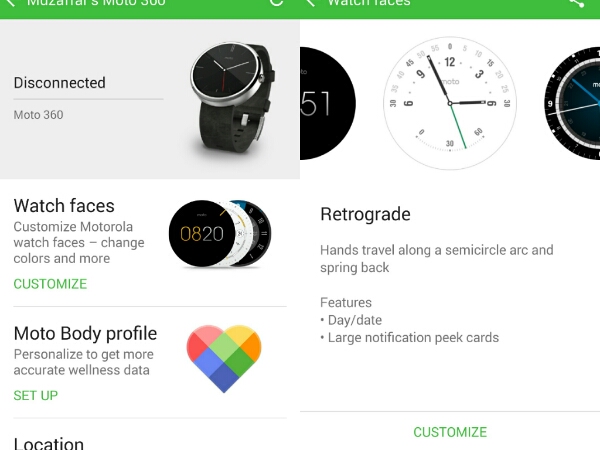 Battery life is about 4-5 hours on normal usage, 8 hours on minimal and 12 hours if you just read the notifications. You will need to wait a bit more than 2 hours to get a full charge. Regardless, the watch does not get hot and remained comfortable throughout testing. Since we didn't have all that long to test it, the Moto 360 seems durable enough for the most part, but some reviewers have remarked that the leather strap gets a little worn down after a month or two but this is entirely down to how you treat your timepieces.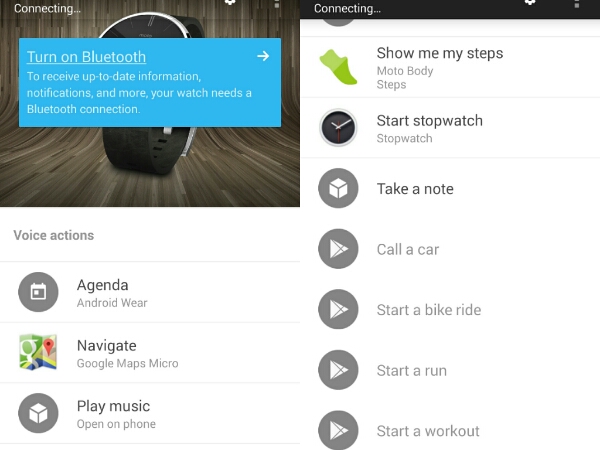 It needs Android Wear to work which is rather limited to what it can do for now
Conclusion - Looks and feels great, but needs some time to grow
Overall, the Motorola Moto 360 is one of the few smartwatches out there that looks and feels like an actual watch. It's design is beautiful asides from the one black strip of flaw in the watch face interface. However, the battery life, functions and performance mark it as one of the worst smartwatches to get. This may improve as Android Wear continues to improve as recent updates have managed to lengthen battery life and increase functionality. However, this applies to practically every other Android Wear smartwatch as well. Priced at around RM899 with third-party sellers like SatuGadgetDotCom and DirectD, the Motorola Moto 360 is more affordable than most uglier looking smartwatches but you do pay a price in terms of functionality and battery life. But, if you want a smartwatch that looks and feels like a traditional watch and don't care too much about functionality, then you should definitely give the Motorola Moto 360 a try.
Motorola Moto 360 42mm (2nd gen) Specs & Price >