Motorola XOOM MZ601 Review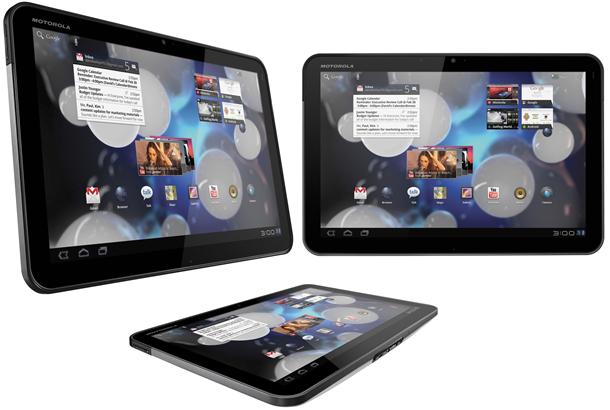 Motorola's Xoom tablet is the first true challenger to Apple's iPad, in that it runs an operating system designed for tablets -- Android 3.0, or Honeycomb -- and is comparably-sized with a 10.1-inch display. And after months of hype, it's finally available at Verizon Wireless stores and ready to be picked over by the tech press. Here's what reviewers are saying about the Motorola Xoom.
Motorola Xoom - Look and Feel:
The Xoom has a 10.1-inch, 1280-by-800 resolution display. Compared to an iPad, it's taller and narrower thanks to the widescreen format and smaller bezel, but it weighs about the same. The weight is manageable for periods of two-handed operation, but intolerable for extended one-handed operation.
The iPad's less exaggerated dimensions are superior for reading e-books and other text-centric tasks. But in landscape orientation, the Xoom's extra space makes for comfier typing on the on-screen keyboard. It's also well-proportioned for HD movies.
Motorola Xoom - Performance:
The Xoom is powered by an Nvidia Tegra 2 processor, and over at AnandTech, Anand Lai Shimpi found swiping between home screens to be "butter smooth." Same goes for scrolling through the browser and using interactive widgets. But he noticed that performance seems more dependent than previous Android versions on how many background apps are running.
One clear advantage for the Xoom over Apple's iPad: transfer speeds. "Anyone who has synced content to an Apple iPad knows how tortuously slowly content moves from PC to device.
Motorola Xoom - Honeycomb:
Android 3.0 makes its debut on the Xoom, and it's a vastly different -- some say better -- experience than Android for smartphones.
I've always felt that Android had a rough-around-the edges, geeky feel, with too many steps to do things and too much reliance on menus. But Honeycomb eliminates much of that. I appreciated tabbed Web browsing, a smart notification bar and live widgets on the home screen.
Motorola Xoom - Cameras:
One of the Xoom's main perks over the iPad (for now) is its 5-megapixel front-facing camera and 2-megapixel rear-facing camera.
On the other hand, it is being able to compose a photo while looking at something bigger than a 5×7 print is a real luxury, as it lets you see details you wouldn't otherwise notice on a small phone screen or camera viewfinder.
Motorola Xoom - Screen:
I wasn't impressed with the display quality. I found videos, photos and other graphics to be blockier, blurrier, and/or duller than on the iPad and the Galaxy Tab.
Motorola Xoom - Battery:
Engadget's testing clocked the battery in at 8 hours and 20 minutes. That's an hour and 13 minutes less than the iPad, but more than any other tablet on the market.
Motorola Xoom - Apps:
Third-party app support is going to be hit-or miss until developers start writing software specifically for Android Honeycomb.
Verdict:
Motorola and Google come out of the gate with an impressive, but flawed product. In addition to the drawbacks noted by reviewers, the Xoom is missing Flash support, 4G service and MicroSD storage -- all of which will be added later. So it's no surprise that there's a wait-and-see attitude among reviewers.
Honeycomb and the Xoom are spectacular -- unfortunately they're a spectacular work in progress. For those who want a more fully-finished, polished experience ... we recommend waiting for a future Android tablet - or the iPad 2.
Motorola XOOM MZ601 Specs & Price >