Mystery Samsung GT-P5200 gets really high AnTuTu scores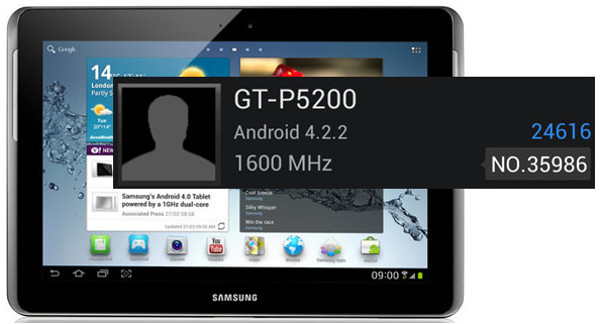 AnTuTu is a benchmark app that posts the scores of various smartphones, tablets and similar devices online. So when a mystery Samsung device posts with the model number GT-P5200 gets AnTuTu scores of 24616, scores which are on the same level as the Qualcomm Snapdragon 600 based Samsung Galaxy S4, you can bet that we'll take notice. Now, bear in mind that this is a recent happening and that Samsung just don't use the GT-PXXXX naming convention anymore means several things.

The first is that it may well be pointing to the Samsung Galaxy Tab 3 10.1 which could have come before Samsung changed over to the SM-Txxx naming convention for their tablet range. According to the AnTuTu benchmark, the GT-P5200 uses Android 4.2.2 and also has a 1.6GHz processor. The score of 24616 would also indicated that this is probably a quad-core processor while the 10.1-inch screen could have a 1280 x 800 pixel resolution screen, making it one of those affordable yet reasonably powerful tablets. For now, Samsung has yet to come out with any official announcements so we'll just wait and see.
Samsung Galaxy Tab 3 10.1 Specs & Price >