New Celcom Xpax Internet plans along with Xpax Youth officially launched, offers 50% more Internet
Celcom have officially launched their new Xpax plans including their Xpax Postpaid, Xpax Prepaid along with Xpax Youth which is designed exclusively for consumers aged 25 years old and below while offering 50% more Internet. Accessible via the new Celcom Life app, the Xpax Starter Pack offers 10GB Basic Internet for free, RM6 preloaded credit and 300 MB Internet activation Bonus for a validity of 5 days at just RM10. The starter pack also lets users choose one free monthly freebie including 10GB of Facebook, 10GB of Instagram, 3GB of YouTube or Unlimited High Speed WhatsApp, WeChat and Twitter.
The Xpax Youth Monthly Internet plans start from 15GB at RM50 to 22.5GB at RM79 and is available in Xpax Postpaid or Xpax Prepaid with FREE Unlimited calls to five friends on Celcom. Those going for Xpax Postpaid will get a 50% discount on selected devices including an iPhone 6 via EasyPhone installments from as low as RM29 a month. Xpax Youth Freebies include 100GB Super Video Wall on your Birthday via the Celcom Life app.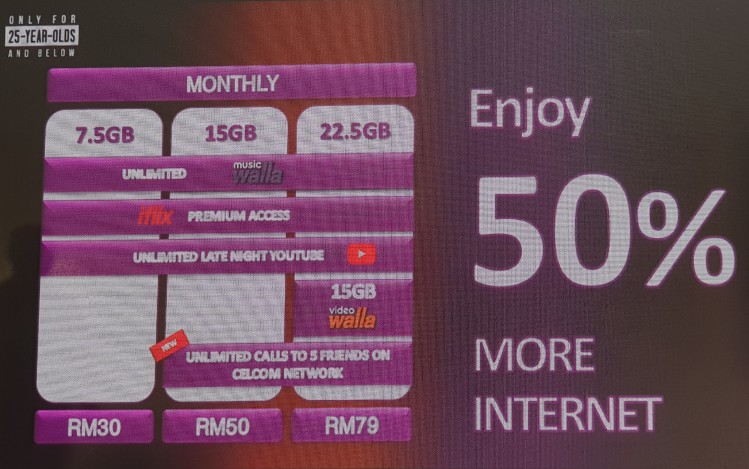 Enhanced Xpax Internet plans offer a Daily Plan (2GB - RM3 | 4GB - RM5 | FREE Unlimited Music Walla), a Weekly Plan (500MB - RM6 | 2GB - RM10 | 5GB - RM19 | FREE Unlimited Music Walla + iFlix premium access) and a Monthly Plan (5GB - RM30 | 10GB - RM50 | 15GB - RM79 + 15GB Video Walla | FREE Unlimited Late Night YouTube [1AM - 7am] + FREE Unlimited Music Walla + iFlix premium access).
For a limited time, New Xpax consumers will get an RM5 boost credit while new Xpax Port-in customers will get 1GB of High Speed Internet every month for 12 months. There will also be triple quota for Xpax weekly or monthly plans and triple quota for add-on purchases. Check out the Celcom site for more information.