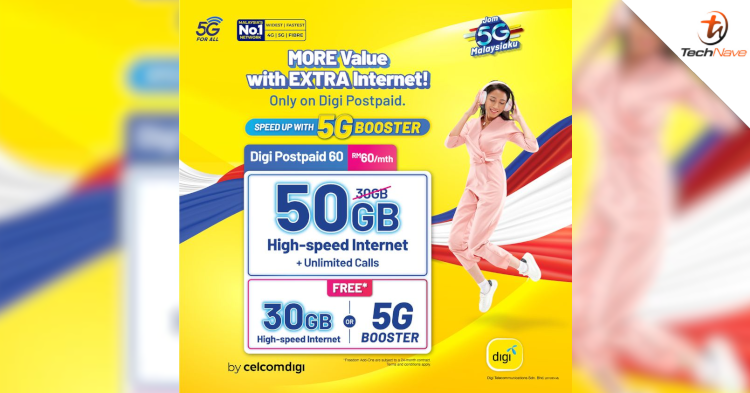 If you are looking for a best-value internet plan, this CelcomDigi postpaid plan should be on your list. Today, CelcomDigi announced a new postpaid plan for your convenience. That said, what should you know about this new plan?
CelcomDigi announced that its new postpaid plan features 50GB of high-speed internet with unlimited calls for RM60 monthly. Previously, this postpaid plan offered 30GB of internet quota at the same price. On top of that, you can also choose between an extra 30GB of high-speed internet and a 5G booster for your internet convenience.

In case you didn't know, CelcomDigi offers 5 best high-speed internet postpaid plans starting at RM40. The RM40 plan provides unlimited calls, RM0.10 per SMS, an extra 10GB of internet and supports up to 6 family members. Additionally, you can get supplementary lines at RM20 per line.
On the other hand, the most expensive plan for the CelcomDigi is priced at RM150 per month. This plan offers unlimited calls, free 300 SMS, and a free upgrade to unlimited internet with no speed cap. Like the RM40 plan, this plan provides the same rate for supplementary lines and supports up to 6 family members.
What are your thoughts on this news? Stay tuned for more info like this at TechNave!