New Pink Samsung Galaxy S7 addition in Samsung's website

Just recently, Samsung has quietly added a new colour for their flagship Galaxy S7 on their website, as you might have heard it already, the new colour is Pink (not Pink Gold) as previously speculated. It's interesting to note that the Pink version is only available for the Galaxy S7 and not the S7 edge.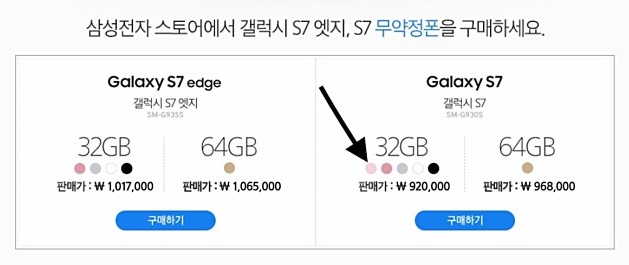 To add on to that, it seems that only the 32GB ROM model is viable for that colour, while the 64GB version does not have it. As of right now, the Pink Galaxy S7 is available in South Korea only and we won't be surprised if it makes its way to Malaysia (seems to be quite popular based on the response we saw), we are guessing that it will probably make a rainbow-ish entrance near Christmas time and it should cost the same RM3099 like the Blue Coral model.
Personally, I can't really see the difference between Pink and Pink Gold, but according to their website, the Pink has a slightly lighter shade than the latter. We expect some official news from Samsung Malaysia Electronics so stay tuned for more news at Technave.com
[Source]