NewsBytes #18 - New partnerships including Maxis, Samsung, iflix, Adobe, KK Mart and Boost, Kaspersky moving, Klook and more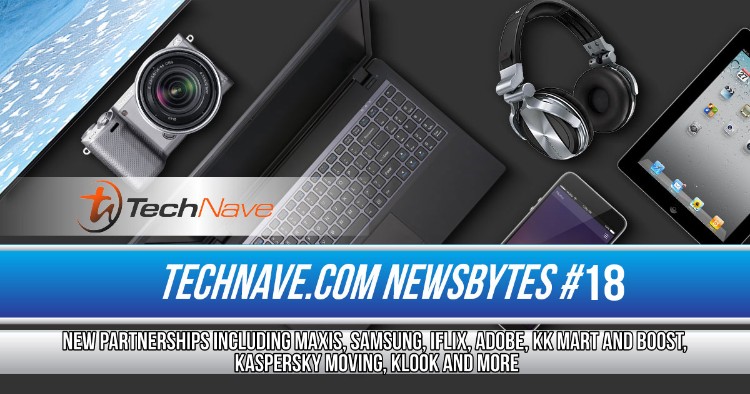 Maxis CSR and e-commerce work
So what has been happening during the Raya holidays? Well, Maxis just recently organized a special Projek Laris Raya programme for the community of FELCRA Sungai Ara in Kota Tinggi, Johor. The purpose was to empower local entrepreneurs (40 of them) with digital tools and marketing skills to expand their business using social media, content creation, photography and basic accounting. Commenting on the importance of the digital workshop, Mazlan Mokhtar, Maxis' Head of Southern Region said,
"Most cottage industry entrepreneurs, like the ones here in FELCRA Sungai Ara, have the determination and passion but may not have the know-how or access to digital tools to grow their business. So for this Raya, we had the opportunity to help the community with something that will go a long way. Through this workshop, we hope that they will be better equipped to create an online presence, extend their market reach, communicate easily with their customers as well as promote their products and services more efficiently." said Mr Mazlan.
Participants of the digital workshop standing proudly with their Certificate of Completion together with Maxis volunteers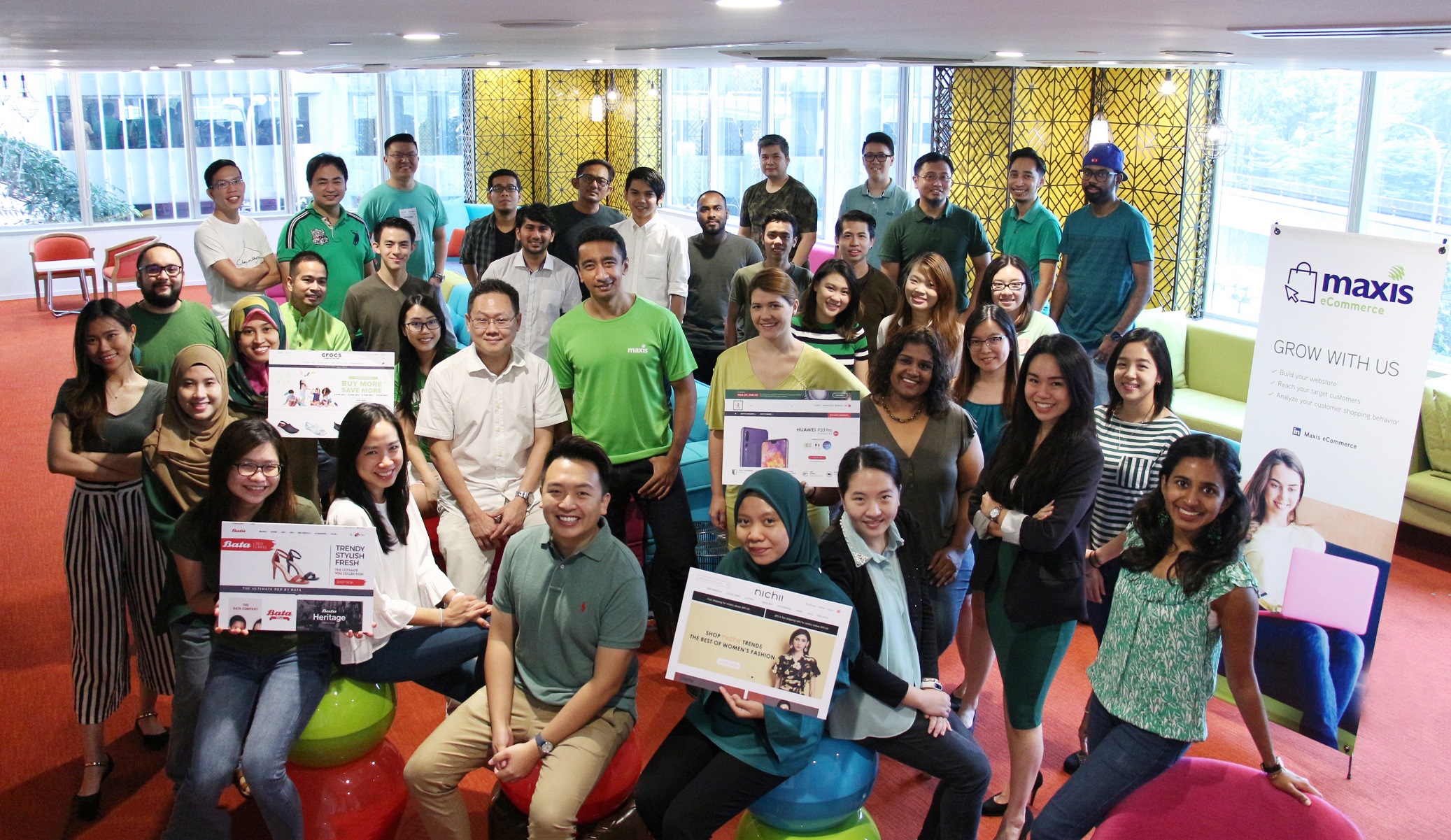 Senthil Balan Danapalan, Maxis' Head of Business Development (centre) and Daniel Ng, Maxis' Head of eCommerce Technology (seated next to Senthil), together with the expanded Maxis eCommerce team following the "acqui-hir" of Optima
Meanwhile, the company also expanded its Enterprise solutions offerings with new end-to-end Maxis eCommerce solution. Supported by a dedicated eCommerce team, it was specially targeted to SMEs in Malaysia to build, amplify, optimise their e-commerce presence and maximise revenue potential from within and outside Malaysia. If you would like to learn more about that, you can visit www.maxis.com.my/oneretail or call 1-800-82-1919.
Samsung Malaysia collabs with Media Prima Television Networks
Meanwhile, Samsung Malaysia Electronics was also doing its own thing during the Raya holidays. The company actually entered into a new content collaboration with Media Prima Television Networks (MPTN) and created a new mini-drama series, Amira Rose.
Amira Rose features a diverse cast of Malaysia's leading talents, including popular drama stars Aiman Hakim and Farah Nabilah, as well as a special appearance by teen singer, Ismail Izzani. The mini-series also treats viewers with the Samsung Galaxy S9, highlighting some of the features available such as AR Emoji, Slow-mo and Super Low Light.
Amira Rose premiered with a 30-minute Raya episode on Sunday, 17 June 2018 at 11.15am on TV3. Six subsequent episodes of 10-minute mini-series will be aired on TV3 every Monday and Tuesday at 9.50pm from 25 June – 10 July 2018. Viewers can also catch the Raya episode on NTV7 (Sunday, 17 June 2018, 3.00pm) and TV9 (Friday, 22 June 2018, 9.00pm).
iflix partners with Complex Networks for local shows
On the other hand, iflix has also made a new partnership with Complex Networks to create localised versions of world-class proven content formats. This includes Hot Ones, Sneaker Shopping, Complex Closets, Don't Believe the Hype and Price the Hype. All these new original series will be showcased in a newly created premium, dedicated Complex branded channel, which will additionally showcase the network's most popular global series, available to audiences on iflix's platform for free.
Hey look, it's Kevin Hart
To read more about this, you can go over to their blog and check it out.
New Toshiba Portégé Z30-E
Back to the tech-world, Toshiba has announced a new Portégé Z30-E laptop. No word on the price and availability yet, but it's coming soon in the third quarter of 2018 and features the latest 8th generation Intel Core processor, with DDR4 RAM (2400MHz), an 18-hour battery life, 13.3-inch display with Full HD screen with LED backlighting.
Furthermore, the laptop was designed to resist accidental drops, water spillage and pressure-testing. It also has a Trusted Platform Module (TPM) keeps critical data safe and sound on the local storage, as well as a Smartcard and SecurePad with a fingerprint reader. You can find out more about it right here.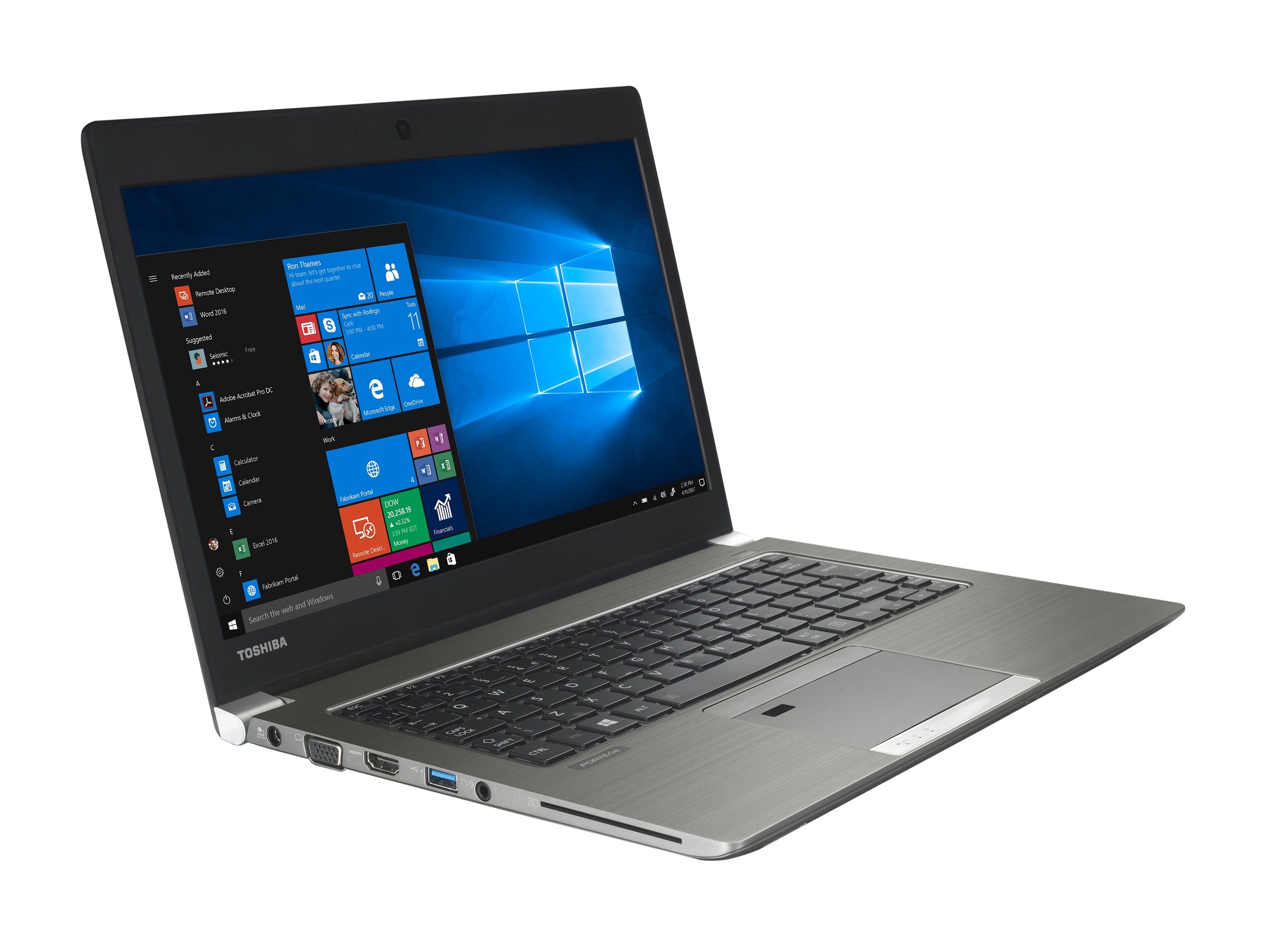 Adobe Unveils Improved Adobe Scan App and Advances Microsoft Partnership
To the software side, there are now new enhancements for Adobe Document Cloud with advancements to its document scanning app, Adobe Scan, and new PDF integrations across Microsoft Office 365. Adobe Scan app is one of the company's newest additions and now offers users an option to instantly save details from business cards which is much needed. Then with the Adobe Sensei, it can make the digital text on a business card extractable, reusable, and searchable in a secure, reliable PDF.
The new PDF integration with Microsoft Office 365 now has some new improvements, as it can now integrate cloud services like Microsoft Office 365, Microsoft Dynamics 365, Adobe Sign, and Adobe Acrobat DC. To read the full details, you can open the news over here.
Kaspersky Labs opens first Transparency Center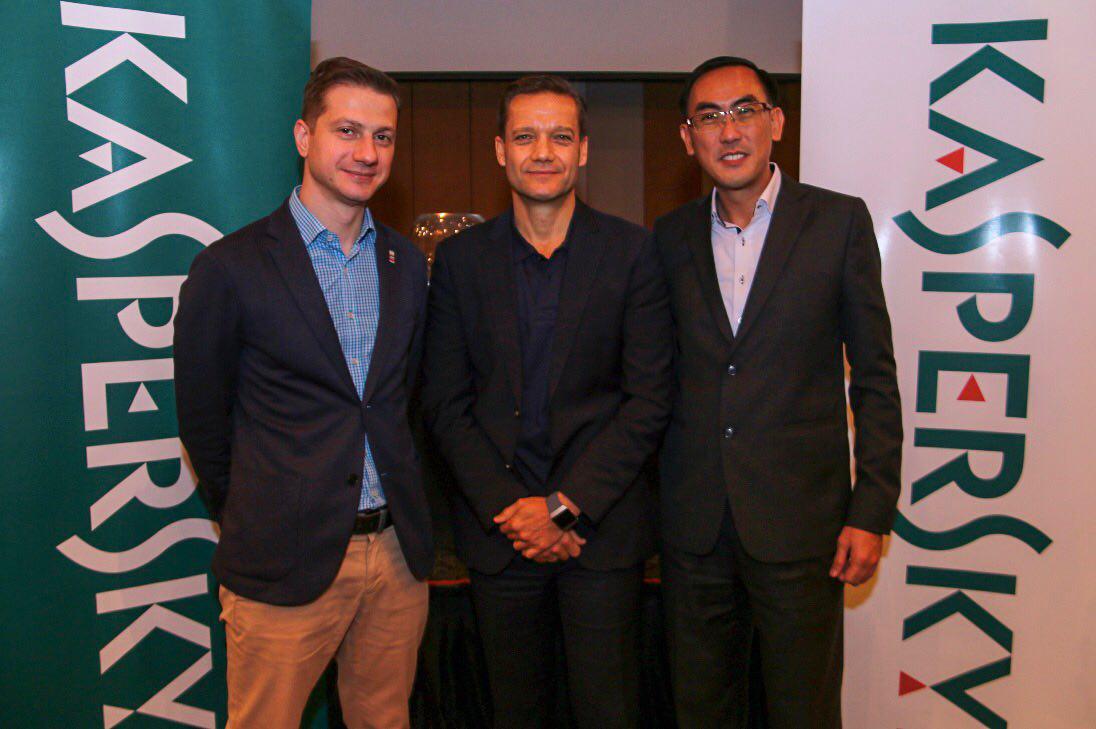 (From left) Oleg Abdurashitov, Head of Public Affairs, Kaspersky Lab APAC, Stephan Neumeier, Managing Director, Kaspersky Lab, APAC and Yeo Siang Tiong, General Manager, Kaspersky Lab, Southeast Asia at Kaspersky Lab's Global Transparency Initiative in Malaysia
Meanwhile, Kaspersky Labs just did its first Global Transparency Initiative, the company is adapting infrastructure to move a number of core processes from Russia to Switzerland. This includes customer data storage and processing for most regions, as well as software assembly, including threat detection updates.
First announced in October last year, this shows Kaspersky Labs commitment to show the public that they can be trusted with a black and white movement. That's a lot of work but respectable for their actions. To read more about it, here's the full story of the whole initiative.
KK Super Mart going cashless with Boost
How about going cashless? Well, KK Super Mart is finally going into that direction with e-wallet mobile app, Boost. In a transition to a cashless and cardless society, Boost users can now pay for KK Super Mart items and get instant cash back when transacting at any KK Super Mart.
To celebrate this occasion, Boost will be offering RM10 cashback to customers paying using Boost at any KK Super Mart Convenience Chain Stores in Malaysia, with a minimum spend of RM20. This offer will run from 26 June until 25 August 2018. Sweet.
Travel app, Klook now in Malaysia
Marcus Yong, Head of Marketing, Klook Southeast Asia at the Klook launch event
What is Klook? Well, it's a travelling app for travellers and knowing Malaysians, Klook has the potential to be one of the most favourite apps, as it offers Malaysian travellers an easy-to-use platform catering to all their travel needs. From attractions and shows, activities and experiences, tours and sightseeing, food and dining, even local transfers and wi-fi connectivity. Klook provides a one-stop platform for travellers to book and discover things-to-do.
By the way, if you start using Klook now until 15 July 2018 - you will get an extra 7% off all theme parks, travel activities and essentials such as airport transfers, transport tickets, pocket wifi and more with promo code <KLOOKAWAY>. Visit www.klook.com for more information!
Xiaomi Corporation now on stock exchange
Finally, the last news piece is about Xiaomi Corporation announcing its global offering and its proposed listing on the Main Board of The Stock Exchange of Hong Kong Limited. There are a couple of highlights during the event, such as a total of 2,179,585,000 shares (subject to the Over-allotment Option) (the "Offer Shares") are being offered under the Global Offering, comprising an international offering of 2,070,605,000 Offer Shares (subject to reallocation and the Over-allotment Option) (the "International Offering") and a Hong Kong Public Offering of 108,980,000 Offer Shares (subject to reallocation) (the "Hong Kong Public Offering"), representing approximately 95% and 5% of the total number of the Offer Shares, respectively.
So yeah...trading stocks business stuff. Anyway, Xiaomi's stock code on the Main Board of The Stock Exchange of Hong Kong Limited is 1810 and Trading is expected to commence on 9 July 2018. You can read more about it here at their blog page.
That's all TechNavers, stay tuned for more NewsBytes at TechNave.com.