NewsBytes #22 - More cashless with Boost and Touch n' Go, EPF for Grab, free Yoodo 20GB data, Adobe Scan for Bixby Vision and more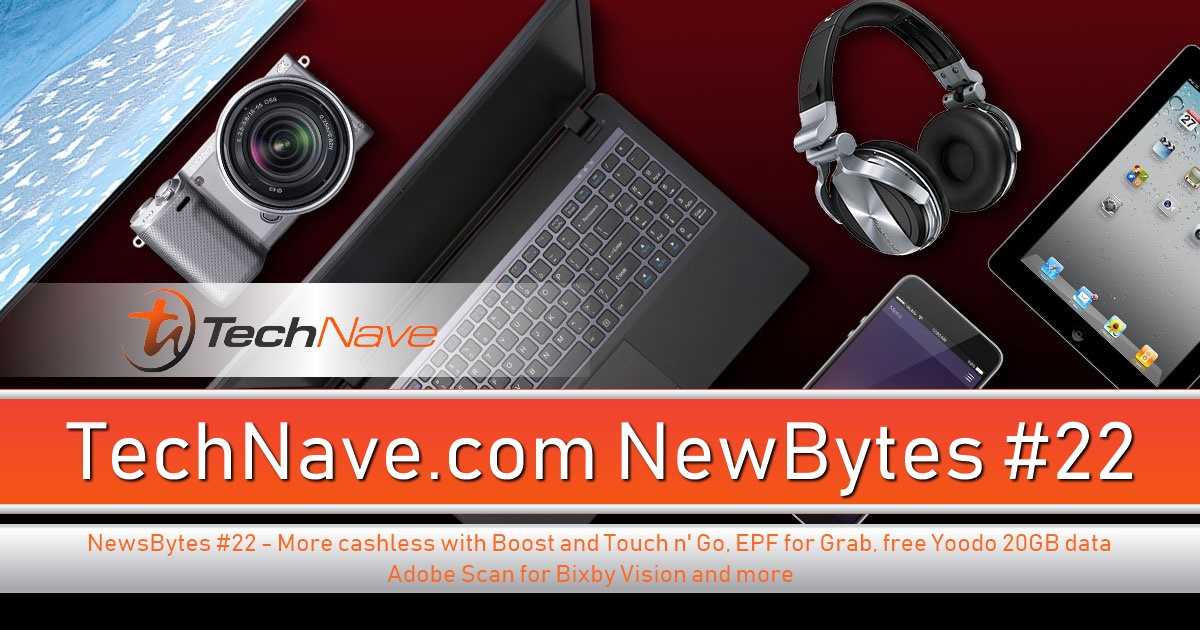 Boost makes its way to Sabah
With the growing lifestyle of going cashless, Boost has finally reached Sabah and reached over 700 merchants and counting integrating the app. Sabahans can now enjoy the convenience at Orange, Bataras hypermarket, KK International Airport Taxi, A Square Container night market, City Cineplex, City Optics, More Fun food delivery and food trucks and many others.
"We are delighted to have Sabah join our efforts in Boosting Malaysia! We want to support customers and merchants alike in their digital transformation process and to offer an entirely new payment experience. While supporting the government's aim in driving innovation and advanced technologies, the cornerstone of our business has always been to aid the underserved into the digital economy. With Boost, small businesses that are unable to access traditional financial channels are given opportunity to leave a digital footprint." said Christopher Tiffin, Chief Executive Officer of Boost.
[L-R] Christopher Tiffin, Chief Executive Officer of Boost and YB Tuan Kenny Chua, Assistant Minister of the Ministry of Finance
Don't have the Boost app yet? No worries, download the app from the Apple Store and Google Play Store is free and for more information, check out the website at myboost.com.my.
KK Mart now accepts Touch 'n Go eWallet
It was only last month that KK Mart made a new partnership with Boost. Now Touch 'n Go is the company's latest partner and all Touch 'n Go users can use the eWallet to purchase stuff across all 330 chains nationwide. Nice!
The partnership announcement was officiated by Yg Berhormat Mr Chong Chieng Jen, Deputy Minister of Ministry of Domestic Trade and Consumer Affairs, accompanied by special guests Datuk Michael Kang, President of SME Association of Malaysia, Yg Berbahagia Dato Roslan Bin Mahayudin, Director of Enforcement, Ministry of Domestic Trade and Comsumer Affairs, Mr. Yap Chih Ming, Group CFO of GHL System Bhd, Mr Lim Kok Hing, Co-Founder and Executive Director of iPay88 and Mohammed Roslan Dato' Shariff, Managing Director of Maju TMAS.
By the way, TNG Digital will be giving out RM500,000 worth of soft PINs across all 330 KK Super Mart outlets nationwide from 15 August onwards. Every KK Super Mart customer who signs up with the Touch 'n Go eWallet will receive free RM10 reload soft PINs with no minimum purchase.
Grab and EPF working together to improve retirement savings for Grab Drivers + new photo-sharing feature on GrabChat
Looks like working as a Grab Driver is getting better these days, as both Grab Malaysia and the Employees Provident Fund (EPF) have signed a new Memorandum of Understanding (MoU) in an effort to give Grab Drivers the opportunity to save for their retirement through Caruman Sukarela Insentif Persaraan (i-Saraan), a voluntary retirement savings programme with the EPF.
This includes annual dividends on their retirement savings, tax relief, death benefit, and access to the Retirement Advisory Service at no cost. Speaking of that, the Government will top up an additional 15 per cent of annual contributions to a maximum of RM250 per year until 2022 for members below age 55 for annual dividends and benefits. It has already taken effect on 16 August 2018 and Grab will also be providing a contribution of 5% on the amount contributed by selected driver-partners subject to a maximum of RM80 a year, in addition to the Government incentives provided.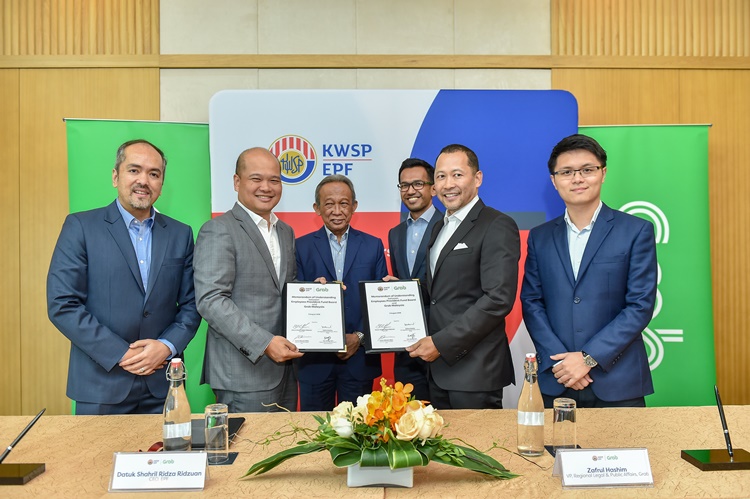 (From left to right) Present at the MoU ceremony were Tunku Alizakri Alias, Deputy Chief Executive Officer (Strategy), EPF; Datuk Shahril Ridza Ridzuan, Chief Executive Officer of EPF; Tan Sri Samsudin Osman, Chairman of the EPF; Rashid Shukor, Head of Operations at Grab Malaysia; Zafrul Hashim, Vice President, Regional Legal & Government Affairs at Grab and Tan Jiong Jian, Head of Business Development at Grab Malaysia
Also, Grab Malaysia has FINALLY added a photo-sharing on GrabChat. It may have been long overdue but better late than never. So if your driver can't find you next time, be sure to utilize this useful feature to show where you're waiting!
For more information on i-Saraan, please visit the EPF website at www.kwsp.gov.my or call the EPF Contact Management Centre at 03-89226000 or visit any EPF counters nationwide.
Yoodo giving away free 20GB Internet data

Say what now? That's right, in conjunction with our Independence Day, Yoodo is offering free 20GB Internet data pool but this is only for first-time users. Valid until 30 September 2018, you will have to order and activate your first Yoodo SIM through the Yoodo app. After you have activated it, you should see a RM20 credit in the Yoodo wallet and buy the 20GB for free. It's that simple, people. To see the complete tutorial step over to their website.
Adobe Scan for Bixby Vision debuts with the Samsung Galaxy Note9
If you were one of the customers who already pre-ordered the Samsung Galaxy Note 9, here's some good news - Adobe Scan is now available for Bixby Vision with the phablet! With this, every Galaxy Note 9 users can use the Adobe Scan app to log receipts, save business cards, store class notes, file tax documents for digital safekeeping, and many more.
All you have to do is use Bixby Vision and it will automatically recognize the documents in the camera's view, automatically detect a document's boundaries, correct perspectives, remove shadows and enhance text for a sharp and easy to read Adobe PDF. We've talked about Adobe Scan before, so head on over here if you want to know more and also, the Galaxy S8/S8+, Galaxy Note8, and Galaxy S9/S9+ will also have it.
Huawei is now investing in Western Digital for better greater big data and video application efficiency
On to somewhere else in the tech-world, Western Digital Corporation has announced that Huawei has qualified its host-managed shingled magnetic recording (SMR) helium-based HDD, the Ultrastar Hs14 – the industry's first 14TB HDD designed for demanding big data applications. To add on to that, Huawei is breaking new ground by optimizing its distributed cloud storage OceanStor 9000 system for the sequential nature of data capture in video surveillance applications.
"With the explosive growth of data, our worldwide customers from different industries require high density, good performance and low power to meet their growing demands. Huawei provides comprehensive data management solutions for customers based on high-performance all-flash storage for critical business scenarios. Huawei has optimized its distributed file system for massive unstructured data scenarios, which enables OceanStor 9000 to support capacity up to 14TB SMR drives. This helps customers to manage massive video data with a lower TCO," said Meng Guangbin, president of storage product line at Huawei.
Cool story, bro. By the way, the Ultrastar Hs14 14TB HDDs are now available which you can check it out here.
Digi gets personal with Malaysians with Customer Engagement Day
As what the title says, Digi Telecommunications Sdn Bhd had mobilized over 1000 employees (or Digizens) to the streets of Malaysia to appreciate, listen, and dialogue with their customers. Themed #DigiNation Freedom to Connect, this annual event's purpose is to gather crucial feedback that would help develop better services and overall better experiences.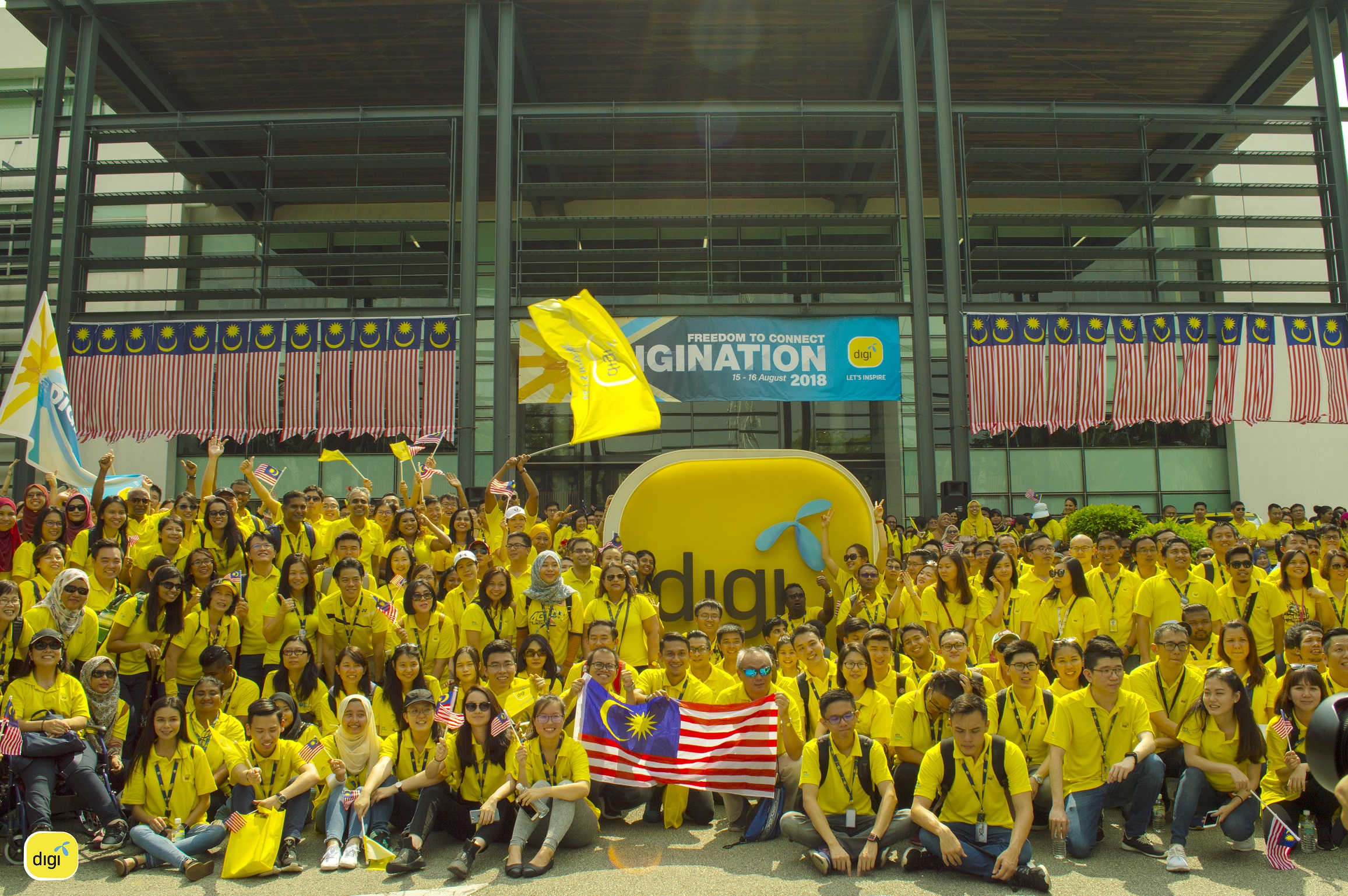 "At Digi, we are completely obsessed with our customers and innovation; only by understanding their current and future needs will we be able to create and innovate personalised solutions that offer true freedom to connect and share for today and tomorrow. This is why Customer Engagement Day is arguably the most important day in our calendar," said Digi's Chief Marketing Officer, Loh Keh Jiat
Going out from the D'House as the starting point, the Digizens stretched out far and wide including Petaling Jaya, Bangsar, Damansara Uptown, Penang, Johor Bahru, Kuantan and Kota Kinabalu and Kuching in East Malaysia. That's some dedication there, hats off for the effort!
PETRONAS Dagangan Berhad and Common Ground join forces to foster the growth of Malaysia's startup ecosystem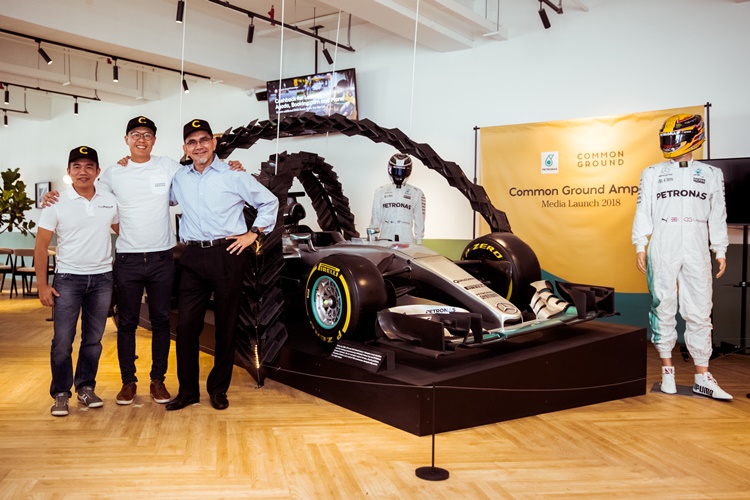 Petronas Dagangan Berhad (PDB) spokespeople and Common Ground spokesperson posing with the highly successful Mercedes-Benz Formula One racing car
Just over the week, Petronas Dagangan Berhad (PDB) and Common Ground have also announced their partnership. The initiative is to increase the growth of Malaysia's existing startup ecosystem through providing the community with a conducive platform to network and co-create revolutionary ideas. Moreover, the two companies will also work together to guide and mentor startups to enable the corporations to innovate solutions that are relevant to PDB's business.
In an effort to include increasing station maintenance efficiency and creating a more premium and convenient fueling experience for customers, PDB will be opening up doors for Common Ground's network of startup community to participate at The Place @ Ampang. This is to enable the ventures, which are aimed at enhancing the overall customer experience.

For more info, book a site visit to Common Ground Ampang to explore the different pricing packages, visit the website at commonground.work.
Flower Chimp Secured MYR 6 Million Funding Following Success Across Southeast Asia

What's Flower Chimp? Well, it's a website that allows you to arrange flower delivery to your loved ones. There's a bunch of categories such as congratulatory flower stands, special messages on Valentine's and Mothers' Day, Flower Chimp caters to all your blooming needs from as low as MYR89.
Anyway, with the growing success in less than two years, the company has become the number one choice in the online flower delivery service in Malaysia, Indonesia and the Philippines. That said, Flower Chimp has recently secured an investment of MYR 6 million from its investors including Asia Venture Group (AVG). This is what Maximilian Lotz, Founder of Flower Chimp has to say:
"With the power of online marketing and social media, we aim to enhance our branding and become the top-of-mind for our customers to look forward to as they become more tech-savvy every day. We are confident that in the next twelve (12) months; from Q4 2018 to Q4 2019, Flower Chimp will grow three (3) times over with contributions from all four major markets namely Malaysia, Singapore, Indonesia and the Philippines," he said.
That's nice, now if you'd excuse me I'm going to make an order.
Stay tuned for more NewsBytes at TechNave.com.