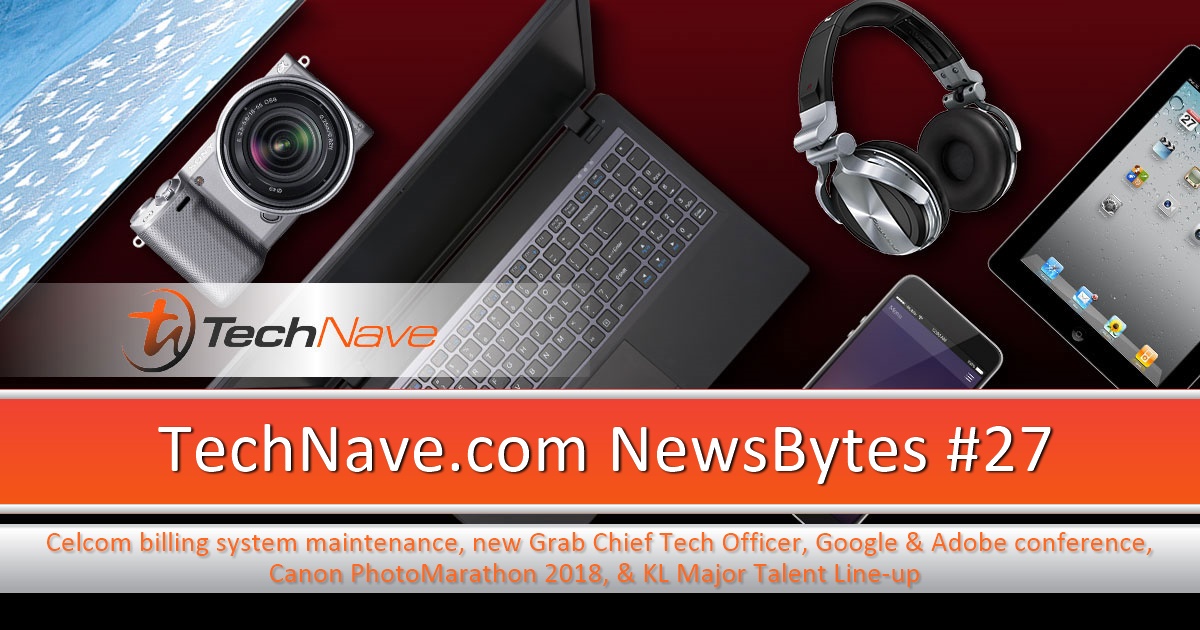 Celcom upgrading billing system on 21 October 2018
For this Sunday (21 October 2018), Celcom Axiata Berhad will be carrying out a billing system upgrade at 8.00pm until 22 October, Monday at 9.00am. Even if the upgrade takes place, customers will still be able to make and receive calls, utilise data quota, SMS, MMS and roam overseas, as usual, but not for selected transactions.
Just to be safe, prepaid customers are encouraged to reload and subscribe to mobile internet in advance before the upgrading exercise. For postpaid customers, they are advised to make payment for any outstanding balance before the stated duration.
Below is the list of things that won't be working during the upgrade for prepaid and postpaid:
Prepaid transactions:
Prepaid services such as reload, balance transfer, account status check, and mobile internet subscriptions.
New prepaid line activation and registration.
Requests for change of plans, change of SIM card, and Value Added Service subscriptions.
Postpaid transactions:
All bill payment channels such as Celcom Life app, online banking, Online Customer Service, Celcom Business Portal and Celcom Payment Kiosk.
Requests for change of plans, change of SIM card, and Value Added Service subscriptions.
Subscriptions to roaming passes.
Other services such as requests for new postpaid line registration and Mobile Number Portability (MNP) will be accepted. However, all requests will only be processed on 22 October, 9.00am onwards.
For further queries on the billing system upgrade, customers may reach the company through Celcom Facebook or Xpax Facebook, or dial *123# from abroad.
Amazon and Oracle veteran Mark Porter joins Grab as Chief Technology Officer (CTO) for Transport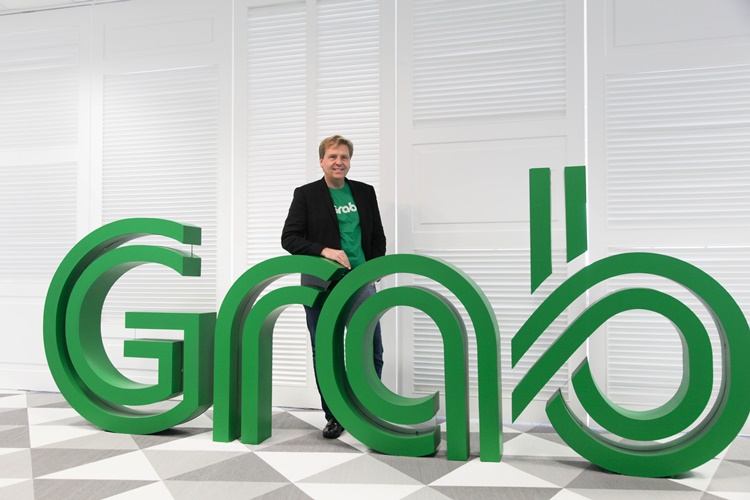 Mark Potter, Grab Chief Technology Officer (CTO) for Transport
Meanwhile, Grab has appointed Mark Porter as Chief Technology Officer (CTO) for Transport. What is his role? Well, Mr Porter will be overseeing Grab's technology infrastructure and teams dedicated to its Transport business, which includes private car hires, taxi-hailing, motorbike taxis, carpooling, multimodal services and more.
In other words, his new job is to ensure Grab's technology infrastructure is robust to deliver high standards of reliability and stability for Grab users and to support constant product innovation. Besides that, he will also monitor the development of agile platforms and machine learning, AI, and data science capabilities to deliver a safer, more seamless and personalized transport experience.
To read the full story of Grab's latest recruitment, you can check it at their blog here.
Google Digital Workshop 2018 in Kuching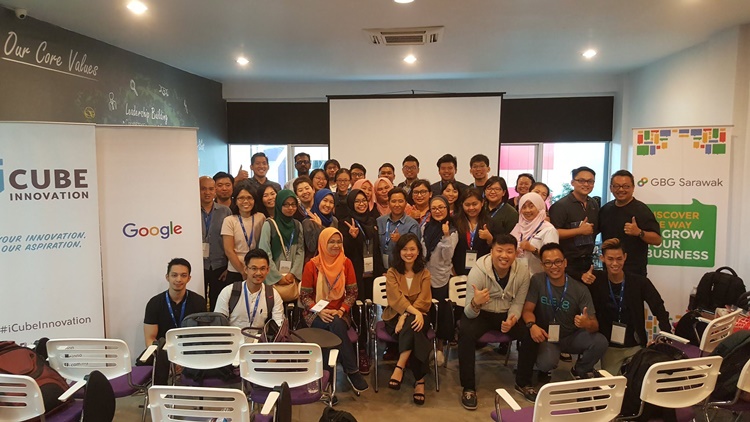 Google-certified trainer Ashley Ong of ClickAcademy (centre bottom) shared valuable digital marketing insights with participants
Entrepreneurship is getting really popular and it's slowing spreading to East Malaysia as well. As of 11 October 2018, Google Malaysia held a Google Digital Workshop (GBW) in Kuching, Sarawak, in association with Google Business Group (GBG) Sarawak and around 60 participants came to join. The workshop is also supported by iCube Innovation.
During the workshop, the participants were given a tutorial on how to analyze the digital market, as well as having how to build a better digital presence using the free Google My Business platform. This includes various digital marketing means of helping businesses reach their potential customers like Google Ads. They also got to know more about Google Analytics, which is helpful in optimizing campaigns.
If you would like to know more about GBW, you can visit the official website here to get started.
#SayYesTo the Eye for Photography
Video highlight of Canon PhotoMarathon Malaysia 2017
Do you love photography? Presented by Canon SnapShot, there was a Canon PhotoMarathon Malaysia 2018 event on 20 October 2018 at Sunway Pyramid. It started from 7AM until 8PM so that's a whole day of doing a photography spree, you can visit the website here to find out more.
On the other hand, if you couldn't make it to that event, there's a website dedicated to teaching you tips and "developing an eye for photography". There are several photography tips in there, such as how to play with the lighting, colours, patterns as well as looking from interesting perspectives and details.
Adobe Announces Next Generation of CreativeCloud at MAX 2018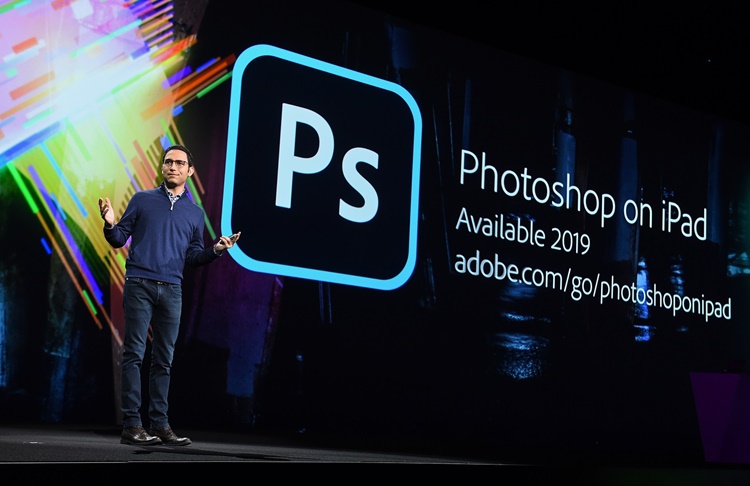 Adobe's Scott Belsky announces Adobe Photoshop is coming to iPad Pro at Adobe MAX in Los Angeles, Calif. on Monday, 15 October 2018
Also on the other side of the world, Adobe MAX 2018 conference has unveiled the next generation of CreativeCloud for the community. There are several major updates including Photoshop CC, Lightroom CC, Illustrator CC, InDesign CC, Premiere Pro CC and Adobe XD. Moreover, Adobe Premiere Rush CC was also introduced as the first all-in-one, easy-to-use video editing app for social media creators for YouTubers and even Instagramers. Even the Apple iPads series are getting Photoshop CC and Project Gemini, which is a drawing app.
Creative Cloud updates are now available to all Creative Cloud subscribers, this includes membership plans for individuals, students, teams, educational institutions, government agencies and enterprises. However, Photoshop CC on iPad, Project Aero and Project Gemini on iPad will be available in 2019. You can check out the full details at Adobe MAX website right here.
The Kuala Lumpur Major Talent Line-up announced
Finally, eGG Network, PGL & ImbaTV are happy to announce the English talent line-up for the highly anticipated Kuala Lumpur Major tournament at Axiata Arena on 16 - 18 November 2018. In total, there will be 16 of the best Dota 2 teams around the world fight in a LAN event for a $1,000,000 prize pool. Below is the official talent line-up: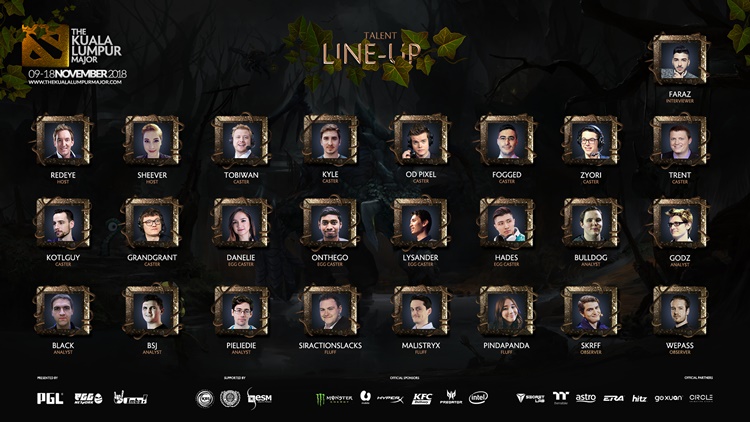 Kuala Lumpur Major Talent Line-up
By the way, Monster Energy is now the Official Energy Product Sponsor of The Kuala Lumpur Major. Participants of the KL Major are invited to visit the Monster Energy booth to discover the activities that The Official Energy Product Sponsor has prepared for them. All ticket categories for the Kuala Lumpur Major are still available, which you can purchase now here.
Stay tuned for more NewsBytes at TechNave.com and thanks for reading.