Nokia 7 Plus and 6.1 Plus receiving Android 9.0 Pie update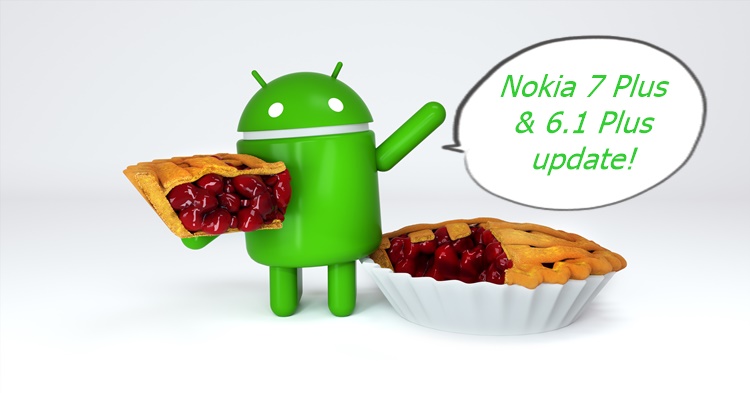 You read that right, those of you who own the Nokia 7 Plus and 6.1 Plus will be getting the pie earlier than other Android devices. Android 9.0 Pie has already started rolling out starting this month but however, do keep in mind that for 6.1 Plus owners, the Android 9.0 Pie update is only in beta so early adopters can provide feedback to Android about the beta version.
So is there any new stuff from the pie? Well, both devices will be getting a new feature called App Actions. What this feature does is learning your daily usage and assists you with it, so with this, it will be able to predict and recommend your next action automatically. In addition to that, there's also a new Adaptive Battery which prioritizes battery power for apps that you used often.
By the way, Nokia 6.1 Plus users can try out these set of features by registering yourself on Nokia phones beta labs. Below is a complete list of the updates:
App Actions – Helps you get things done faster by predicting your next move and displaying the right action on your phone
Slices – Identifies relevant information of your favourite apps to make them more easily accessible when you need them
Adaptive Battery – Uses deep learning to understand usage patterns and prioritises battery power on important apps
Adaptive Brightness – Automatically adapts phone brightness by learning from your interactions with different settings
New System Navigation – Features a single home button that provides intelligent predictions and suggestions (user enabled)
Digital Wellbeing features available:
Dashboard – Highlights screen time and phone usage including how many times the device has been unlocked and the number of notifications received
App Timers – Set time limits on app usage
Wind Down and Do Not Disturb – Set a daily schedule to get your phone ready for bed. Your screen fades to Grayscale, while Do Not Disturb silences notifications for a restful sleep. You can activate Do Not Disturb anytime you want to disconnect.
Stay tuned for more Nokia news at TechNave.com.