Nokia 8.3 5G, 5.3, 1.3 and 5310 release: SD765 + 5G + 64MP, SD665 + 4000 mAh, 5.71-inch display + Camera Go and Android One security updates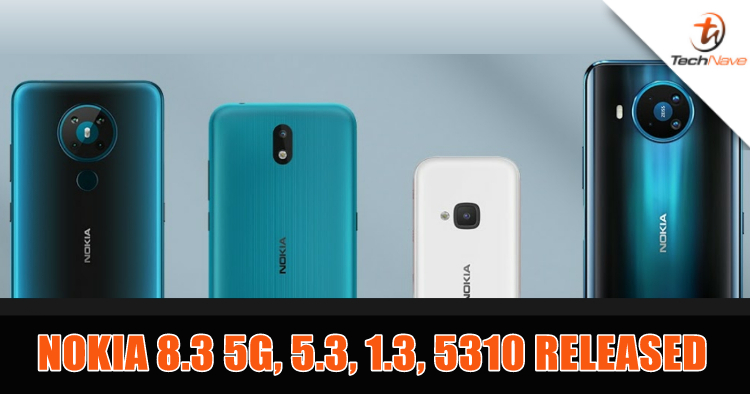 In an online livestream yesterday due to Coronavirus concerns, Nokia revealed their Nokia 8.3 5G, 5.3 and 1.3 smartphones along with the 5310 feature phone. While the 8.3 supports 5G and offers a 64MP quad camera with ZEISS Optics, all other tech specs for the three Nokia smartphones are decidedly midrange with one or two standout features here and there.
All three come with Android One and dedicated Google Assistant buttons but the 1.3 comes with Camera Go, which is the cut down version of the Google Pixel camera app. No Malaysia release dates or pricing details yet but the 8.3 5G is priced at 599 euros (~RM2824) for Q2 2020, the 5.3 at 189 euros (~RM891) for April 2020 and the 1.3 at 95 euros (~RM447) for early April 2020. One of them makes an appearance in the next James Bond movie, No Time to Die.
Agent Nomi from No Time to Die uses a Nokia?
Nokia 8.3 5G - Nokia's 5G midranger
Available in only one colour, which is Polar Night, the Nokia 8.3 5G is rather weighty at 220g and 8.99mm thick, but the shimmering blue Northern lights inspired backside does look nice. Stand-out features include the aforementioned 5G connectivity, rear Pureview quad-camera (ZEISS Optics, 64MP + 12MP ultra wide + 2MP depth + 2MP macro, Dual high CRI rear flash), a 24MP punch hole front camera, side fingerprint scanner a 4500 mAh battery and Android 10 with guaranteed 2 year warranty and updates.
Other tech specs are a bit more midrange with a Qualcomm Snapdragon 765G chipset, 6GB / 8GB RAM, 64GB / 128GB storage and 6.81-inch FHD+ PureDisplay screen. There may be no mention of a Google Assistant button for this one, but there does appear to be one tooThere's still a 3.5mm headphone jack and microSD slot.
The Nokia 8.3 5G
Nokia 5.3 - Their big battery midranger
Just like the above, the Nokia 5.3 comes in thick and heavy at 185g and 8.5mm but there's more colour options which include Charcoal, Cyan and Sand. Not much really stands-out here except for a dedicated Google Assistant button and a 4000 mAh battery which Nokia says can last for 2 days.
Powered by a Qualcomm Snapdragon 665, 3GB / 4GB / 6GB RAM, 64GB storage and a 6.55-inch HD+ display tech specs are lower midrange for the most part. This is reflected in the 13MP + 5MP ultra-wide + 2MP depth + 2MP macro quad rear camera and 8MP dewdrop notch front camera. At least there's a 3.5mm audio jack and up to 512GB microSD support.
The Nokia 5.3
Nokia 1.3 - Their new Android One value buster
Going for the value range, the Nokia 1.3 remains as thicc as the other 2 at 9.35mm and has the same Charcoal, Cyan and Sand colours but in more solid options. The highlight here is that it uses Camera Go, which is a cut down version of the Google Pixel Camera app, but everything else is very much entry level with a Qualcomm Snapdragon 215 chipset, 1GB RAM, 16GB storage and removable 3000 mAh battery.
At least, it still has a dedicated Google Assistant button and there's an 8MP with AI low-light rear camera and 5MP front camera. The 5.71-inch HD+ display has a dewdrop front notch. Like the rest, it also has a 3.5mm audio jack and microSD slot.
The Nokia 1.3
One More Thing - Nokia 5310
In addition to the Nokia smartphones, Nokia also revealed their Nokia 5310, which offers a dual speaker and a slightly dual curved edge display, the first we've seen for a feature phone. It is expected to come in March for 39 euros (~RM183).
So, what did you think about the new Nokia 8.3 5G, Nokia 5.3, Nokia 1.3 and Nokia 5310? Since these are euro prices, we expect if they do come to Malaysia, they'd cost a bit less (perhaps RM200 or so less?). Would you be interested in them if they arrive in Malaysia? Let us know on our Facebook page and stay tuned to TechNave.com
The Nokia 5310
Nokia 8.3 5G Specs & Price >