Nokia C3 Review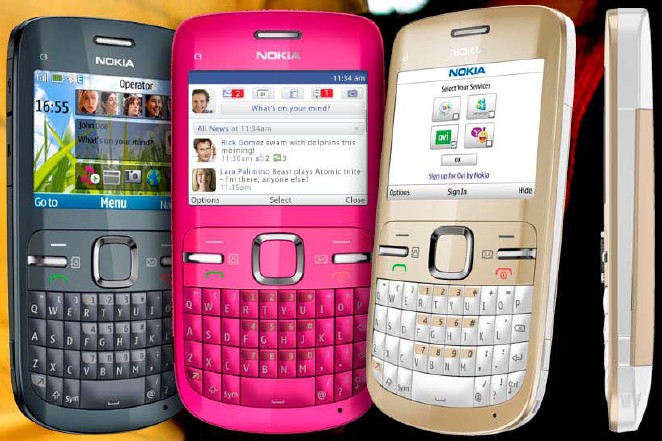 The Nokia C3 is a social gadget for the young. What's not to like if Facebook is your second home and you want to always stay in touch. Attractive design and the right feature set come at a price that many can afford. The Nokia C3 is so full of potential because it's suited for both emerging and mature markets.
In the low end, you will sometimes come across rare gems of phones that will surprise you with their styling and features. The Nokia C3 isn't one of them. The key word here is enough. The build, the connectivity, the interface – even the imaging – is good enough.
Nokia C3 - Design & Build:

When you take yourself shopping for a new prepaid mobile phone, you probably set your expectations fairly low. A majority of these devices are designed to look rather cheap, exposing their budget backgrounds to help their more expensive counterparts seem all the more desirable. Not so with the Nokia C3. While it is made from the same stiff plastic that most phones in this price range are made from, the C3 is a very nice-looking handset with a deceptively premium feel. Our review unit is in a shade of midnight blue with matte black trim and its high gloss finish gives it the appearance of one of Nokia's E-series range.

Also, like Nokia's business range, the C3 features a four-row QWERTY keyboard below its TFT display, and though we haven't seen an E71 for a long time we'd hazard a guess and say that this keyboard looks to be just as large and is equally usable. The keys are raised into soft humps, making it a little easier to navigate the small keypad with two thumbs. The navigation pad between the screen and the keyboard isn't as well designed, with Nokia opting to squeeze eight controls into the small space surrounding the five-way nav pad.

Nokia C3 - Display:
The budget for this handset doesn't extend much beyond its slick design, and as with most prepaid models, the 2.8-inch colour display suffers some. This screen is bright and colourful enough for basic everyday use; you'll have no trouble dialling numbers or reading messages, but the screen's poor viewing angle makes it a poor choice for long sessions. We played several simple video games on the handset and found that the optimal viewing angle of our review unit was actually 15 or 20 degrees off-centre, something we can't remember encountering before.
Nokia C3 - Features:

Just looking at the C3 reveals quite a bit about the features you can expect to take advantage of when using this phone. With its QWERTY keyboard, the C3 has a decent range of communication tools baked in; there's standard SMS with threaded conversation mode, email with support for POP3 and IMAP accounts, and Facebook and Twitter clients with a pre-installed home-screen widget. If you prefer your messaging to be more instantaneous, Nokia includes Ovi Chat on the C3, allowing you to connect to multiple IM clients like Windows Live and Yahoo.

You also get access to Nokia's Ovi Store for downloading new apps to the phone. What you don't get is 3G internet connectivity, so web browsing on the train or bus is a tedious prospect. Nokia compensates for this with the inclusion of Wi-Fi, which is essential for downloading new apps, but you will have to make sure you plan ahead and download what you want before you leave any Wi-Fi network you have access to.
Nokia C3 - Camera:
On the back of the C3 you'll find a 2-megapixel camera, but no flash. This is a standard configuration for phones in this price range, as is the absence of an auto-focus feature in the camera's software. The upside to not having auto-focus is that the camera snaps off images quite quickly — typically less than half a second. The end result is nothing to write home about, but it will take passable photos on the days you leave your digital camera at home.
Nokia C3 - Performance:

Our time with the Nokia C3 has been mostly worry-free; the everyday experience of using this phone is adequate with the quality of reception and the earpiece speaker delivering a good, basic mobile phone service. Composing messages is also fast, so long as your fingers can move comfortably over the small keyboard. We found we had to practice a little before we got the hang of it, especially using two-button combinations to form capital letters or to use secondary key functions, like numbers.

Nokia C3 - Network:
Without 3G, many C3 owners will probably overlook internet connectivity altogether, and this would be a good thing. Even after we connect the C3 to a Wi-Fi network, we still struggled to use many of the connected apps. When we first logged into Facebook, for example, we found the app caught in a refreshing cycle that it never appeared to recover from; however, when we pressed the "cancel" button, it took us to the Facebook front page and was fully loaded. The C3 also reminded us of another pet peeve pertaining to Nokia's Symbian software: every time you open a web app, like the browser, it asks if you want to connect to the internet, you say "yes" and it then asks you which internet connection you'd like to use — every single time. We understand that Nokia wants to protect its customers from unwanted data use, but if we're connected to a Wi-Fi network, Nokia, please take that as an indication of our intention to go online.
Overall:

At the time of writing you can buy a 3G touchscreen smartphone cheaply in the major phone stores, and in an age ruled by social networks it would seem wise to spend this extra money to have the internet wherever you go. The C3 does a fine job of its core duties as phone and messenger, just don't expect too much from the features beyond these basics.
Nokia C3 Specs & Price >