Nokia C6 Review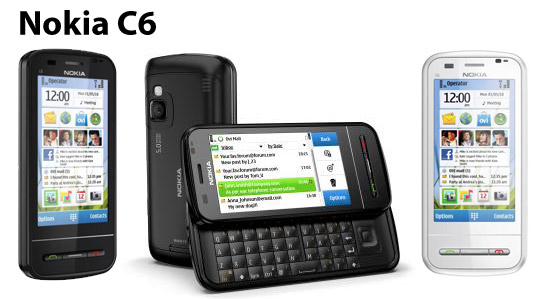 The Nokia C6 has been around for some time now, its Nokia's mid range smart phone which is almost identical to the N97 mini, which was previously a part of its high end segment. The Nokia C series consists of their more affordable range of phones that do well for the masses and are not short of features too. In other words, its like the "VFM" series they got. The Nokia C6, C6-01 and the C7 are the high end models of the C series, all having pretty different features and have their won style.
Nokia C6 - Design and Build:

The Phone looks almost identical to the 5800XM when the keyboard is hidden, in fact, the C6 is basically a 5800XM with a slide out QWERTY keyboard and an upgraded camera. The Keyboard is actually nice, has a good feel to it. The backlight is also nice, but there seems to be a glitch, at times the keys dont get illuminated or take a few seconds to turn on, but no major issue. When the keyboard slides out, it does not make an angle like the N97 mini and just slides out straight. On one side of the phone, you have your volume control buttons, a switch for the screen lock and camera button, all pretty nowmal, nothing great. Overall, the phone feels solid and very well built.
Nokia C6 - Display:
The screen is pretty good, the touch sensitivity for a resistive touch screen is really good, it felt much better than the capacitive touch of an X6. The brightness is enough for indoor use, but in direct sunlight, the screen is really poor and it is not possible to use it. With the resolution of 360x640, the screen is not as pixel dense as some other high end phones.

Nokia C6 - OS: Symbian Series 60

This OS has been in use for ages now, its the same one found on the 5800XM, just updated for using the D-pad. Symbian is not actually as bad as it sounds at first, it supports multi tasking, the apps found on the OVI store are of decent quality, but even after the OS being so old, still has glitches. The UI feels a bit dated, not much eye candy here. I really hope some one finds a way to using another OS on this phone, even a ROM for Symbian 3 would be nice, but chances of that happening are very very slim.
The home screen is pretty standard for a Symbian device, but is actually pretty useful. Almost anything you need is just 1 touch away, you can easily customise what apps you want to see on the home screen, changing alarms, profiles and other such things are just a touch away. The use of kinetic scrolling is done well, but can get a bit irritating (will tell why later in the review). If you are wondering what that last image is, its the task manager, pretty useful as it is easy to leave an application on, which can make the phone sluggish if too many apps are left on.

Nokia C6 - Calling and Messaging:

Calling and messaging function on this phone are pretty normal, voice clarity during calls is up to the mark. You can do video calling on this phone, but i have not tried it yet. There is this really nice feature in this phone, when you go to your contacts and you look for some name, the on screen keyboard keeps getting filtered as according to the names that are on your contact list, making searching for contacts really easy and quick.
Using the keyboard for messaging is really easy and quick, but you do get an on screen keyboard too. However, till now i have not been able find an onscreen QWERTY, you just get the normal set of keys. I generally dont like using that, but people comfortable with auto complete and T9, should have no issues at all.

Nokia C6 - Multimedia:

The phone uses the normal media player that they have been using for ages, its pretty simple and works well, but lacks any "extra" features and needs fresher UI. The audio via headphones is pretty nice, the phone has a 3.5mm headphone jack, so you can use your high end headphones with this phone. I use my HD 201 with these, which are by no means high end, but the audio quality is still pretty nice. The speaker however, is more or less average quality and its loudness is also pretty average.
Nokia C6 - Video:
Video playback requires you to convert your video files into either .mp4 or .3gp. This can be done automatically using your OVI suite, but I prefer doing it manually using Format factory,where you can use the presets for optimum conversion. Viewing videos on the 3.2" screen is pretty nice, the images look good and no lags too.

Nokia C6 - Video:
The phone has a 5MP camera with LED flash and auto focus, the camera does a good job under natural light but the images get a bit noisy when under artificial light. The flash is effective if the object is close, say some 3 feet apart at max, beyond that, its pretty useless. The Auto focus is really useful, makes things much easier.Video quality is also pretty decent, it can record videos at VGA resolution at 30 fps, which is not very great, but the videos are pretty clear.

Nokia C6 - Connectivity and Browsing:
The phone pretty much has it all, GPRS,EDGE and 3G are supported on this phone. Wifi connectivity on the phone is also good, accessing it is really simple. Browsing over the internet is also very easy. The in built browser uses kinetic scrolling well, but on heavy pages, you need to have patience and let the full page load,else the thing gets messy.

Nokia C6 - GPS:

The Phone comes with lifetime free voice navigation, which is really helpful. I have tried it a few times and the GPS is pretty accurate, but that really depends upon the signal strength. The phone supports A-GPS, so that uses your network to assist the GPS. You need a GPRS connection to make the GPS work well, else most of the time it can't connect. The OVI maps are fairly detailed inside city, I could see the various blocks in my campus marked on the maps, but once you venture outside, its pretty much limited to national highways. You get a few nifty apps when you go into online mode, my favorite app was burp!,which tells you the different restaurants around your current location, the food they serve, their phone numbers, a pic and it can even navigate you to it! There are many such apps, all free.

Nokia C6 - Push Mail:
Another thing that comes with the phone is push mail, yes thats the thing blackberry was originally known for, now you can have multiple accounts setup on your phone, you can use gmail, yahoo mail, Ovi mail, Hotmail , rediff, indiatimes and so on...pretty neat, very easy to use, but i recommend that you have a gprs connection, else this feature is more or less pointless. With quick office and adobe pdf reader installed, attached files are easy to open.

Nokia C6 - OVI Store:

The OVI store is the place from where you can download games, apps and more for your phone. Most of these apps are free, so only data transfer rates will apply. The OVI store aint even close to the apple store or the android market in the number of apps and their quality. But you can find many similar apps and there are enough apps to fill in almost all your needs. I was slightly disappointed with the limited number of themes and quality games on the OVI store. But here are some decent apps that i use:

Conclusion:

The Nokia C6 is pretty much a Nokia N97 mini with a few minor differences, since the N97 costs a hell lot more , its a no brainer to go for the C6 over the N97 mini. Nokia could have done a much better job with this phone though, its no way near perfect. The hardware is old and outdated, could have used a 600MHz ARM processor with some more RAM to go with it. A Symbian 3 update would have been awesome, but i dont expect that coming with the relatively slow hardware. If you compare this phone to the similarly priced android phones, you got to see what you need more, i chose a high resolution screen and a full QWERTY over faster performance and better OS, so its totally up to you.
Nokia C6 Specs & Price >