Nokia E6 Review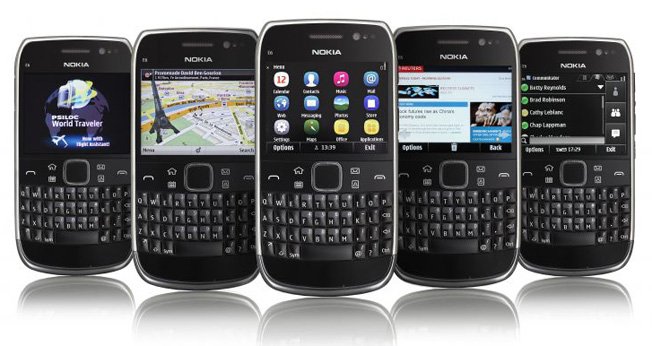 Overview:
The Nokia E6 is a slimly designed 3G Smartphone complete with a responsive touch screen & a full QWERTY keyboard. This is an amazing business phone with easy to use call, messaging, Internet, camera, music & video playback, assisted GPS navigation features & so much more. Documents can be emailed, viewed & edited on the Nokia E6 making it the perfect business companion. Its built in battery provides its user with outstanding battery performance allowing the user to use their handset for longer without the need to continuously recharge. The Nokia E6 supports the Symbian Anna operating system which is incredibly user friendly with an intuitive user interface.

Nokia E6 - Appearance & Size:
The E6 has a bar form designed casing with easy accessibility to the full QWERTY keyboard on the lower section of the casing & a stunning touch screen on the upper section of the casing. Its touch screen is 2.4 inches in size when measured from corner to corner & this screen has a clear viewing display as well as providing the user with touch screen feature & application controls. The user interface is easy to manage & is highly intuitive, plus the casing has an elegant appearance which is available in either a white, black or a silver grey colour. It has a slim design which makes it incredibly easy to hold when in a single hand plus whilst holding the handset the user can reach the touch screen or keyboard with their thumb to control their phone easily. The Nokia E6 is 1.05cm in depth, 5.9cm in width & is 11.55cm in height plus it weighs one hundred & thirty three grams. This business phone is efficient & easy to use plus it has a sophisticated design which makes you proud to own it.
Nokia E6 - Camera & Video:
There is a built in forward facing VGA camera lens which can be used for video calling purposes or for when the user wishes to take a self portrait. The integrated video player can be used for entertainment & the user can play many formats of video either on their Smartphone or on their TV as this handset supports a TV out option. The user can view videos which have been shared by others, downloaded or stored on the E6 from previous video recording. On the back of the Nokia E6 is an eight megapixel camera lens which allows the user to capture & record amazing still photographs as well as recording high quality video footage. There is a variety of camera & video options which allows the user to adjust their setting to suit the capturing or recording requirements. Photo geo tagging can be enjoyed thanks to the handset GPS support allowing the user to add a location of where each photograph was taken to their snaps.
Nokia E6 - Music:
The user can tune into their favourite radio station & listen to music, sports commentaries & so much more using the radio feature which comes complete with a radio data system. For music playback the user can add new music to the E6 via download or music transfer & listen to their selection on the integrated music player which comes with album cover display, plus it supports many music playback formats & is a pleasure to use, using simple touch screen controls.

Nokia E6 - Communication & Messaging:
All the user's personal & business contacts can be stored in the contacts facilities allowing the user to add contacts names, a selection of contacts numbers & email addresses all in one place. The user can communicate with others using this handsets easy to use call options or by using the varied selection of messaging services available. The user can communicate via email for business purposes as well as for personal communication. Emails can include document attachments & the Nokia E6 provides a direct email service for easy & quick communication. Other messaging services available include a text message service in an easy to view layout, an instant message service which allows the user to chat to friends & colleagues in an online text conversation & a picture & video multimedia message service. There is an integrated QuickOffice document editor which allows the user to view & edit Word, Excel, PowerPoint & PDF files.

Nokia E6 - Battery:
The Nokia E6 offers its user outstanding battery performance with up to six hundred & eighty one hours of GSM standby battery time or an estimated seven hundred & forty four hours of 3G standby time. It's amazing talk time extends to approximately seven & a half hours of talk time over a 3G network or over fourteen hours of talk time when the handset is used over a GSM network.
Nokia E6 - Connectivity:
The E6 has an assisted GPS navigation feature complete with a maps application. A connection between the Nokia E6 & other devices can be gained using a Bluetooth® wireless connection or via a USB cabled connection, & high speed transfer rates can be experienced thanks to EDGE technology. There is a memory card option so therefore the user can add up to 32 gigabytes of memory via the memory card option, plus the Nokia E6 has 8 gigabytes of internal memory along with 1 gigabyte of ROM & 256 megabytes of RAM.
Nokia E6 - Network:
It works over GSM & 3G HSDPA networks & the user can enjoy high speed network connectivity over a 3G network when required. Accessing the Web is easy on this slim business phone as the browser is easy to access from the home screen, plus touch screen controls can be enjoyed whilst the user is browsing the Web, plus gaining access to well known social network websites & Wi-Fi® connectivity allows the user to gain a cable free connection to a nearby wireless hub or hotspot.
Conclusion:
Overall, we still feel this is another phone from the Nokia handbook of 'How to make phones that are a bit like the other phones we made but also a bit different'. It sadly skipped the chapter on 'How to make the phone as good as the competition', but depending on the price could still attract a lot of those that dislike BlackBerry phones but love a QWERTY keyboard.
Nokia E6 Specs & Price >