Nokia X1-01 Review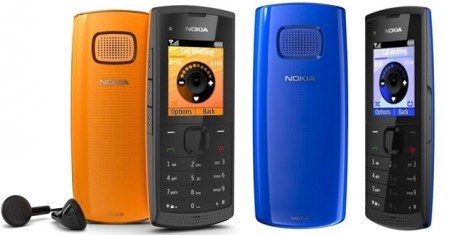 The Nokia X1-01 is a very low end dual SIM phone offered at a really low price. It has all the features that you would look in such a phone. Also, there is the brand name of Nokia so you can eb assured that of the quality. Its strengths include memory, music, long battery life and good design.
Nokia X1-01: Design & Build
There is nothing special about the design; it is quite similar to other basic phones. This handset is offered in a variety of different colour options of blue, red, grey, orange, and white. It is 112.2 mm long, 16 mm thick and 47.3 mm broad. The weight of the phone is 91.1 grams which isn't too heavy.
Nokia X1-01: Display
Nokia X1 01 has a 1.8 inch screen with a resolution of 128×160 pixels. The screen is small and the resolution too is low end but you cannot get the world from such a low end cell phone. You will be able to see phone numbers and messages clearly on this phone but for anything else, you will need to scroll loads because the screen doesn't show a lot of things at a time.

Nokia X1-01: Keypad
Nokia X1 01 has a standard alphanumeric keypad and it blends well with the overall design of the phone. There are two talk buttons for the two SIM cards inside the phone. The soft buttons on the keypad help you in smoother navigation and the D-Pad is located at the centre of all the operations.
Nokia X1-01: Music
Music players were once restricted to only higher end phones but now they have been incorporated in basic phones as well because there is a lot of demand for them. Nokia has never been well known for its music prowess. You won't get all possible features here since it is a low end phone but still the goodies offered here are impressive considering the price of the phone. Supported music formats are WMA, WAV, MP3, and eAAC+. There are dedicated keys for accessing your music faster.
Nokia X1-01: Camera
Nokia X1 01 doesn't come with a built in camera but that isn't unexpected in a low end phone like this.
Nokia X1-01: Memory
Nokia X1 01 has a large phonebook memory and it can hold about 500 entries at a time. It also saves call records of past days. High end phones have 1,000 entry limit or unlimited entries for phonebook but 500 entry limit is still good considering the price point of this phone. You cannot have all the features in such cheap phones. The best part about the memory here is that you can expand it astronomically. The microSD card slot here accepts cards up to 16 GB.
Nokia X1-01: Battery life
Nokia X1 01 has a 1,320 mAh capacity battery. This battery can stay alive for 13 hours of talktime according to the manufacturer and the rated standby time is 1,032 hours. The rated music playback is 36 hours which is again impressive. You won't have to run towards to the power outlet to charge the phone too often.
Nokia X1-01: Internet & Messaging

Nokia X1 01 doesn't have Java and I won't recommend this phone to avid Internet users. There is no Bluetooth, GPS, WAP, or GPRS on board. The only messaging feature available on the Nokia X1 01 is simple text or SMS messaging.

Nokia X1-01: Call quality
Nokia hasn't compromised on the call quality here and in my tests, both me and my friends could hear each other very well. Hence if you are looking for basic phone for just calling other people, I would heavily recommend you to get this.
Nokia X1-01: Games
This phone has a good collection of built in games to play while you are waiting for your friend at the railway station. They are nice time-killers but don't expect anything spectacular from this small low resolution screen.

Nokia X1-01 Specs & Price >