Nokia X7 Review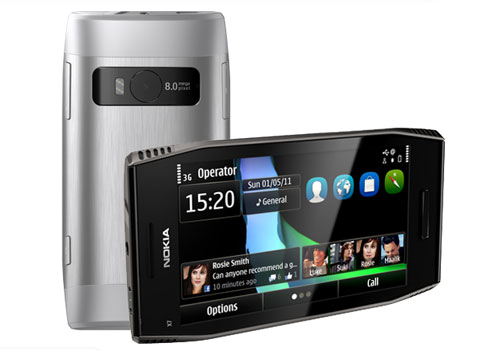 Nokia's X7 was launched concurrently with the Finnish company releasing the new version of its Symbian mobile platform, Anna. Together with the E6, the X7 is shipping with Anna on board, and many Nokia and Symbian fans out there will love the smartphone. Espoo is referring to the X7 as an entertainment phone, and it delivers in that department, no matter if we're talking pictures, video or music content.
Nokia X7 - Screen:

Experience all the thrills of high-definition gaming on the massive 4" touch screen. Enjoy the very best HD games from leading publishers – all available at Ovi Store. The screen offers real 16:9 aspect ratio (the one used for 1080p videos) thanks to the nHD resolution which is 640 by 360 pixels. The AMOLED screen reproduces the images and multimedia content in general very well, with (not over) saturated colors and deep blacks, as you'd expect. Text is well legible with no jerky edges and the colored icons look good on the (almost absolute) black background.
Nokia X7 - Design & Build:

Nokia X7 takes smartphone design in a new direction to create something special and truly unique. The brushed stainless steel finish and distinctive lines bring a contemporary look and feel. But great design is about more than just looks. The gently curved body fits perfectly in your hand while the large 4" touch screen is ideal for viewing HD videos and full web pages. The weight and thickness of X7 is 146 grams and 11.9 millimeters.
Nokia X7 - Software:

The Nokia X7 smartphone has designed with some great quality software. When you switch on X7 at first you can see gamming applications and gamming apps appears two impressive Galaxy on Fire and Asphalt including 8GB microSD card.

Nokia has added many social apps such as twitter, linkdin or facebook in Nokia X7 so that users can share their personal feeling with friends but I have seen Quickoffice limited edition where you can write or edit document. This is minor point of Nokia X7.
Nokia X7 - Performance:

Don't expect butter smooth performance all the time while using the X7. There could be several factors influencing this, from the moderate internals used to the platform itself. While in most cases you will not have to wait for it to do common tasks, once the list of running applications starts filling up, you'll feel the need to close some.

You'll also have to wait a bit after boot-up in order for all the widgets to be properly loaded, and if you use them in the "online" mode when they update regularly, you'll sometimes feel a bit of sluggishness until they redraw. Swiping from a Home Screen to the other is smooth and so is scrolling in applications like E-mail, Calendar or even the Music Player.

Nokia X7 - Call Quality:

There's nothing out of the ordinary when it comes to call quality, the X7 delivers solid performance with no dropped calls. Using the handset reproduces a clear and crisp sound with a little bit of bass (reminding of some BlackBerry smartphone). Where the X7 really shines is while using the speakerphone.

With its higher-than-average volume speakers you will no longer feel the need to turn the speaker down because of distorted sound. You won't need to bring the phone closer to your ear while on speaker even in a loud environment.

Reception is above-average on the X7, delivering 15-25% more bars than the iPhone or the LG Optimus 7 using the same operator, in the same spot. This is not only to the advantage of call quality, as you'll also feel a snappier operation while the smartphone holds on to a data signal better.

Nokia X7 - Battery Life:
We initially though the 1200mAh battery would be too small and drain quickly but with a normal day-to-day operation (browsing the internet, listening to music, social networking, a dozen e-mails, text messages, and phone calls); in reality, it can last anywhere between one and one-and-a-half days. You can of course reduce the period for e-mail polling (we had it set for automatic push) and put your widgets in offline mode so that they only refresh manually. Screen brightness is effective in the 50%-75% range and setting the screen time-out to a shorter delay than the default can bring you some more minutes of operation when it really matters.

Conclusion:

The Nokia X7 has a futuristic design some of you will like, while others will not. While we wish there were four speakers in the smartphone, the two at the bottom deliver great sound quality and volume even without the spatialization settings enabled.

Symbian unfortunately no longer has what it takes to compete with Android and iOS due to the lack of polish and recent decline in popularity, since Nokia chose to abandon it in favor of Windows Phone. For fans of the Nokia brand, Symbian, or new entrants in the smartphone world, the X7 is definitely a great choice for a multimedia, social smartphone which also offers free navigation solution. Power users or heavy business users will often be frustrated by the platform itself as well as the occasional slow-downs in operation.
Nokia X7-00 Specs & Price >