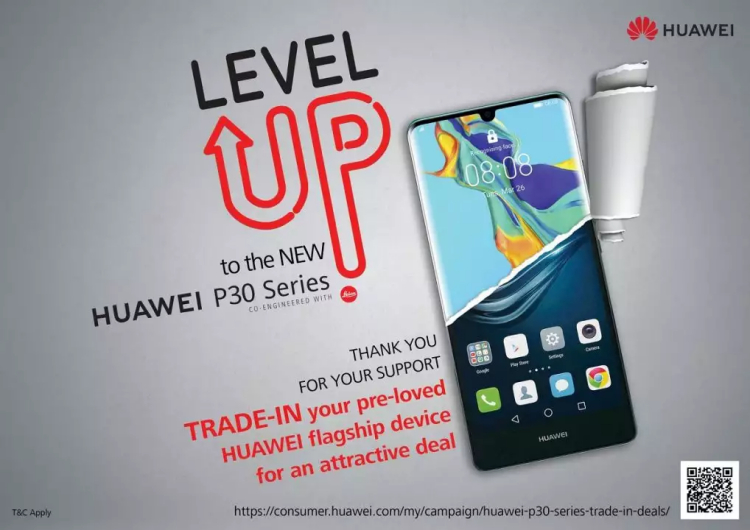 If you've been thinking about trading in your old Huawei phone and Level Up to the latest Huawei P30 series smartphone you can just dropby the nearest of the 108 Huawei Experience Stores across Malaysia starting from 6 April 2019. On top of getting a Huawei P30, you'll be eligible for VIP deals and offers such as 5 times free access to the Plaza Premium Lounge for a year, Special Green Fees at the Palm Garden Gold Club, buy 2 free 1 buffet at the Hilton KL, 30% off backpacks in Samsonite, 70% discounts on Aerotours by Aerocentric and many more.
However for those of you who need a bit more info, feel free to see the guide below.
Back up all your data, remove both the SIM and SD cards on your HUAWEI flagship device.

Bring this device to any HUAWEI Experience Store

where the staff will check it.

A diagnostic app will be installed on the device to test out the functions of the device (speakers, camera, charging function, etc.). Once completed, the app will show the trade-in value of the device.

Once the amount is agreed to, staff will then print a non-cash voucher to be used only for the purchase of the HUAWEI P30 Series, on the same day, and in the same HUAWEI Experience Store. Do note that only one flagship device is eligible for the 'Level Up' Programme per transaction.
Below this is the list of smartphones as well as the maximum trade in price for each individual phone. Do bear in mind that if the diagnostic app determines that some functions do not work or the physical condition of the phone is damaged, the trade-in price may be lower than listed below.
| Model | Grade A Trade Value |
| --- | --- |
| Huawei Mate 8 32GB | RM450 |
| Huawei Mate 8 64GB | RM600 |
| Huawei Mate 9 | RM500 |
| Huawei Mate 9 Pro | RM650 |
| Huawei Mate 10 | RM900 |
| Huawei Mate 10 Pro | RM1100 |
| Huawei Mate 20 | RM1500 |
| Huawei Mate 20 X | RM1900 |
| Huawei Mate 20 Pro | RM2200 |
| Huawei P9 32GB | RM450 |
| Huawei P9 64GB | RM500 |
| Huawei P9 Plus 64GB | RM550 |
| Huawei P10 | RM600 |
| Huawei P10 Plus | RM650 |
| Huawei P20 | RM1050 |
| Huawei P20 Pro | RM1250 |
| Huawei Nova 2 Plus | RM300 |
| Huawei Nova 2i | RM200 |
| Huawei Nova 3 | RM650 |
| Huawei Nova 3i | RM400 |