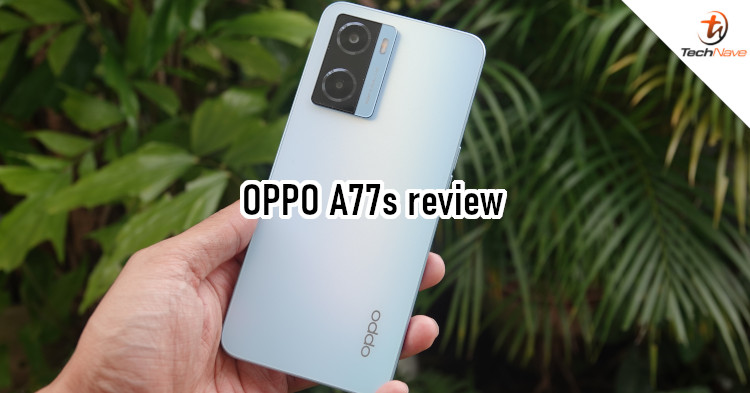 The OPPO A series phones are among the most popular in Malaysia. And recently, we got our hands on the latest device in the series - the OPPO A77s. Featuring a design and specifications that are not that much different from the previous OPPO A device (the OPPO A76) is this device better and worth the upgrade? Read on to find out!
Design – Simple colours with flat sides
The OPPO A77s doesn't stand out compared to other phones in this category. But we did appreciate the light blue-coloured variant we received for review, which sported a matte surface that leaves no fingerprints.
It also gives off a faint yellow and pink glow if you tilt it a bit at an angle. At first, it may look a little plain. But it's clean and simple, plus the neutral colour makes it suitable for men and women of all ages. Of course, the OPPO A77s is also available in Starry Black if you prefer a more classic colour.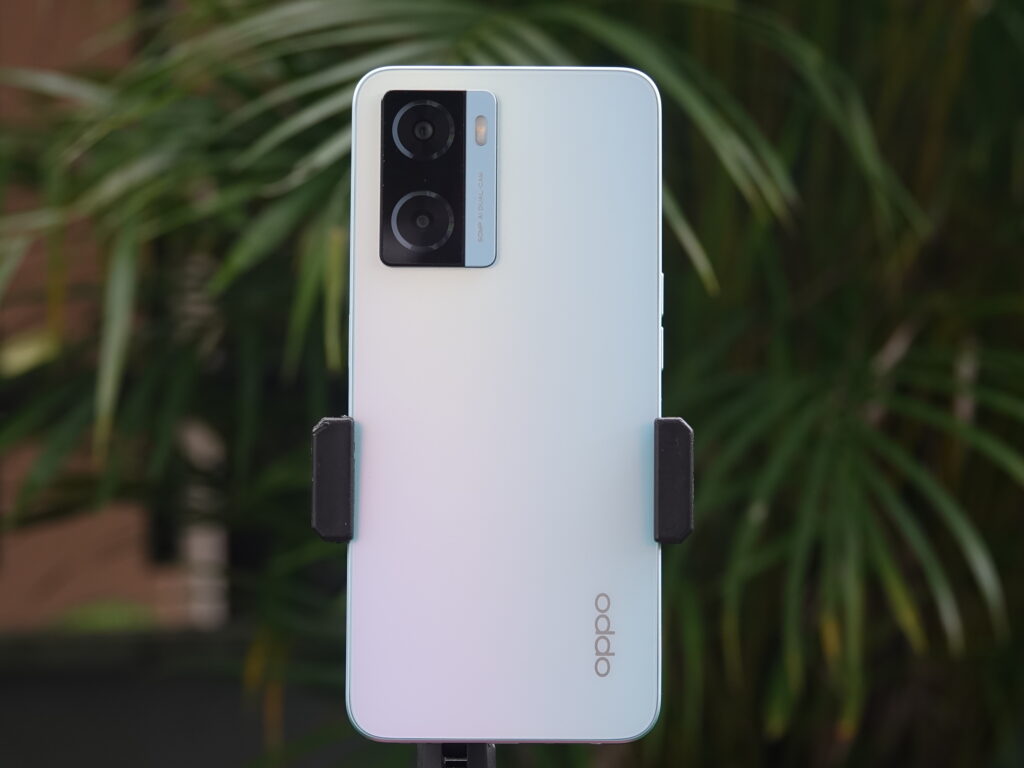 OPPO A77s back design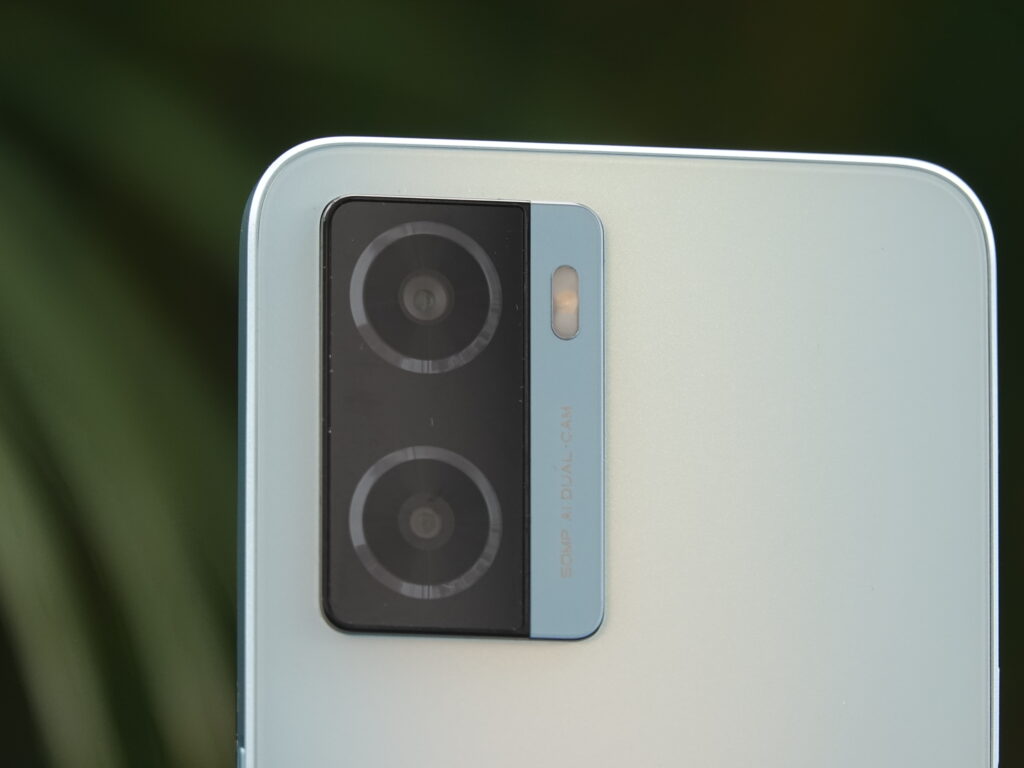 Camera bump with two lenses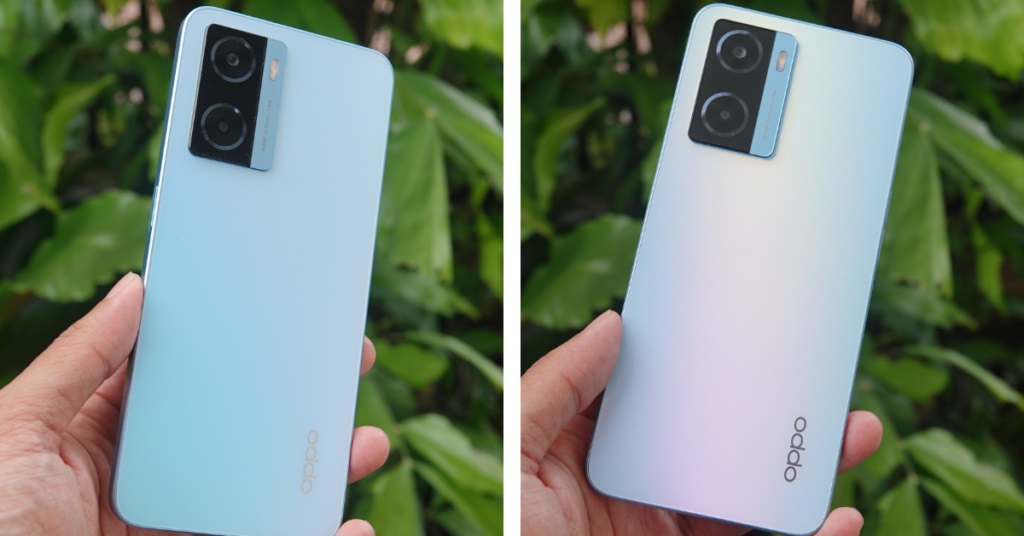 The colour changes slightly when it is tilted at an angle
Looking at the back, it has a square-shaped camera module housing two cameras and an LED flash. Unlike many smartphones, the camera bump for this phone is ultra-thin. It's about the thickness of two credit cards, so you can get away with not using a phone cover if you want to.
Besides that, the device has flat sides and chamfered edges to provide a more comfortable grip. This design choice also makes the phone feel more premium, as it looks similar to expensive phones like the iPhone 14 and the Nothing Phone (1).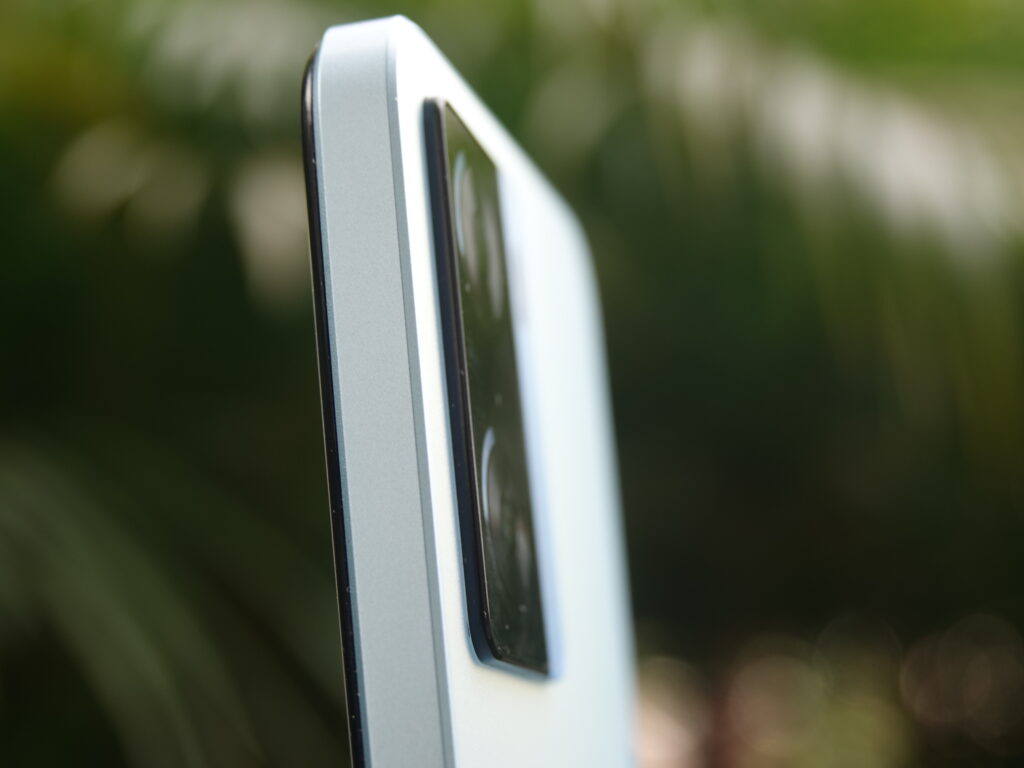 Thin camera bump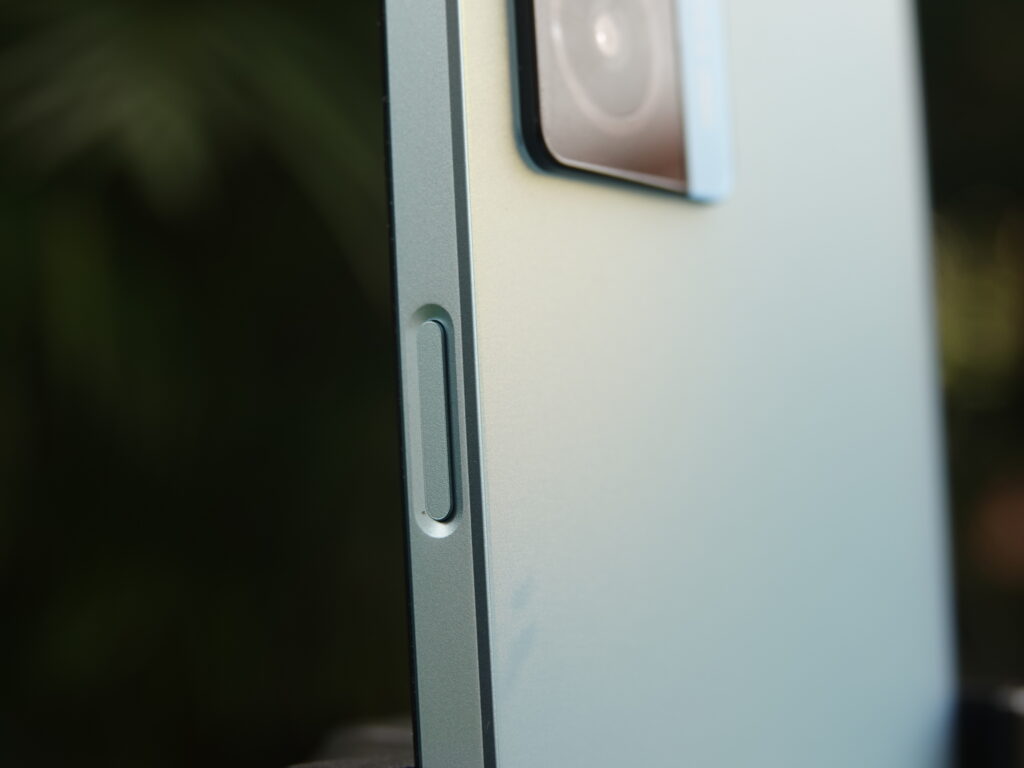 A side-mounted fingerprint scanner that doubles as a power button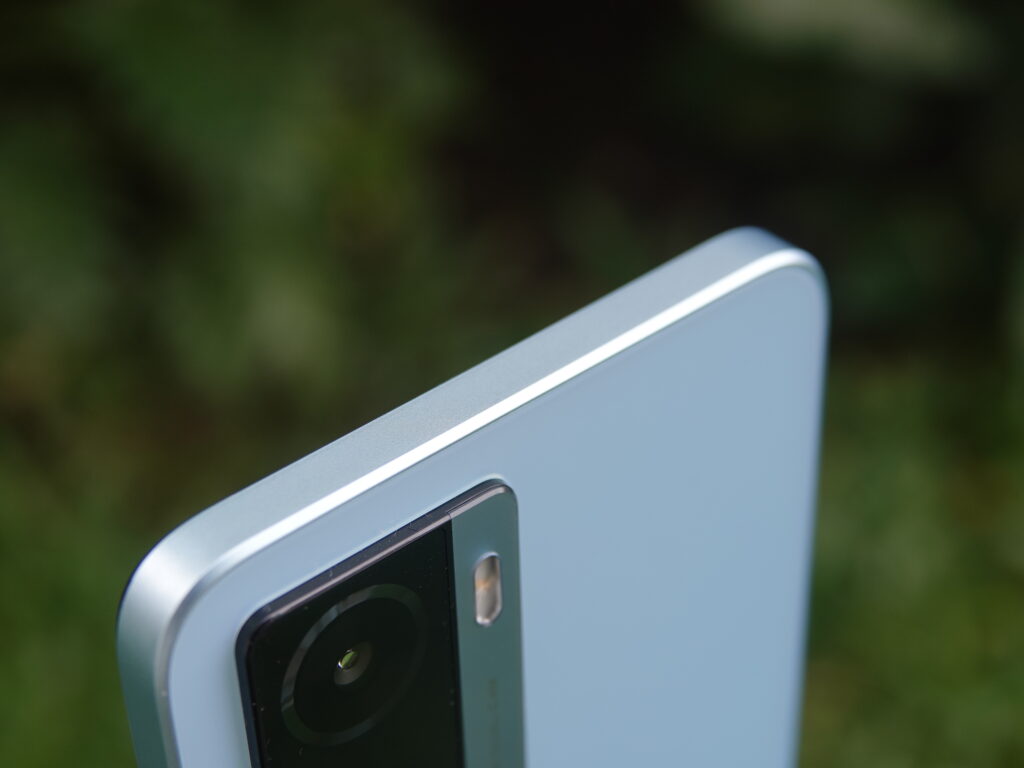 Flat sides
For buttons, OPPO went with a power button on the right side that doubles as a fingerprint scanner. On the other side, you'll find the volume controls and dual-SIM tray.
As for the ports, most of what you'd expect from a lower mid-range phone can be found at the bottom. This includes a 3.5mm audio jack, a USB-C port, and a mono speaker.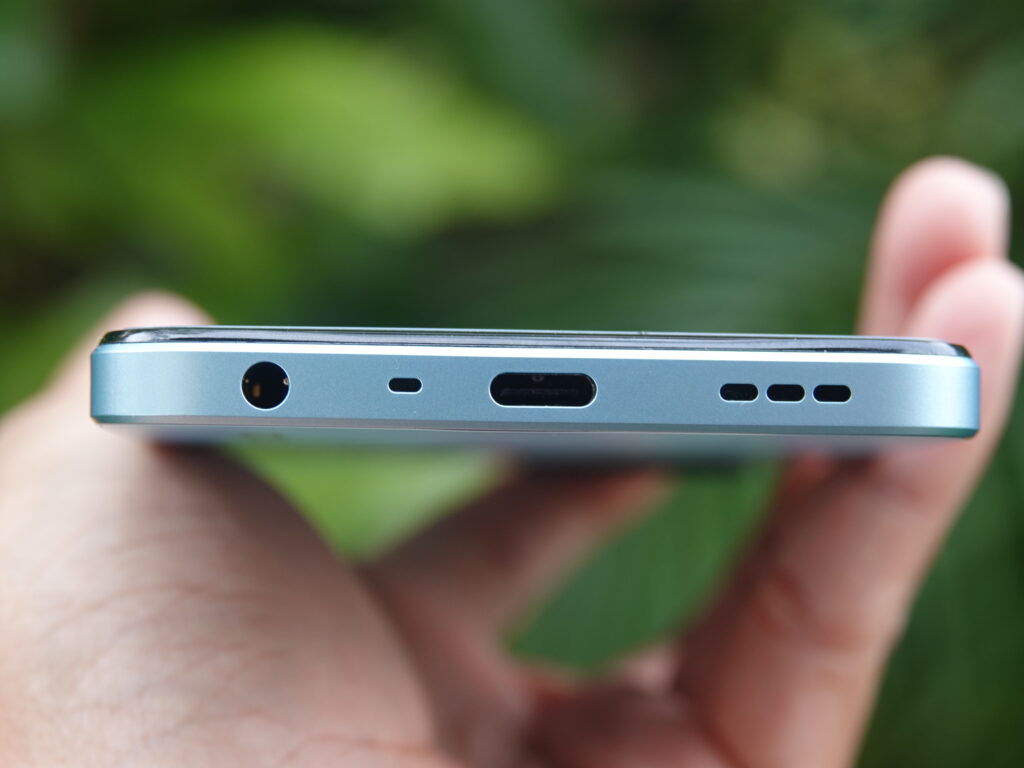 Bottom: 3.5mm audio jack, USB-C port, and speaker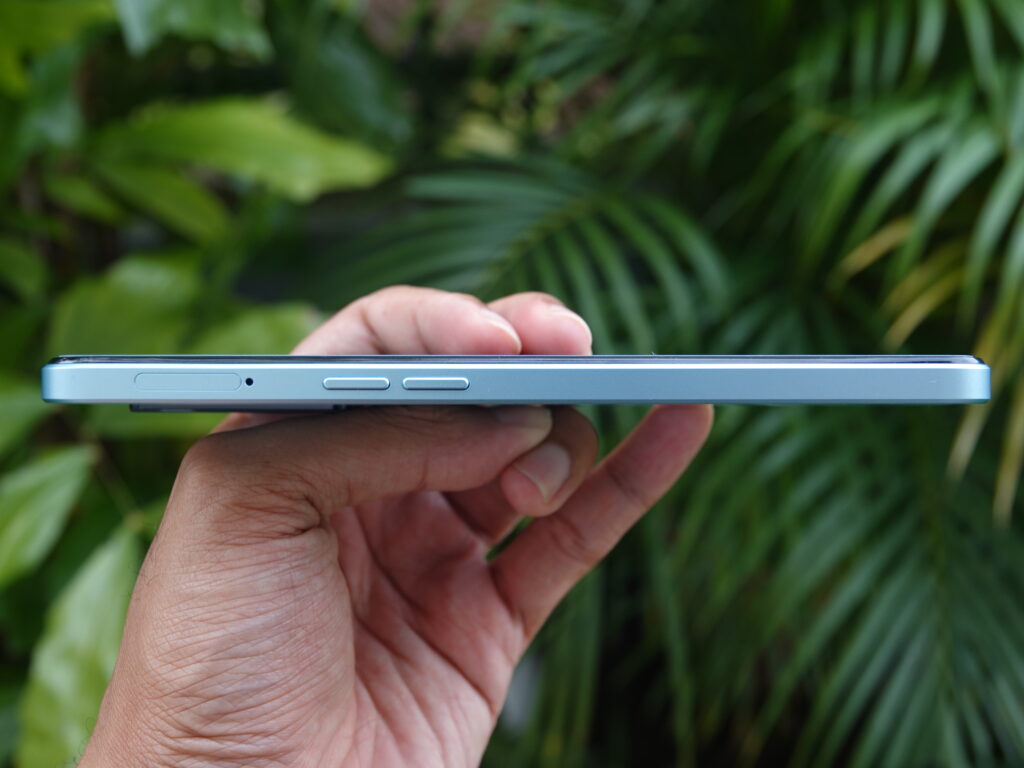 Left: Volume controls and SIM tray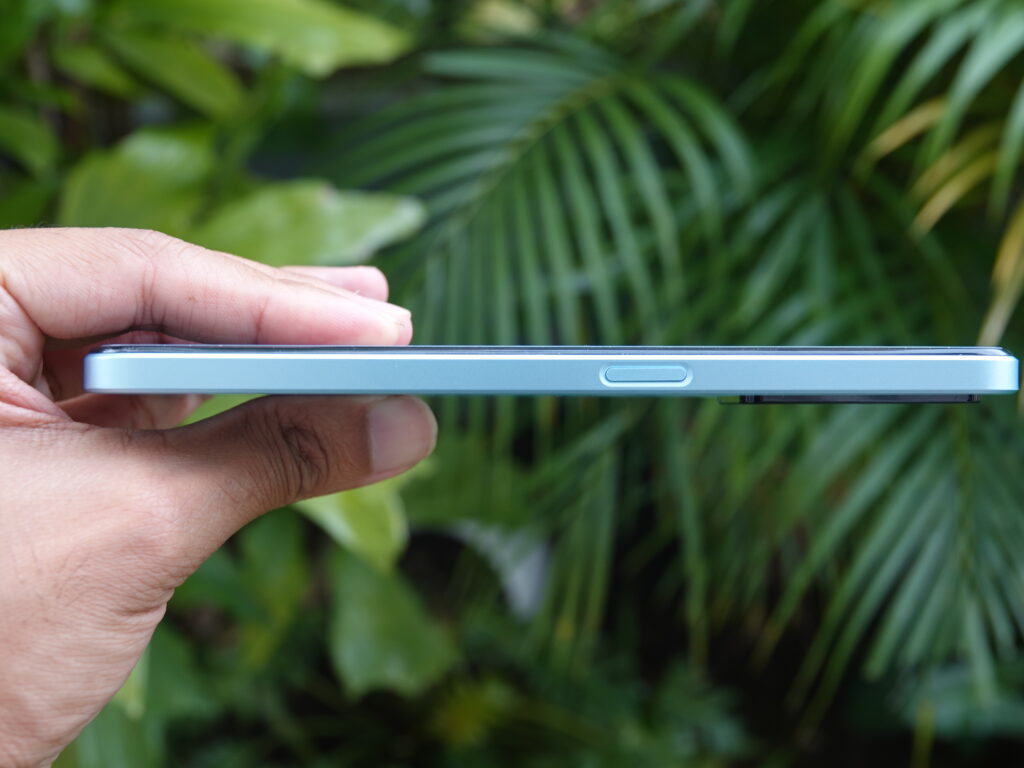 Right: Power button + fingerprint scanner
Overall, the OPPO A77s has a balanced design, with the Sky Blue colour not feeling too flashy. At the same time, it doesn't look boring either. It even feels somewhat premium, which is a bonus.
Tech specs and features – Somewhat old chipset
Here are the full specifications for the OPPO A77s:
6.56-inch LCD screen with HD+ resolution (1612×720), 90Hz refresh rate
Qualcomm Snapdragon 680 chipset
8GB RAM, virtually expandable by 5GB
128GB internal storage
50MP main camera + 2MP depth sensor
8MP selfie camera
5000mAh battery
SUPERVOOC 33W fast charging
ColorOS 12.1 operating system based on Android 12
Side fingerprint scanner
USB-C port, 3.5mm audio jack
Dimensions: 163.74 x 75.03 x 7.99
Weight: 187g
The OPPO A77s has a fairly standard screen size for a phone launched this year. However, its HD+ resolution may disappoint some people, as it causes the image quality to look somewhat pixelated. You can see this particularly from the icons in the UI and some videos.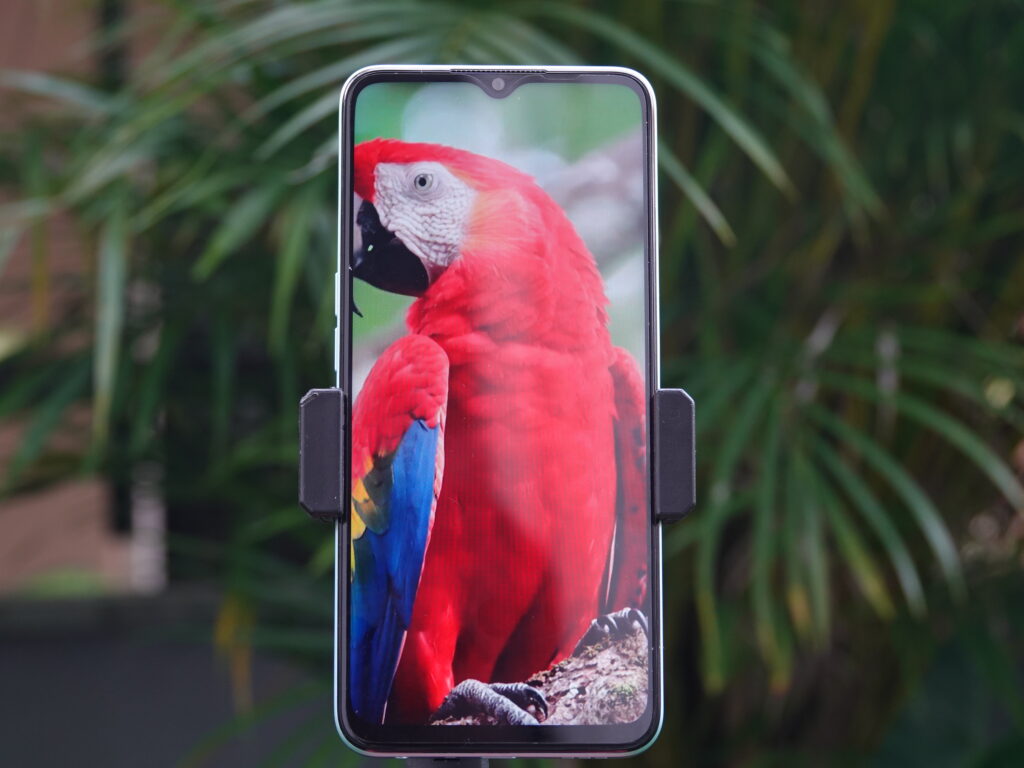 OPPO A77s screen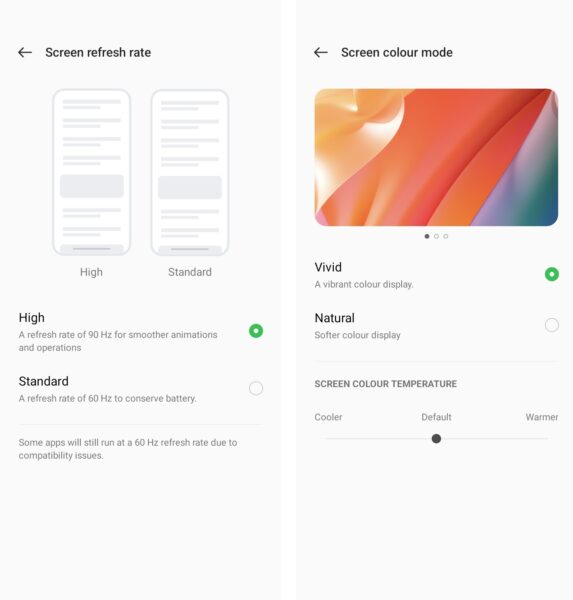 Refresh rate settings (left) and screen colour controls (right)
Fortunately, it supports a 90Hz refresh rate that will deliver smooth animations whenever you interact with the screen. You can set this screen to display at a 90Hz rate at all times, but it doesn't have a function that can automatically change the refresh rate to save battery life. This means that you have to manually select whether you want 90Hz or 60Hz and stick with it.
In terms of colour, the display can produce satisfactory colours for an LCD panel. But with a peak brightness of only 600 nits, it's hard to see the screen under the sunlight. The front's bottom bezel is also quite thick, though that's something that most can ignore.
As for the chipset, OPPO still maintains the same chipset used in the previous OPPO A76, which is the Snapdragon 680 chipset. This chipset is already a year old since it was introduced in October 2021. But while it's a bit behind, it's good enough to deliver the performance for daily use (which we'll come to in a bit).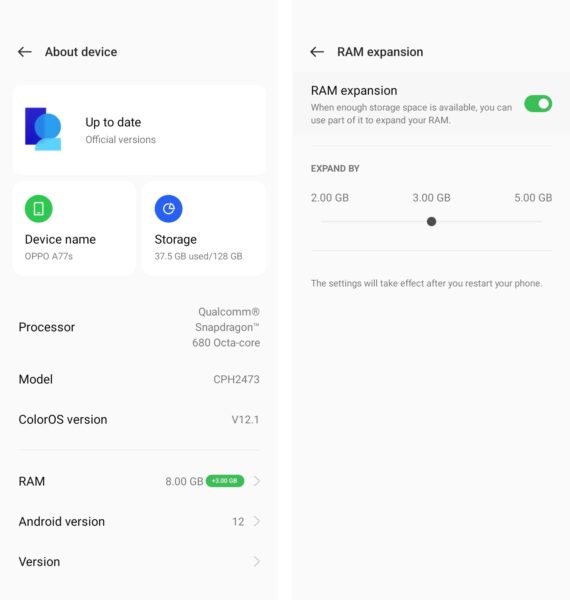 (Left) OPPO A77s specifications, (right) option to increase RAM virtually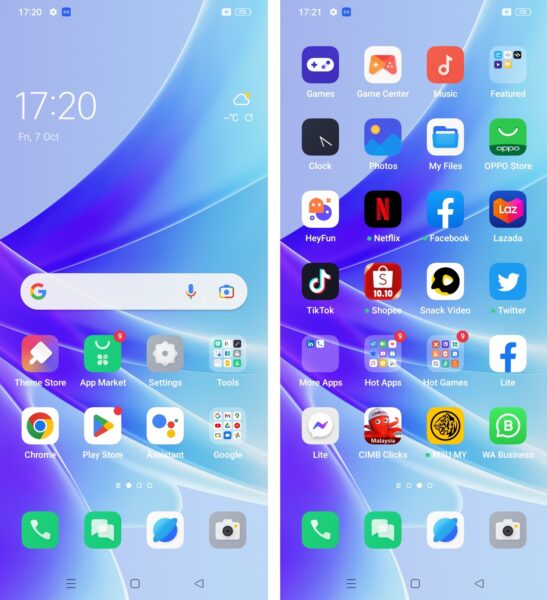 Home Screen and App Drawer OPPO A77s
The OPPO A77s has 128GB of storage, which some might consider small. But it also comes with a microSD card slot, so you can expand the storage if you take photos and videos often or play mobile games. As for the RAM, it has a capacity of 8GB, which can be increased virtually by 2GB, 3GB or 5GB. 13GB should be enough to maintain the phone's performance at an optimal level if you tend to open multiple apps simultaneously.
Like many mid-range phones, the OPPO A77s has a decent battery capacity. Specifically, this phone has a huge battery capacity of 5000mAh. It also supports 33W SUPERVOOC fast charging and the adapter is included in the box, alongside a USB-C to USB-A cable and a transparent silicone case.
Moving on, the fingerprint scanner on the right side works very fast. It's pretty standard, so there's not much to talk about. You can also unlock the screen with a face scan using the selfie camera, which worked well even when we tried it in a dimly lit room.
The OPPO A77s camera is about what you'd expect from phones in this category - a 50MP main camera with a 2MP depth sensor. It doesn't sound like much compared to many mid-range smartphones, but this combination is enough for most people. Another advantage is that it keeps things neat and compact, which is why the camera bump is so thin. On the other hand, the lack of an ultra-wide lens means you'll only get photos or videos in the 4:3 aspect ratio.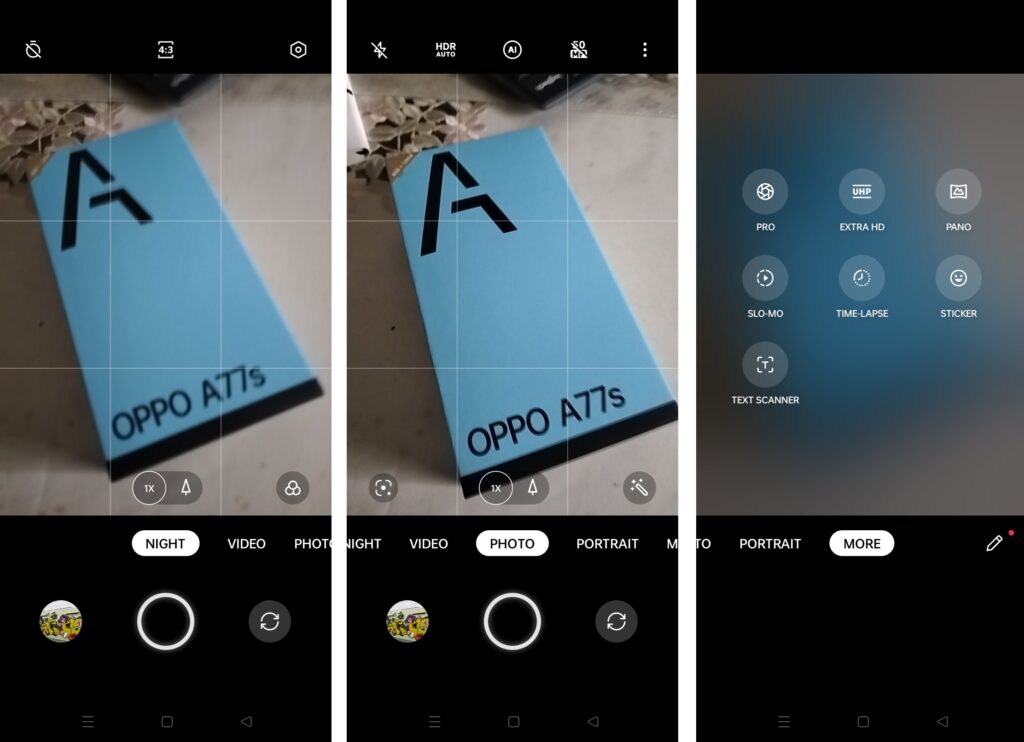 OPPO A77s camera interface (UI)
As for the front, there is a camera in a tear-drop notch near the top centre. This is a modest 8MP snapper that doesn't do anything special but should be enough for your social media needs. Interestingly, the software comes with Bokeh Flare Portrait, a feature previously available only on OPPO Reno smartphones. This feature allows you to take portrait shots with a neat blur and light effects.
Performance – Sufficient for daily use
Here are the benchmark results for the OPPO A77s in Geekbench and 3DMark: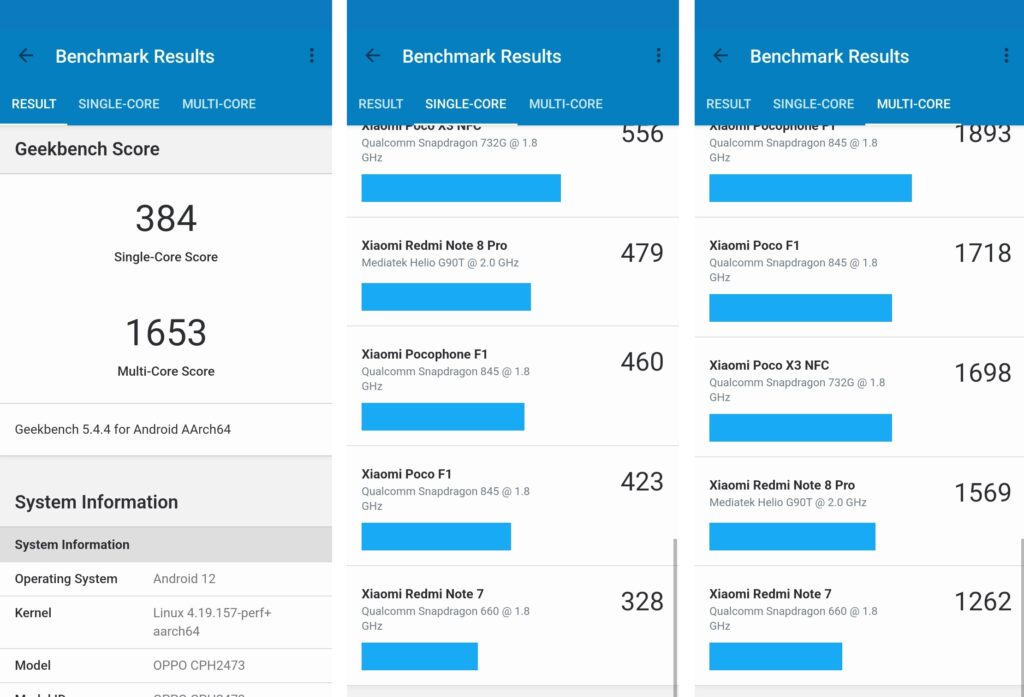 Geekbench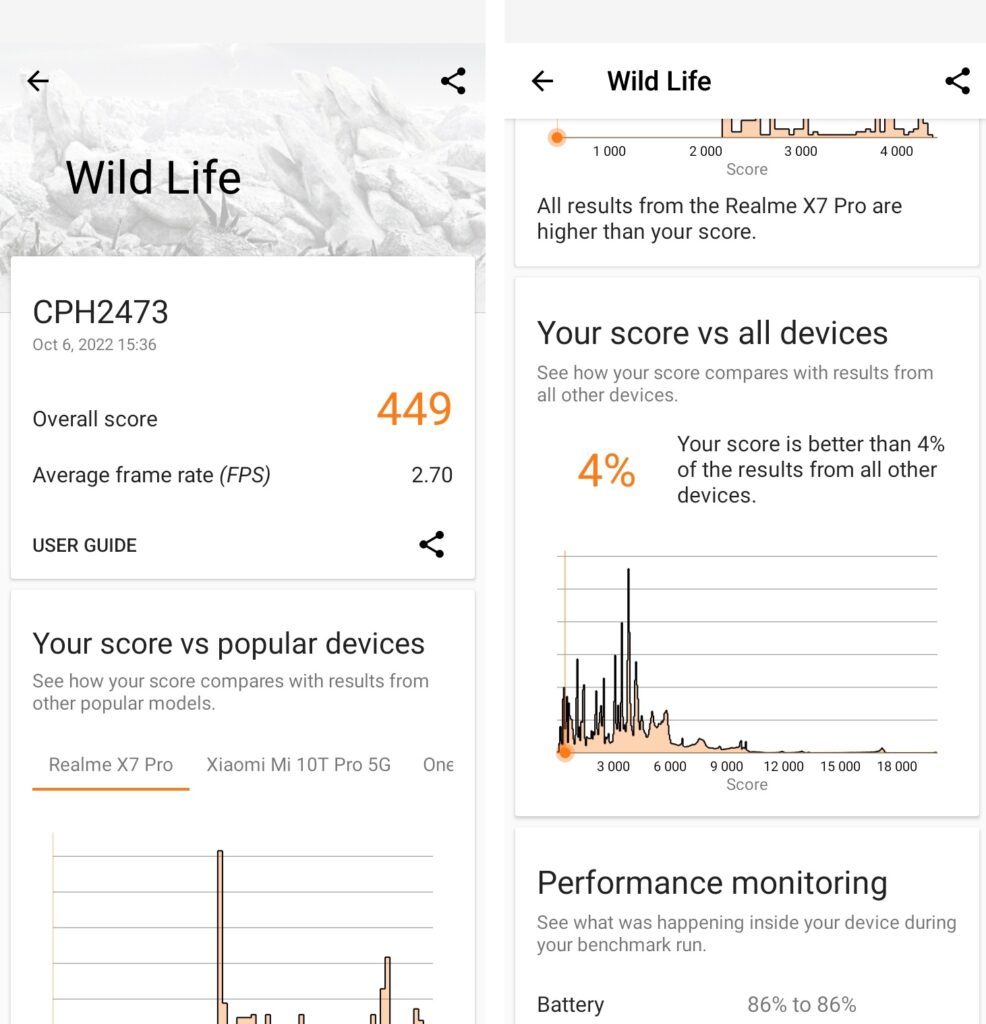 3DMark
As you would imagine, the Snapdragon 680 chipset isn't a chipset you'd consider to be top-class. But that doesn't mean it doesn't perform well. The OPPO A77s is clearly aimed at users who want an affordable phone with enough performance for daily use and it delivers in that sense.
For basic tasks such as texting, browsing social media, watching videos, opening apps and browsing websites, the OPPO A77s can deliver a fast experience. In fact, the 90Hz refresh rate makes this phone feel as fast as more expensive phones.
While playing games, the OPPO A77s can play popular games such as COD Mobile and PUBG Mobile but at low graphics settings. Higher settings are not recommended, as the device visibly slows in frame rates, which would affect your gaming experience.
On the plus side, playing games with low graphics on this entry-level chipset means the phone never feels hot. Even after an hour, the phone is still comfortable in the hand while the game performance remains even.
The battery life of the OPPO A77s is also excellent. A full charge on the OPPO A77s allows the screen to run for almost 11 hours, even with the 90Hz refresh rate on. It had no problems lasting more than a day on normal usage.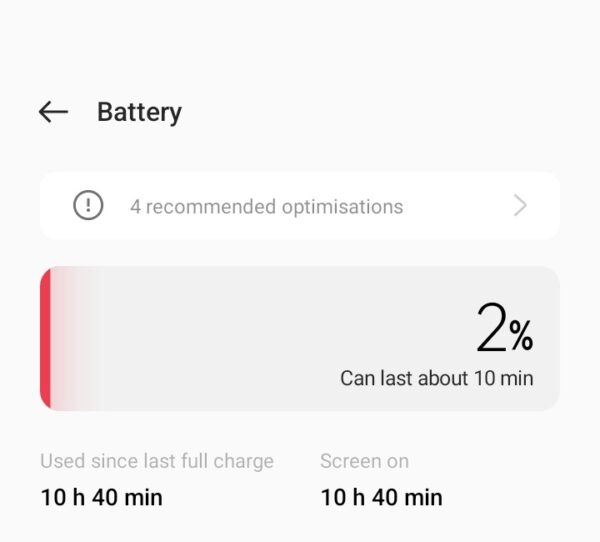 A full battery can last for over 10 hours and 40 minutes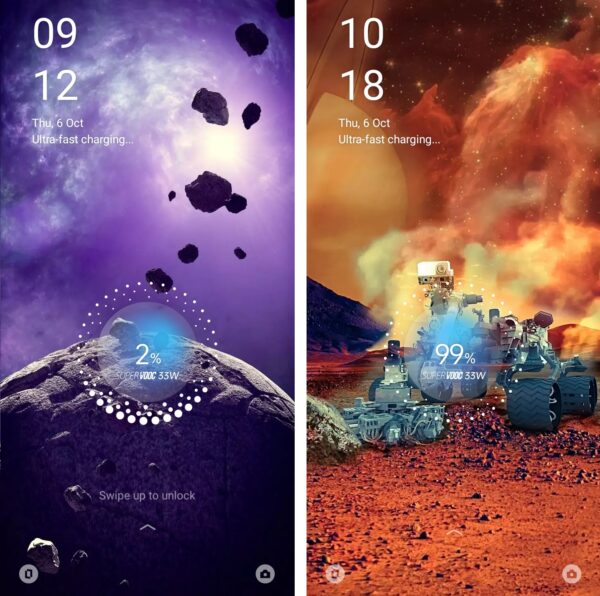 Charging from 2% to 99% takes 1 hour and 6 minutes
The charging is also decent, where a full charge from empty with SUPERVOOC 33W takes just around an hour. For an entry-level phone, this is relatively fast. Thankfully, you don't have to wait long, especially if it's just for a 10% charge.
Now moving on to photography. This phone can take beautiful photos under bright conditions. But colours may appear a bit saturated compared to the original subject. Pictures with Night Mode are good enough, but you may see some noise.
As for portrait mode, it did well enough to separate subjects from the background. For videos, it can record in 1080p resolution at 30fps with standard video quality for an entry-level phone. In this case, the colours were a bit faded, and noise is visible if you record at night.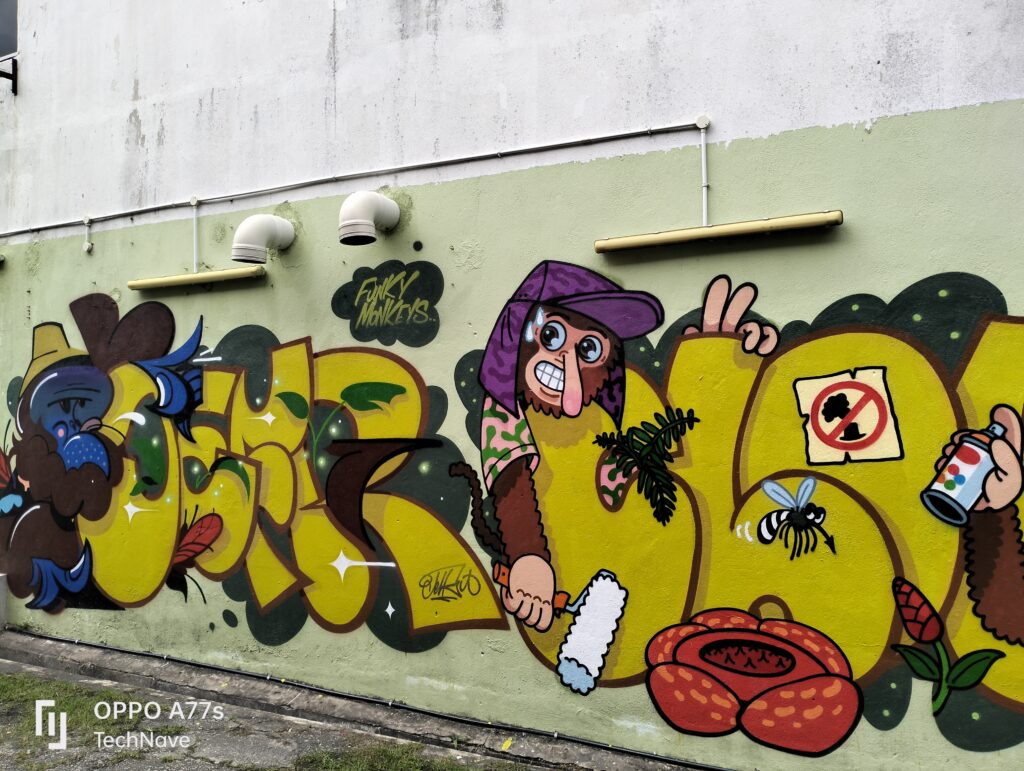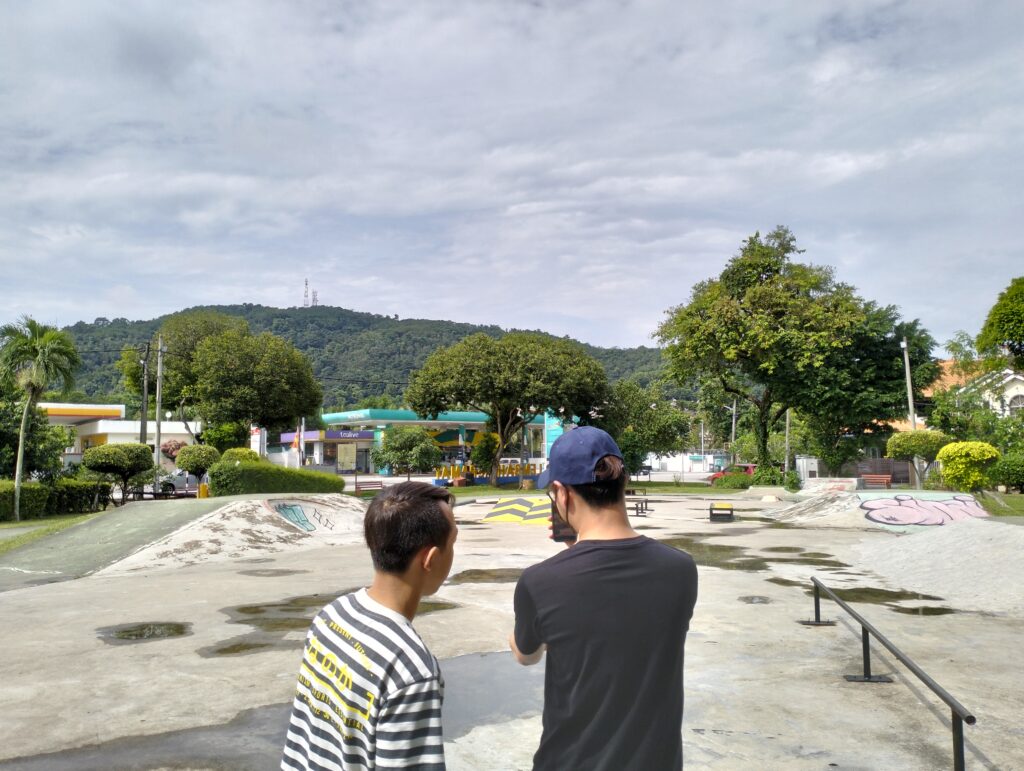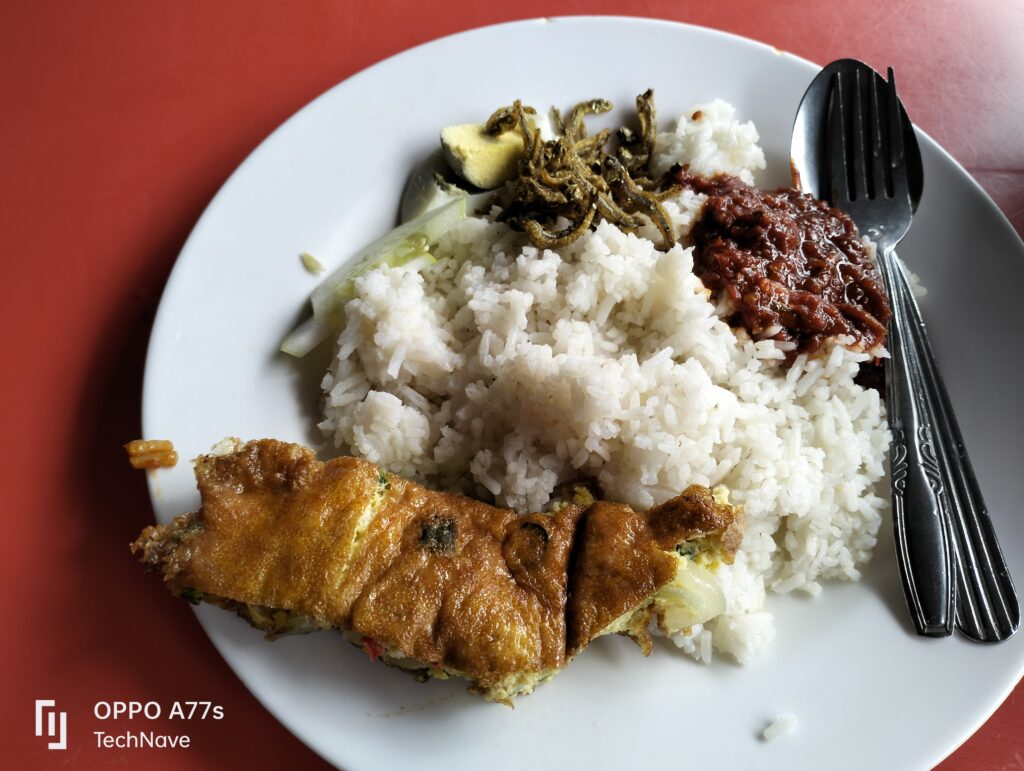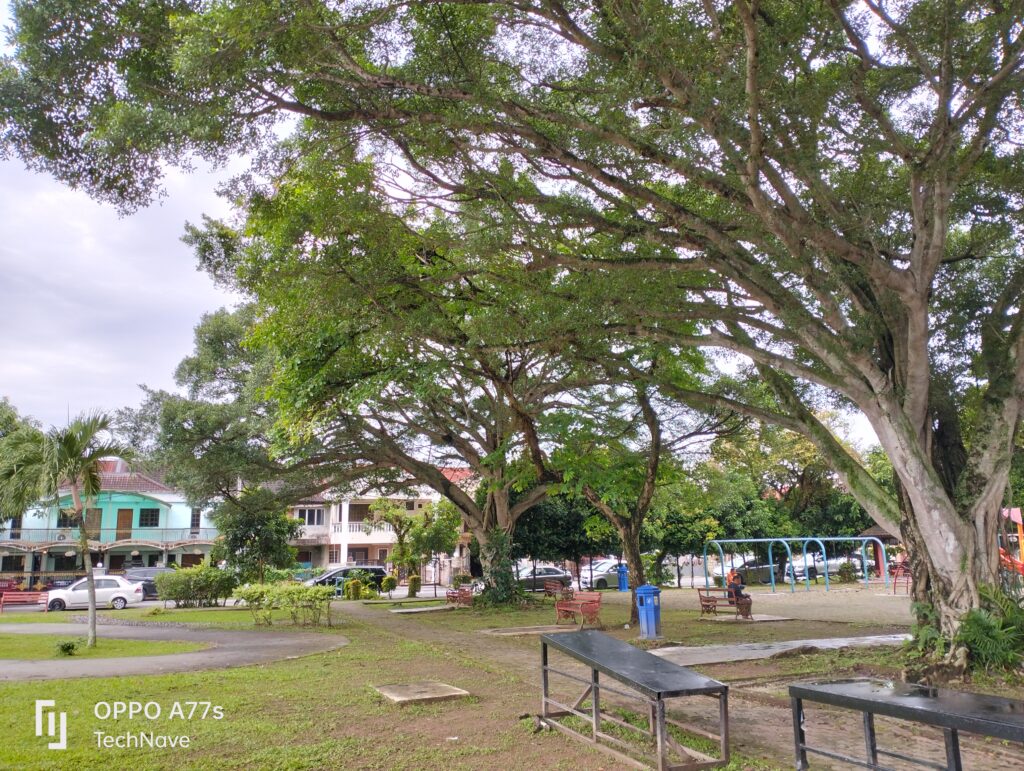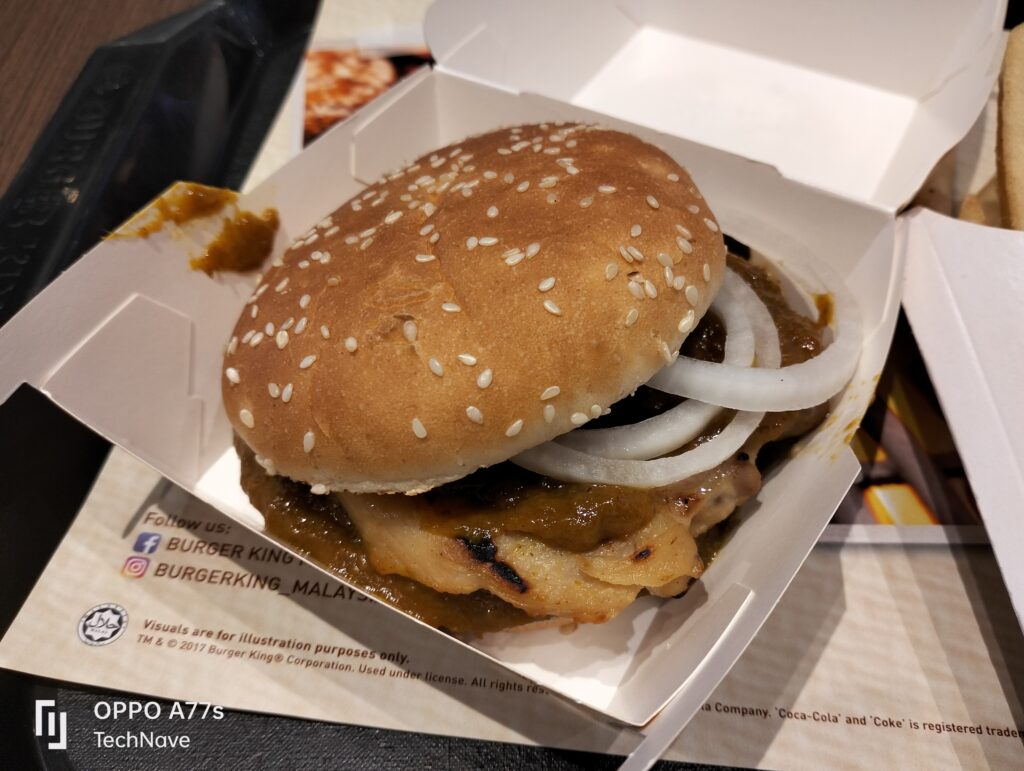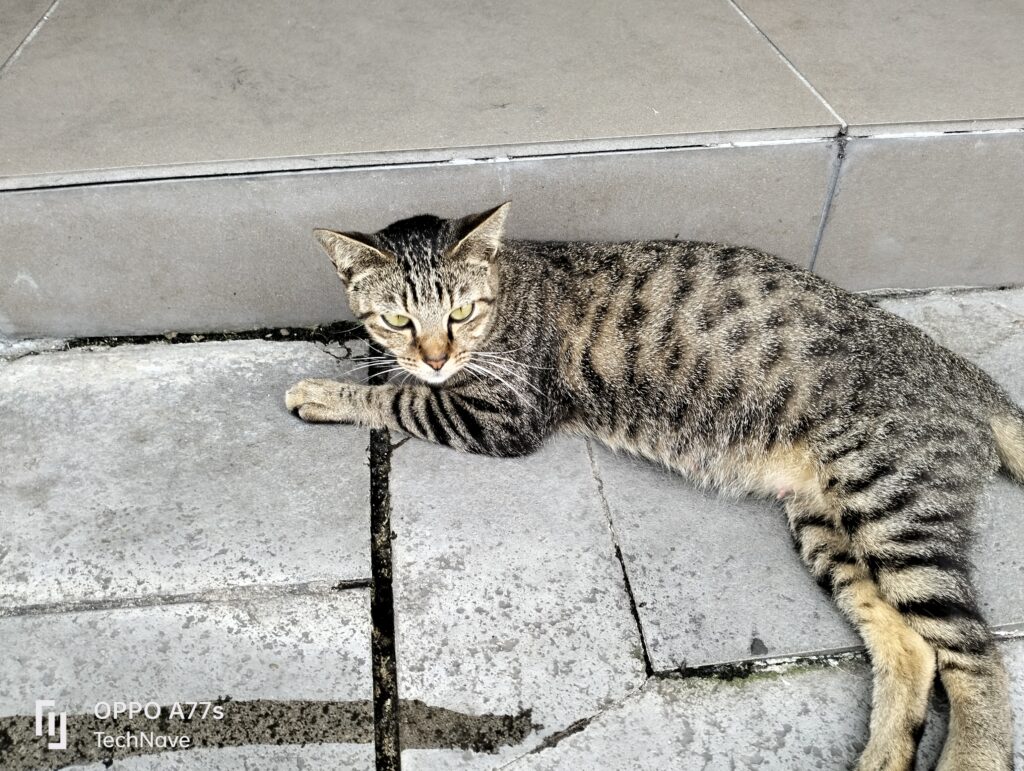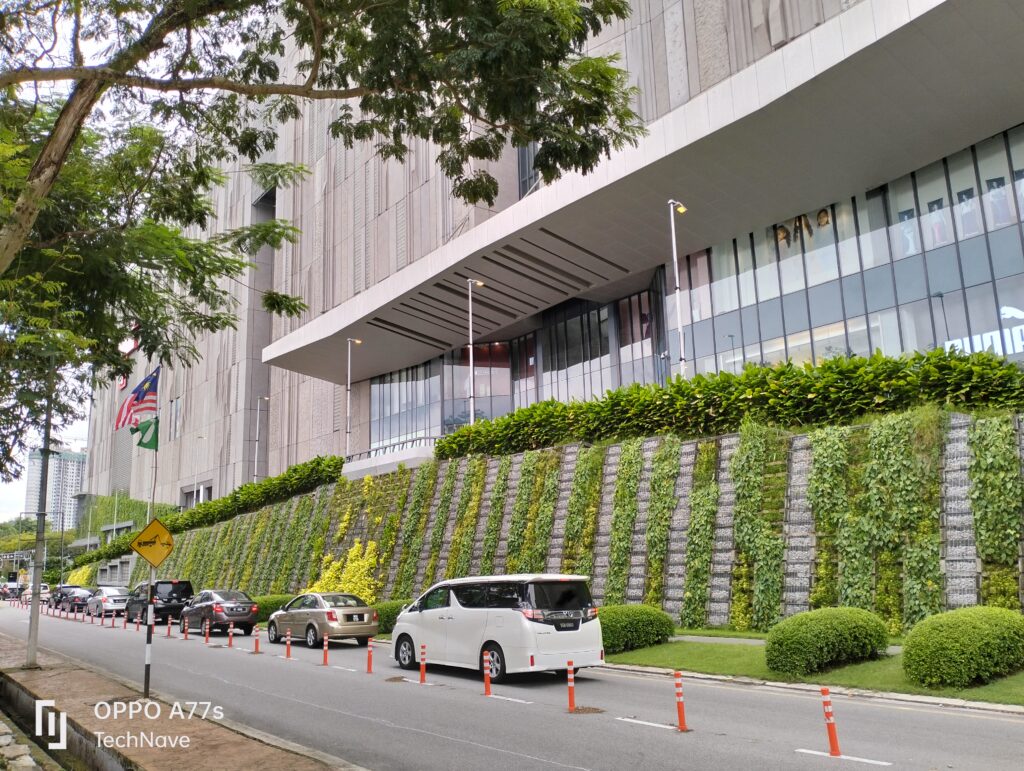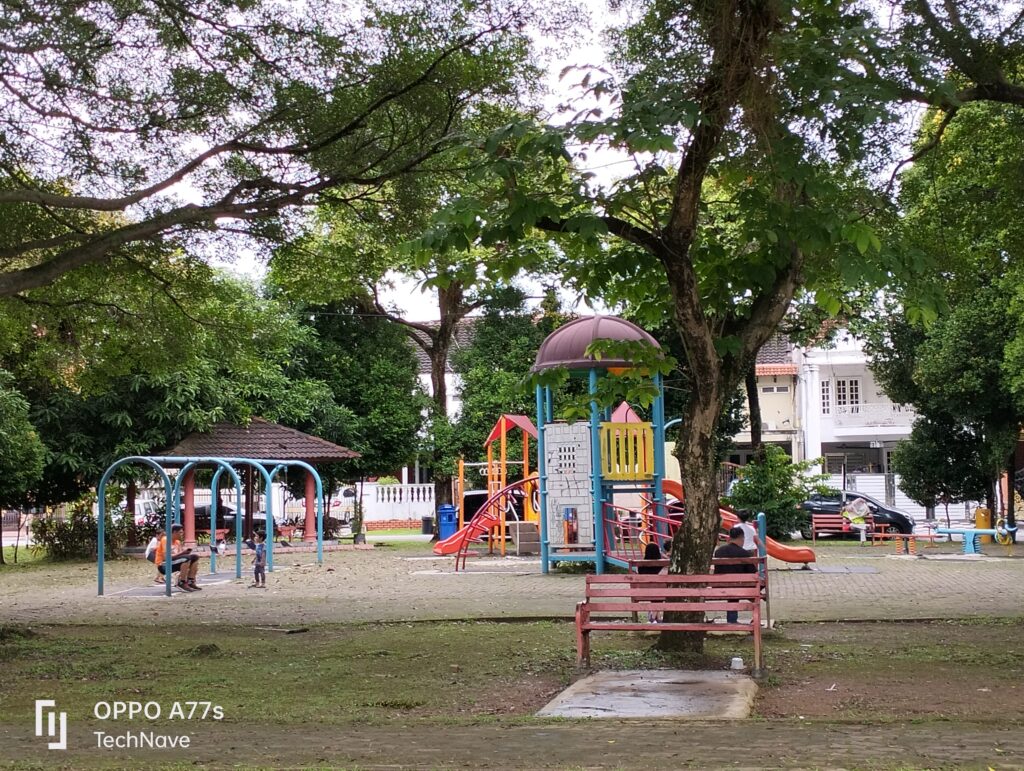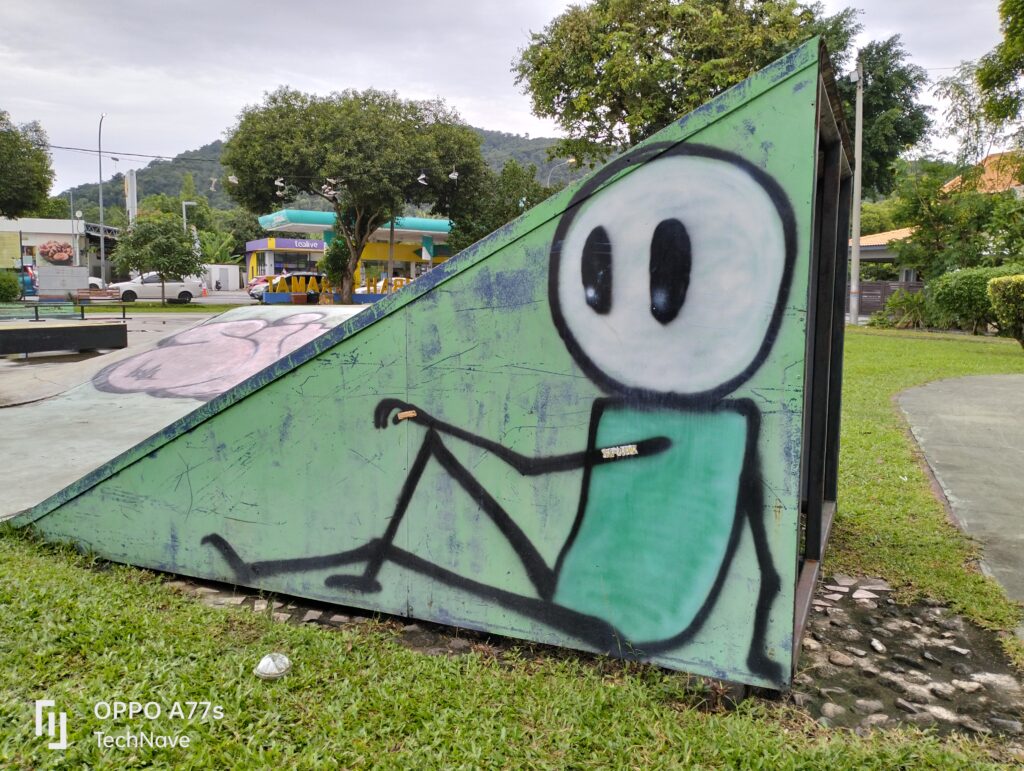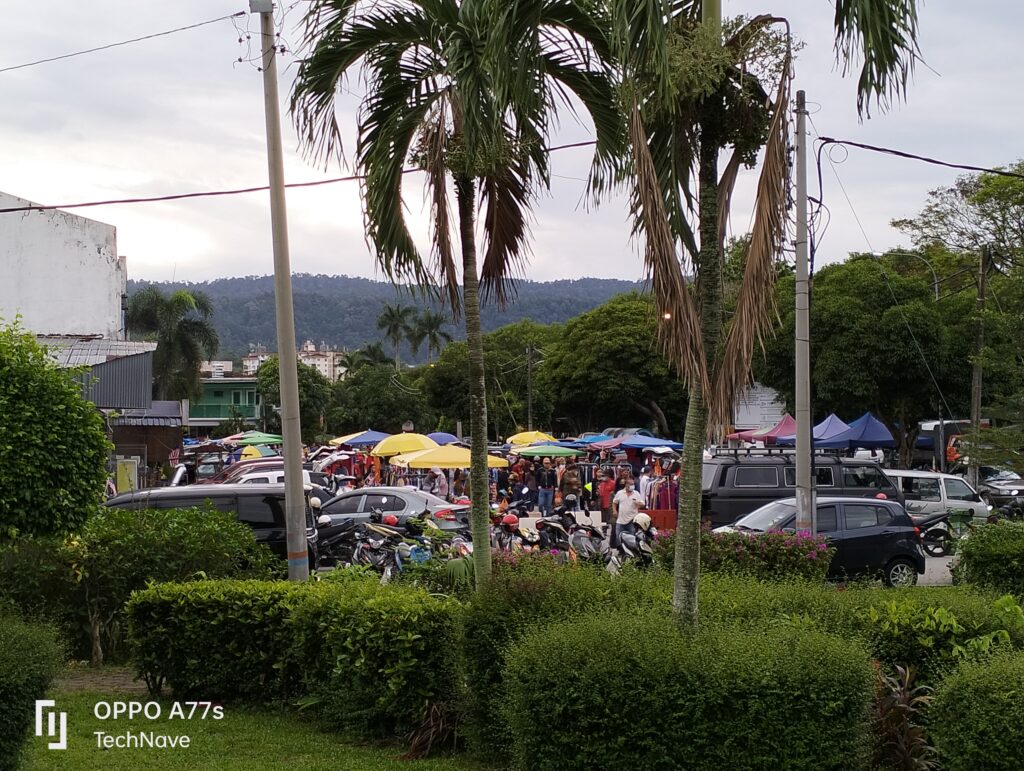 Normal mode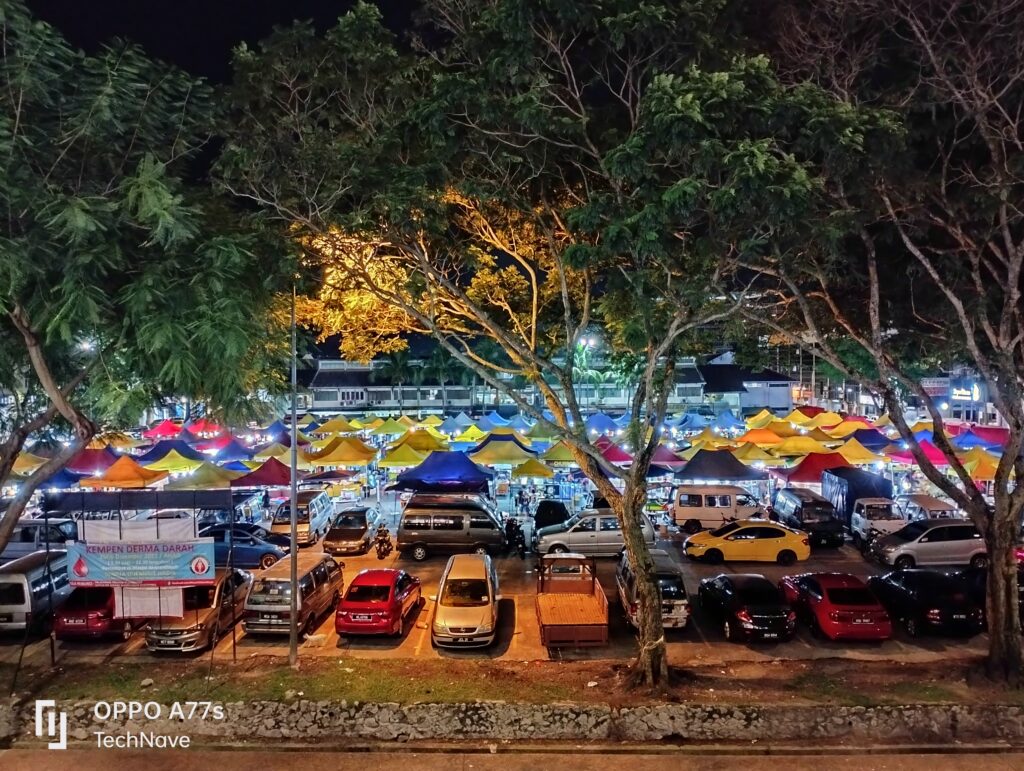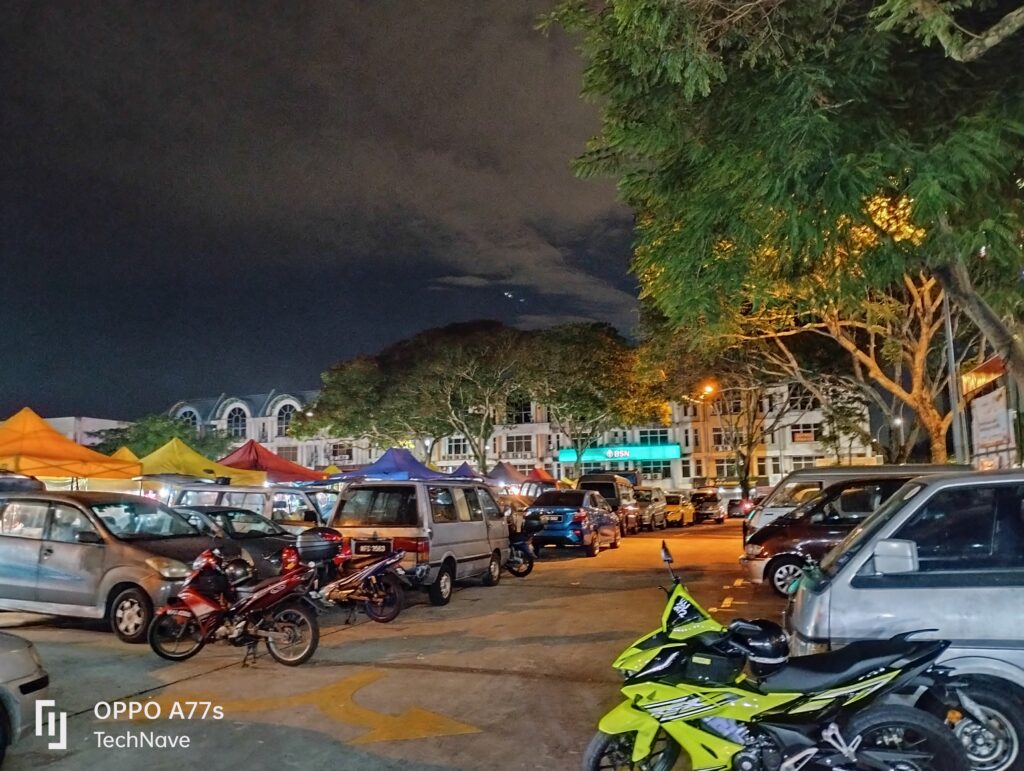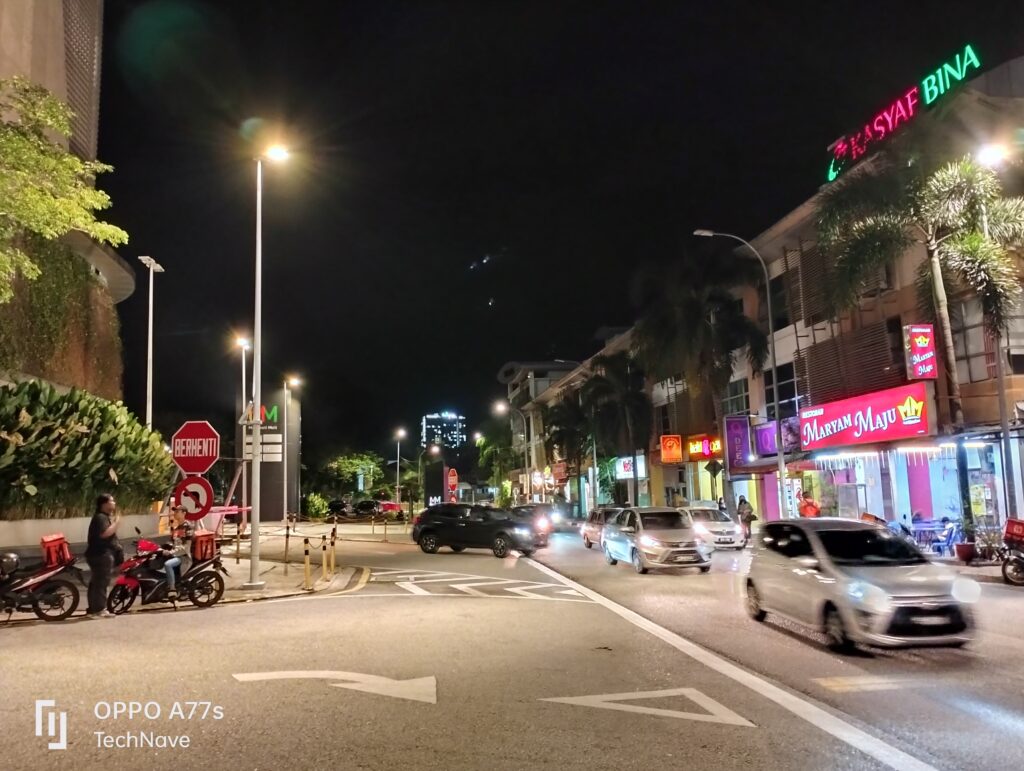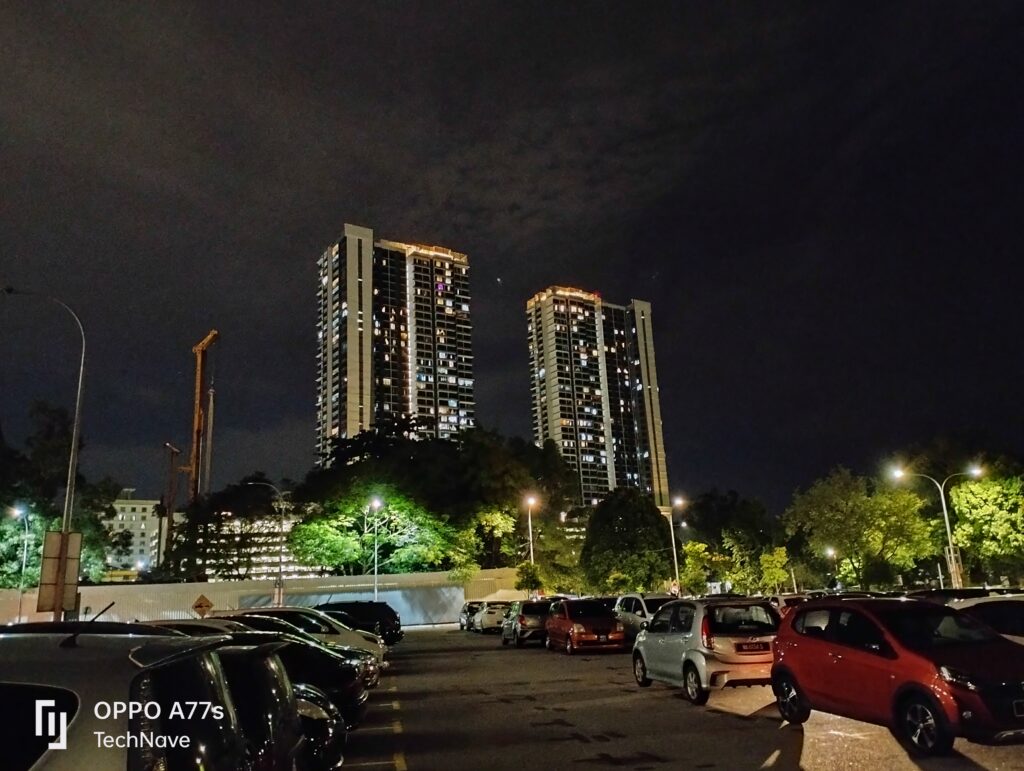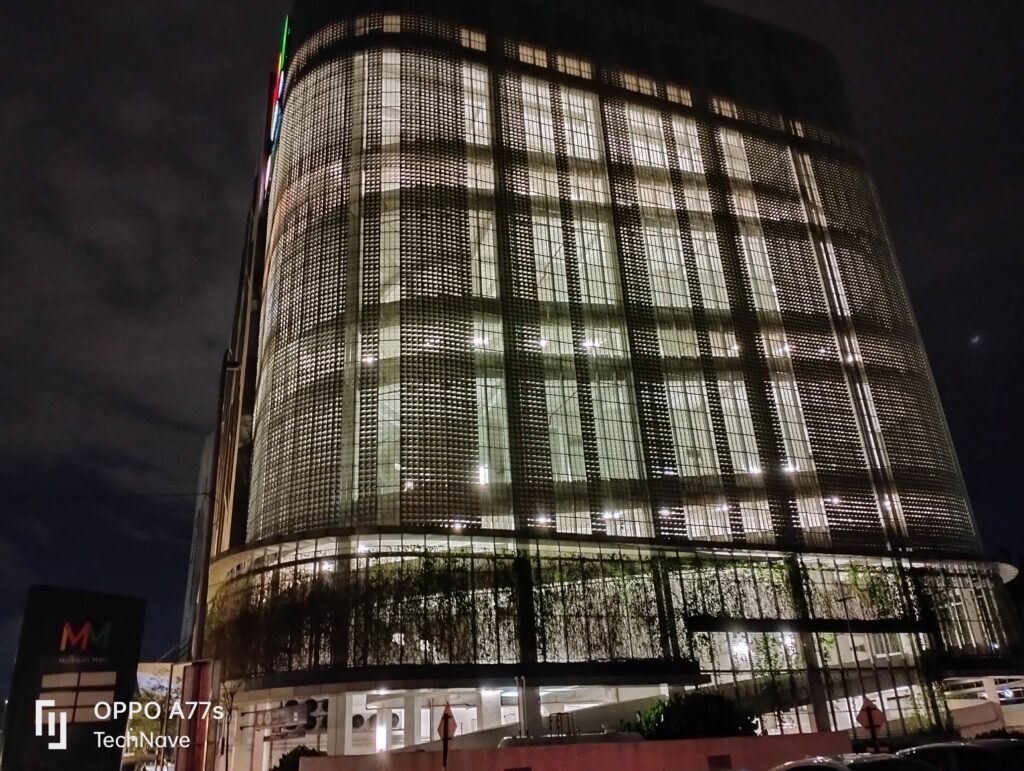 Night mode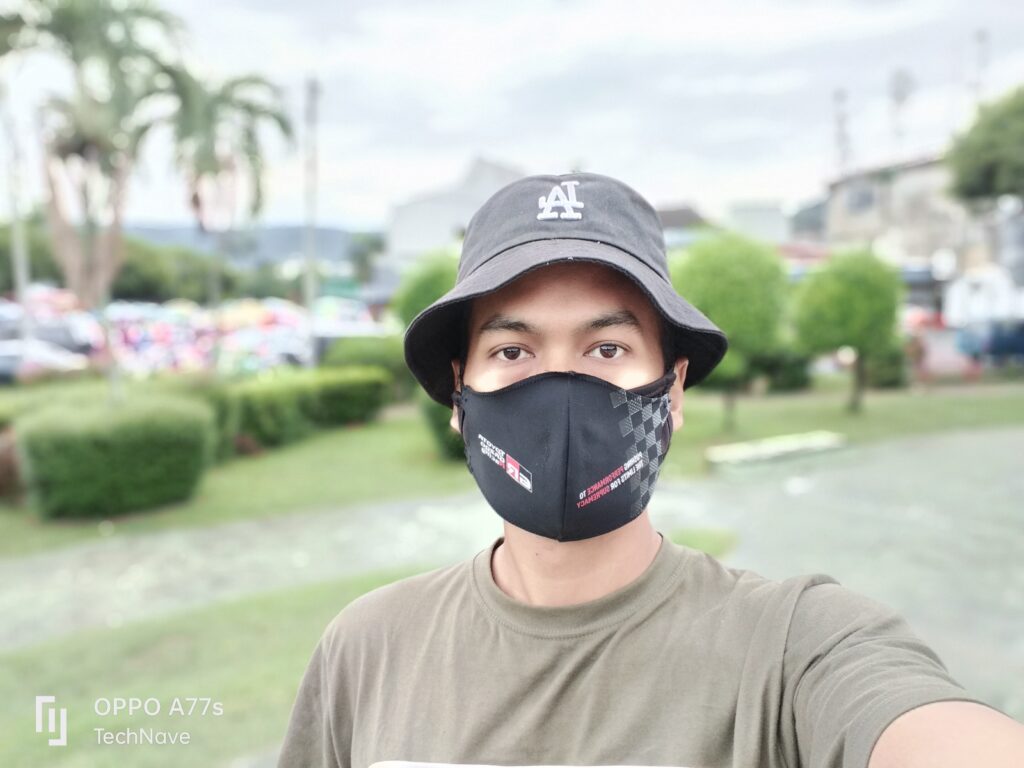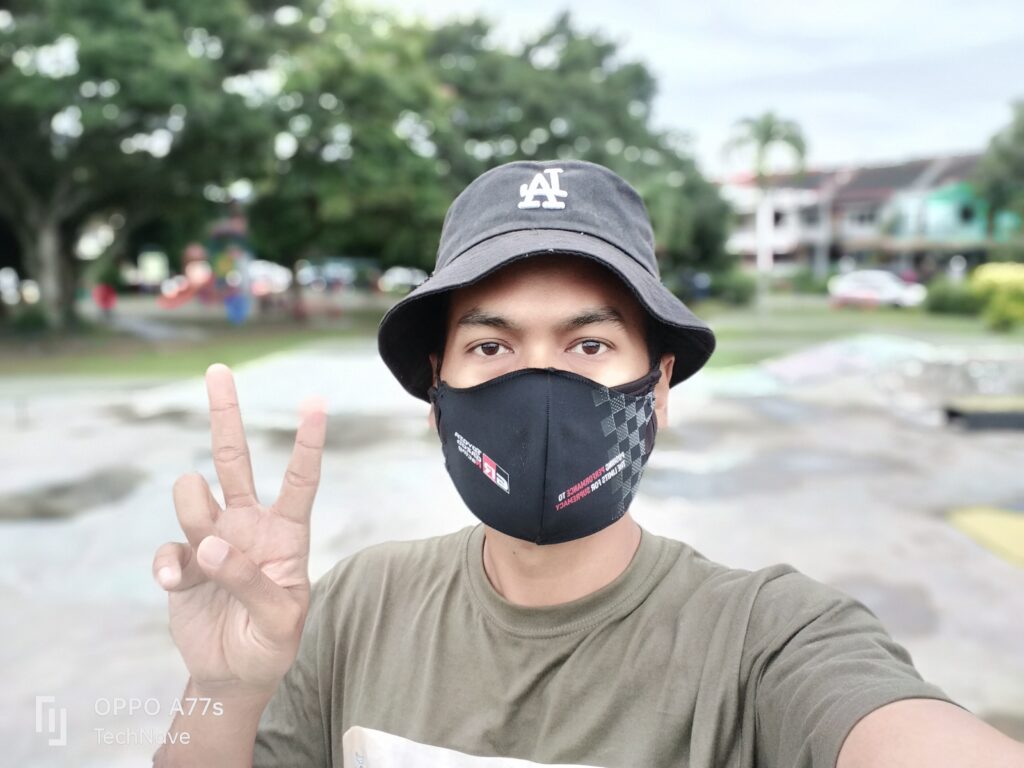 Selfie mode
For those of you who want to record videos, this phone does not have any image stabilisation, so you'll want to have a tripod or avoid moving too much while recording videos.
Conclusion – A budget phone that matches the price
The OPPO A77s retails in Malaysia at a price of RM999 and is a worthwhile purchase considering its price-to-performance. However, its plain design might come off as boring for some, especially since you can get better-looking phones for a similar price.
Suitable alternatives include the Samsung Galaxy A13 5G (RM1099) if you want a flashier phone. There's also the realme 9 (RM899) for that ultra-wide camera, or the HONOR X9 (RM1099) if you need fast charging. In fact, the older OPPO A76 (RM899) is also a suitable alternative to the A77s because it is very similar but with a lower RAM capacity.
That's it for this phone, what do you think about it? Let us know if you would be interested in buying one in the comments, and stay tuned to TechNave for more reviews like this.