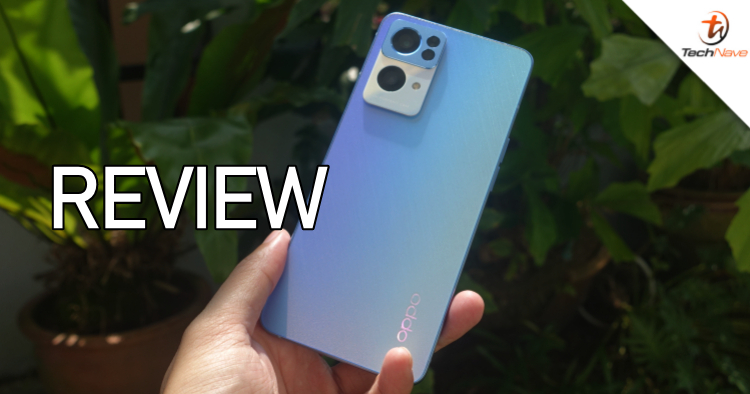 Recently, OPPO launched their latest model in their mid-range OPPO Reno7 series, the OPPO Reno7 Pro 5G. This time around, OPPO marketed this phone series as the "Portrait Expert" but at a price tage of RM2999, does it deliver? Is it really the "portrait expert" cameraphone to get? Find out in our full review below.
Design - It does look very premium
The OPPO Reno series is well-known for their midrangers premium design, and the OPPO Reno7 Pro 5G continues that legacy. Our review unit came in Startrails Blue, which utilizes Laser Direct Imaging (LDI) technology to offer a shimmering line pattern on the back of the phone.
The color can also change between red and light blue if you tilt this phone in the light. This surface has a neat matte finish that doesn't leave fingerprints or smudges. There's a small OPPO logo at the bottom, but it doesn't stand out too much. If you tilt the phone at a certain angle, the logo is almost invisible.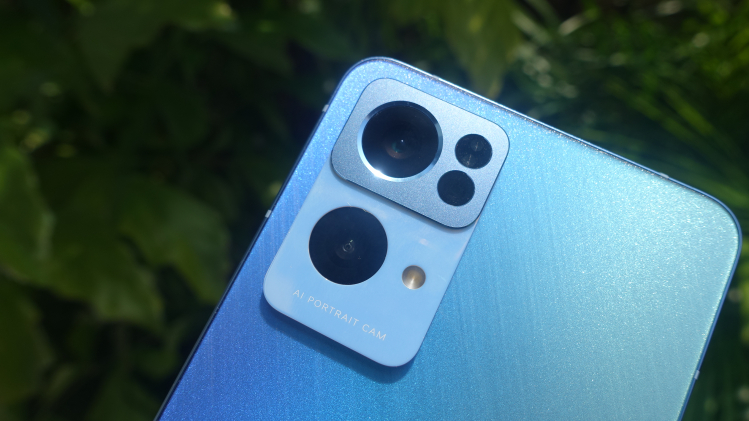 The Reno7 Pro 5G camera bump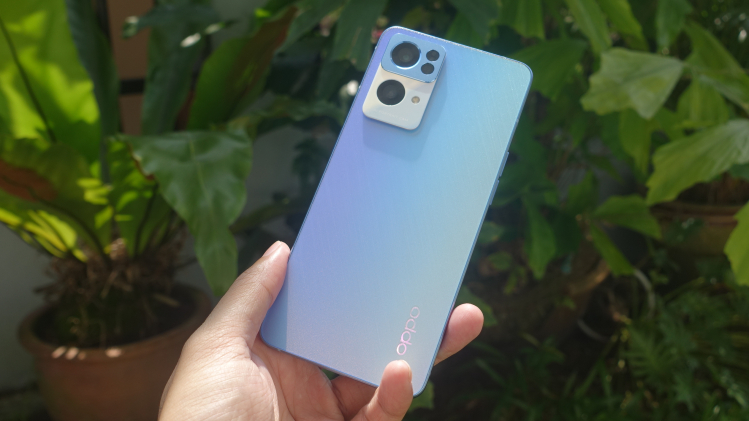 The Reno7 Pro 5G rear design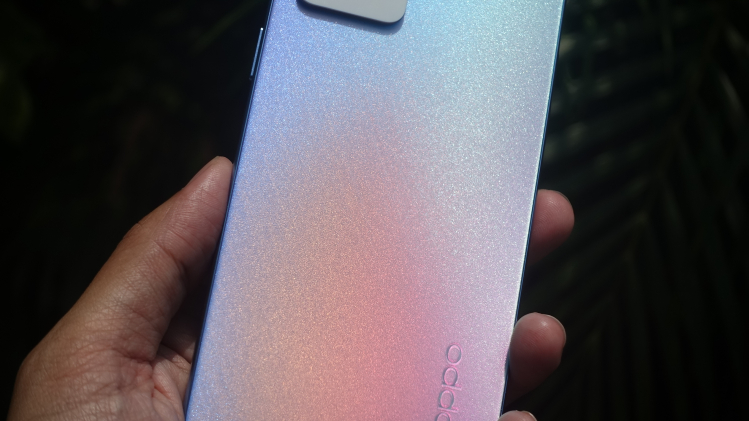 The shimmering line pattern on the back
The camera hump this time is very different from the previous Reno6 Pro, where the Reno7 Pro has two large-sized cameras, two small-sized cameras and one LED flash. In addition, the camera hump of this phone has two "steps" because one layer of the camera hump is thicker than the other.
An interesting feature on its camera hump is that it will light up while you are charging the phone or if you get a notification. OPPO is calling this their Orbit Breathing Light and it is fairly useful for notifying when the battery is fully charged but you'll have to place the screen facing down (so, make sure you've got a screen protector set up first).
Like another fairly flagship phone which we won't name directly, the Reno7 Pro has flat sides and rounded corners. These flat sides also mean that this phone can stand upright if it is placed on a flat surface and it is fairly comfortable to grip too.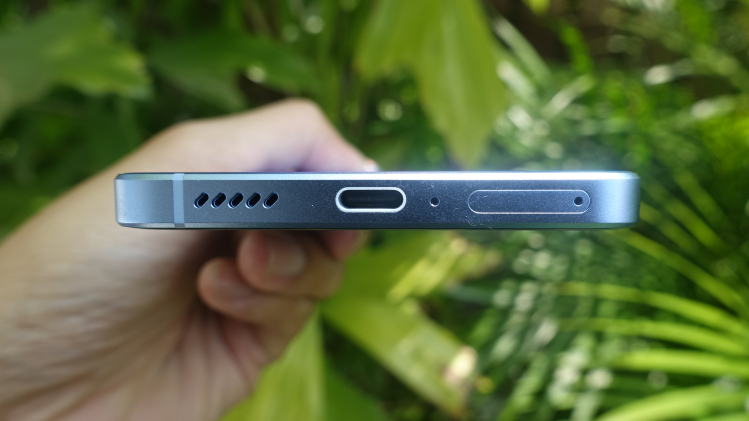 The bottom side has a dual-SIM card slot, USB-C port and speakers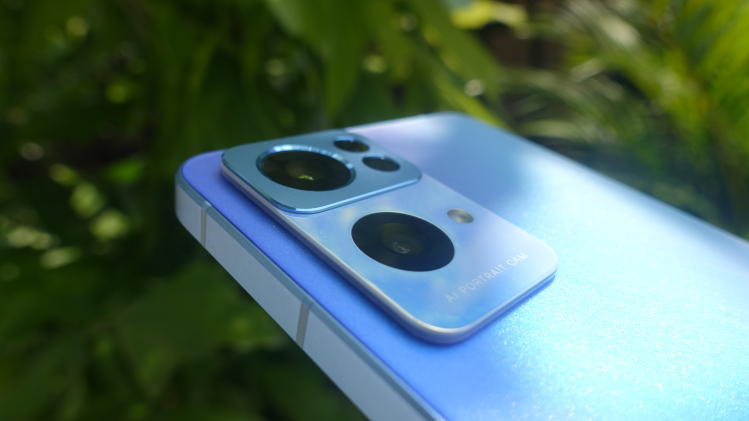 The camera hump that has 2 "steps"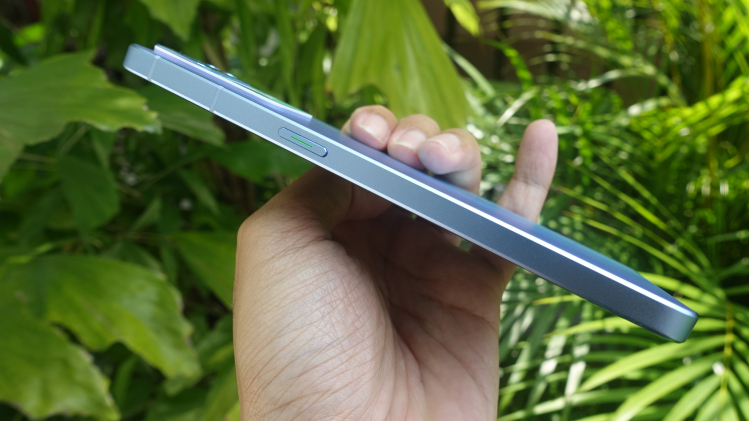 The right side has a power button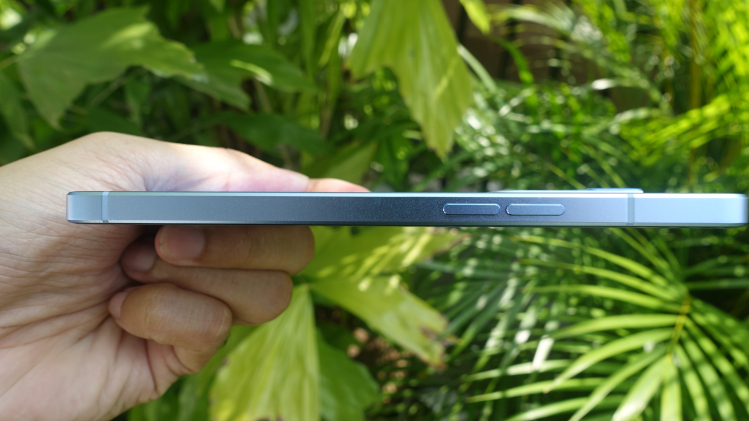 On the left side there are audio buttons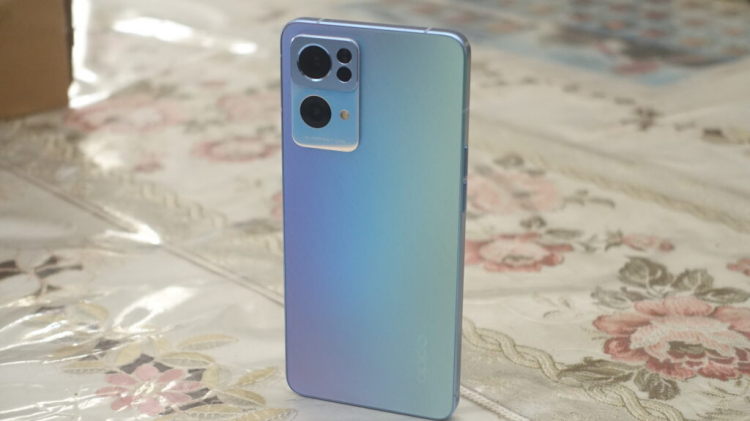 The flat sides allow the Reno7 Pro 5G to "stand" on its own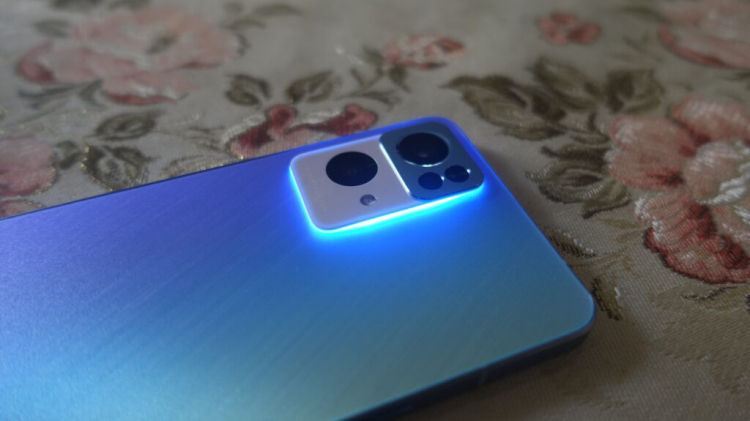 The camera hump lights up while you charge or receive notifications
On the right side there's the power button, while on the left side there are the audio control buttons. On the bottom there's one speaker, a USB-C port and a dual-SIM card slot. Unfortunately, this phone does not have microSD memory card support or a 3.5mm audio jack.
On the front, the phone offers a 6.5-inch screen with a small punch hole in the top left for the selfie camera. The border of the screen bezel is very thin on all sides. Weighing in at 180 grams and only 7.45mm thin at its thinnest point, the Reno7 Pro is an easy-to-hold phone.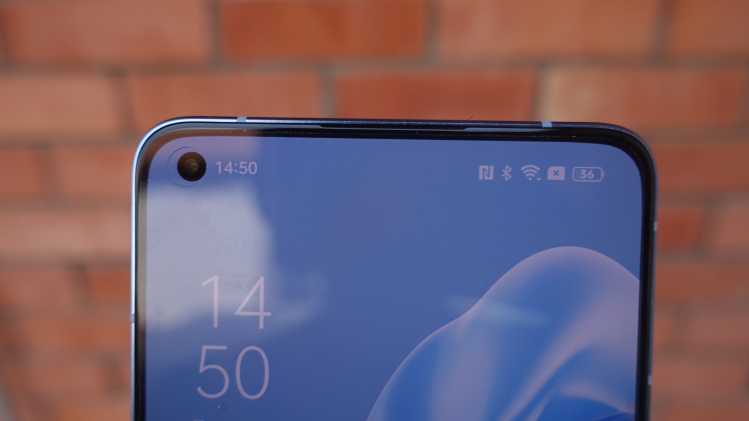 Small selfie hole on the top left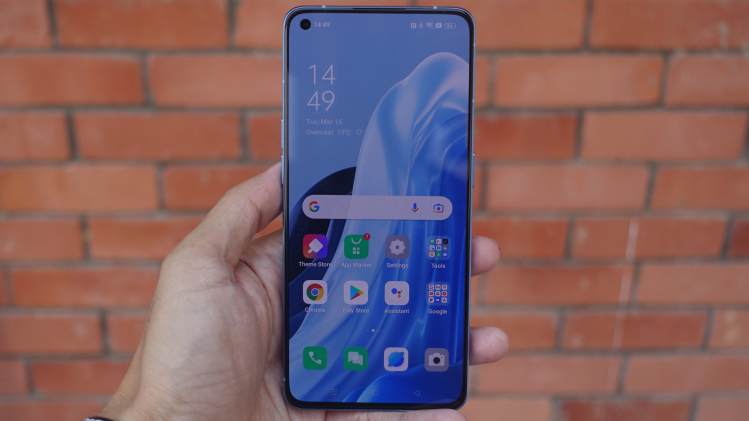 The OPPO Reno7 Pro screen has thin bezels on each side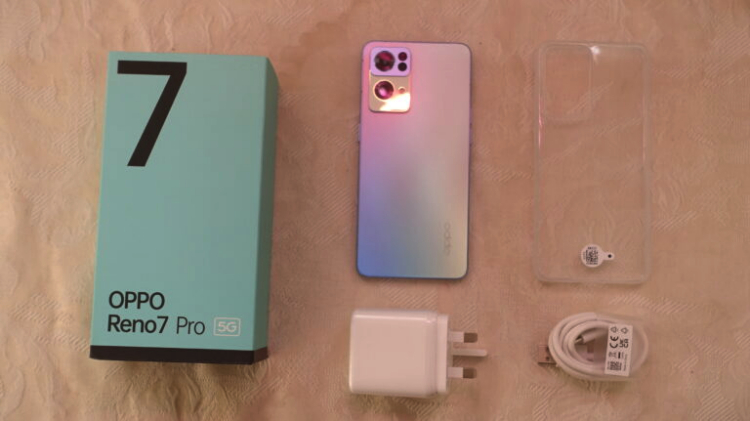 Contents of the Reno7 Pro box
Tech specs and Features - A "Flagship" from 2021
Here are the full specifications for the OPPO Reno7 Pro 5G:
Full HD+resolution AMOLED screen, 6.5 inches, 90Hz refresh rate, 920 nits brightness, built with Gorilla Glass 5

MediaTek Dimensity 1200 Max 5G chipset

12GB RAM, can be expanded with DRE by 3GB, 5GB or 7GB

256GB UFS3.1 internal storage

50MP main camera with Sony IMX766 sensor + 8MP ultra-wide camera + 2MP macro camera

32MP selfie camera

4,500mAh battery

Fast charging 65W SuperVOOC

ColorOS 12 software based on Android 11

Stereo speakers

Optical fingerprint scanner underneath the screen
Utilizing an AMOLED panel with a 90Hz refresh rate, the Reno7 Pro screen can produce very beautiful and smooth images for any form of content. Gorilla Glass 5 also means this phone has a fairly sturdy screen, though it's not on par with Gorilla Glass Victus. Under direct light, it can generate a brightness of only 920 nits, so it is not bright enough to be used under the scorching sun.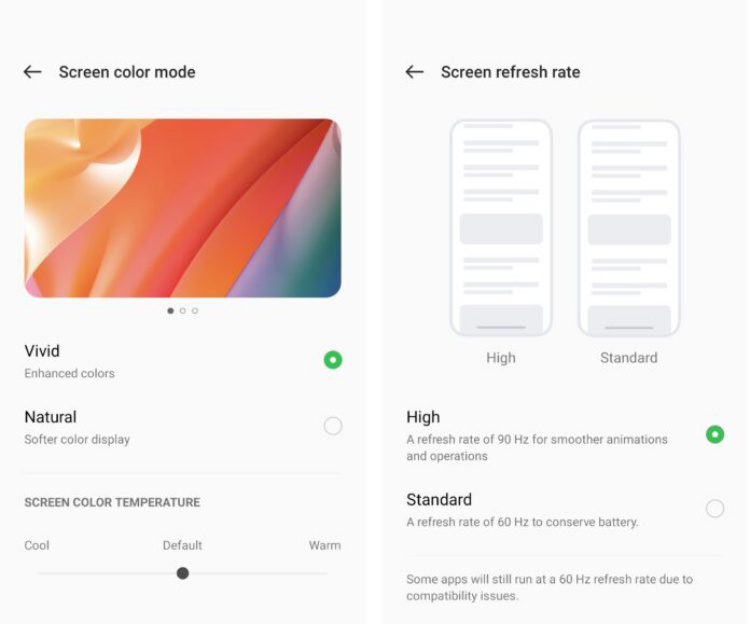 (Left) Color setting for the Reno7 Pro screen, (right) The refresh rate can be set between 60Hz or 90Hz
In terms of chipset, it is equipped with a MediaTek Dimensity 1200 Max 5G made via a 6nm fabrication process, so it can produce very fast performance for all uses including heavy tasks like playing games. This chipset was originally a flagship chipset for 2021, so while it's no longer the most advanced MediaTek chipset in 2022, this doesn't mean the Dimensity 1200 Max can't deliver fast performance.
There's also 12GB of RAM in the Reno7 Pro which is quite large and comparable to certain flagships in 2022. In my opinion, this is enough for most users but if that is still not enough for you, you can use the Dynamic RAM Expansion (DRE) function to add 3GB, 5GB or 7GB of RAM, offering a total RAM of up to 19GB.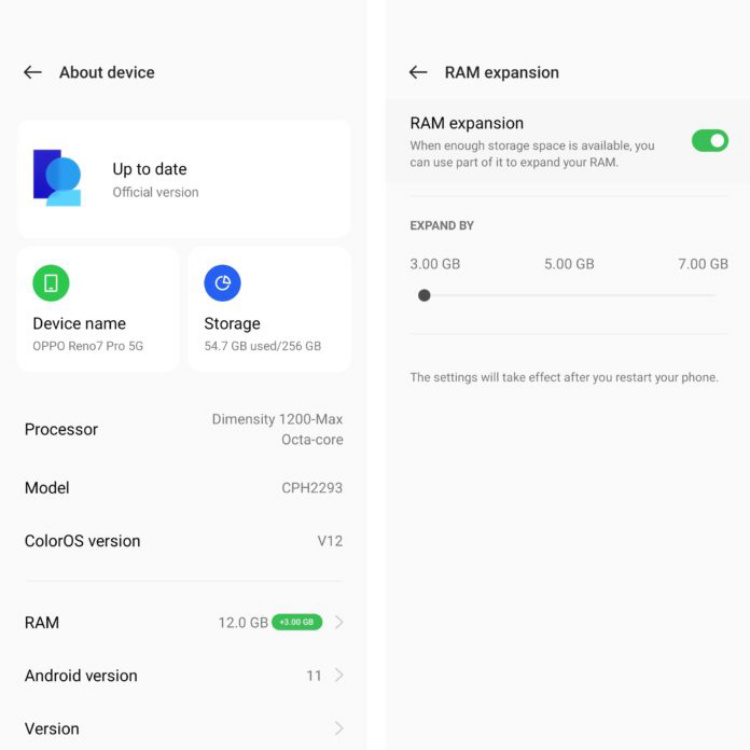 (Left) Reno7 Pro specs, (right) additional DRE RAM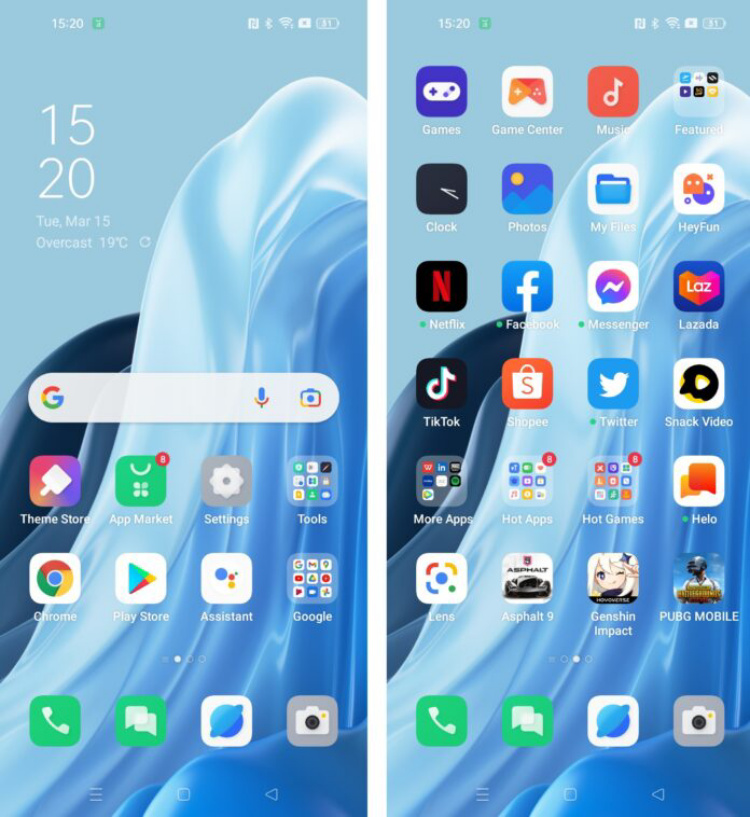 The ColorOS 12 Home Screen looks clean with square -shaped icons
The phone is equipped with the ColorOS 12 UI based on Android 11, which has an easy-to-understand interface (UI) and offers some unique functions such as PC Connect and Omoji, but you need to have an OPPO account to access these features. At the time of writing this review, the Reno7 Pro still had Android 11, so it will probably receive Android 12 in the next update.
For security, there's an optical fingerprint scanner under the screen and it's very fast. In addition, you can also use the face unlock which is also fast but doesn't work so well in dim conditions. For audio, the Reno7 Pro has satisfactory stereo speakers for phones of this category.
Performance - Beautiful Portrait Mode in photos and videos
The OPPO Reno7 Pro 5G managed to score relatively high scores in our GeekBench and 3DMark benchmark tests. Even so, it still lags a bit behind other phones that have more sophisticated chipsets for 2022.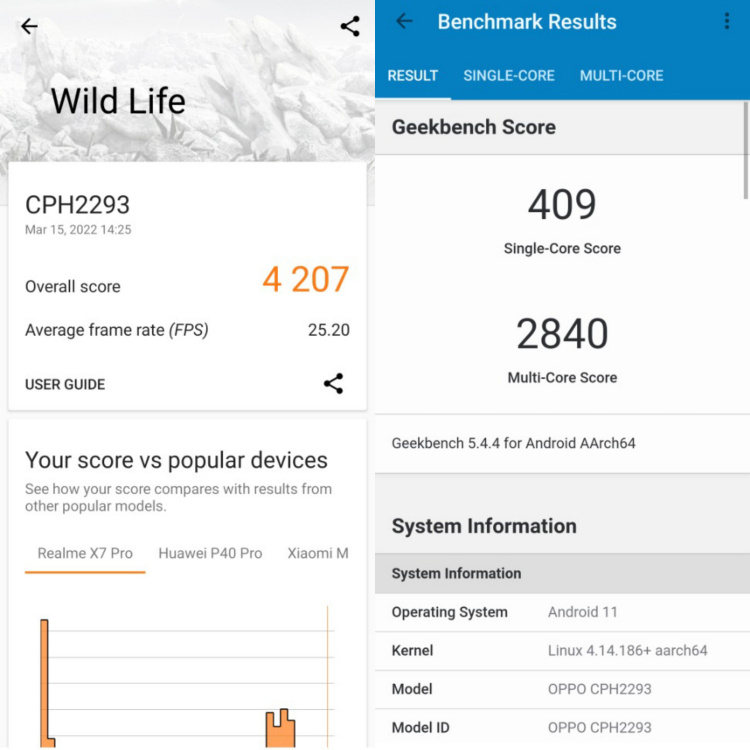 3DMark Wild Life (left) and Geekbench (right)
With the Dimensity 1200 Max 5G chipset, most apps you open in the Reno7 Pro can be accessed very quickly. In fact, if you're a user who regularly opens a lot of apps simultaneously, the DRE function can provide up to 19GB of RAM so the phone won't slow down while you're doing multi-tasking work. The 90Hz screen also adds on a smoother scrolling experience as well.
We tried several games like Asphalt 9, PUBG Mobile and Genshin Impact and all three games could be played on the highest graphics settings without much trouble. The back surface of the phone also doesn't get too hot even after playing for an hour.
In terms of battery life, the Reno7 Pro has a capacity of 4,500mAh and can last for a day without any problems. We managed to record a screen on time of almost 12 hours, which is excellent for a midrange phone. The battery life can be further extended with Power Saving Mode or Super Power Saving Mode which can last up to three days, but you may experience some decrease in the performance.
Also accompanying this excellent battery performance is its fast charging technology which OPPO are calling 67W SuperVOOC. Even with a battery capacity of 4,500mAh, it can be fully charged in around 40 minutes from 1%. After all, the charger is also included in the box so you can take advantage of this fast charging without having to buy a third-party charger.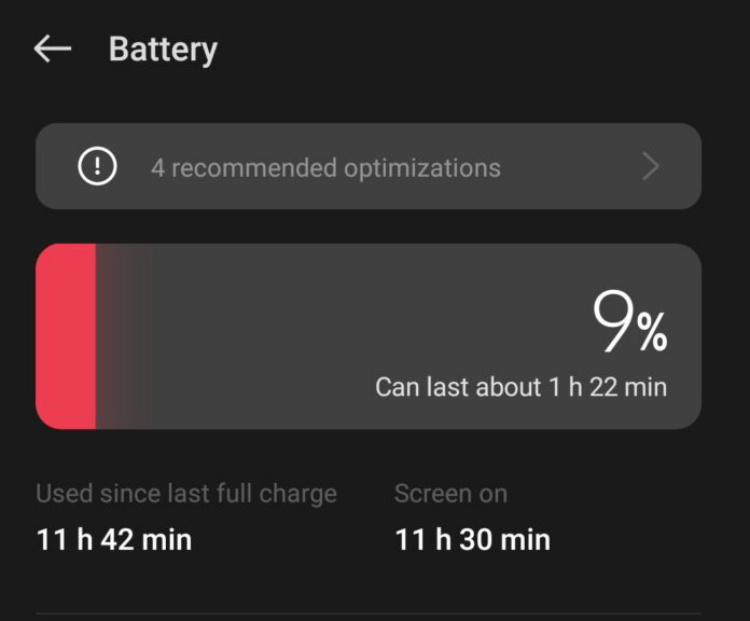 We managed to record a "screen on time" of almost 12 hours with a full battery charge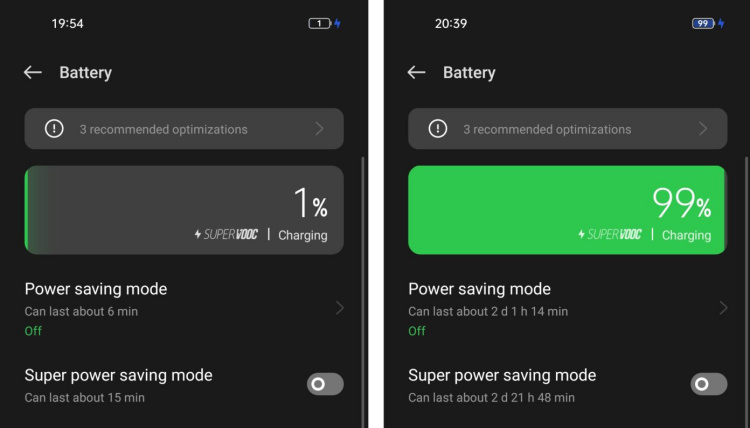 Charging from 1% to 99% only takes 45 minutes (7:54 pm to 8:39 pm)
Now let's move on to the cameras. At a glance, the camera UI is similar to most other smartphones, however when you access Portrait mode, you can access features unique to the Reno7 series like AI Color Portrait and Bokeh Flare Portrait.
AI Color Portrait can make the background black and white, while your body and face will still remain colored. Bokeh Flare Portrait on the other hand, makes the blur effect in the background look more subtle with a beautiful ball of light, making it look like a picture taken from a DSLR camera.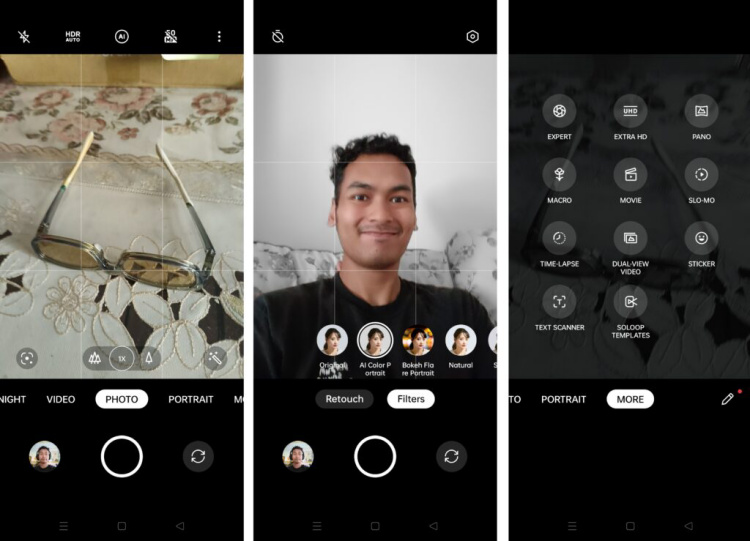 (Left) Camera UI, (center) filter options for Portrait Mode, (right) more modes in "More"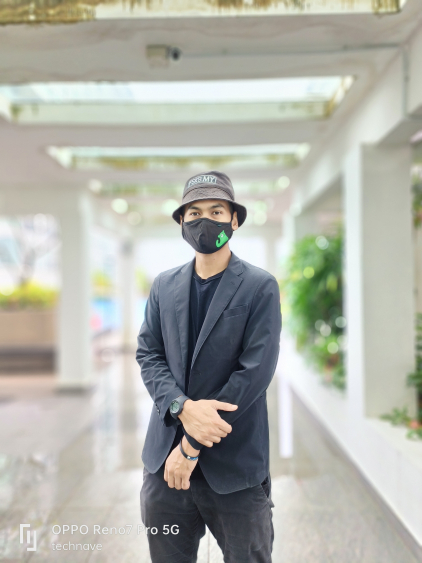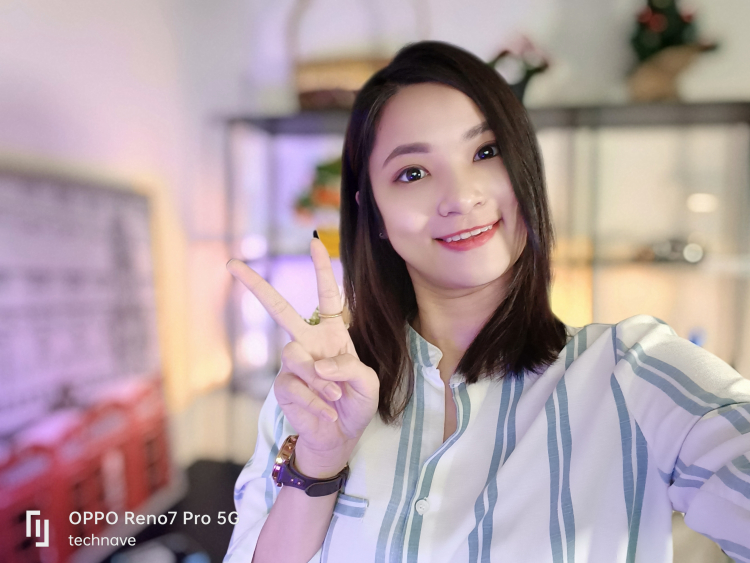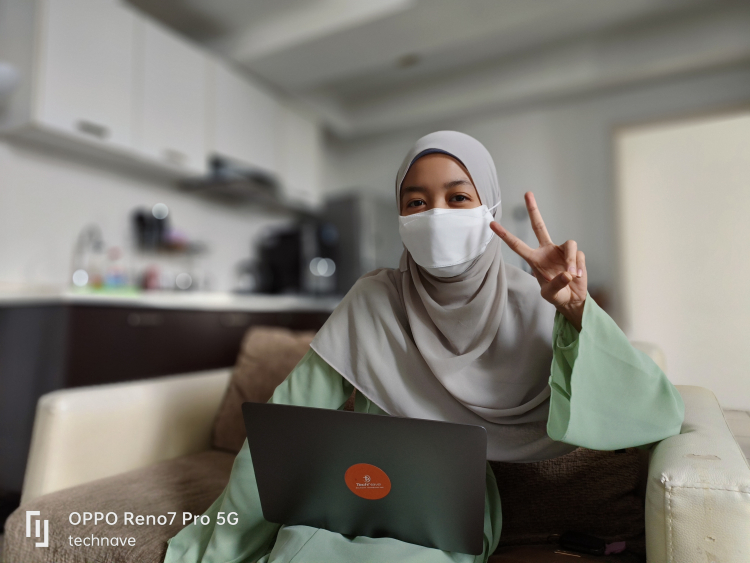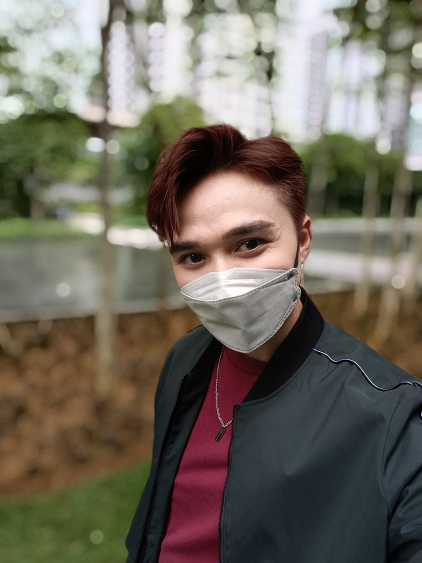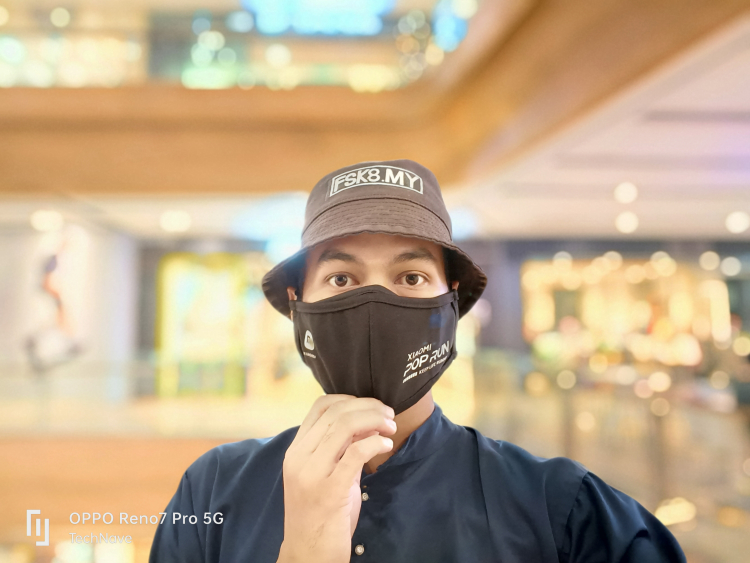 Sample pictures taken using the Bokeh Flare Portrait feature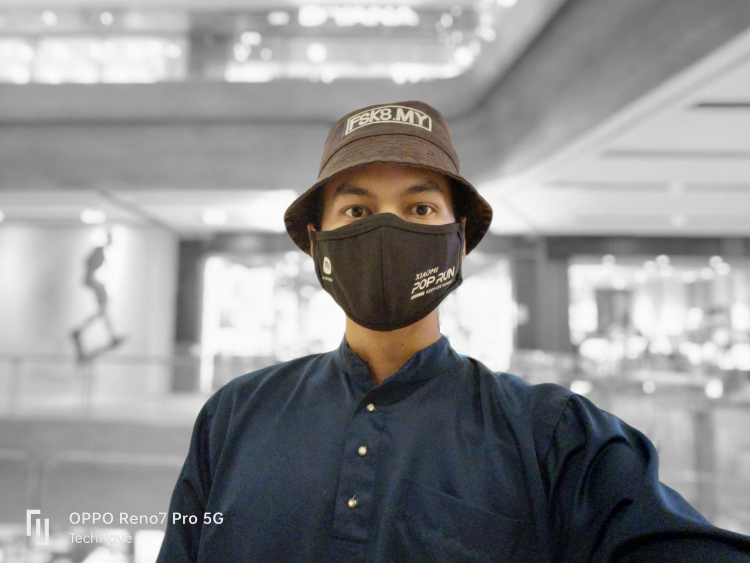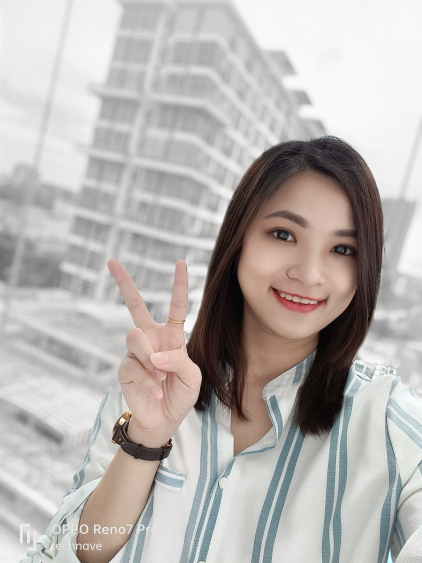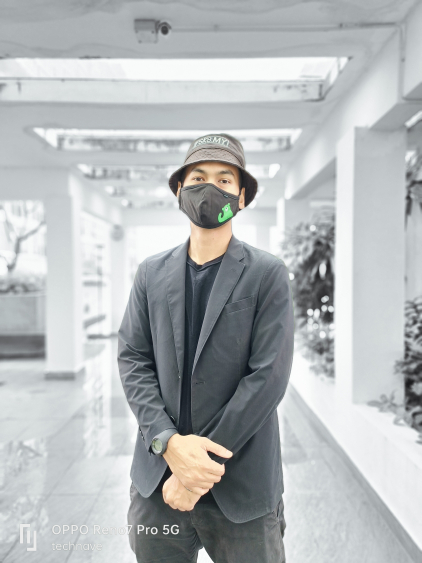 Sample pictures were taken using AI Color Portrait
Thankfully, the separation between the subject and the background also looks very neat in most Portrait photos, with very few errors.
In addition to Portrait mode, photos in auto mode are also beautifully produced using all of the lenses. This is not surprising since the Sony IMX766 sensor in the phone is a camera sensor that is frequently used in flagship smartphones.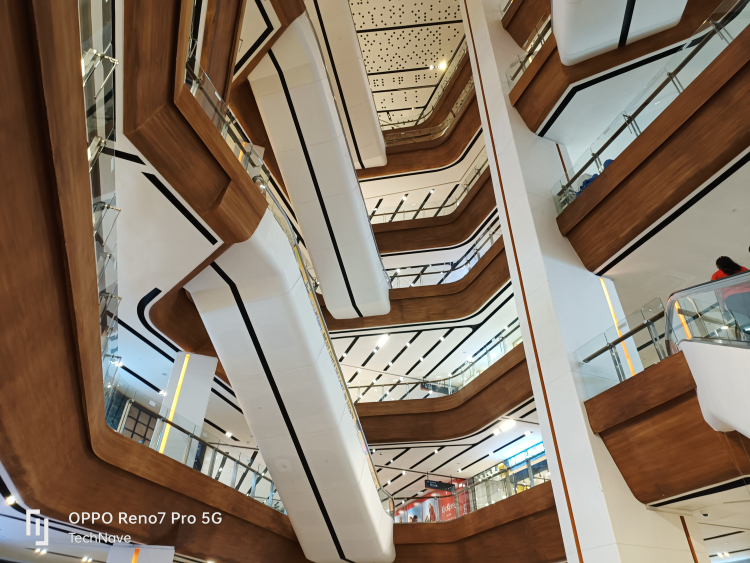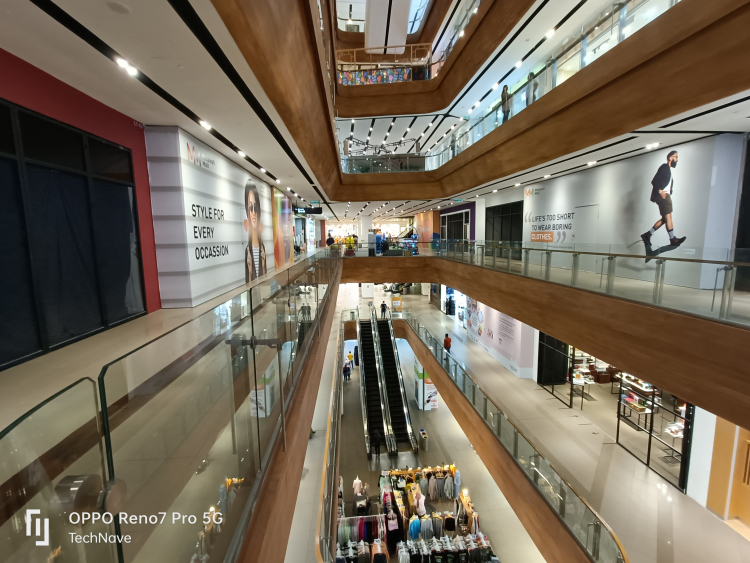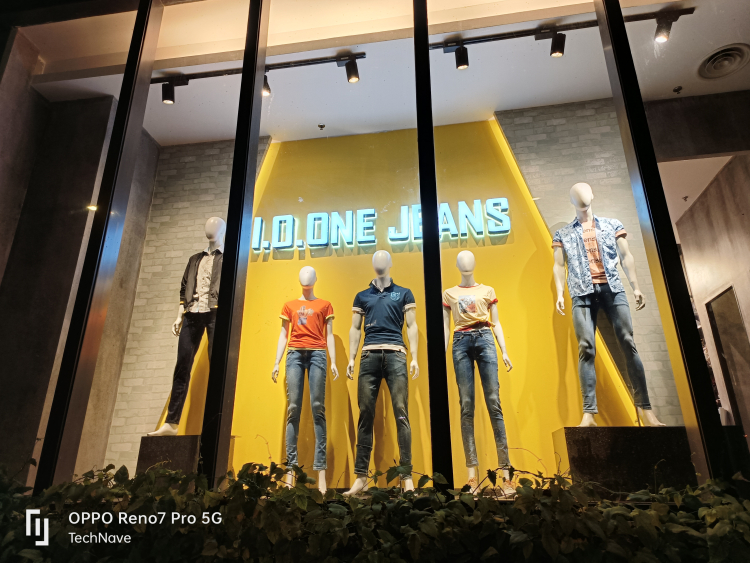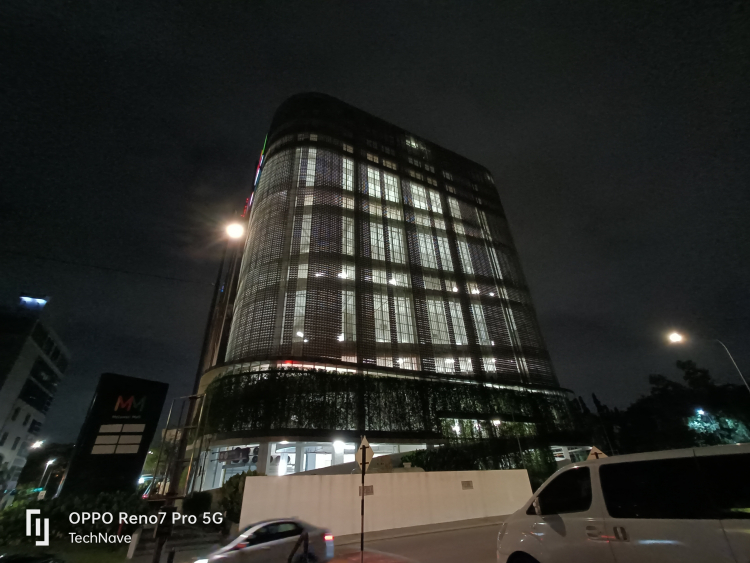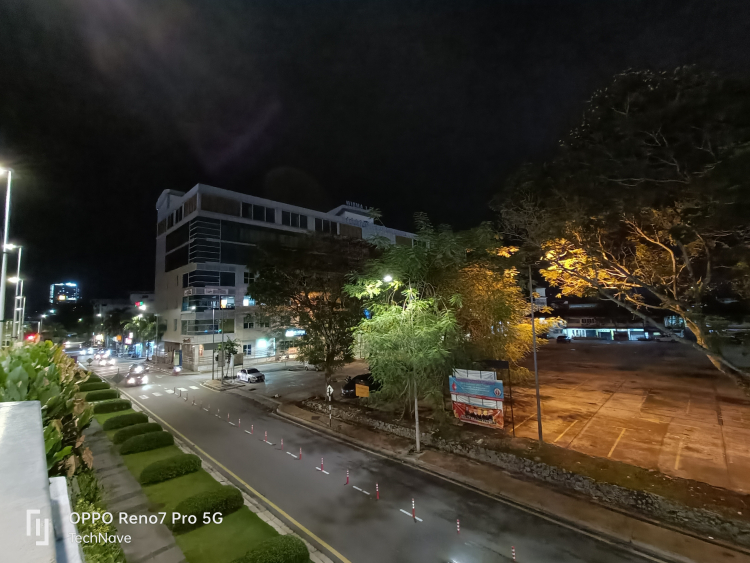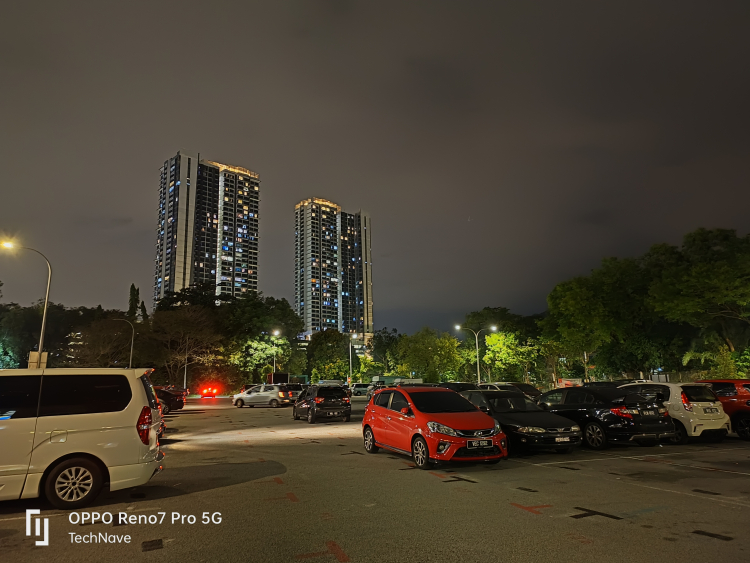 Sample photos from the main and ultra-wide cameras
For video recording, the Reno7 Pro can record in 4K resolution at 30fps. Video recording still supports AI Color Portrait and Bokeh Flare Portrait functions which results in a rather artistic effect. For recording on the go, the phone uses electronic stabilization (EIS) to reduce vibration or shakiness in the video.
When compared to the Cinematic Mode in the iPhone 13, we think the Reno7 Pro can produce a more beautiful blur effect especially using the Bokeh Flare Portrait feature.
Conclusion - The best midranger for fans of Portrait mode
If you are looking for a midrange phone that can produce the most beautiful Portrait mode photos, the OPPO Reno7 Pro 5G is definitely the phone for you. It offers a camera that is on par with other flagship phones but in terms of specifications, it is slightly lower than other 2022 flagship phones. As such, the Reno7 Pro is also an ideal phone if you want a great camera but don't care so much about the fastest or latest tech specs.
If the Reno7 Pro which is priced at RM2,999 is too expensive, you can get the OPPO Reno7 5G (RM1,999) which also offers the same Portrait camera functions as the Reno7 Pro, but with a different design, smaller screen and MediaTek Dimensity 900 chipset that is not as fast as the Dimensity 1200 Max. Other suitable alternatives for the Reno7 Pro 5G include the Samsung Galaxy S21 FE (RM3,099), vivo X70 (RM2,499) and iPhone 12 mini (RM2,899).
Let us know if this review helped you on our Facebook page and stay tuned to TechNave for the latest technology news.