Olympus SP-810UZ Camera Review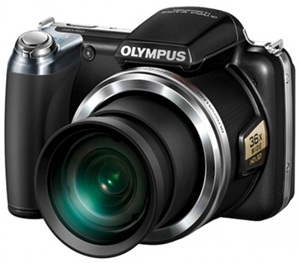 The world's longest zoom in a compact camera!
The Olympus SP-810UZ was made for travelers and avid photographers in mind as this compact camera is much lighter than a typical fully-equipped DSLR and yet comes with just as many functions. The SP-810UZ 3D is built with a 14-megapixel image sensor and a 24-864mm, f/2.9-5.7 optical zoom lens.

Olympus SP-810UZ: 3D
Like the generic DSLR, the SP-810UZ also comes with a 720p HD movie capture feature but what makes this compact camera fun is the 3D image capture and pet detection function. Like its predecessor (i.e. the SP-800UZ), the SP-810UZ also comes with a 3-inch, 16:9 LCD rear screen. In terms of upgrade, the SP-810UZ sports other functions as well, including ten magic filters, in-camera panorama stitching, intelligent Auto mode, beauty modes and AF tracking.

Olympus SP-810UZ: Specifications

Physically, the SP-810UZ weighs a little over 400grams (including lithium-ion battery and memory card) and the model is said to come in black and silver finishing. The SP-810UZ is compatible with SD, SDHC and SDXC memory cards and Eye-Fi media.

The TFT LCD screen also comes with a five-level brightness control whereas the image processor used by this model utilizes TruePic III + technology. Recordings of images are done in JPEG format (Exif 2.21, DCF, DPOF), videos are recorded in MPEG-4 and audio is saved as ACC.

Olympus SP-810UZ: Lens

The lens of the SP-810UZ is also interesting as its construction includes 4 aspherical elements, 3 ED glass elements and the patented Olympus zoom. The lens also has an impressive focal length varying between 4.3 to 154.8 mm and has a digital zoom up to 4 times magnification. Users will also be able to adjust the shooting rate from 30 frames per second (2 megapixel resolution) to 0.73 frames per second (full resolution).

Olympus SP-810UZ: High Image Quality
If you favour taking close-ups and group shots, then the 36x wide optical zoom will make your photo shoot a breeze. Thank to the TruePIc III + technology, photos taken will have low noise with ideal color reproduction as well. The SP-810UZ also comes with Dual Image Stabilization feature that helps reduce blur photos created by fast-moving objects as well.

Olympus SP-810UZ: User Friendly
The spacious 3-inch 16:9 LCD makes it easy to review every frame in detail. The model also comes with Advanced Face Detection and Shadow Adjustment Technology that automatically edits and regulates each shot taken such that the faces of the objects will be taken as desired. The fairer sex will also be interested in the Beauty Mode function that automatically hides blemishes as well, thereby reducing the need for airbrushing.

The SP-810UZ is also pretty easy to be handled by anyone, thanks to the Intelligent Auto Mode (i-Auto) and AF Tracking mode that helps the user set and focus the camera. If you're one of those pet owners who spend hours literally trying to chase down your fur kids for a good shot, then the Pet Detection Mode will make your photo shooting life infinitely easier, as the feature will enable the SP-810UZ to automatically take a shot of your pet the moment they look at the camera.

Olympus SP-810UZ: Magic Filters

The SP-810UZ is one of the rare few cameras debuting the 3D photo shooting mode and it also comes with ten magic filters which can be added to movies as well as images recorded on the SP-810UZ. The filters include punk, pop art, dish eye, sparkle and even miniature. One of the coolest features of the camera would have to be the in-camera Panorama as well.

Olympus SP-810UZ: No Manual Settings
The SP-810UZ is meant for budding photographers who would like to be education on DSLR features minus the need to handle heavy equipment. As such, this model only comes with auto settings which could be a pain for professional DSLR users who are used to having both manual and automatic modes in their camera.

Olympus SP-810UZ: Tripod-Dependent
Despite the wide zoom, one will still have to procure a tripod when using the SP-810UZ to take shots of anything beyond 250mm.

Conclusion:
The SP-810UZ is suitable for those who are just starting to discover that they love snapping photographs of everything, from still backgrounds to objects in motion. If you can get over the fact that you'll probably have to tote around a tripod to go with your compact SP-810UZ, then this model would make a great traveling companion.
Olympus SP-810UZ Specs & Price >