OnePlus Nord CE 5G Review: Simple and straightforward mid-ranged 5G smartphone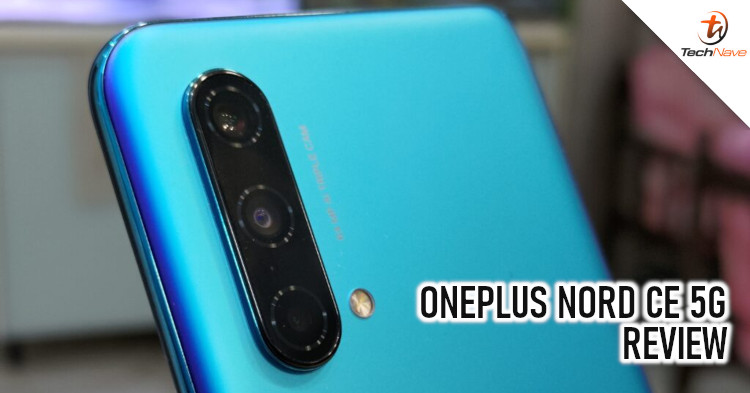 Recently, many smartphone brands are releasing their 5G-capable smartphones to stay relevant in today's market. Gone are the days where 5G is usually reserved for flagship smartphones, as more and more mid-range and budget smartphones are equipped with 5G capabilities, making them much more accessible.
One of those smartphones includes the OnePlus Nord CE 5G, which is available in Malaysia starting from only RM1399 that's equipped with the Qualcomm Snapdragon 750G with 5G capabilities. That said, how does it perform in everyday use? Let's find out.
Design - Simple and something you would expect from a OnePlus smartphone
The back has a premium matte finish that doesn't attract fingerprints
Power button on the left side
Volume rocker and SIM tray on the right side
OnePlus has always been known for its simple, straightforward and recognisable design. Our Blue Void coloured Nord CE 5G looks gorgeous with its matte finish that does not attract fingerprints.
However, it tends to attract oil from fingers, so be sure to wipe your hands before handling the phone. At the rear, you'll find the signature OnePlus logo at the back, as well as a triple camera setup towards the top left.
Underneath you'll find the Type-C port, speaker grill, and 3.5mm headphone jack slot
As for the thickness, the device is only around 7.9mm in thickness, combined with its curved edge design, and the fact that it weighs about 170g makes it very comfortable to hold in your hands. However, the screen protector that came pre-installed on the smartphone tends to feel quite rough when you drag your finger around the edge of the smartphone.
With that in mind, you could remove the screen protector to give a smoother handling experience at the expense of exposing it to potential scratches. However, I don't recommend doing it if you're very particular about scratching your screen.
Hole-punch notch towards the top left corner of the AMOLED display

Since we're talking about the screen, the OnePlus Nord CE 5G is equipped with a 90Hz AMOLED FHD+ display that's bright enough to be seen even while using it under direct sunlight. Not only that but the high refresh rate display gives a smoother and more responsive experience when navigating through the smartphone's UI.
Taking a look at the right side of the smartphone, you'll find that it comes equipped with a volume rocker and a hybrid SIM tray, while the left side is where you will find the power button. At the bottom, it has a USB Type-C, 3.5mm jack, and a speaker grill. Surprisingly, OnePlus did not equip the device with their signature mute slider, which sets the phone to silent when slid to the on position.
Everything that's found inside the box

It comes bundled with a 30W fast charger. Yay!
Dual SIM tray that doesn't support expandable storage
Another feature that was not present was the dual stereo speakers, as the speaker only comes out from the bottom of the smartphone. With that in mind, there could be a chance that you might accidentally cover the speaker with your palm, causing it to sound muffled while watching movies or playing mobile games in landscape mode.
Tech specs and features - 5G capabilities with decent hardware for its price
Qualcomm Snapdragon 750G 5G processor

Up to 12GB RAM, up to 256GB UFS 2.1 internal storage

6.43-inch 90Hz AMOLED display

4500mAh battery that supports up to 30W fast charging

64MP + 8MP + 2MP triple rear camera, 16MP front-facing selfie camera

Android 11 with OxygenOS on top

3.5mm headphone jack and in-display fingerprint sensor

Available in Blue Void and Charcoal Ink colour scheme
At the price of RM1399, you're getting decent tech specs such as a 90Hz display, Snapdragon 750G chipset, and 5G connectivity. Furthermore, the phone comes with Oxygen OS, which is OnePlus' proprietary Android skin on top of the Android 11 operating system that looks beautiful and comes with a few additional features unique to OnePlus.
One of the features includes the ability to intelligently switch the display between 90Hz when it needs to display something smoothly and 60Hz to save battery. It also comes with several presets for users to tweak the display to lean more towards a warmer or cooler colour tone.
The phone comes with Oxygen OS skin on top of Android 11
The phone lets you calibrate the screen and change the refresh rate to either 90Hz or 60Hz
The camera app comes with all the standard features like portrait mode, pro mode, video mode, and more
The phone has a 64MP main camera + 8MP ultra-wide-angle camera + 2MP monochrome camera, while the front has a 16MP selfie camera. The camera app has nothing out of the ordinary, such as portrait mode, night mode, slow motion, video recording, filters, and more.
If you want additional camera functionality, such as stickers and more filters, you can consider downloading a third-party camera app such as B612. Other than that, it has an optical in-display fingerprint sensor, as well as the OnePlus Switch functionality that lets you quickly copy over files from your previous smartphone.
Performance - A great general use smartphone
GeekBench
3DMark Wild Life
3DMark Sling Shot
Running it through some synthetic benchmarks like 3DMark Slingshot, Wild Life, and GeekBench., the phone scored decent enough for daily use. However, the Nord CE 5G tends to struggle while playing demanding mobile games like Genshin Impact. With that in mind, I had to lower down the graphic quality in the settings menu just to play smoothly.
However, when running games that are not too demanding, like Call of Duty: Mobile, the phone can play at high frame rates with maxed out graphical settings without any issues. Thanks to the power-efficient components, the OnePlus CE 5G did not heat up as much while mobile gaming except for Genshin Impact, which is a more resource-intensive mobile game.
When it comes to general use, the phone is more than capable when it comes to browsing social media, web pages, and quickly switching between productivity apps like Google Docs, Sheets, and more, thanks to the 8GB RAM. The phone's 90Hz display also has good colour accuracy, making it great for watching videos and movies.
No problems running Call of Duty: Mobile on High at Max frame rate

Because it only has a single speaker at the bottom, I sometimes find myself muffling the speakers with my palm. In addition to that, directional audio when playing mobile games is non-existent, requiring me to use either wired or wireless headphones.
In terms of battery life, the 4500mAh battery is more than enough to last up to 2 days on general use. However, if you end up watching a lot of movies and playing mobile games, the total battery life will be decreased to somewhere around half a day to a day at most.
The fact that the smartphone comes with 5G connectivity allows it to achieve download and upload speeds that are extremely fast and stable compared to 4G connectivity. However, because the 5G network is not as widespread here, it is hard to test how the Nord CE 5G performs on local network providers.
Onto the camera, pictures taken by the OnePlus Nord CE 5G both have good contrast and colour under proper light conditions. However, there were issues where the phone was having problems focusing on objects close to the camera.
Taken at 1x Zoom

Taken at 2x magnification
Pictures look much better in a well-lit environment
Indoor pictures look great and vibrant
Ultra-wide pictures don't look too bad either
Camera seems to have trouble focusing on subjects that are too close
The focus is a little off on the face which is a bummer
Same issue on this model as well
Taken using the wide-angle camera
Taken with 2x magnification. Pictures look decent and don't look washed out
Low light is where the phone starts to struggle
Selfie pictures look alright. But you'll get much better pictures in a well lit environment
In addition to that, pictures taken with night mode looked clear but slightly too dark for my taste. When it comes to video recording, the phone supports 4K 30FPS recording or FHD with up to 60FPS recording, giving you a choice to record either a higher-resolution or smoother-looking video.
Conclusion - A smartphone with decent performance that's suitable for those who want to be the first to experience 5G connectivity in Malaysia
The OnePlus Nord CE 5G starting from RM1399, is an excellent smartphone if you want to get a 5G capable smartphone suitable for general use. However, if you're looking for a smartphone specifically for playing mobile games, the OnePlus Nord CE 5G might not be the best choice.
Alternatively, if you're not interested in being the first to experience 5G connectivity, a phone you should instead consider is the Samsung Galaxy A52 that comes with dual stereo speakers and support for Samsung Pay, Galaxy SmartTag, and many more. If you're looking for a phone that's more catered to taking pictures, you could consider getting the OPPO Reno5 instead which has much better camera performance compared to the Nord CE 5G, and it also supports 5G.
With all that said, what are your thoughts on the OnePlus Nord CE 5G? Let us know on our Facebook page and for more updates like this, stay tuned to TechNave.com.
OnePlus Nord CE 5G Specs & Price >