Opinion: Are Malaysia's Mobile Telcos moving in the right direction?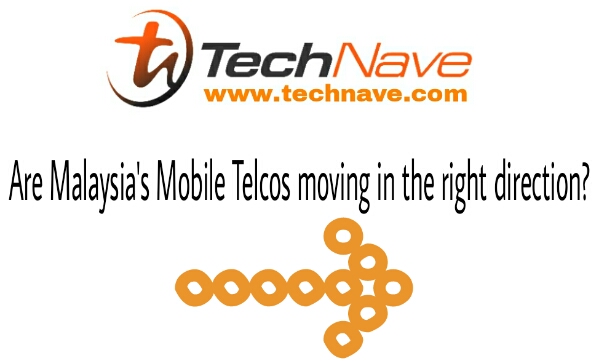 Malaysia is known for many things in the IT world. We are ranked number 5 for taking selfies in the world. We are on Facebook and social media a lot more than most people in other countries within the region. While we have not yet reached the same level as countries like South Korea, our smartphone and mobile telecommunications or telco industry is definitely on the rise. And while many of us won't admit it, a lot of our online actions and reactions rely on how the various Mobile Telcos of Malaysia are moving. So here at Technave.com, we'd like to stop for a minute and see where we are, what packages and plans are available and how we as the common everyday user should react to the wave of new telco plans, packages and deals? Are Malaysia's Mobile Telcos moving in the right direction? What would be the most ideal mobile telco plan in Malaysia? Read our analysis as everyday Malaysian users to the everyday user in Malaysia to find out.
At a glance (the current state of Malaysia's telcos)
There are actually many Mobile Telco companies in Malaysia with the four major companies currently being Celcom, Maxis, DiGi and U Mobile. TM or the Axiata Group as they are now called are fixed line and broadband Internet service providers and are not by our definition a Mobile Telco company. Neither is P1 WiMax but there are a lot of newcomers in the field including Yes from YTL, Altel and Tune Talk amongst others. Celcom has been here the longest and as such is seen as the premium brand with the best stability. Maxis has generally been known to have the best coverage. DiGi was formerly seen as the value-added brand but now stands toe-to-toe with Maxis in terms of coverage but is still a bit more affordable than Maxis. U Mobile is the current value-added mobile telco brand in the market. All four them now offer 3G and 4G LTE services along with all the older mobile Internet connectivity technologies like 2G and WAP. Nearly all of them offer some form of subsidized device or smartphone under a prepaid or postpaid plan.
The four major mobile telcos in Malaysia include Celcom, Maxis, DiGi and U Mobile
The Prepaid perspective - Simple and easy
While Prepaid users still have to register their particulars these days, it is relatively easier to pick up a starter pack and drop it than it is to do so with a postpaid plan. All you have to do is make sure you top up it's airtime to ensure that it remains valid while the actual cost of the calls, SMS or mobile Internet is deducted from the value you add in from the top up. If you don't top up your airtime after a certain time period, the prepaid number or account expires, but as we said before, you can add on a new prepaid number quite easily. Rates for pay-per-use mobile voice and Internet are definitely higher on prepaid, but it is easier to pick up and go mobile than with a postpaid plan.
The most cost effective prepaid Mobile Telco
From a mobile data standpoint for prepaid, so far we've found U Mobile to be the most effective in terms of cost and coverage in Malaysia. Granted, it doesn't get coverage in the more rural areas up near Pahang or Cameron Highlands but then neither does Maxis which is known for it's better coverage. U Mobile also does not work very well overseas or outside of Malaysia, but for that it is easier to get a local prepaid number or data plan overseas than to get one Malaysian prepaid number that roams well. On prepaid we have found that Maxis and DiGi prepaid numbers travel overseas better than U Mobile but for our tech writers and journalists U Mobile is more than enough. We've found that rather than make calls from an International number, it is cheaper and more cost effective to make VoIP calls using Skype and other messenger services.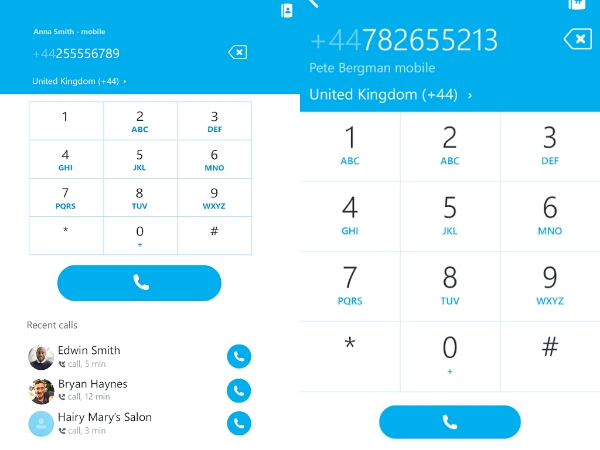 It is more affordable to make VoIP calls over the Internet through apps like Skype than to make direct IDD calls from overseas
The mobile Internet killed SMS and MMS
For Malaysian mobile Internet usage, some of us use a MiFi hooked up to an ISP such as P1 WiMax. Others use the Unlimited Internet plans from U Mobile like U18 or U28 if we need to be online all the time even if your speed is throttled after a certain data quota is reached. Through personal experience with friends and relatives not so inclined with IT, we have found that mobile Internet is becoming more and more important, partly because of social media and chat messengers. While Voice calls are still widely used, many people here in Malaysia are dropping SMS and MMS entirely as it is easier and cheaper to just use a chat messenger like WhatsApp, Viber or Line. The chat service is also generally faster, allowing people to send and view pictures and videos made using smartphones and other mobile devices better.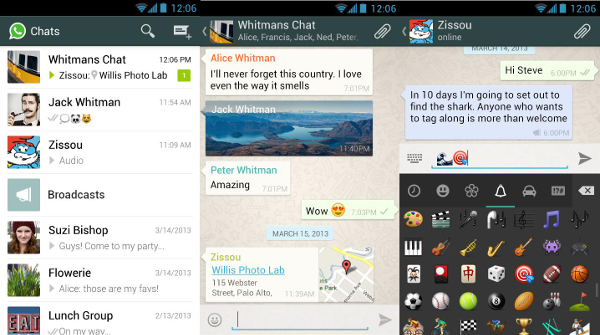 Chat or messenger apps like Whatsapp offer a lot more features than normal SMS or MMS but need mobile Internet to run
Faster speeds equals less cost effectiveness
However, we have also found that while mobile Internet for prepaid users is maturing, the cost is becoming less effective, especially as content becomes bigger and speeds become faster. Now, even prepaid users on U Mobile can get 4G LTE and while coverage for 4G LTE is still small, users in those areas are finding that their data consumption becomes faster, data quotas run out earlier and they have to top up more per month than before. We admit that this isn't the fault of mobile telcos like U Mobile, but in general the cost for airtime is less effective than before. For example: the older U Mobile prepaid plan would only need RM10 to get 30 days of airtime but the current U Mobile prepaid plan only gets 20 days of airtime for an RM10 top up.
New Unlimited plans brings hope for the future
While it may be less cost effective now, new unlimited plans from Malaysia's Mobile telcos are balancing things out. Telcos are offering plans with unlimited voice, or unlimited Internet but like us, they seem to understand that SMS and MMS services are on the way out for prepaid as there are no plans yet to have unlimited SMS or MMS for a prepaid plan. Instead, the focus is on providing more cost effective rates for Social Media or mobile Internet browsing. One of the more innovative Mobile Internet products we've seen is the Hotlink Free Internet Prepaid plan which offers unlimited Internet at all times. Unfortunately, there is a catch as the speed has been limited to 64kbps which is not suitable for doing anything faster than chatting, social media and reading email and even then without big attachments or high resolution videos.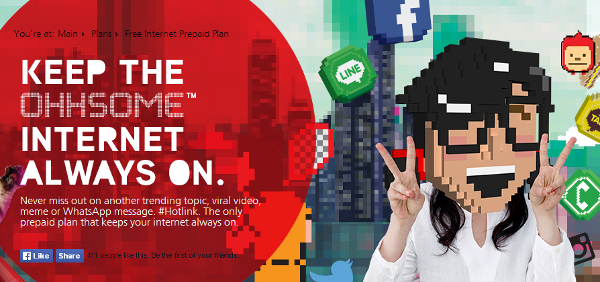 Hotlink's Free Internet Prepaid Plan offers unlimited mobile Internet at rather slow 64kbps speeds
The Postpaid plan users - More commitment but also more everything else

Under a Postpaid plan, you will have to sign up for an initial contract period and pay a monthly minimum commitment fee even if you don't make any calls or send SMS or use Mobile Internet at all. However, you do get charged lower rates and more services which include rebates, discounts and usually subsidized prices for selected smartphones and devices. While you have to pay a fine for paying your monthly fees late, it does guarantee a better quality of services than a prepaid Mobile account. If you set it up with auto pay and a credit card you can just forget about it and still get the best quality mobile Internet and calls whenever you feel like it.
Best Malaysian postpaid mobile telco
Our postpaid users tend to be sales people and those in business who need a good quality service. They don't care too much about how much they have to pay to get it and they don't want to have to monitor their Internet usage like a prepaid Internet user would. As such, quality or stability of service and coverage are the main factors for a good Malaysian postpaid mobile telco. Based on these factors, we've found Maxis to be the best mobile telco for postpaid users, as they strike a good balance between quality of service and coverage compared to Celcom and the other mobile telcos. Celcom may provide better quality of service in some areas, but is a bit pricier than Maxis and less value for money, especially since they have capped their data quotas and removed most of the unlimited features. Celcom and Maxis do tend to have better coverage in rural areas compared to either DiGi or U Mobile though.

Better for Travel
Unlike prepaid users, overseas performance for postpaid users is a lot better with Celcom, Maxis and DiGi being the better choices. However, it doesn't change the fact that calling from overseas is cheaper through the Internet using VoIP or Skype. It does take the hassle out of having to find and buy a good local prepaid number or data plan every time you travel though. Some mobile telcos don't allow for mobile Internet while roaming so making a VoIP call with these telcos would not be a good idea as that would be charged a lot more.
Unlimited features but not unlimited speed
Most postpaid Mobile telco data plans are too expensive in that the amount of data quota doesn't match with the amount of money you have to pay for it. However, some Mobile telcos are coming out with Unlimited features as well such as U Mobile and Maxis. The recent Maxis OnePlan is a good example where it provides unlimited Voice, SMS and mobile Internet on 4G LTE speeds. However, there is a catch for the mobile Internet as you only get 2GB on 4G LTE, so when you finish this quota your speed will be throttled down to 64kbps. The price for unlimited postpaid plans such as this are still too high to warrant the rather low data quotas.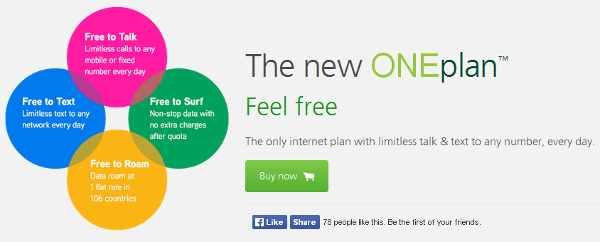 The Maxis OnePlan offers a number of limitless or unlimited services for postpaid users
Conclusion - Right direction but needs more speed or finesse
Overall, Malaysia's mobile telcos are indeed moving in the right direction but at a snail's pace and not doing the most with what they have available. As it is, the ultimate mobile telco plan for Malaysia is still not here yet. Our ideal mobile telco plan would include stable coverage with better priced unlimited data plans. Clearly, the future of mobile telco plans lays in Internet usage, so much so that even SMS and MMS are dying out from it, but the fact remains that most mobile telcos are not offering very good mobile Internet or data plans.
Will 4G LTE change everything?
Yes, but probably not now. At the current state of coverage, 4G LTE is only available in selected areas and these are mainly around Kuala Lumpur, Johor Baru and Pulau Pinang. Everywhere else is still mostly stuck on 3G. This is understandable as most telcos in Malaysia only just announced their 4G LTE packages this year. Likewise, most mobile data users in Malaysia don't have 4G LTE devices and one of the main reasons is coverage. When this improves, then 4G LTE will change everything, but for now it is safer to get a good 3G or 3G+ mobile data plan and compatible device. Thankfully, many of the more affordable smartphones and mobile devices in Malaysia are capable of 3G connectivity.
U Mobile for example, only has 4G LTE coverage in Petaling Jaya...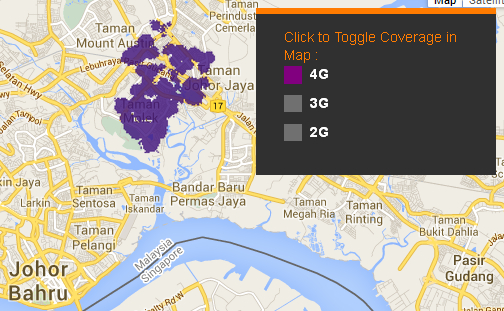 ... and Johor Bahru
What can Malaysia's mobile telcos do?
We feel that Malaysia's mobile telcos should learn to keep to the adage of "doing more with less". Keep expanding LTE but don't offer packages or focus too much on 4G LTE. It is still fine to keep 4G LTE packages expensive, right now, as not many people can use it anyway since there is either no coverage or they don't have a compatible device. For now, Malaysia's mobile telcos should focus on more stable 3G Mobile Internet while making data packages more competitive or offering faster and cheaper unlimited data plans. Longer airtime wouldn't hurt either.
What can we everyday Malaysian users do?
Keep doing what we're doing but don't get too out of whack if we don't get 4G LTE support. We should buy more plans with better focus on better priced data quotas or faster unlimited mobile Internet. Malaysia's mobile telcos are driven by money and demand, eventually (and hopefully) someone up top watching the numbers will notice. If you're interested in a specific device or plan do check out our Phone Plan Comparison tool where you can narrow down your search to the device name, monthly commitment price, contract period and telco.