Oppo N1 review - Feature-filled Ultimate Selfie Cameraphone phablet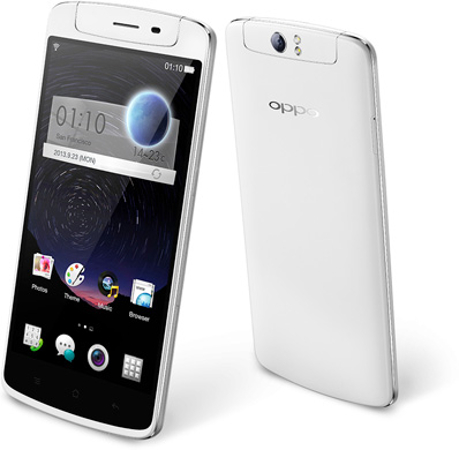 The idea for a rotating camera on a phone is not new, in fact it has been tried many times before. However, the Oppo N1 takes this feature makes it its own and then adds on a whole bunch of other unique features you won't find on any other smartphone. What exactly are these unique features and is it worth your time? We certainly think so, but for the rest read on and find out in our review of the Oppo N1.
Design - Curved ceramic backed 6-inch phablet
I have to say that so far, I've never seen a smartphone like the Oppo N1. All white with a slightly curved and rounded backside with a rotating camera, you won't find any smartphone in the market right now that looks like it and this is a good thing as many smartphones look alike these days. Build quality is very solid with a tough aluminum alloy frame and plastic, while shiny chrome trim along the edge gives it a more premium look. The front features capacitive keys while the 5.9-inch IPS screen offers a fairly sharp 1920 x 1080 pixel resolution that looks good at an angle. On the back, Oppo have made the plastic feel ceramic, giving it more grip and have also placed a touchscreen right below the Oppo sign called the O-Touch. At 213g it is quite heavy but is fairly balanced regardless.
The back feels porous like a ceramic vase and the body feels very solid, dropping to an office carpet with no problems.
The rotating camera on the top remains the most eye-catching feature though as it rotates 206 degrees from the front to the back and vice versa. While Oppo do admit you can force it and break it that way, they have made the hinge very strong, so much so that you can rotate it 40 times a day for 7 years. Next to the camera are two flash LEDs for a more even exposure. The speakers and single microUSB port and jack are located on the bottom.
The Oppo N1 is solidly crafted with some really quality components
Tech Specs and Features - Many features and mostly gesture-based interface
Since it is a cameraphone, the main feature of the Oppo N1 is it's 13MP camera sensor which has a 1/3.06 imaging module and f/2.0 aperture for low-light conditions. The dual-LED flash offers a combination of diffuse light and focused light for a more even shot using flash. In addition to this, Oppo have added a Pure Image engine along with slow shutter support. Since you rotate the camera, there isn't any front facing camera but there are a lot of other camera features you can try out on the Oppo N1 which should appeal to those who like to fiddle around with such things.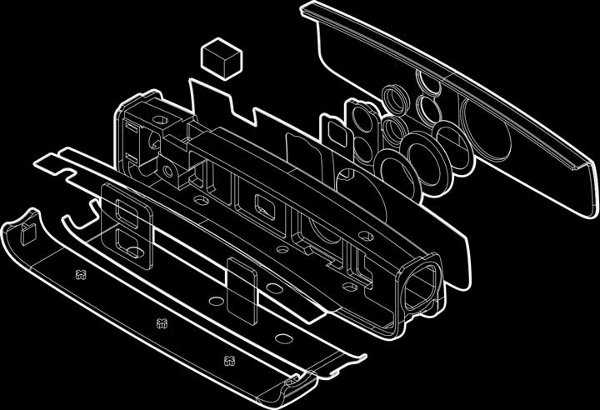 The Oppo N1 rotating camera features six physical lenses with multiple elements for a very good cameraphone.
Seemingly ahead of it's time, the O-Touch touchscreen on the back offers rear controls, allowing you to swipe down, up or side to side. You can also assign it to do certain functions like taking pictures or opening a certain app, but you'll have to open up the settings first. In addition to this, Oppo have included a bluetooth remote control called the O-click which after you've set it, can beep when too far away from the Oppo N1. It sounds disturbingly like a bomb timer but we can see how this would be useful if you attach it to your keys or wallet. You can also use the O-Click to take shots remotely or make the smartphone ring so you can find it as well.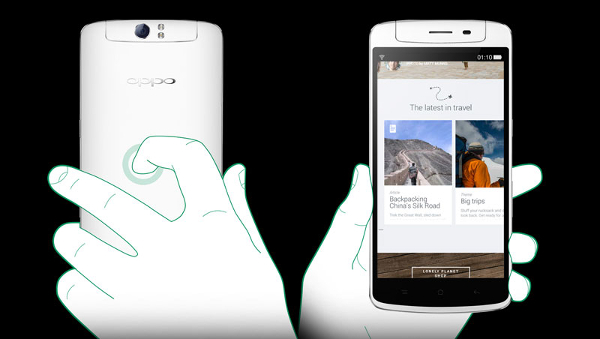 The O-Touch is a rear touchscreen so you can control the main screen without touching it
The Oppo N1 runs on the Color OS, which is Oppo's own take on Android with many gesture-based functions. This includes tapping the screen to power on (sort of like LG's Knock Code, just simplified), making a circle to open the camera and swiping three fingers down to take a screenshot. You can also assign your own gestures, like signing a heart to call your sweetheart or to play music and much more. In addition to this, the Oppo N1 is also one of the first smartphones to officially support CyanogenMod, which is an open source version of Android. This won't affect your warranty but Oppo says you'll have to be content with the mod version that they have, and you'll have to let them install it. On the purely tech spec side, the Oppo N1 is running rather old but still powerful hardware with a 1.7GHz quad-core Qualcomm Snapdragon 600 processor.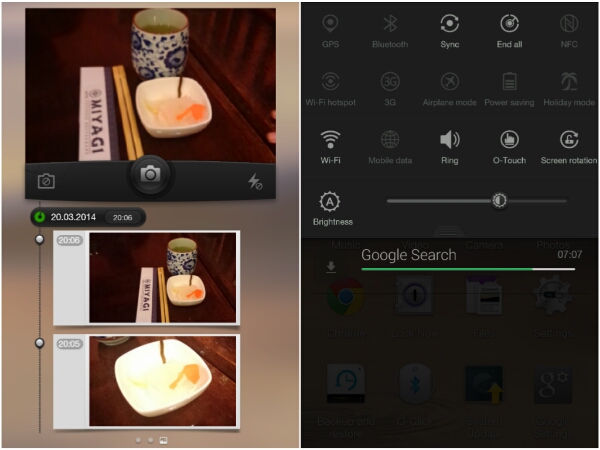 The Color OS is mostly gesture based but offers a number of great features like a built-in camera widget and custom gestures
Performance - Still excellent
Powered by a Qualcomm Snapdragon 600 processor (which came out last year), the Oppo N1 can still run almost any app on the market with ease. The smartphone managed an impressive AnTuTu benchmark of 25969, which is better than the HTC One (M7) while the 3D Mark Ice Storm Unlimited benchmark came in at 10483. Battery life was surprisingly good for a device with a 5.9-inch display, lasting a bit more than a day on normal usage. Connectivity was also good, getting excellent reception throughout. However, the lack of any 4G LTE support means you won't get the most out of your mobile network.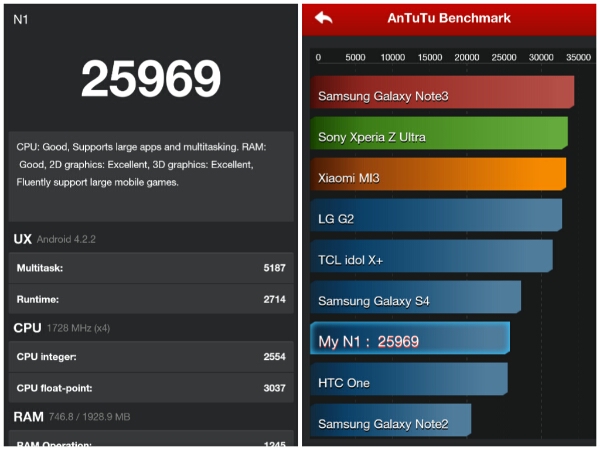 The Oppo N1 still performs very well on AnTuTu, despite older hardware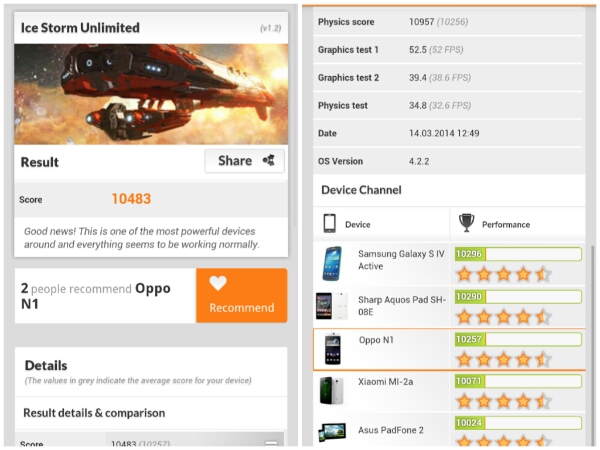 The Oppo N1 delivers very good 3D performance and should be able to play any of the latest games with ease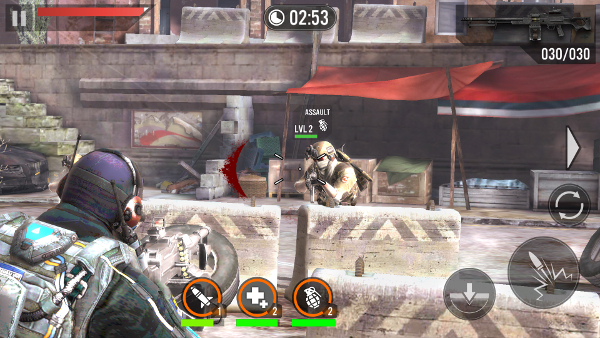 Play third-person shooters like Frontline Commando 2 in crisp and smooth 1080p
Camera still images were very good, but we found that the autofocus wasn't as fast as we'd have liked it. The Oppo N1 does offer a whole ton of camera features including slow shutter and plenty of lighting customization. However, it isn't the quickest or fastest cameraphone we've seen yet. You can certainly get some really stunning shots, including fairly clear and detailed night shots, but you'll need some time to get the shot right, otherwise you may have some problems with exposure and focus. The dual-LED flash does result in a more even exposure though, especially for selfies, but it doesn't eliminate issues with the tone.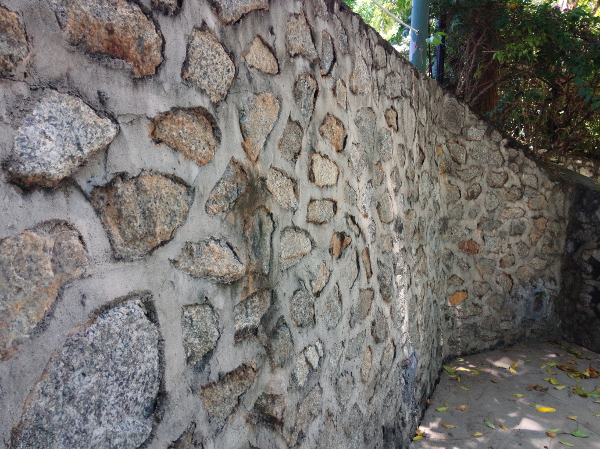 With a little time and composition all the details come out with the Oppo N1.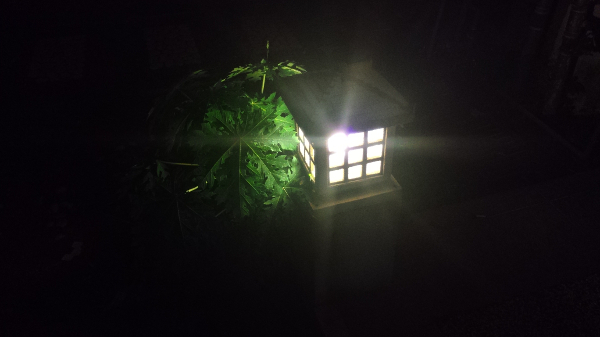 Automatic mode, 13MP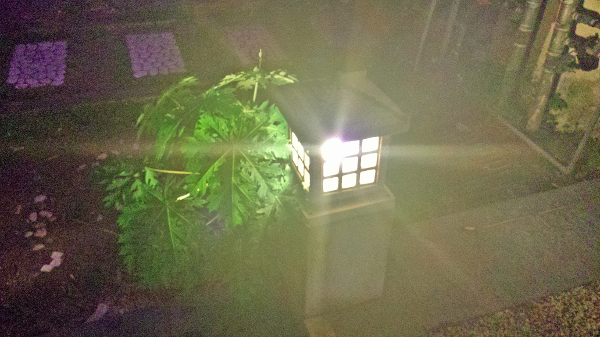 Night mode, 13MP

Regarding the grip of the Oppo N1, due to the placement of the O-Touch rear touchscreen, there is only one way to hold the smartphone one handed and that is to grip the bottom of the smartphone. With the camera in the normal position, this makes for a rather unbalanced and top heavy feel to the smartphone. However, if you flip the camera into selfie mode, a one handed grip feels just right. Regarding the O-Touch rear touchscreen, like other reviewers, we found the placement to be a bit too low. Placing it where the Oppo logo is would have made it just right, but perhaps it couldn't fit there due to technical reasons.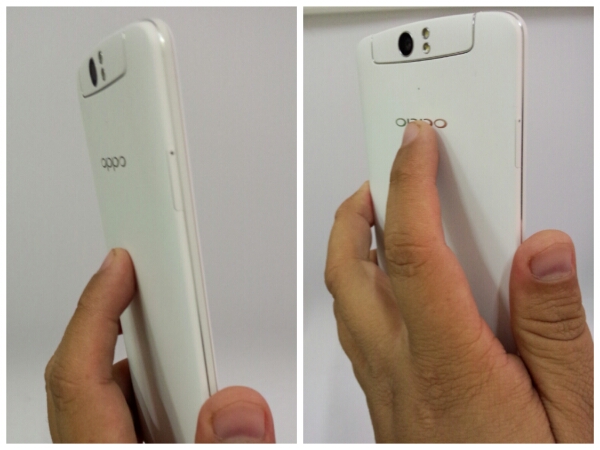 The grip where you have access to the O-Touch is a bit unbalanced and top heavy in a one handed grip
Screen quality was very good and crisp, but we did notice that for some 1080p scenes, the screen wasn't as detailed or as bright as some of the newer smartphones. Audio quality was very good though, providing loud and clear music and sound. The extra O-Click bluetooth dongle is useful for remote camera pics, making the Oppo N1 an even better selfie cameraphone.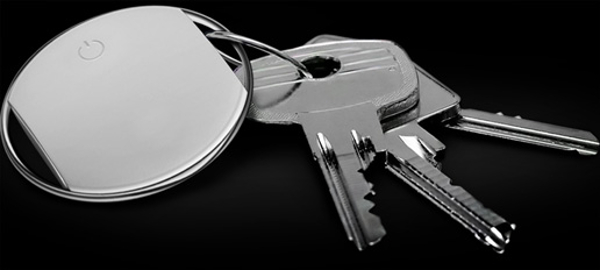 The O-click is fairly small but at least you can keep it close on a keychain this way.
Price - Great for the features, not for the future
For the price of RM1798, the Oppo N1 is an excellent cameraphone with many unique features that you won't find on any other smartphone or phablet. Other smartphones of the same size and class you could get for this price include the Sony Xperia Z Ultra, Samsung Galaxy Note 3 Neo, HTC One (M7) and Samsung Galaxy S4. While the HTC One and Samsung Galaxy S4 bear the same tech specs and processors, both have 4G LTE and a number of other features that the N1 does not. However, none of these phones have a rotatable camera, rear touchscreen or ceramic backside. That being said, we'd get the Oppo N1 for it's various features and unique look and feel but it doesn't offer much in terms of future-proofing.
Conclusion - Still the Ultimate Selfie Cameraphone
Unique, beautiful, tough and feature-filled, the Oppo N1 is probably the ultimate Selfie cameraphone, perfect for those who like to take selfie or self shots and powerful enough to handle the latest games or apps with ease. The design and features make it perfect for this use and it should also appeal to those looking for a good cameraphone as well. It isn't the best cameraphone but it should do you well for the next couple of years. While smartphones with 13MP front cameras are coming, it should be a while yet before they'll reach the same price point as the Oppo N1. Those looking for a phablet or larger screen smartphone should also give the Oppo N1 a try as the build quality is certainly excellent enough for this use as well. Check out the slick ads below for more reasons why you should go check out the Oppo N1.
*TechNave.com would like to thank OPPO Malaysia for the OPPO N1 review unit. It allowed us to do a more in-depth review and highlight more features.
Oppo N1 Specs & Price >