PDRM has no rights to inspect your mobile phones randomly! Here's why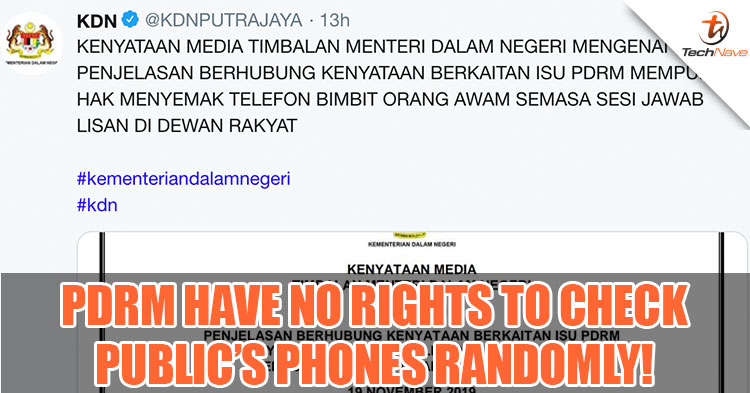 Today, a formal statement was issued on the Ministry of Home Affairs (KDN)'s official Twitter account to clear the confusion statement mentioned by Deputy Home Minister Datuk Mohd Azis Jamman on 18 November. So what was the confusion? Well, he said that the Royal Malaysia Police (PDRM) has the right to inspect the public's phones which seems to be inaccurate. Here's what the KDN statement said.
According KDN, the PDRM has no rights to inspect or take over anyone's mobile phones randomly. Instead, the PDRM can only check the device of a suspect that is involved in an ongoing investigation and also if an individual has committed an offence under the following acts. The following acts fall under five acts which are:
Penal Code (Act 574)
Section 233 Communications and Multimedia Act 1998 (Act 588)
Sedition Act 1948 (Act 15)
Security Offenses (Special Measures) Act 2012 (Act 747)
Anti-Trafficking in People and Anti-Smuggling of Migrants Act 2007 (Act 670)
Violence Prevention Act 2015 (Act 769)
KENYATAAN MEDIA TIMBALAN MENTERI DALAM NEGERI MENGENAI PENJELASAN BERHUBUNG KENYATAAN BERKAITAN ISU PDRM MEMPUNYAI HAK MENYEMAK TELEFON BIMBIT ORANG AWAM SEMASA SESI JAWAB LISAN DI DEWAN RAKYAT#kementeriandalamnegeri#kdn pic.twitter.com/4nmki5xBqB

— KDN (@KDNPUTRAJAYA) November 19, 2019
The Deputy Home Minister did mention if your device got randomly inspected by any PDRM officers, you can file a police report at any nearby station or go straight to Bukit Aman to report on it. So do note down these acts and know your own rights at any circumstances. Stay tuned for more local news updates on TechNave.com!