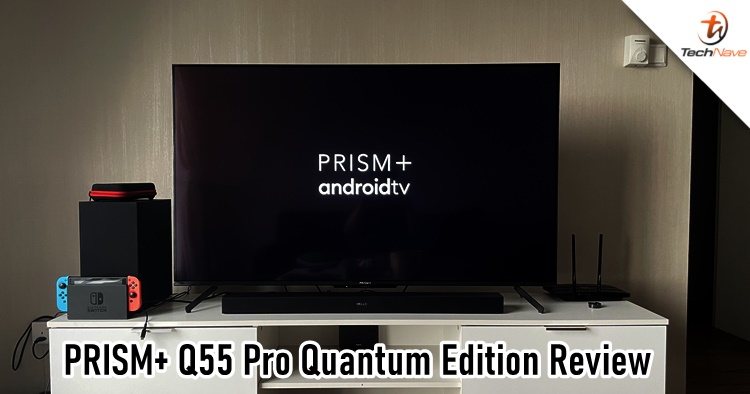 If you have been looking for a smart TV, there's a good chance that you have come across multiple PRISM+ TV ads online. Yup, the same PRISM+ brand that has been telling you that its TVs will soon be sold out over the past two years (speaking from experience). But finally, I got to test and review one of its smart TVs.
For the uninitiated, the PRISM+ brand hails from Singapore and has wanted to enter the Malaysian market for quite some time. Unfortunately, the pandemic hindered the company for a while but finally made its debut this year in May 2022. In this review, I'll be checking out the PRISM+ Q55 Pro Quantum Edition (QE), so do read on to know what it has in store for you.
Like every smart TV, there isn't much on the design to discuss because they all look the same. I'm not saying that in a bad way, but it's just a fact that a modern smart TV outlook is like that. However, I do like the build of the remote control. It's sturdy and ergonomically designed to fit into my hand. The buttons are solid, and it's always nice to see the usual shortcuts for Netflix, Youtube, Google Play, and Prime Video.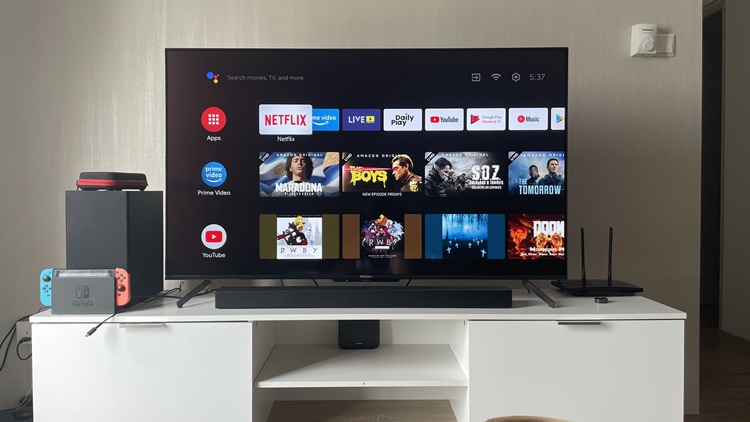 Android 10 OS out of the box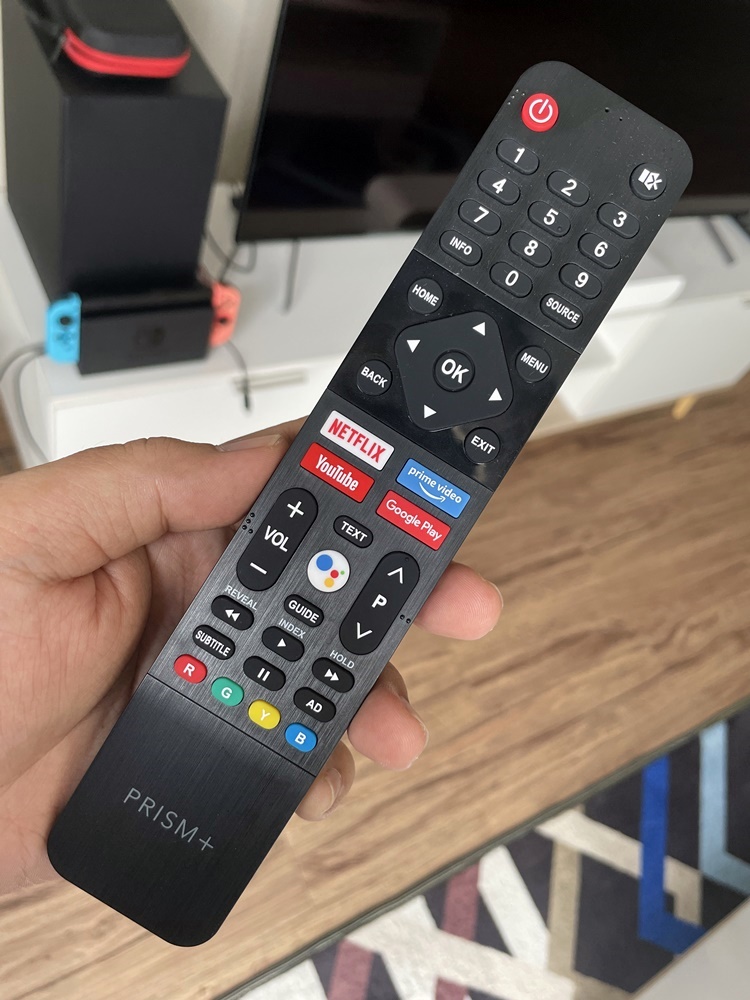 The PRISM+ TV remote is quite sturdy and nice to hold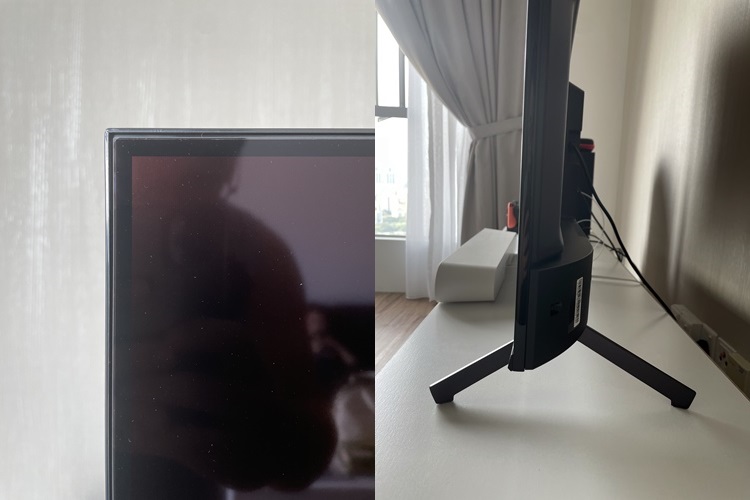 Thin bezels (left) and a strong leg stand for the TV (right)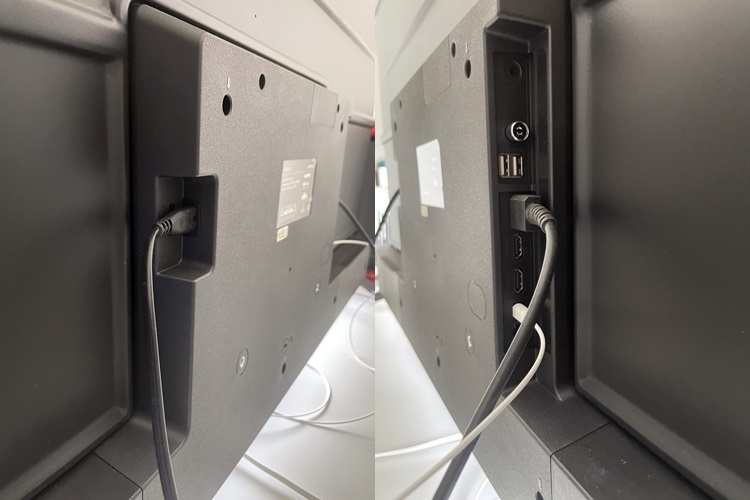 The I/O ports behind the TV
Setting up the Q55 Pro QE is a walk in the park, and it's nice to see that the ports are separated on two sides. The power source is on the left, whereas the others are on the right. You can find three HDMI 2.0, two USB A 2.0 ports there, as well as an Ethernet LAN port for you gamers out there. All in all, it has all the necessary I/O ports you need, and the TV leg stands are pretty tough too.
Unlike other smart TVs from well-known brands such as Samsung, LG, Sony and others, the Q55 Pro QE is equipped with Android TV OS, which I very much prefer over other platforms. You can easily download any TV apps on the Google Play store, like Disney+ Hotstar, HBO Go and others. Even if you're unfamiliar with Android TV, navigating the settings shouldn't be a problem as it's quite straightforward.
If you got yourself this TV, you're in for some top visual quality viewing. The Q55 Pro QE not only has 4K resolution but also comes with Dolby Vision and Dolby Atmos! Of course, only selected platforms and shows can support it. If you watch a lot of Disney+ Hotstar shows, you're in for a treat. But as a cinephilia, I do have some mixed feelings about TV.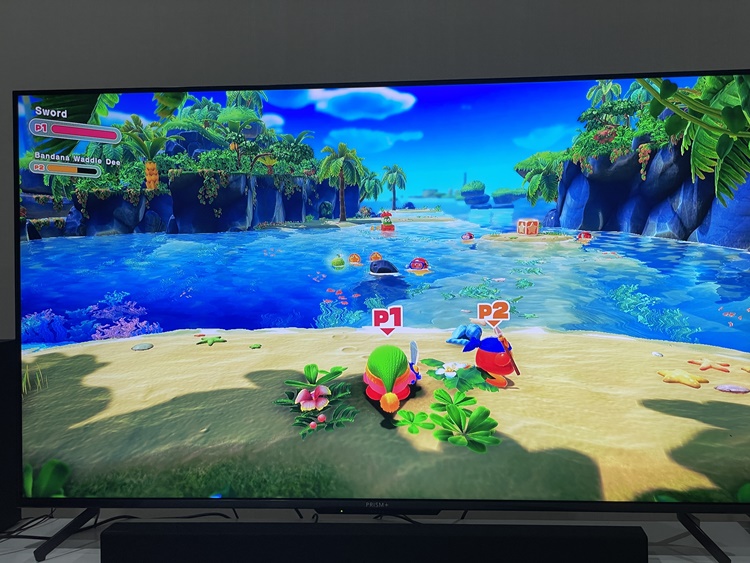 Very colourful!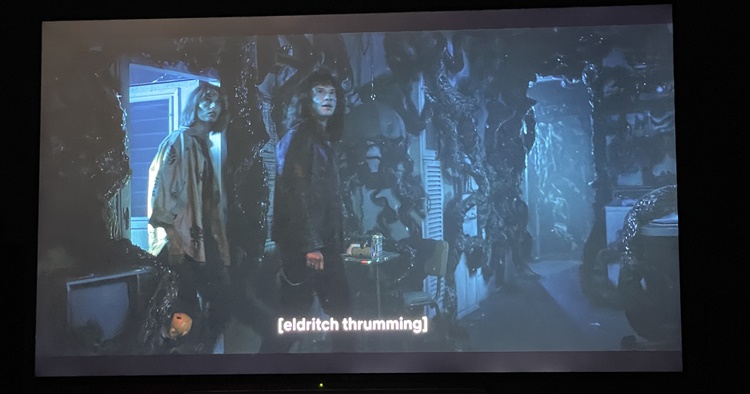 A scene from Stranger Things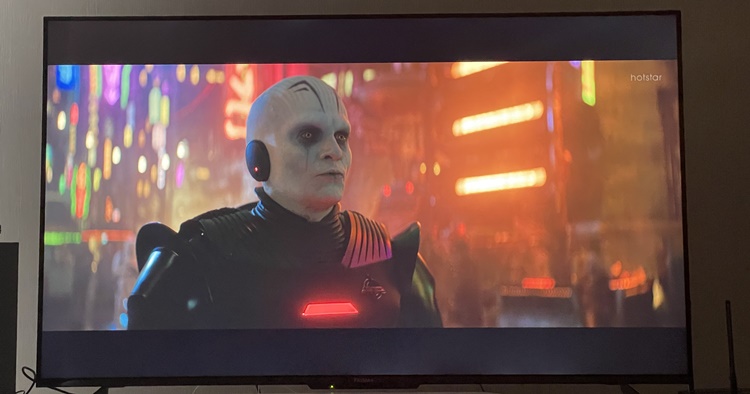 General colour contrast is great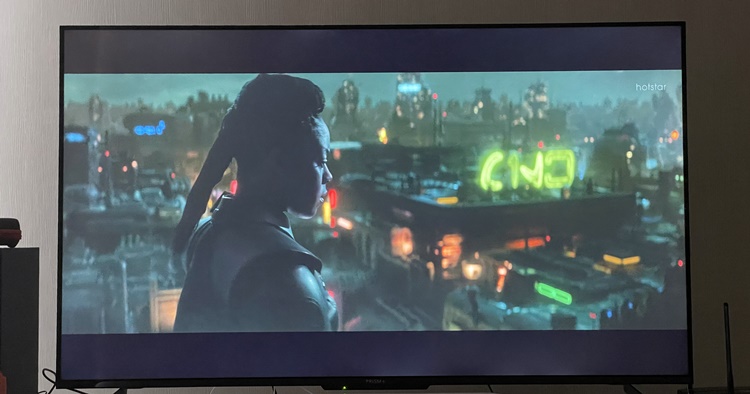 A scene from Obi-Wan Kenobi
I'll start with some things I like first - I'm happy to report that the Q55 Pro QE's refresh rate display is up to 60Hz and no more than that. If you're thinking that it's a bummer, it's not. This is because current movies and TV shows aren't equipped or filmed for that kind of format. Ask any eagle-eyed cinephilia, and they will tell you that having a motion smoothing feature (that digitally 'enhances' content) to have a soap-opera effect is a crime. If you like it, hey, that's fine too (weirdo).
On the other hand, the thing that I don't quite like is the Standard Picture Mode because it enhances the shadow dynamics and cool colour tones too much. There are a total of five Picture Modes - Vivid, Standard, Sports, User and Movie. And while the default Standard is not bad, I find myself using Movie mode as my preferred visual mode because it fits the cinematic feel better. At the same time, the Standard mode is better for watching YouTube videos. I just wish there was an automatic or smart mode switcher that works according to my needs.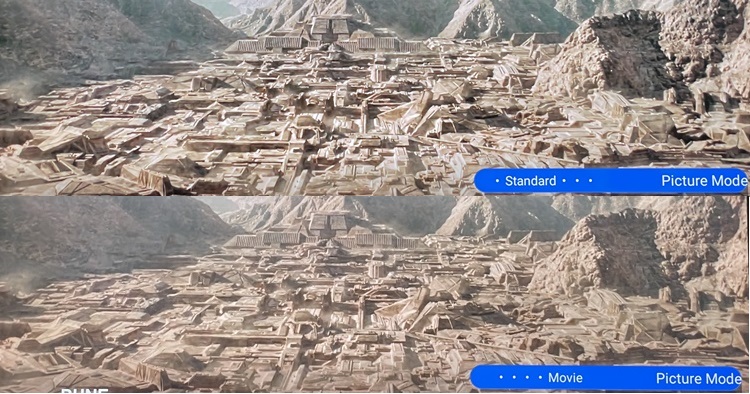 I prefer setting Movie Mode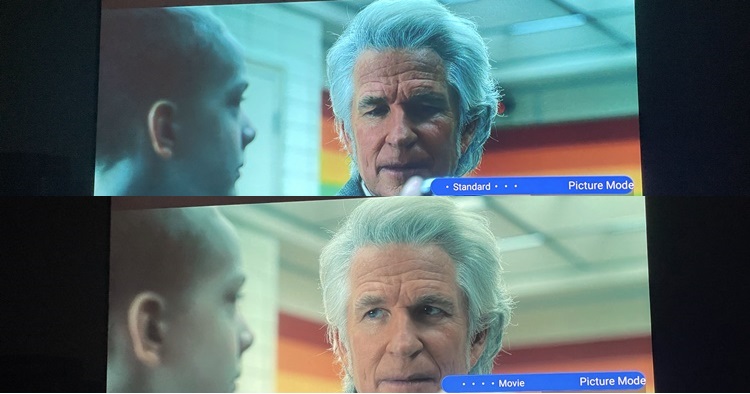 A clear difference between Standard and Movie mode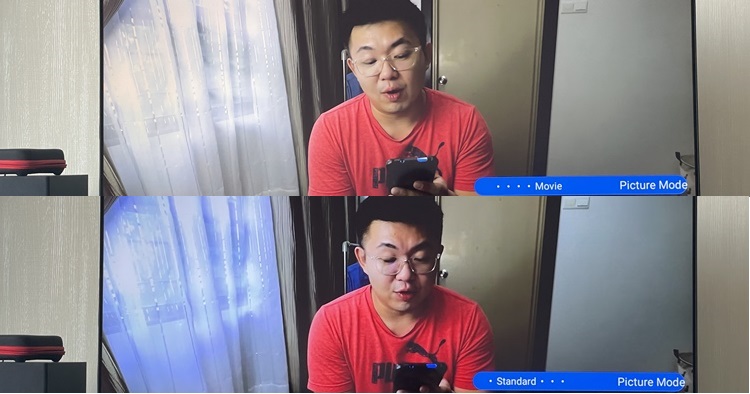 In the end, it's up to your taste
Too much backlight bleeding in dark scenes like this but it's expected from an IPS panel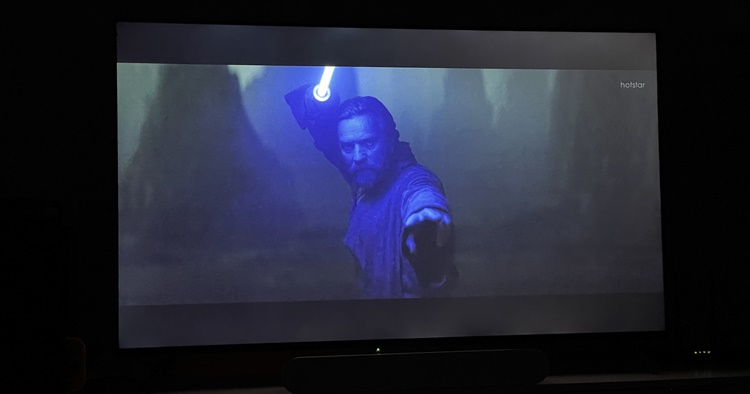 Another scene from Obi-Wan Kenobi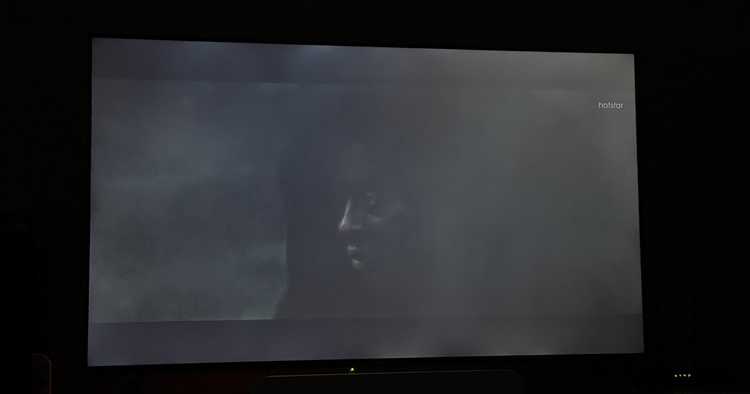 Sometimes, I can't see a damn thing
While the colour contrast and presentation are quite superb, you shouldn't put your hopes high when watching the TV in the dark. Although the TV is marketed with a Q-IPS (the Q stands for Quantum), it is still an IPS panel in the end which is pretty much the same across all IPS panel TVs. So if you plan to watch your shows or play games with the lights off, you should expect to see some backlight bleeding. Sometimes you can hardly see anything (like the pictures above), but that's more likely a cause of the show's editing choice.
In terms of sound performance, the Q55 Pro QE is surprisingly solid but I once again find myself using Movie mode more. The Standard mode for sound is sometimes too sharp for my liking, so I wish there was some kind of smart switch for this too. You're free to set your own visual and sound settings, but I believe most casuals won't bother. Plus, most TVs would end up being paired with a soundbar anyway.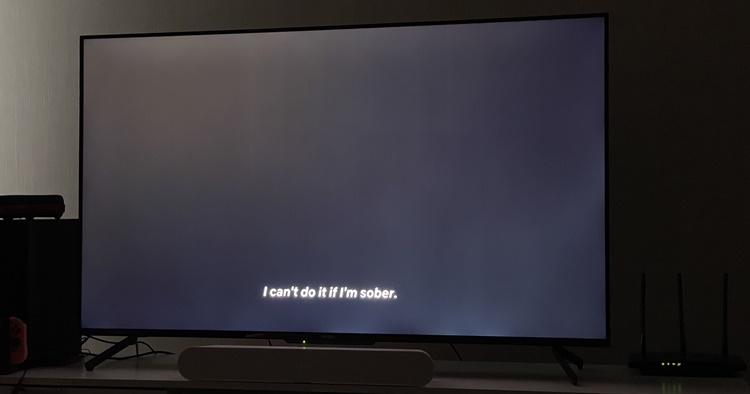 There was one time that the TV went blank and only showed subtitles after I switched back from the wallpapers too fast
As for other features, I'll go briefly go through them. The Google Assistant works just fine as long as you have good English pronunciation (but I didn't use it as much as I should). The Q55 Pro QE will also go into "Sleeping Mode" with a bunch of wallpapers if you are away for a few minutes. Oh, before I forget, switching on the TV is also kind of slow for some reason? It often takes less than a minute to get to the homepage, whereas my HiSense TV can instantly get there.
At this point, you may think I'm not very fond of the Q55 Pro QE, but I think it's alright. It does have some shortcomings, but at the price of RM2399, it's more affordable than most other branded smart TVs in the market. I think it's a good purchase if you're not picky about TV settings, especially for an Android TV. I would also recommend this over the Xiaomi Mi TV P1 55" any day, but it still has room for improvement. Just my two cents.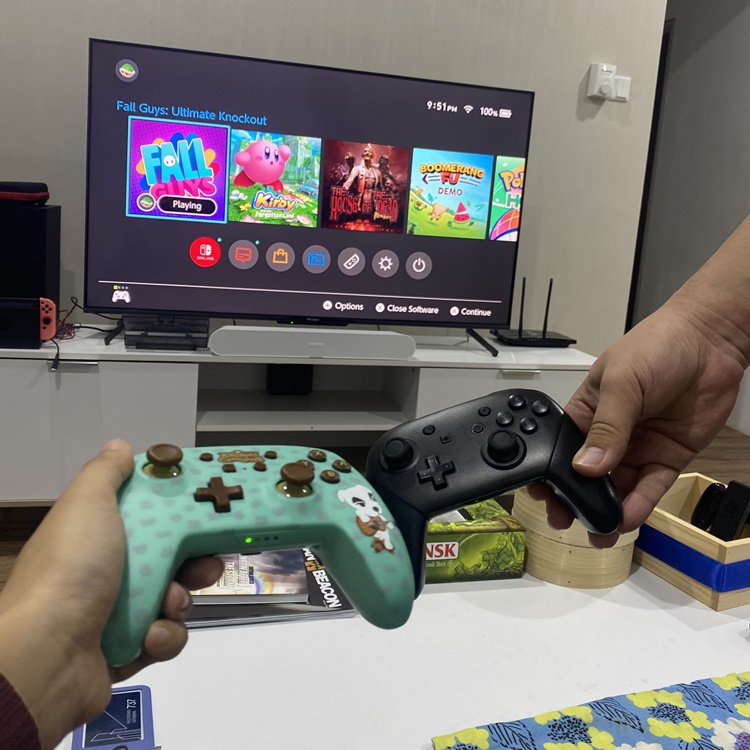 All in all, this Android TV could be better
PRISM+ TV Q55 Pro QE tech specs and features:
55-inch with 3840 x 2160 pixels, Quantum IPS and HDR10 support, 1.07 billion display colours, 60Hz refresh rate

Dolby Atmos and DTS TruSurround

Measures 1228 x 707mm, weighs 11kg with a stand or 10.85kg without a stand

Ports - 3x HDMI 2.0, HDMI ARC, 2x USB A 2.0, AV In, Optical Audio Out, RF In, Ethernet LAN

Compatible apps - Disney+, Netflix, YouTube, Amazon Prime, Spotify, iQIYI, HBO Go, Viu and many more from the Google Play Store

Support Inbuilt Chromecast, Google Assistant, 2.4GHz/5GHz Bandwidth, Bluetooth 5.0

Android TV 10
Pros - For a 55-inch smart TV, it's a lot more affordable than most other branded smart TVs in the market, the visual presentation is top-notch as well in Movie Mode
Cons - No automatic or smart Picture or Audio switch (unless you don't mind), slow startup when turning on, and the Standard Picture Mode enhances the dynamics and cool colour tones too much
Conclusion - Probably the best affordable Android TV to get, but has room for improvement