Pakej Komunikasi Belia (PKB) or Youth Communication Package – RM200 Smartphone Rebate
What is the Pakej Komunikasi Belia (PKB) or Youth Communication Package?

Pakej Komunikasi Belia (PKB) or the Youth Communication Package is a scheme under the Malaysian National Broadband Initiative that grants youth aged 21 to 30 with income below RM3,000 to get RM200 rebate off selected 3G smartphones from telco nominated registered dealers in 2013. This initiative, coordinated by the Malaysian Communications and Multimedia Commission (MCMC), was announced by the Prime Minister as part of Budget 2013 tabled in September this year to encourage more youths especially those in rural areas to enjoy the nation's broadband facilities.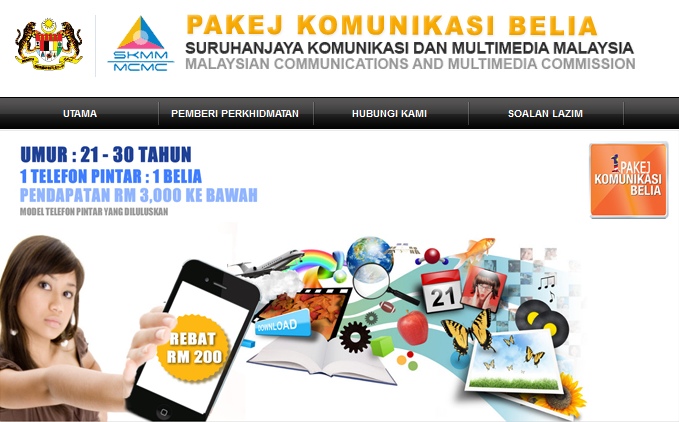 Note : The package will be offered to 1.5 million eligible youths only on a first come, first served basis.
Eligibility:

For Applicants:

Malaysians aged 21 – 30 years

Monthly income lower than RM3,000

Eligible for both new & old 'jalur lebar' (but we guess they mean '3G mobile internet' rather than broadband) subscribers

Smartphone rebate will be given only once to eligible participants
Registration:

First up, you will need to register your details of course! You can register physically at either any of the participating network providers (Maxis, Celcom, DiGi, Clixster, YTL Communications, Tune Talk, U Mobile), or at any Pusat Internet 1 Malaysia. If you prefer to register online, just click here Go To The PKB Registration Page.
I Have Successfully Registered! What's Next?
Youv'e registered? Yay! Here comes the exciting part of the deal: Getting the smartphone! There is a one month duration for you to get your new swanky smartphone, exceeding the one month period means you have to complete the registration process all over again.
How Do I Get My Rebate?

Easy! Simply march to any of the participating outlets of your selected network providers with these documents in hand :

A copy of MyKad

A copy of student card for students

Printout of registration status and number
After the obligatory confirmation check from the outlet personnel, you can then immediately get RM200 discount off your smartphone purchase! Here's the flipside though, you will have to register with the network provider (if you are not yet a subscriber to the network) in order to get the smartphone (you won't get to save much if they offer an expensive monthly data plan).
Do I really get the RM200 rebate?

With all kinds of discounts and plan rebates these days, it can be hard to be sure whether you actually get the rebate or not, so be sure to check out the prices of the phones that you are looking to get first (with whichever plan you want, prepaid or postpaid), and then making sure you get the additional RM200 off.

Participating Network Providers:

So where can you get your smartphones? Members of the public should look out for the "Pakej Komunikasi Belia" logo that will be displayed on banners and buntings at outlets from these providers :


Pakej Komunikasi Belia (PKB) or the Youth Communication Package RM200 Rebate Smartphone List:

Each network providers will have a list of entry-level 3G smartphones to offer (previously, the maximum price for 3G smartphone eligibility was RM500 but that condition has been lifted as of early January 2013) for you to choose from. Please click the Telcos or Providers above for the Smartphone List.
[Source: savemoney.my]