Panasonic Lumix DMC-FZ48 Camera Preview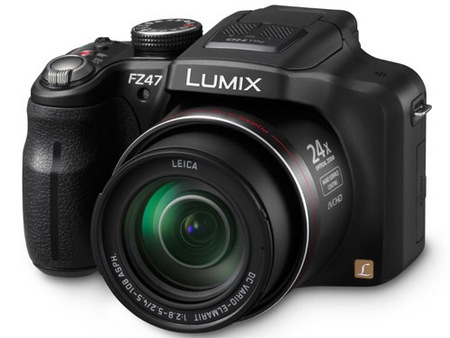 Panasonic today introduces the LUMIX DMC-FZ47 or DMC-FZ48 (model number differ from country) digital camera, the newest addition to the company's super-zoom FZ-Series. The LUMIX FZ47 packs a powerful 24x optical zoom in a 25mm ultra-wide angle LEICA DC VARIO-ELMARIT lens, full-High Definition 1080i video-recording capabilities and new creative controls while shooting both still and video images. The high-quality Leica lens features Panasonic's Nano Surface Coating technology to help minimize light reflection that causes ghosting and flare.
Panasonic DMC-FZ47 / FZ48: Features
Powered by a 12.1-megapixel Hi-Speed CCD sensor, the LUMIX FZ47 can produce the high-speed, large-capacity signal processing required for 1920 x 1080 full-HD video recording in the AVCHD format, and high-speed continuous shooting. The Venus Engine FHD processor helps create superb image quality in both photo and video recording, while also powering the Intelligent Resolution technology to perform the optimum signal processing.
Panasonic DMC-FZ47 / FZ48: Performance
With Intelligent Resolution, the LUMIX FZ47's zoom can be extended 1.3x times to a 32x zoom length. The LUMIX FZ47 can take high-resolution consecutive shots at 3.7 fps in 12.1-megapixel full-resolution and maximum 10 fps at 3-megapixel recording. With Panasonic's Sonic Speed AF (Auto Focus), the LUMIX FZ47 has a quick start-up time, approximately 35% faster than the Panasonic LUMIZ FZ40, and also has an incredibly fast response time, helping to catch any fast-action photo opportunity. Additionally, the LUMIX FZ47 has fast and accurate AF Tracking.

Panasonic DMC-FZ47 / FZ48: Noice Reduction

The LUMIX FZ47's 24x optical zoom optimized for video recording with a mechanism designed to minimize the noise of AF and zooming. The full-HD video capability is complemented with the high-quality stereo sound of Dolby Digital Stereo Creator, to offer extremely realistic audio. And with a Wind Cut function, the LUMIX FZ47 reduces noise from background wind automatically. While shooting video, users can simultaneously take a 3.5-megapixel still photo.

Panasonic DMC-FZ47 / FZ48: Video Recording
Differentiating itself from most digital cameras that record video, the LUMIX FZ47 is unique in that it features a Creative Video mode, which lets the user set the shutter speed and aperture manually. Changing the shutter speed brings special effects to videos, which is especially suitable for shooting a fast-moving subject. The ability to control the aperture is convenient when there are several subjects at different distances and it is desired to have each of them stand out.

Panasonic DMC-FZ47 / FZ48: Photo Editing

The creative mode is also available for still photos. For users seeking more creative freedom, the LUMIX FZ47 adds the new Creative Control and Photo Style that comes with a variety of options for artistic effect modes, including: Expressive, Retro, High Key, Sepia, High Dynamic, Miniature Effect, Film Grain and Pin Hole. Users can also adjust exposure compensation in the Creative Control mode. In addition, Photo Style is newly added to the LUMIX FZ47 to allow finer adjustment of contrast, sharpness, saturation and noise reduction in these settings: Standard, Vivid, Natural, Monochrome, Scenery and Portrait.

Panasonic DMC-FZ47 / FZ48: Intelligent Auto

On the other hand, for those users who would prefer not to change any settings, the LUMIX FZ47 also features Panasonic's iA (Intelligent Auto) mode. When in iA mode, the LUMIX FZ47 automatically chooses the best setting based on the shooting environment and features include: POWER O.I.S. (Optical Image Stabilizer), Motion Deblur, Face Recognition, Face Detection, AF Tracking, Intelligent ISO Control and Intelligent Scene Selector. Additionally, iA is available during video mode, and the following features engage automatically: POWER O.I.S., Face Detection, Intelligent Scene Selector and Intelligent D-Range Control.

Other features of the Panasonic LUMIX DMC-FZ47 / FZ48 include:

3D Photo Mode: Take 3D still photos that can be played back on MPO-compatible 3D equipment, such as a Panasonic VIERA 3D HDTV

3.0" Intelligent LCD: Features a 460,000-dot high resolution

Social Media Connection: The LUMIX FZ47 makes it extremely easy to share photos via Facebook and videos via YouTube. As soon as the camera is connected to the computer it will prompt the user with an easy-to-follow menu asking if they want to share the images - no software needed
Panasonic Lumix DMC-FZ48 Specs & Price >