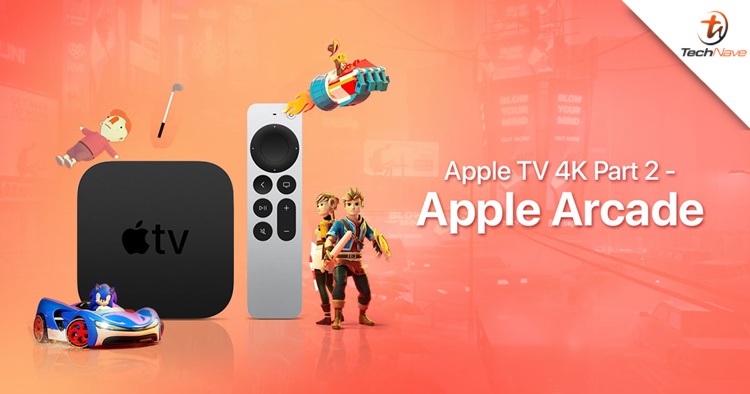 Apple Arcade is not uncommon among iPhone users, but not many friends and family that I know of actually subscribe to it. And what about playing it on the Apple TV 4K? I think that's even rarer than a shiny Pokemon. In part 2 of our first impressions of the Apple TV 4K, I'll be talking mainly about the Apple Arcade. For the uninitiated, Apple Arcade is a mobile gaming subscription service by Apple that is priced at RM19.90/month. Is it worth it?
It doesn't take a rocket scientist to see the impact of mobile gaming globally, particularly in Asian countries such as Malaysia. But does Apple Arcade on the Apple TV 4K give a gaming console feeling like the Sony PlayStation and Nintendo Switch? Well, I have played with it for a week so here are my findings.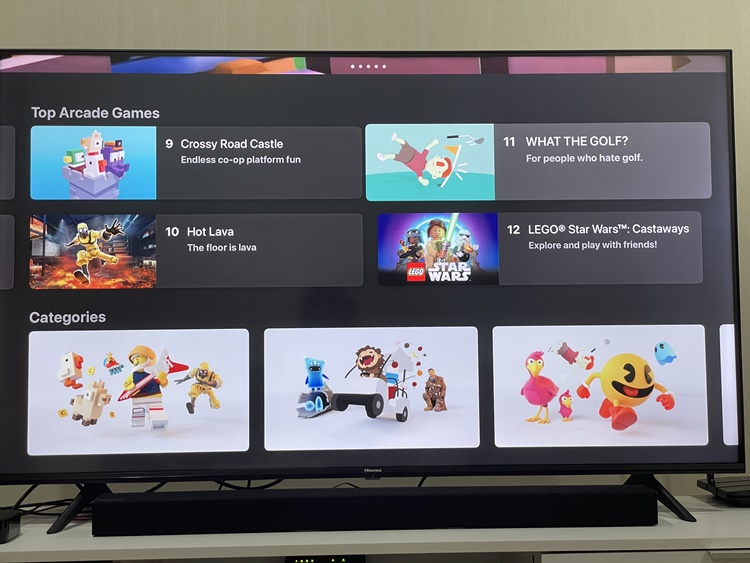 Just like the Apple Arcade UI on the iPhone but in TV format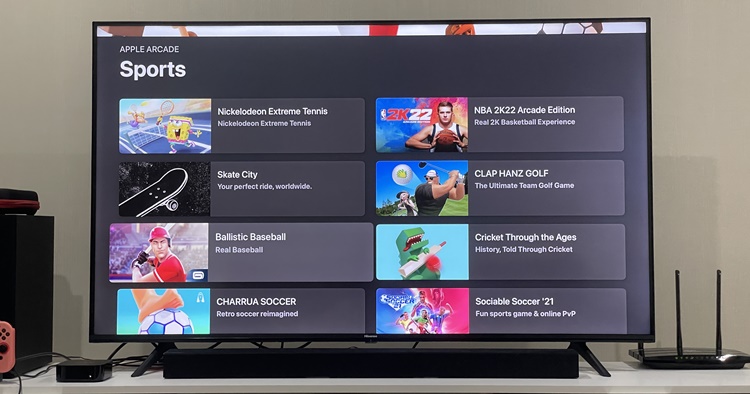 Lots of recommended Apple Arcade games that you can try out!
As usual, you can boot up Apple Arcade Games immediately on the home screen of Apple TV 4K. For most newbies (like me), the interface is quite user-friendly, as it is easy enough for you to browse through all the top arcade games in different categories with no real issues. In many ways, Apple Arcade on the Apple TV 4K is quite similar to the iPhone but with one major difference - the lack of game compatibility.
While there are a few exclusive mobile games that are available for the Apple TV 4K, you can literally browse through the entire game library there in one night. However, there are some old games that aren't updated yet. Case in point - I find it odd that Asphalt 8: Airborne+ is still there but not Asphalt 9: Legends. Furthermore, a lot of games in the Apple TV 4K require a controller to play which makes sense since you're playing it on a smartTV.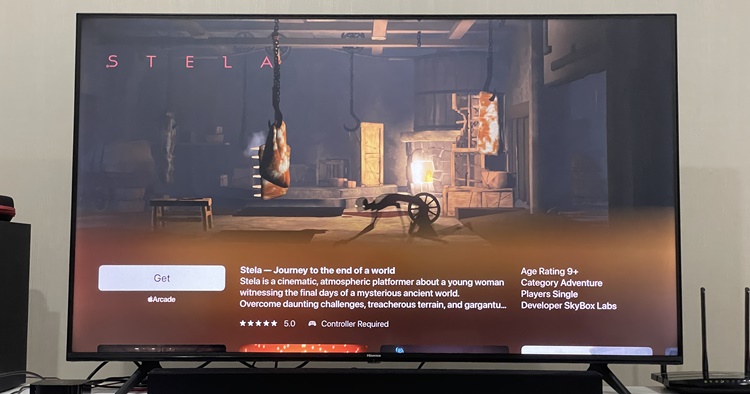 Gotta have a controller before playing this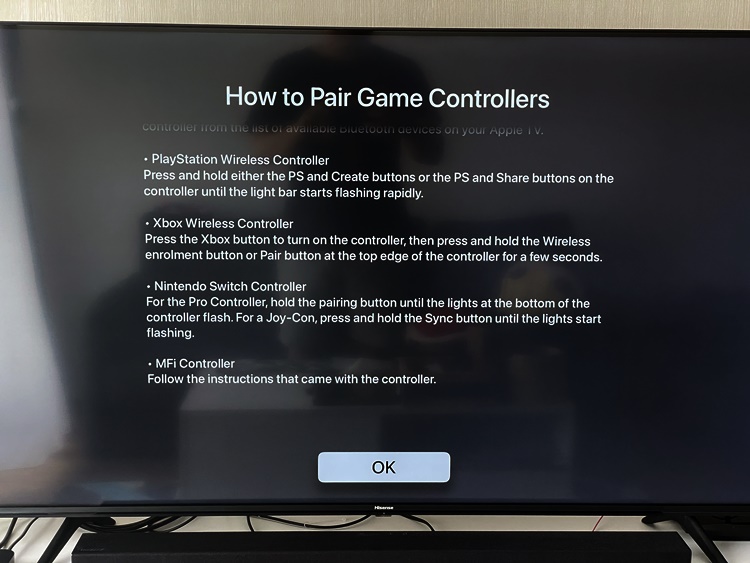 With the latest tvOS 11 update, the Nintendo Switch Controller can now be paired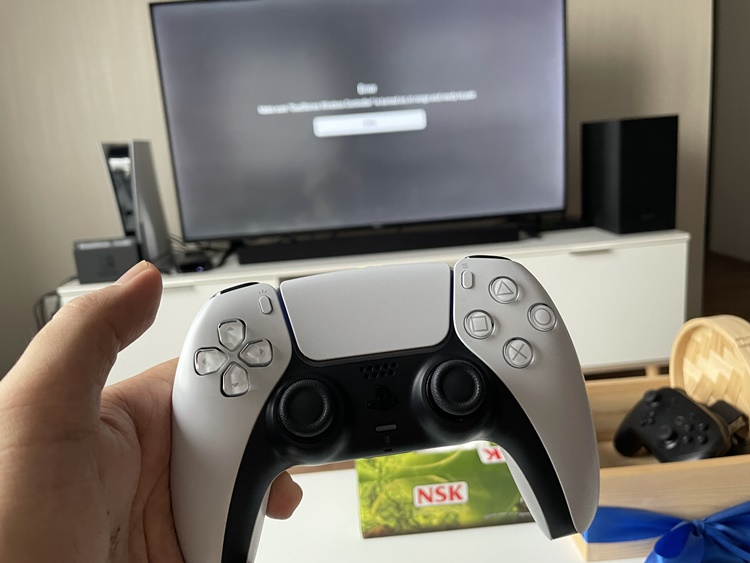 This was a hassle when I wanted to switch between the PS5 and Apple TV 4K with the DualSense controller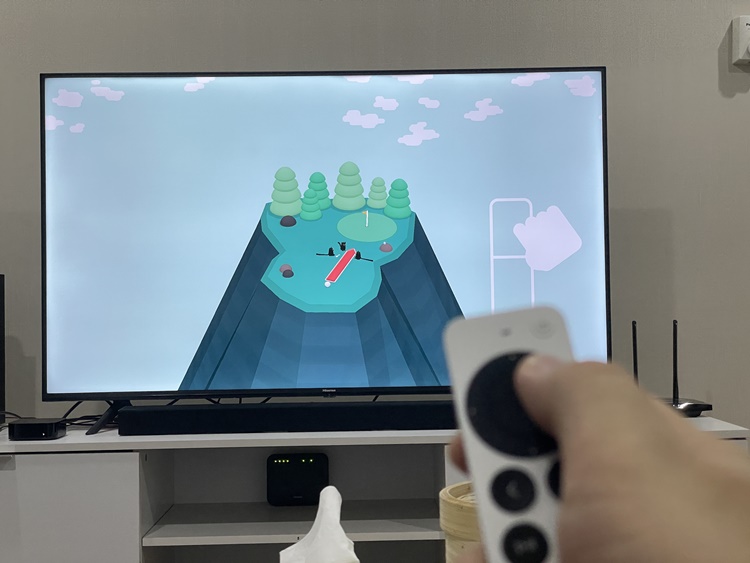 Some games allow you to use the Apple TV remote to play but not many
At first glance, the Apple Arcade on the Apple TV 4K seems to be doing the opposite of accessibility because many games require a controller. I would also argue that the PlayStation, Switch and even the Xbox Series X/S are not that accessible either. But I think the general consensus for most casual gamers is that - "If I already purchased the Apple TV 4K and am paying a monthly subscription for Apple Arcade, why do I have to get an extra controller to play?". I can share that sentiment. For your information, a new controller from either one of the big three easily costs more than RM300.
If you do have a controller then that's great. But I also found it as a hassle to switch the controller between the PlayStation, Switch or Xbox gaming console. For example, I have a PS5 and only one DualSense controller. After pairing it with the Apple TV 4K, I wasn't able to use it for the PS5 automatically because it's already in sync with the former. So to use it again for the PS5, I had to disconnect the controller and vice versa for the Apple TV 4K.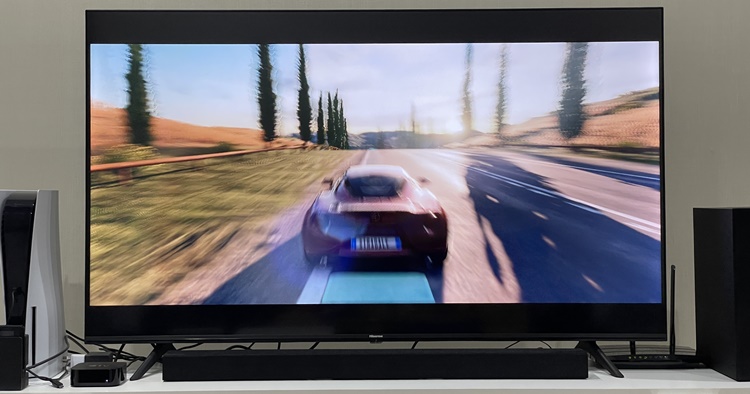 It's pretty cool to play this on the TV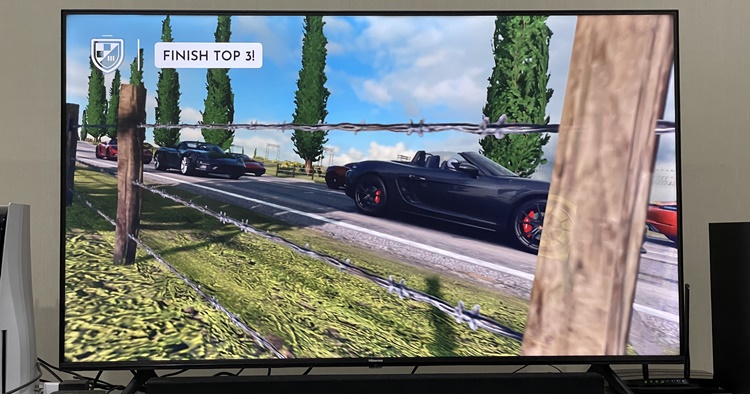 Also, do manage your expectations on the graphics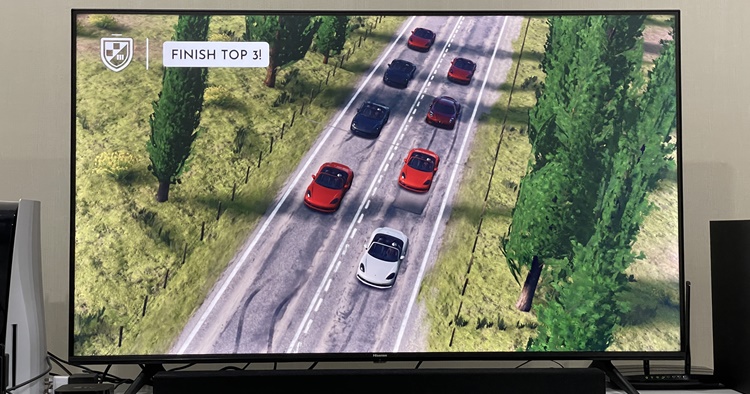 Like really, don't expect graphics-intensive games on the Apple TV 4K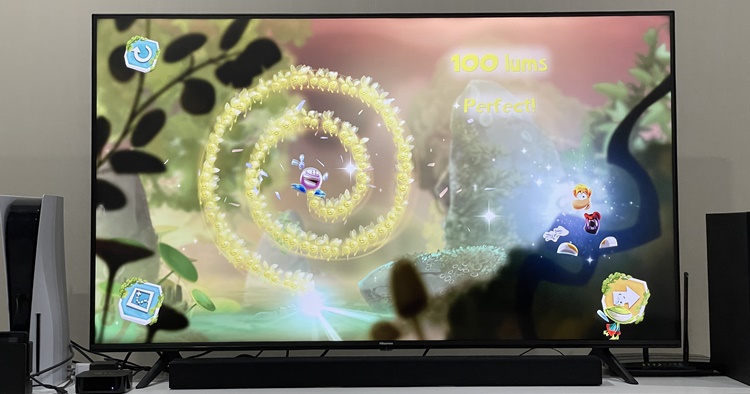 However, some games such as Rayman look quite good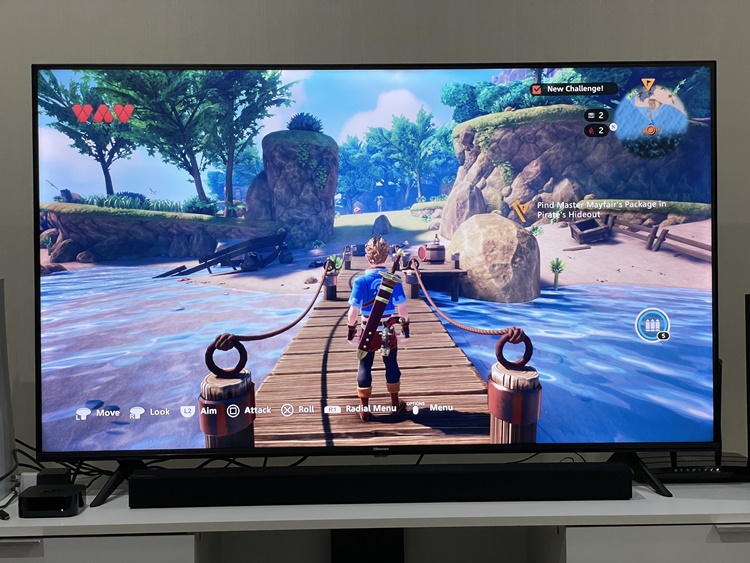 Oceanhorn 2 graphics were quite impressive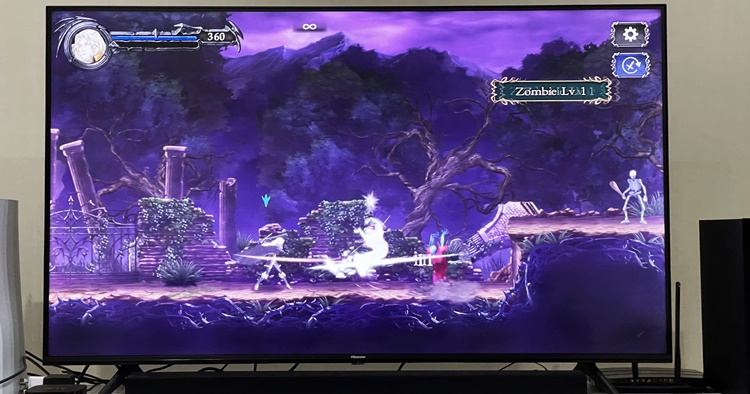 A blast from the past on some updated retro games like Castlevania
There are a few popular ones such as Gear.Club Stradale, Oceanhorn 2, NBA 2K22 Arcade Edition, the Lego series, and many more. Graphics-wise, you shouldn't really expect too much since the Apple TV 4K doesn't have the hardware. A few of them did look quite good. Particularly the platform and scroller type of games that I find the most fun to play.
Of course, you can sync your game save files on the Apple TV 4K to your iPhone seamlessly via iCloud. However, if you have run out of space on your iCloud, then you won't be able to continue where you left off. You can upgrade your iCloud space up to 50GB for RM3.50 (which is super cheap) but if you have too much data on your iPhone, you may need to top up a bit more on top of the Apple Arcade subscription fee.
Honestly speaking, most of the games on Apple Arcade are much better off played on your iPhone instead of on the Apple TV 4K. Don't get me wrong, I can still see some good usage of it. For instance, you could take the TV box with you overseas and play it in a hotel or Airbnb room. We must also remember that the quality of the games there is really casual nothing too intense as seen in Castlevania, Jetpack 2, Rayman and others.
So, is the Apple Arcade worth it on the Apple TV 4K? Well, that really depends on your gaming lifestyle. As a gamer who already has a Switch, PS5 and a gaming laptop, there is little motivation for me to play them on a TV box. But for a casual user who wants to get dive fully into the Apple Arcade on the Apple TV 4K, be prepared to spend a bit more than you originally budgeted.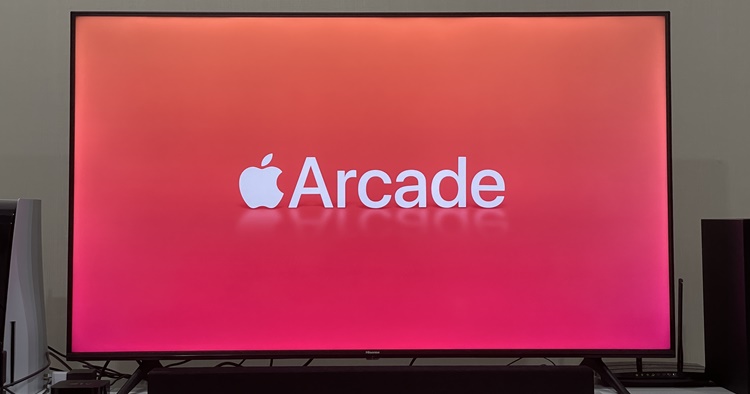 Apple Arcade is a good concept for the Apple TV 4K but... surprisingly for Apple, it is not executed well
For what it is worth, Apple Arcade does get rid of all the micro-transaction in-game items, as well as offers an ads-free gaming experience which is great compared to those free mobile games that constantly shove ads in your face. I also admit that there are some fun casual games that I do enjoy, such as What The Golf but all in all, Apple Arcade is just not for me. Maybe, it could be for you?
If you want to check out my Part 1 of using the Apple TV 4K for the first time, you can visit the link here. But what do you think? Are you using Apple Arcade? Do you disagree with us? Let us know in the comments below and stay tuned for more Apple TV 4K hands-on articles at TechNave.com.