Pink Gold Samsung Galaxy S7 edge and special SUHD TV pre-order promotion on 27 May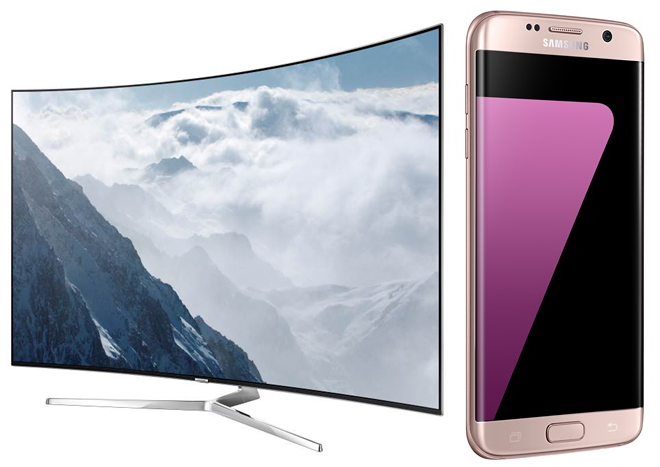 Following its record-breaking global debut, Samsung Malaysia Electronics is proud to release the Pink Gold edition of the Galaxy S7 edge to the Malaysian market, the new colour addition will be available in Malaysia starting 27 May 2016 at the recommended retail price of RM3099 (inclusive of 6% GST). The Galaxy S7 edge is also available in Black Onyx, Gold Platinum, and Silver Titanium.
"Samsung continuously endeavours to create products that are innovative, bold and in a class of its own. Besides the functionality and features of the phone, colour choices also play an important role in purchase decisions. With the introduction of the Galaxy S7 edge Pink Gold, we are offering a softer and more sophisticated look and feel of the Galaxy S7 edge," said Mr Lee Jui Siang, Vice President, IT & Mobile Business Unit, Samsung Malaysia Electronics.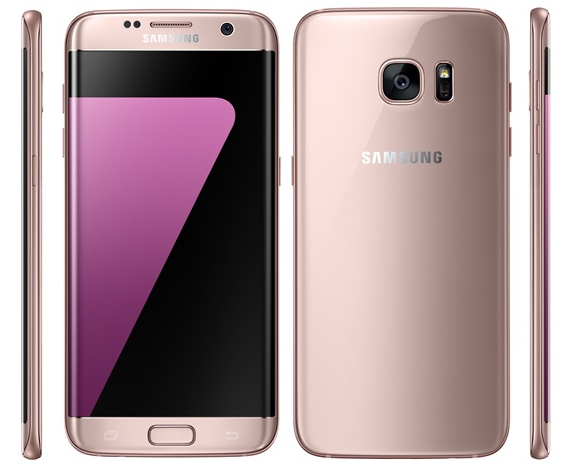 As a representation of elegance and luxury. The refined Pink Gold colour scheme was chosen to soothe while incorporating a touch of gentleness, radiance and sophistication to the smartphones' design – a minimalistic expression of premium ownership, personality and lifestyle.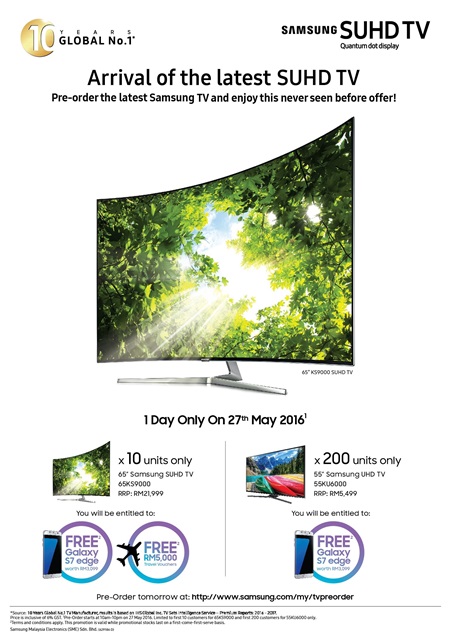 Click to enlarge
Meanwhile, also on the same date (27 May 2016). The company is also pleased to inform the online TV pre-order promotion for their latest 2016 SUHD and UHD TV line-up. To celebrate the arrival of the 2016 SUHD TV next week at KLCC (2 June 2016), Samsung is offering exclusive deals for its latest 65-inch SUHD TV (65KS9000) and its latest 55-inch UHD TV (55KS6000), for one day only.
Limited to only 10 units, customers who purchase the latest 65-inch Samsung SUHD TV (65KS9000, RM21999) during the online pre-order are entitled to a free Galaxy S7 edge worth RM3099 and free RM5000 travel vouchers. At the same time, customers who purchase the 55-inch Samsung UHD TV (55KU6000, RM5499) will receive a free Galaxy S7 edge worth RM3099 - limited to 200 units only.
The online pre-order will start at 10am sharp and it is a first-come-first-serve one-day only pre-order promotion, you can logon to www.samsung.com/my/tvpreorder where you can place your order for the new Samsung SUHD TV with terms and conditions apply.