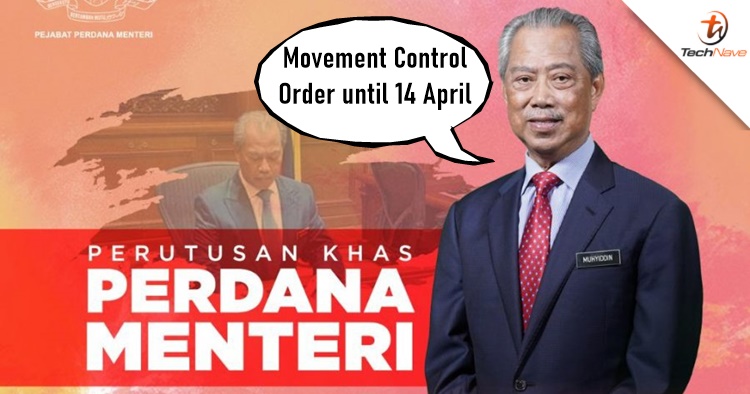 We have just passed one week of the Movement Control Order (or restriction, it's the same) and today, our Prime Minister Muhyiddin gave an official announcement about the initiative. As many speculated, the extension for the MCO is indeed true and has been pushed back to 14 April 2020.
During the live telecast at 1PM, he urged Malaysians to stay calm and not to panic, as well as stocking up food unnecessarily because there is enough for everyone. With that said, he also calls upon all charity organizations to step up and help the needy regardless of race and religion at this tough time. But he believes that all of them can do something meaningful to ease the rakyat's burden, even though the difficulties are unprecedented.
Furthermore, he went on justifying his decision to extend the MCO for the sake of the rakyat's safety. As you already have seen some delinquents refusing the order on your social media, this is probably one of the reasons why strict action must be taken by the authorities to ensure the COVID-19 spread can be contained as much as possible. For those who are oblivious to the seriousness of the matter, he has the official numbers on the COVID-19 cases in Malaysia:
"In our country, from the first COVID-19 case until as of 12 noon, this is the number of cases - 4 positive cases have increased to 1,796 cases, that's 172 new cases added today. Seven days ago, the total number of COVID-19 cases was 673 cases. This means that the positive case of COVID 19 has increased more than twice in just one week. The death toll has also increased to 17 including a doctor. I express my condolences to the victim's family and pray for the soul the season was washed away by divine grace." he said
The government expects new cases to happen in the near future. Therefore, the Ministry of Health has prepared 3,585 beds at 34 hospitals nationwide to receive COVID-19 patients. Currently, 34% of hospital bed capacity is being used, with the remaining 66% still able to accommodate patients. Should they hit maximum capacity, they have identified some places to serve as isolation centres and temporary quarantine solutions.
In addition to the extension, Prime Minister Muhyiddin also added another initiative is the deferment of bank loan repayment for 6 months, as well as the restructuring of credit card balance and corporate lending. In fact, he plans to announce an economic stimulus package this Friday which will benefit as many people as possible.
Lastly, before he ended his speech, he mentioned that the duration of this control order will be reviewed from time to time. So if there are any changes, he will make an official announcement All basic needs such as food, electricity, water, waste collection, sewerage services, communication, logistics, security and others will be available and sufficient.
That's all, folks. Keep calm, take this opportunity to bond with your families at home and remember to look after your hygiene. If we can do this well, the extension may be lifted. Stay tuned for more local news at TechNave.com.