Qualcomm Toq Mirasol smartwatch officially announced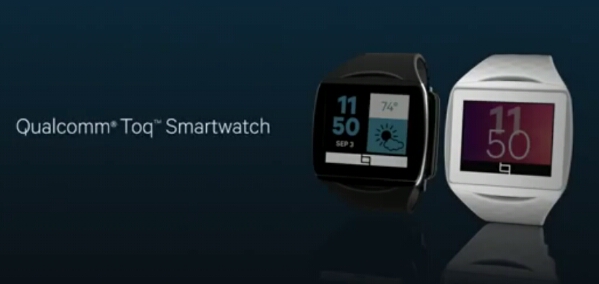 Qualcomm has officially joined the smartwatch race by it's official announcement of the Toq smartwatch. While in terms of functionality, the Toq doesn't differ that much from other previous Bluetooth notification remote devices, what sets it apart is the Mirasol screen it uses. Mirasol is like a hybrid version of LCD and e-ink displays, so it offers the energy efficiency of an e-ink display with the colour clarity of an LCD. Going for a button-less display, everything is run from the capacitive screen which certainly looks sharp and clear. Tech specs weren't really available at the time of announcement but it looks to offer the ability to receive calls through a bluetooth headset and charge wirelessly through Qualcomm's own wireless charging technology. There are no external ports on the Toq as it connects through WiFi or Bluetooth.
Introducing the Qualcomm Toq smartwatch
The overall design is much slimmer than all of the other smartwatches but offers a bit more functionality by allowing you to read emails and text messages along with a feed reader and some other apps. It is clear that the Toq is meant as more of a media consumption device as there isn't any way to do voice commands or input text but the most surprising bit is the battery life. Thanks to the mirasol screen, it can last for days without a charge, but do you need another media consumption device, this time with a smaller screen? Qualcomm seem to be on the fence about this too as they are only releasing the Toq in limited amounts with release dates in Malaysia expected to be in q4 of 2013. So far, there isn't any pricing but you can check it out at the Qualcomm Toq site.
Check out the Toq smartwatch in action
Toq Smartwatch features highlights