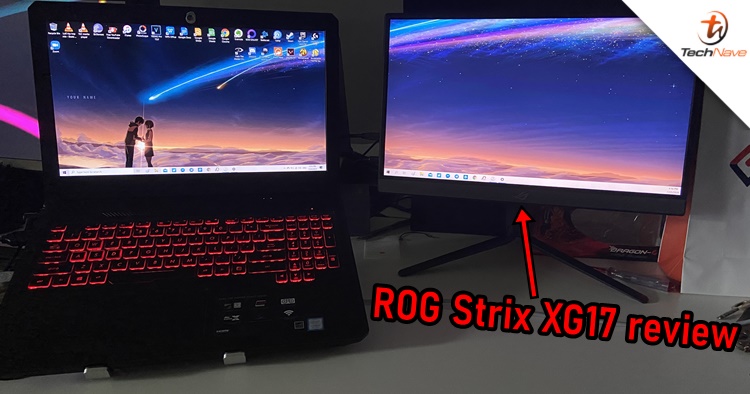 If "Wow, that's a small monitor" is the first thing that comes into your mind, you're correct. The ROG Strix XG17 size is exactly what you think but with a good reason. This monitor is marketed as a portable gaming monitor but how does that work? And why should anyone get it? Well, I've been using this for two weeks now so here are all the pros and cons you need to know. Without further ado, here's the ROG Strix XG17 portable gaming monitor review!
Right off the bat, the box comes with the portable gaming monitor (ROG Strix XG17AHP) that measures 17.3-inches, a ROG stand, a ROG Smart Cover, HDMI to microSD cable x1, USB-C to USB-C cable x1, and different plugs for use in different countries. Strangely, ASUS didn't provide any USB-A to USB-C cable to be used with the power adapter so you would have to get one yourself. But on the other hand, at least they prepared a nice ROG sling bag for the monitor.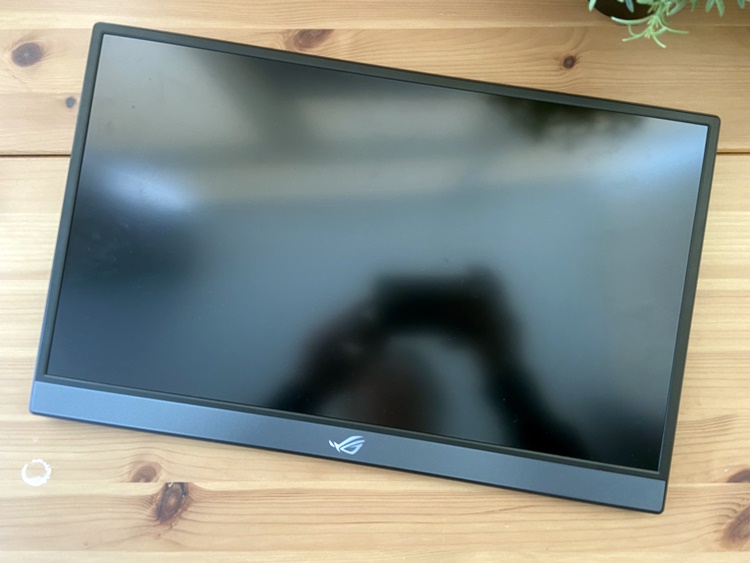 Simple and clean design, the screen panel is 17.3-inches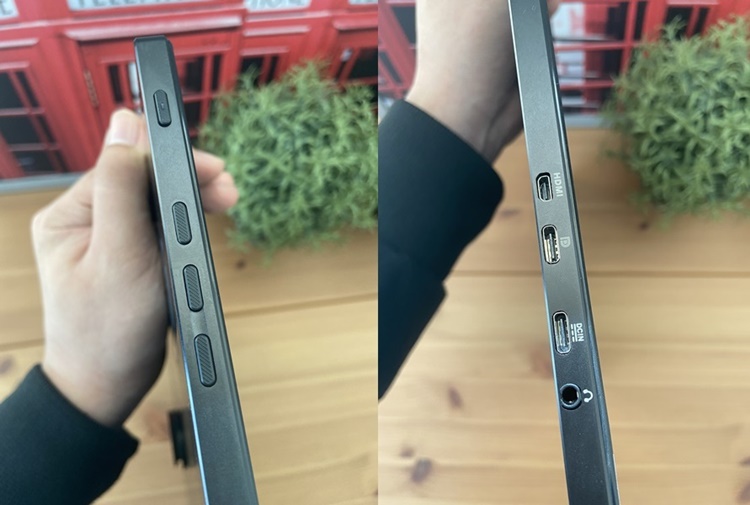 All the ports and buttons can be found on the left side. There's the usual power button, volume controls, and settings on the upper half. On the bottom half, you can find the ports (HDMI x1 and USB C x2) including a 3.5mm headphone jack which is nice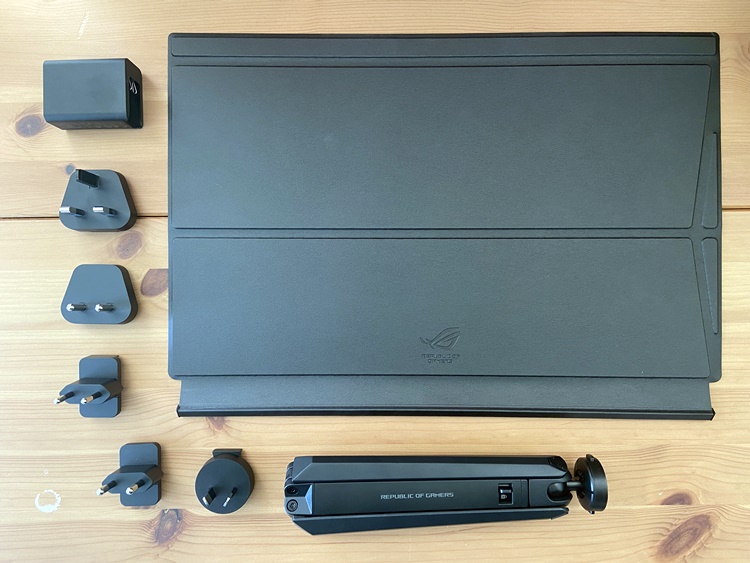 The ROG Cover, ROG Stand, and the rest of the plugs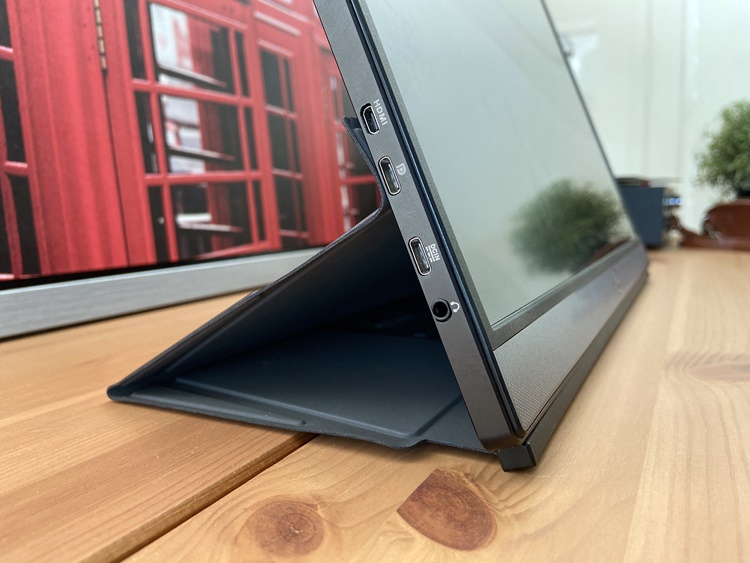 Using the ROG Cover, which connects the monitor magnetically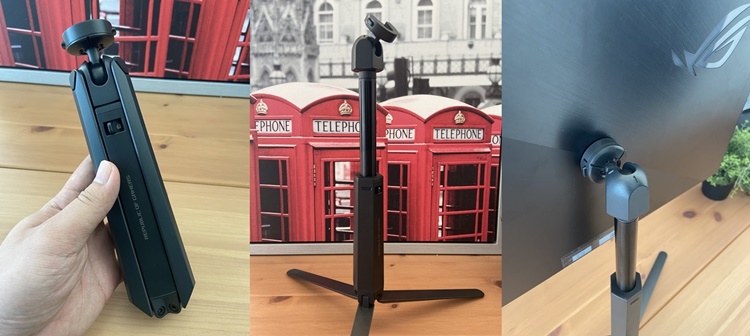 ROG Stand, pretty straightforward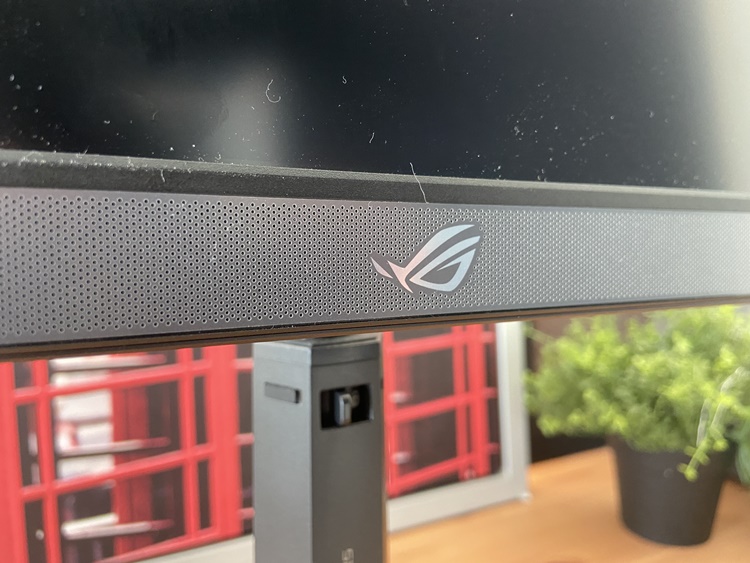 You can find the speaker at the bottom of the monitor, meaning you can play your games or videos on the spot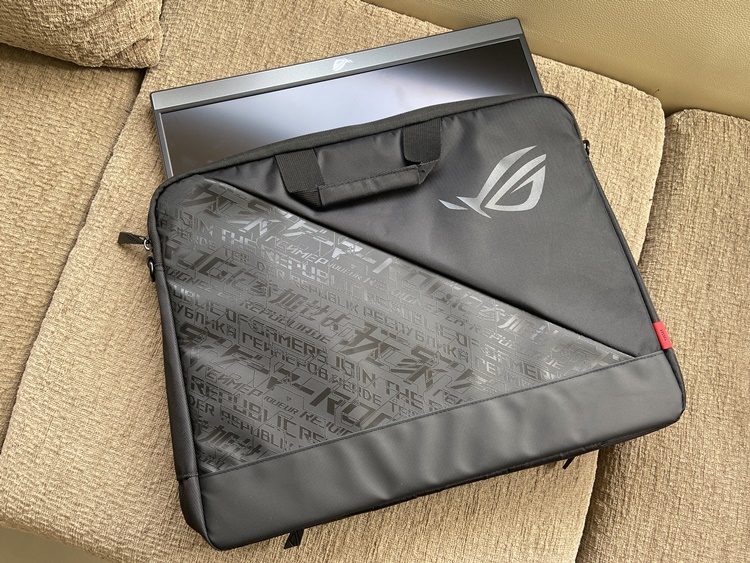 They also provided a sling bag for you!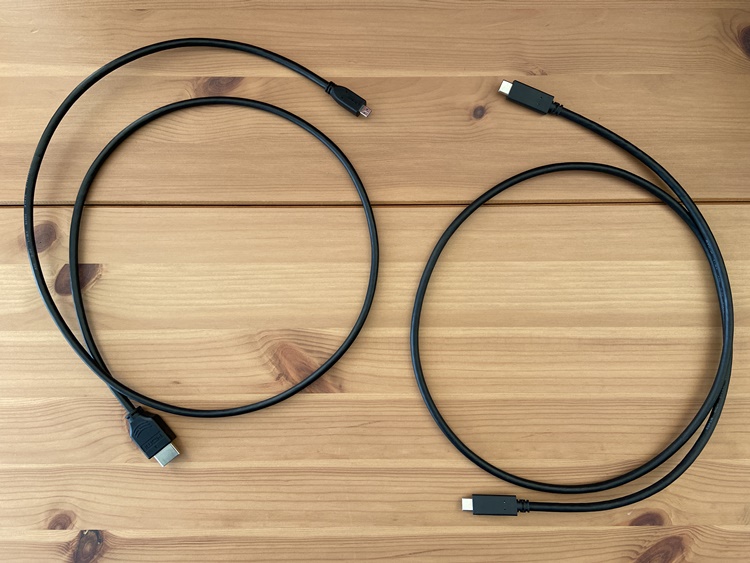 The Micro-HDMI and USB-C to USB-C cables
There are two ways to set up the monitor, you can either use the stand or the smart cover depending on your preference. Personally, I find using the smart cover the smarter choice when you're bringing it around but if you're planning to just put it at home, then the stand is obviously the way to go. You can also set up your own gaming profiles in the GameVisual setting with 8 modes available - Scenery, Racing, Cinema, RTS, RPG, FPS, MOBA, sRGB Mode. Of course, you could also customise the setup to your personal preference.
In terms of the tech specs, this compact gaming monitor is quite impressive as it supports 1920 x 1080 resolution, up to 240Hz refresh rate, 3ms response time, and even has a built-in 7800mAh battery! That's right, you can play your games without a power adapter but we will talk more about that later. Besides connecting to your laptop or a gaming console, it's also worth mentioning that you can sync it with a ROG Phone (and other compatible phones) thanks to the USB-C to USB-C cable, so you don't even need a monitor dock.
Without wasting too much time, we have now come to the graphics display performance. When we were testing the monitor with some 4K resolution videos, we were blown away by the sharpness and detail. The photos that you see here don't do any justice and we really wished that you could see how the actual monitor performs in person. Additionally, graphics performance in games were impressive as well. However, we did notice some lag if you connect an entry-level laptop to the monitor so it's best to pair it up with a gaming laptop.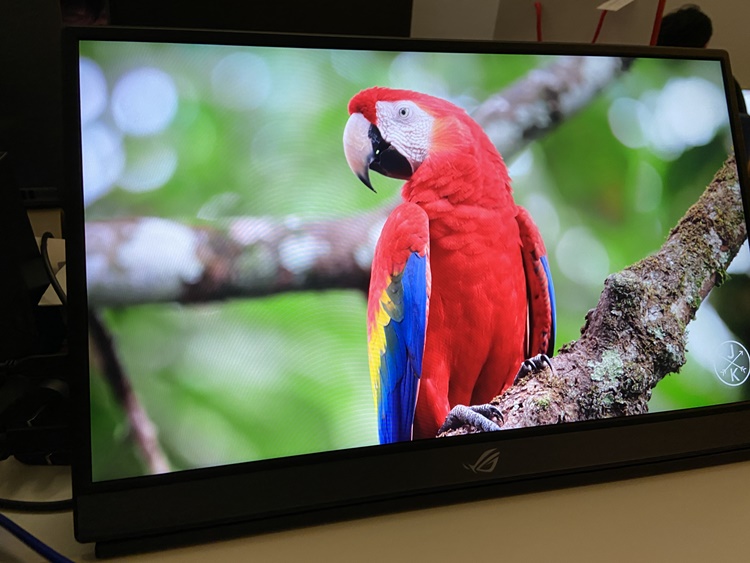 This photo of a 4K video sample does not do the monitor any justice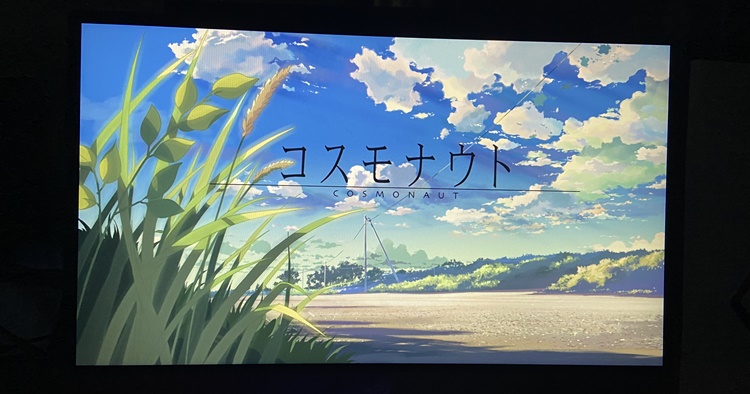 Colour contrast representation is excellent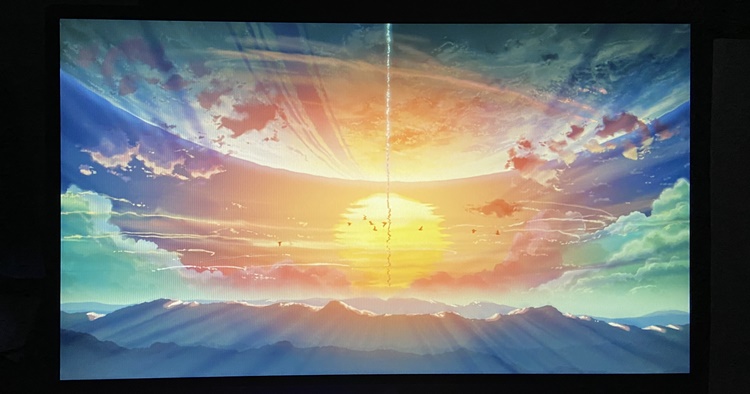 100% sRGB!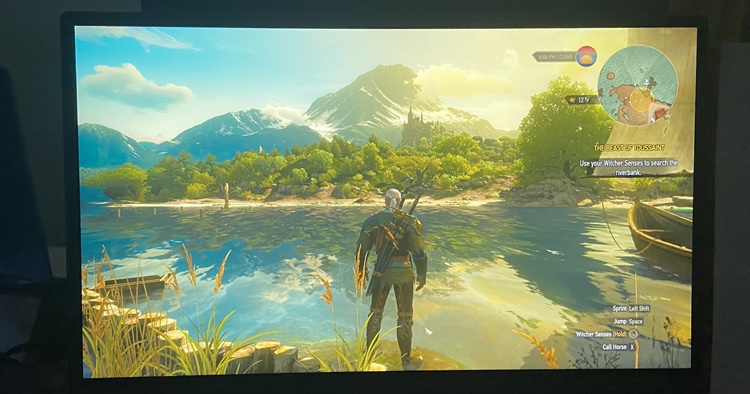 Playing The Witcher 3 on max graphics settings and 120Hz, no screen tearing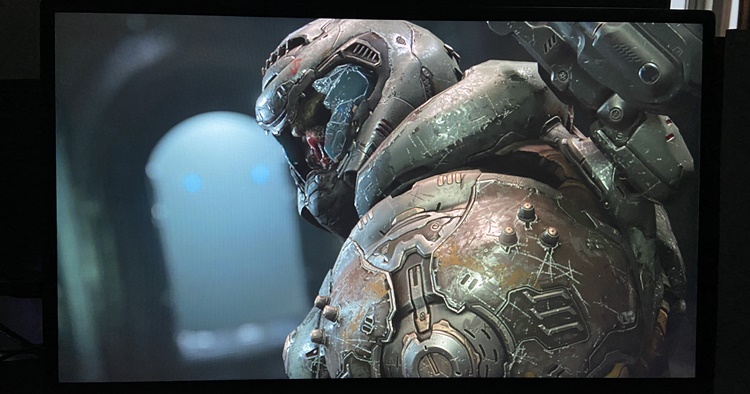 Not a problem for games like Doom Eternal and cinematic scenes were good
Although this wasn't mentioned on the website, we suspect that the monitor has its own graphics card enhancement feature. For example, playing Pokemon Sword on the Nintendo Switch with the ROG Strix XG17 felt kinda different, same goes for playing Doom Eternal when connecting to an ASUS TUF gaming laptop. Watching a Blu-Ray anime movie on this monitor was also a delightful experience thanks to the sRGB 100% colour palette.
Despite all the activities mentioned above, I was surprised at how durable the monitor's battery life is. After playing Doom Eternal for nearly 2 hours and watching an anime movie (Blu-Ray) for an hour, the ROG Strix XG17's battery only dropped down to 56% with the monitor set to 120Hz the entire time. In other words, if you bring this monitor to a friend's house and play some games on Nintendo Switch or PlayStation 4, it could potentially last for around 6 hours (depending on refresh rate setting)! That's more than enough for everyone to take turns and have fun together.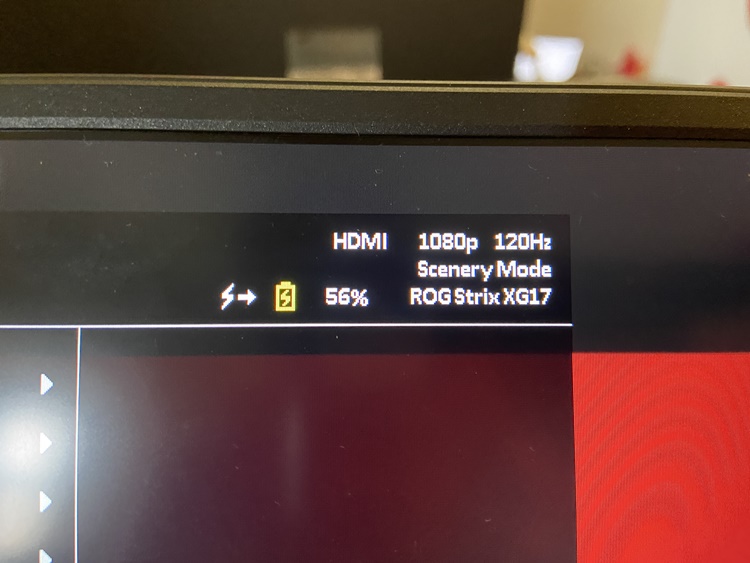 This was around 3 hours of usage, most impressive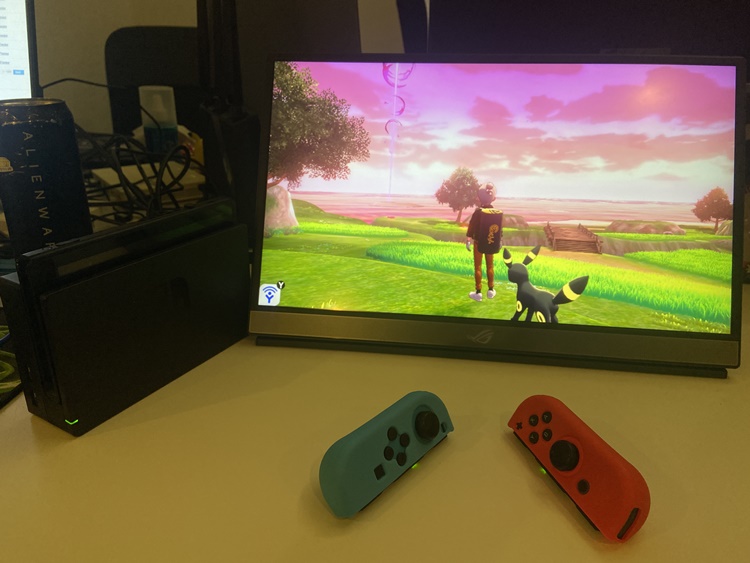 Switch party, anyone?
Apart from being portable, the graphics performance and battery life are also commendable and we really enjoyed using it. But how much does it cost? Well, ASUS Malaysia didn't specifically list the price on their website but its price ranges from RM1998 to RM2689 on the websites of authorised online retailers. I suppose that would be the only downside of this monitor.
At that price range, you can easily get larger gaming monitors that offer similar tech specs and features, though it will lack the portability. I guess in the end, this really depends on your lifestyle say like - if you happen to be a pro-gamer who's often on the move, then this monitor can be quite useful for you. I guess you can also get this for your gaming smartphone (if compatible) but otherwise, it's a rather heavy investment.
Tech specs and features
17.3-inch Full HD portable IPS gaming monitor

240Hz refresh rate, 3ms response time

Built-in 7800 mAh battery

Adaptive-sync, Non-Glare, 100% sRGB, Quick Charge 3.0, USB Power Delivery 3.0, built-in ESS 9118 digital-to-analogue (DAC)

USB C x2, Micro-HDMI x1, 3.5mm headphone jack

Measures 399.09x250.51x9.95mm, weighs 1060g
Pros and Cons
Pros: Great for Switch or PS4 parties with your friends, amazing graphics performance, durable battery life (unplugged) and extremely compact
Cons: Quite pricey and falls into a niche market
Conclusion: Get this gaming monitor only if you travel a lot as a professional eSports gamer