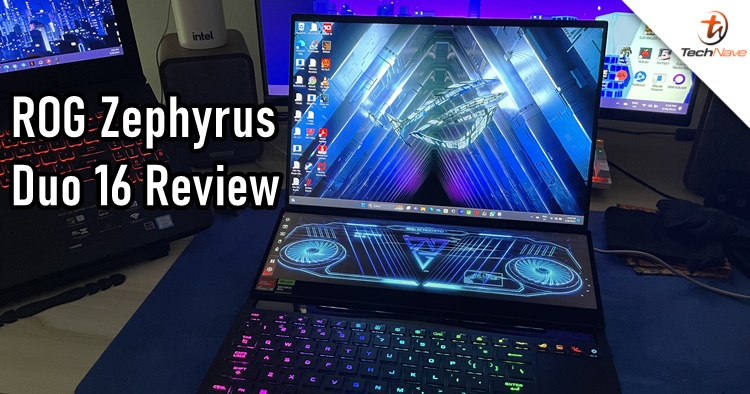 ASUS Republic of Gamers (ROG) has always been known for coming up with wild gamer aesthetics for its gaming devices, and the ROG Zephyrus is no different. Although it has come a long way since 2017, this gaming/content creator laptop is truly one of a kind. For this year's model, it may have become beefier than before and a beast in its own league.
Now, I have reviewed a few gaming laptops over the years but never anything like the ROG Zephyrus Duo 16 2023 (GX650). The secondary display is bonkers, but one question that almost everyone has in mind is - is it still necessary? After playing with it for two weeks, I can definitely tell you this is a very niche product. Read on below to check out the pros and cons.
For starters, the Zephyrus Duo 16 hasn't changed much since the inception of the secondary screen in 2021. The display got upgraded from 15.6 inches to 16 inches for a 16:10 aspect ratio in QHD+ (2560 x 1600) resolution. Besides the 240Hz refresh rate, the display panel is Pantone Validated, VESA DisplayHDR certified and supports Dolby Vision. Needless to say, the visuals are superb and pleasing to the eyes.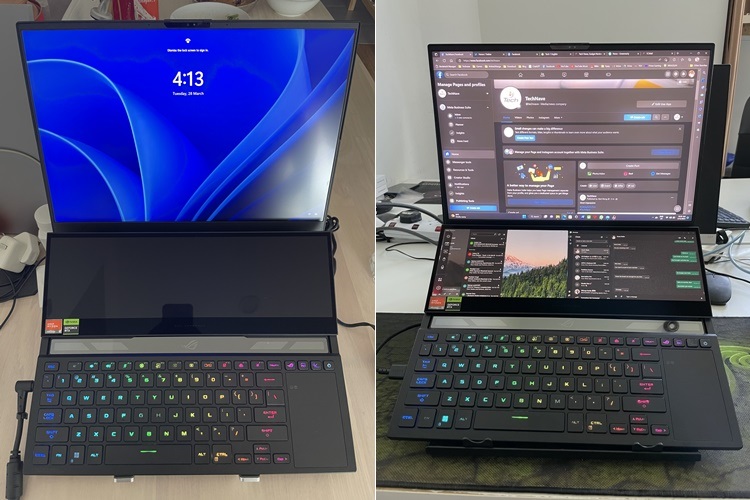 Before and after setting up the ScreenPad Plus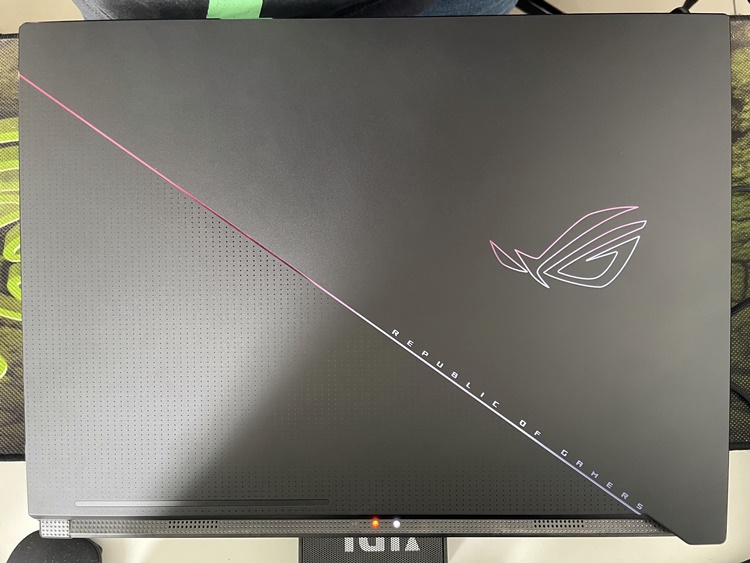 The Zephyrus Duo 16 cover. There's no AniMatrix LED on it, though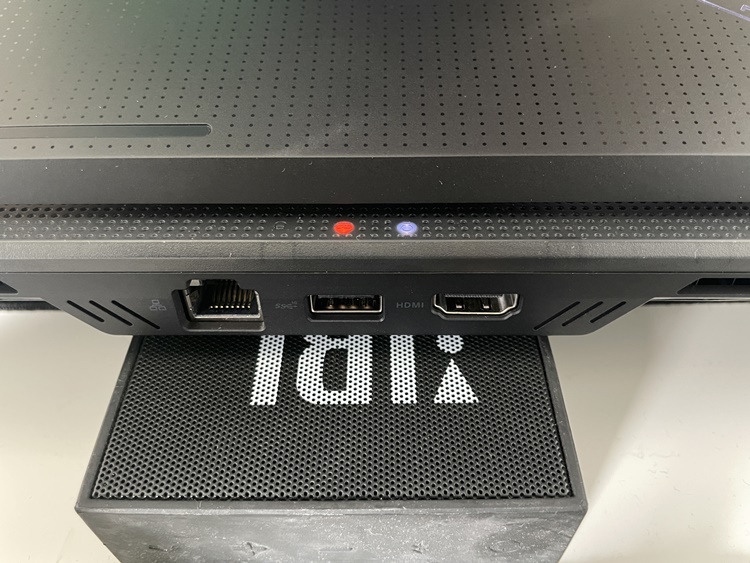 It's nice to have some ports at the back
The power connector is oddly placed on the left side. I would prefer it to be behind, though, next to the HDMI port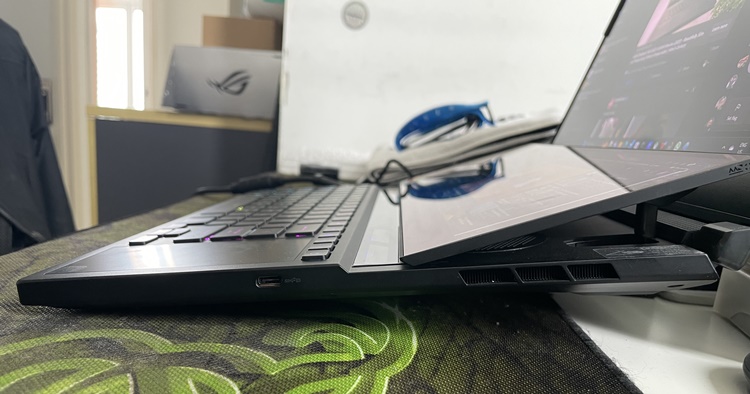 I usually need to put a small box to elevate it higher for a better working posture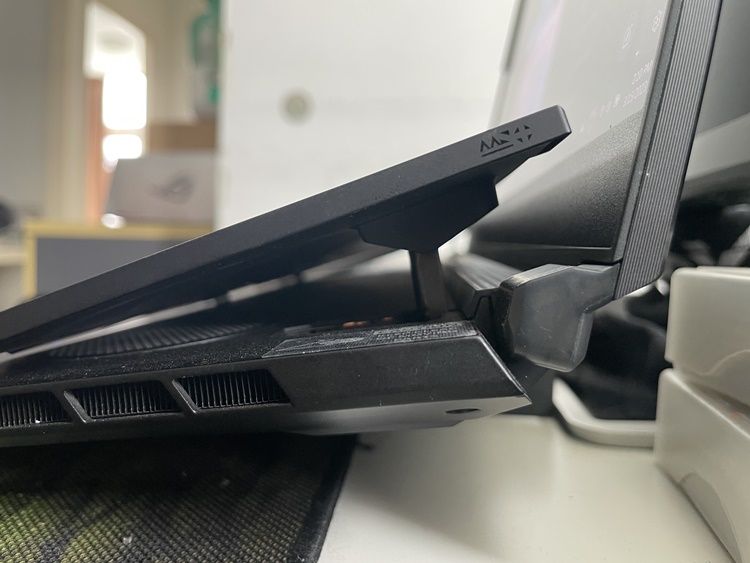 The hinge got higher too, compared to its predecessor
On the other hand, the ScreenPad Plus' secondary display specs are impressive too. It features 400nits of brightness, a 100% sRGB colour gamut, as well as Gorilla Glass DXC to reduce surface reflections. Since it was my first time using it, I was bewildered about what I could do with it. It's a great way to multitask if you're that type.
Like before, ASUS' integrated ScreenXpert is back with the third version to make out the best of the touchscreen. You can manage app windows if you like but ultimately, ScreenPad Plus is meant to let you be productive as a content creator. This includes video editing with the control panel at the bottom and streaming while gaming. Some video games also support the function but from what I know, only the Dying Light series (which I don't have) integrated this feature.
While it sounds great on paper, the practicality of the Zephyrus Duo 16 could use some improvement. I'm not saying the ScreenPad Plus is useless, but it's not high enough. If I lay it on a table, I have to put a small box behind it to elevate it slightly because it's hard for me to look at the ScreenPad Plus when it's laid flat. A laptop stand is very useful for this situation but you would need to get a much more durable one, as the Zephyrus Duo 16 is too heavy for plastic laptop stands to handle.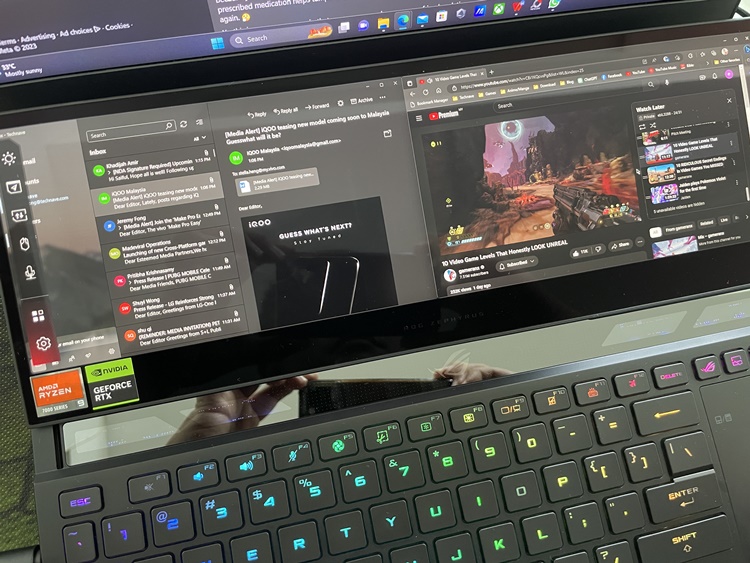 Managing my emails and watching YouTube at the same time. It's a touchscreen too, but I wouldn't want to smudge the panel too much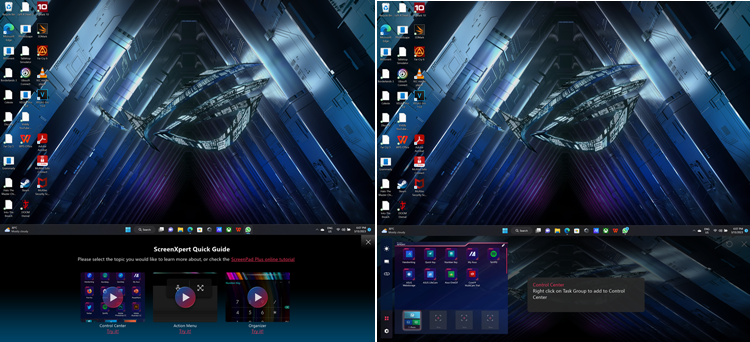 ScreenPad Plus tutorial
Ideally, this is what you can do with the ScreenPad Plus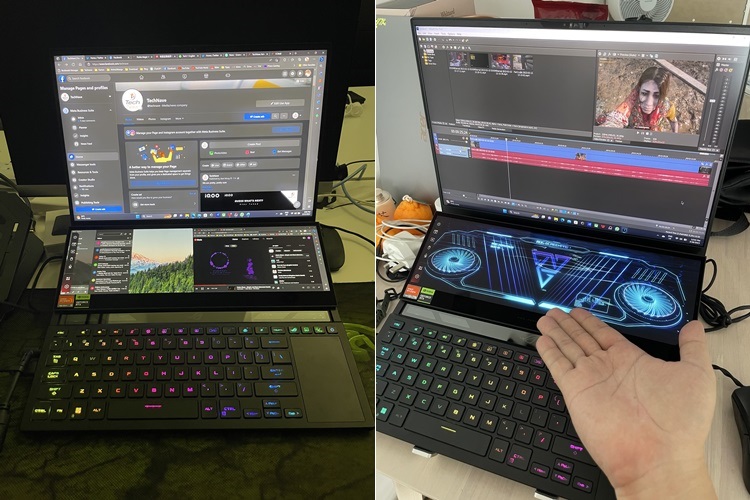 While you can simply drag windows to the bottom, not all the programs work with the ScreenPad Plus (unfortunately)
As you can see, that's just a little tiny issue, so it wasn't much of a problem. Working on the Zephyrus Duo 16 is pretty great too, as I could multitask on it - looking at incoming emails, replying to WhatsApp and doing my work at the same time. You could even put a small YouTube window on the ScreenPad Plus and listen to some videos or songs while working.
Video editing on the Zephyrus Duo 16 is... well, I couldn't experience it because my Vegas Pro 15 program wasn't supported. However, I would imagine that I won't get used to looking at the video timeline below. But it's nice to give the video preview more space. I don't stream either, but theoretically, this should also provide a pleasant experience for streamers to play their games on one screen without much intrusion from the chats below.
I should also mention that the laptop froze when I tried using the Vegas Pro 15 to edit my videos. It could either be a bug or just the video editing program's fault, but it got better only after I plugged in the power adapter. As a compact laptop for content creators, it would have been a problem if you couldn't find power sources nearby. And it's unclear if other programs have the same bug as well. Hopefully, ASUS can patch this up.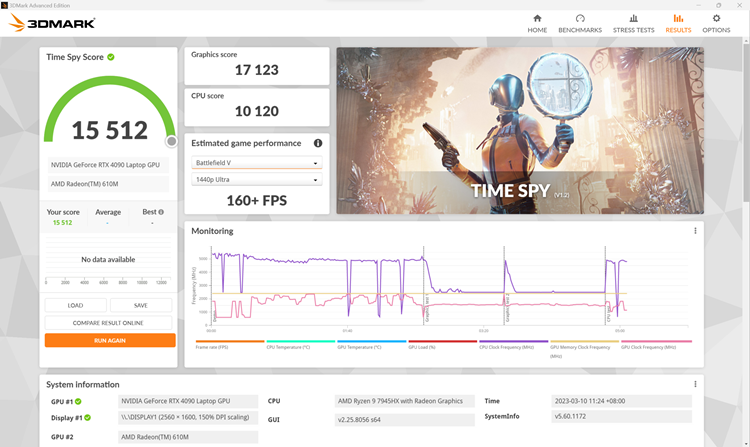 Fully loaded on 3DMark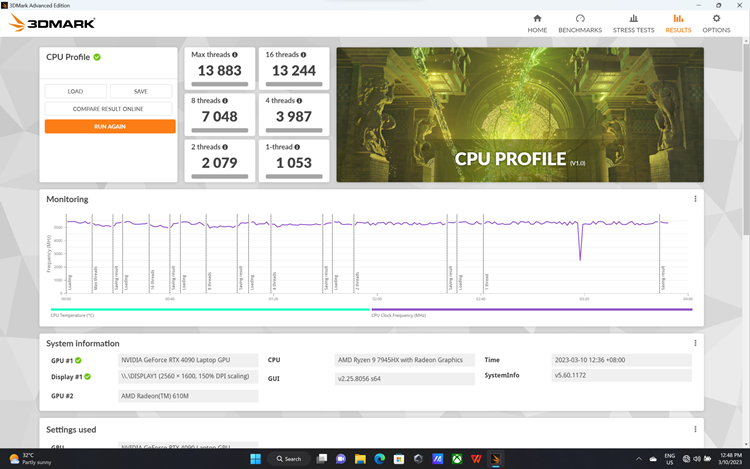 CPU score on 3DMark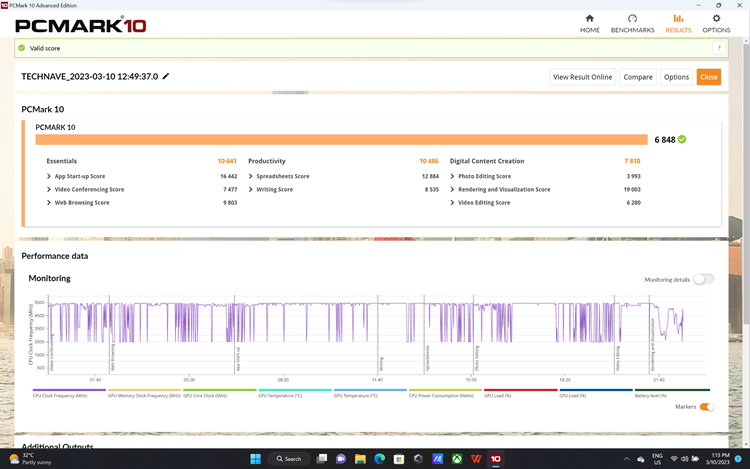 PCMark 10 score, easy peasy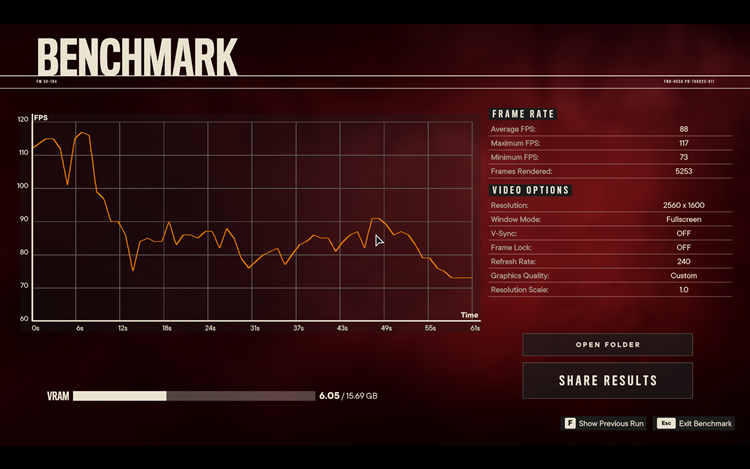 Benchmark from Far Cry 6 in HD Texture with the highest settings
In terms of performance, this bad boy runs on AMD's Ryzen 9 7945H processor, an NVIDIA GeForce RTX 4090 GPU, and 64GB of DDR5 RAM. It also has 2TB of PCIe 4.0 NVMe M2 SSD (RAID 0) storage. This is seriously an overpowered gaming laptop, so I don't think I'll need to tell you about its gaming performance. But if you like, I can tell you that it can run Far Cry 6 in HD textures like butter in the highest settings. The display can also handle fast-paced FPS like Doom Eternal seamlessly, and I didn't use the MUX Switch that often.
With great power comes great heat generation too. Thankfully, ASUS integrated an improved ROG Intelligent Cooling Liquid Metal Conductonaut Extreme Ecosystem for the CPU. So, my fingers didn't feel like they were on fire. And because the laptop was always sitting on a small box on its rear, the heat could flow out better.
It's also worth mentioning that the Dolby Atmos six speakers are excellent and sound great. Even at max volume, the laptop handled it like a champ, delivering a respectable sound balance between the bass and treble. Battery performance is also not bad. I could typically work on the Zephyrus Duo 16 for the whole morning before needing to charge. Also, thanks to Wi-Fi 6E connectivity, I could download those big AAA games within two hours or so (per download).
The Zephyrus Duo 16 is undoubtedly a powerful workstation for gamers and content creators. However, you should know that it costs a hefty price of RM22,999. I suppose that's the only downside of the laptop because that amount of money can easily be used for something more important. As a Malaysian, spending that much money on a laptop just doesn't make sense.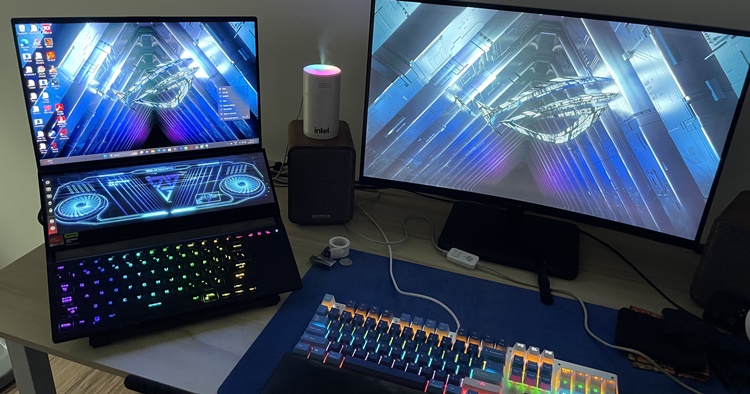 You might as well spend the money on an ultrawide monitor to pair it with your laptop
As I've mentioned, the Zephyrus Duo 16 is a very niche product for a niche target group. Ideally, this laptop is a great compact companion for those on the go, travelling to events and places. There's nothing wrong with using this at home either, but you might as well get an ultrawide monitor. Even that would cost less. The Zephyrus Duo 16 is just too damn expensive.
ROG Zephyrus Duo 16 2023 (GX650) tech specs:
CPU: Up to AMD Ryzen R9 7945HX, 55W Default TDP, 5.4GHz Boost Clock, 16 cores/ 32 Threads
GPU: Up to NVIDIA RTX 4090, (140W + 35W Max TGP in Manual mode), 16GB VRAM + MUX Switch
RAM: Up to 64GB Dual Channel DDR5 4800MHz (2 x SODIMM slot)
Storage: 2 x PCIE 4.0 SSD M.2 Slots (Up to 2x 2TB Gen 4x4 SSD included, up to 7000MB/s transfer rate)
Dimensions: 355 x 266 x 20.5 ~ 20.7mm
Weight: 2.6kg
Display: 16-inch 1024 zones Mini LED, QHD+, 240Hz, 100% DCI-P3, 3ms, 600nits (1100nits peak brightness)
OR
16-inch IPS, QHD+, 240Hz, 100% DCI-P3, 3ms, 500nits + 16:10 aspect ratio, Dolby Vision, Pantone Validated for all panel options
Secondary display: ScreenPad Plus - Half-height 14.09-inch UHD 60Hz 30ms (sRGB 100%), 400nits, Touch Display, Stylus support (MPP 2.0), Gorilla Glass DXC
I/O ports: 2x USB 3.2 Gen2 Type-A, 1 x HDMI 2.1, 1x 2.5G Lan Jack, 2x USB 3.2 Gen2 Type-C, 2x DP1.4 (dGPU) G-Sync, 100W PD, 1x MicroSD (UHS-II) card reader, 1x Audio combo jack
Audio: Dolby Atmos 4x Force-Cancelling woofers with Smart Amp Technology + 2x Tweeters
Webcam: FHD 1080p IR Camera with Windows Hello Support
Connectivity: Wi-Fi 6E, Bluetooth 5.2
Battery: 90Whr Battery + 330W power adapter
Pros - An extremely powerful laptop for gamers and content creators who are often on the go for their work
Cons - Requires a solid laptop stand or small box to keep the laptop elevated (for an easier view of the ScreenPad Plus), and too damn expensive
Conclusion - It's a powerful performing and expensive laptop for a niche market