Ratchet & Clank: Rift Apart review - A must-have game for your PlayStation 5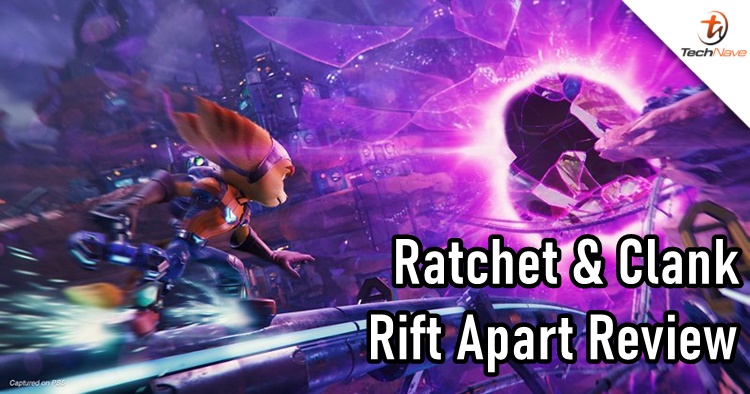 Even after several months, the Sony PlayStation 5 is still difficult to purchase in Malaysia. That being said, if you managed to get your hands on one, congrats! But there is also a question of which video games you should buy? At the moment, there are only a few Triple-A titles to choose from and getting the first game should be worth your time and money (trust us, it's not cheap).
For these past few weeks, we had the opportunity to play an exclusive PS5 video game called Ratchet & Clank: Rift Apart. Old school PS2 gamers should be familiar with this franchise. But for the new generation, is this game worth it? One of our writers thought it was a super fun game so without wasting any time, let's get to our review of this game.
Game Design – New generation graphics like 'Pixar' movies
Obviously, the graphics on the PS5 is no joke and playing Rift Apart on it is simply captivating. We have played plenty of Triple-A games with excellent graphics, but we think this one really takes the cake. Our writer said that it is the equivalent of a Pixar movie such as Inside Out. Not only is it nice to look at, but the textures in the game are given extra attention to detail.
One feature that makes Rift Apart different from other video games is the usage of ray-tracing. If you're a gamer, you probably have heard of this feature. But if not, it basically helps you to see reflections on the floor, windows, and even on Clank's body or any surface that reflects light. Hence, it makes the characters and the world more prominent and brings graphical realism to another level.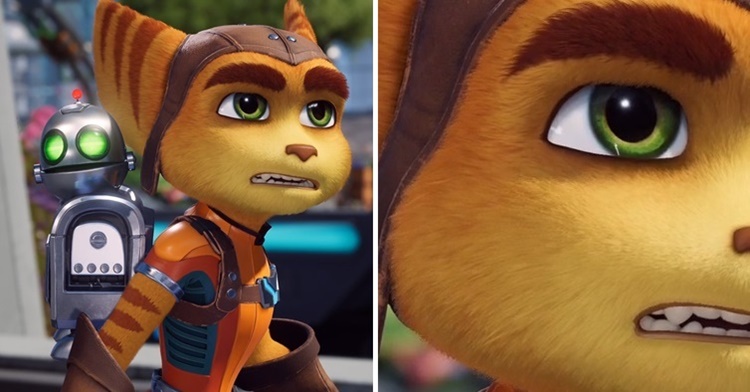 The attention to detail on the fur reminds me of Pixar movies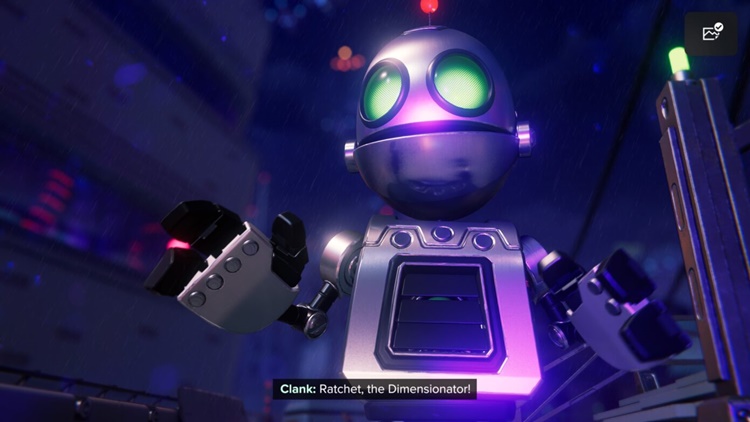 Clank's body is not just shiny but also reflective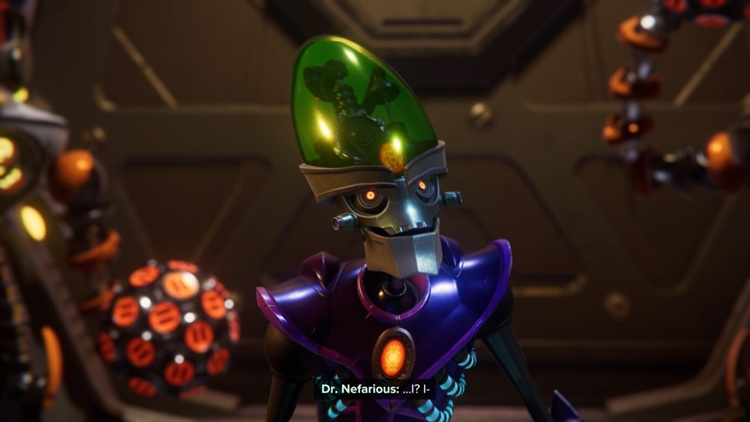 Do you notice the depth of field?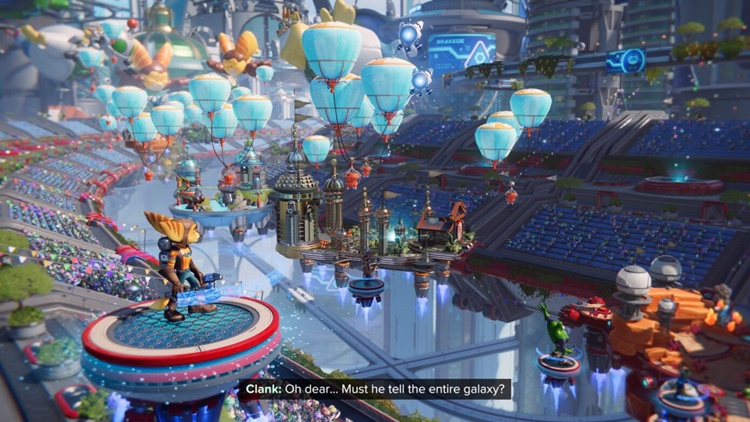 The world of Rift Apart is vast, with many planets to visit!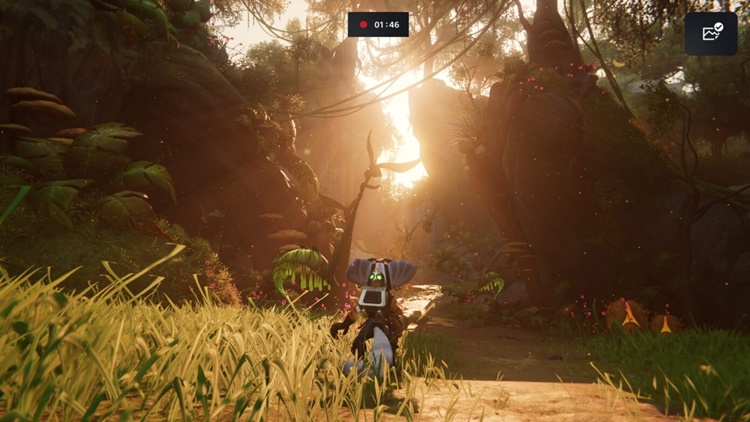 Breath of the wild
In addition, the lighting in this game is near perfect with the right amount of light and shadows. The depth of field or Bokeh effect is often used to enhance the game's 'cinematic feel'. So like most Triple-A games nowadays, you're essentially playing a movie instead of watching.
For sure, the PS5's graphics and SSD capabilities makes the loading and rendering time shorter. When it comes to loading the next stage, we usually don't have to wait any more than 2 seconds. The same applies when you Ratchet switches between the many dimensions and scenarios of the game. Transitions are seamless, without any lag at all.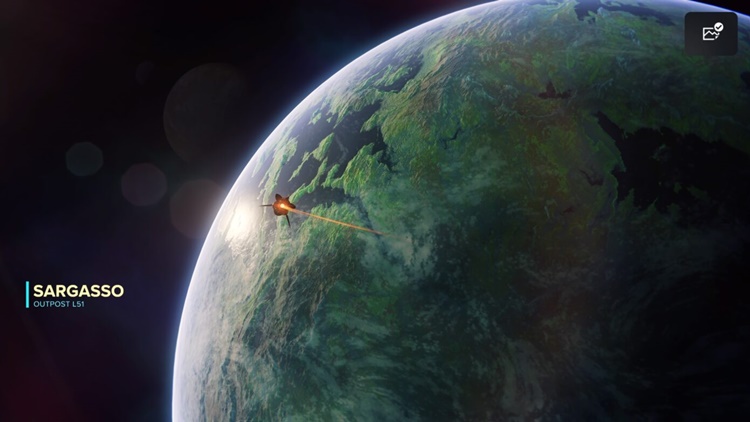 Loading time is almost instantaneous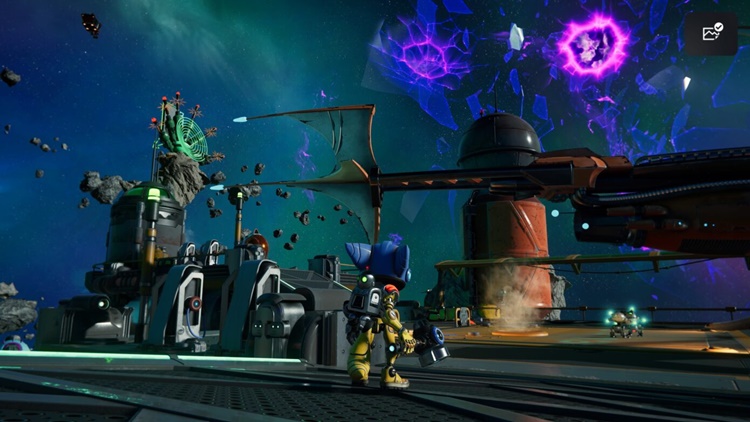 One of many worlds you visit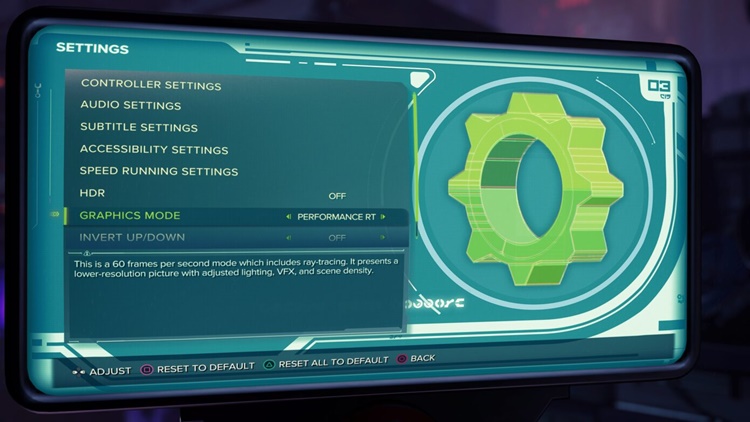 Plenty of settings to customise
In the settings, you can set the graphics to Fidelity, Performance, or Performance RT mode. If you're already satisfied with the 1080p resolution and want a frame rate of up to 60FPS, you can choose Performance mode. But if you prefer better-looking visuals, go for Performance RT mode. As the name suggests, it has the aforementioned ray-tracing features.
Gameplay - Satisfactory and fun
For those who are not familiar with the Ratchet & Clank series, Rift Apart is a platformer video game. It features the titular duo of the series, tasked to save the world once again. Besides the main storyline, you can also choose to play some side missions in a third-person view. Unlike those live service games that are popular these days, you can play this game without an internet connection. The only caveat is that you would lose out on some online achievements.
Do you often hope for a stress reliever after finishing work? Then you would be glad to know that Rift Apart is the perfect game for that. It allows you to dive into a vast world (remember the realistic graphics we talked about?) and have fun blasting a horde of enemies at some point. And speaking of enemies, the game throws a variety of enemies your way. So if you like challenges, switching from long range to melee can be fun. In addition, the background music is really catchy and does well to set the mood.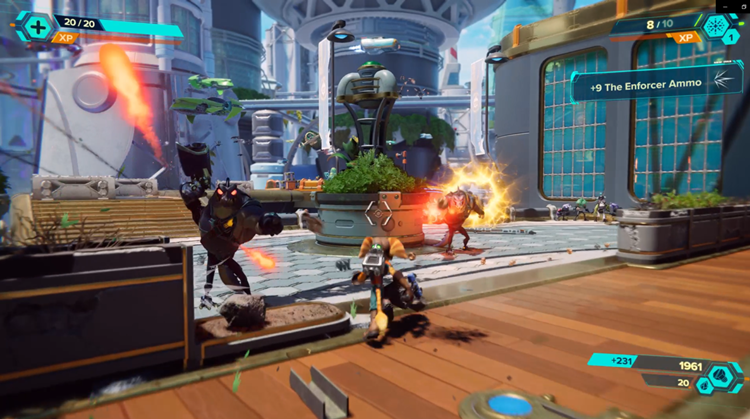 Pew pew!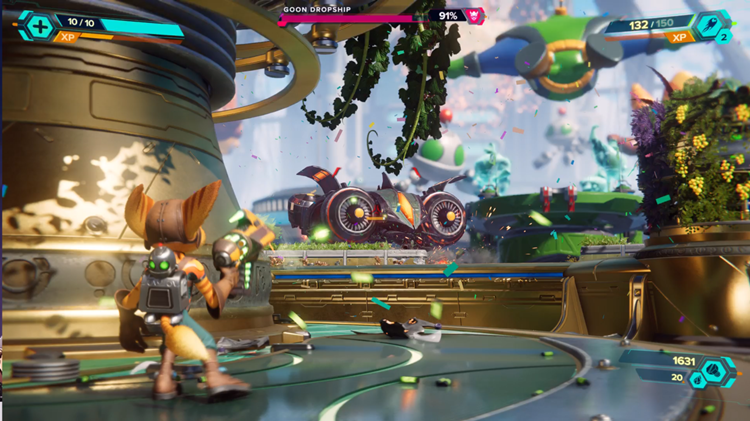 One of the many chaotic battles fought in real-time
Don't worry so much if you are not good at third-person shooting games, as you can always set the difficulty level to your preference. If you want to challenge yourself, the hardest difficulty level will give you a real adrenaline rush, especially in boss fights. Also, the game revives you with enough ammo and a full health bar every time you die.
As for the story, it is surprisingly engaging even for newcomers. Rift Apart's story is actually full of emotions filled with tense moments and bland jokes that we appreciate. It even touches on the topic of mental health indirectly. Besides Ratchet & Clank, the other characters are also unique. The game does its best to help you understand them and their motivations, even Dr Nefarious.
However, if there's something to nitpick on, it would be the game levels. Specifically, there are too many levels with recurring gameplay. But to be fair, it is almost impossible for a gaming studio to offer new content all the time.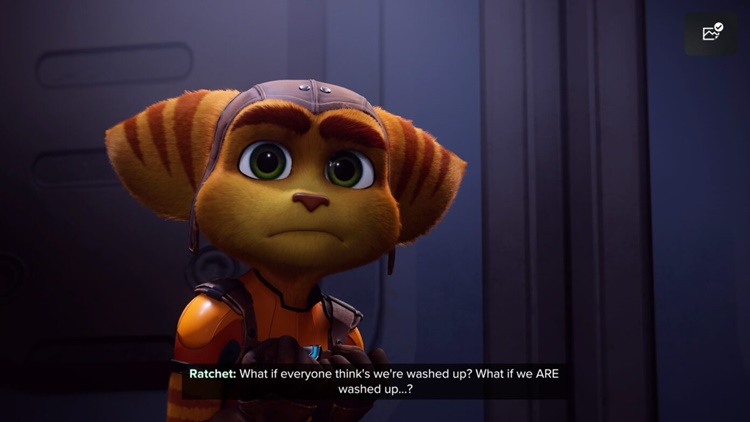 #MentalHealthMatters
Game mechanics - Way more fun with the PS5 Dualsense controller
If you are a fan of the gaming franchise, you will be in for a ride with Rift Apart's array of unique and quirky weapons. Each weapon has its own advantages and is suitable for a specific type of enemy. Overall, there are 15 kinds of weapons available that you'll be switching between a lot. At the very least, you won't get bored of the action for a while.
What's even more impressive, though, is that the PS5 Dualsense controller will offer different haptic feedback vibrations for each weapon. Besides weapons, each movement, jump, and even the background music in the game will provide haptic feedback. It is not easy to describe the feeling that we had on the controller. But we can agree that this experience is indeed the future of gaming.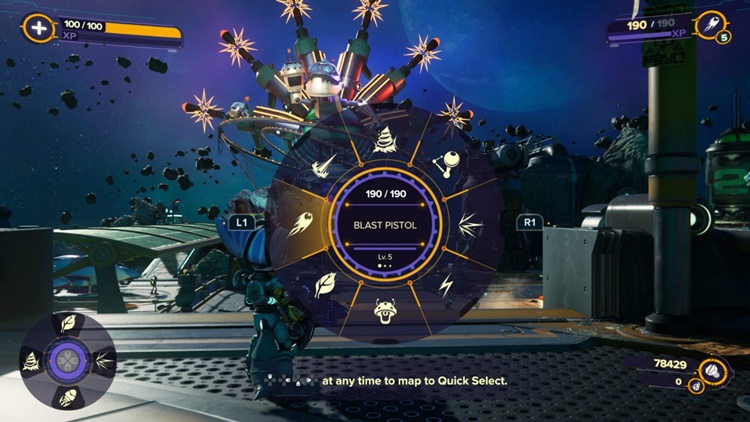 Weapon selection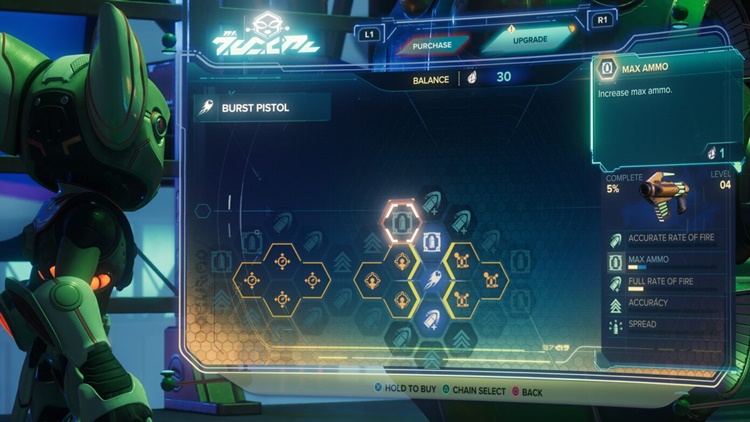 Upgrading your weapons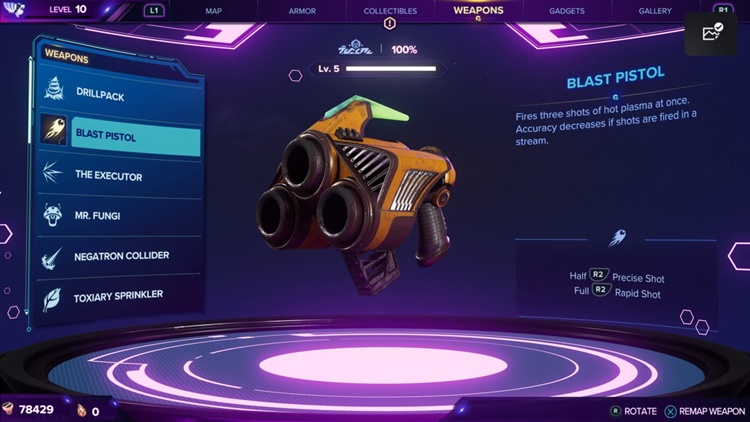 Weapon info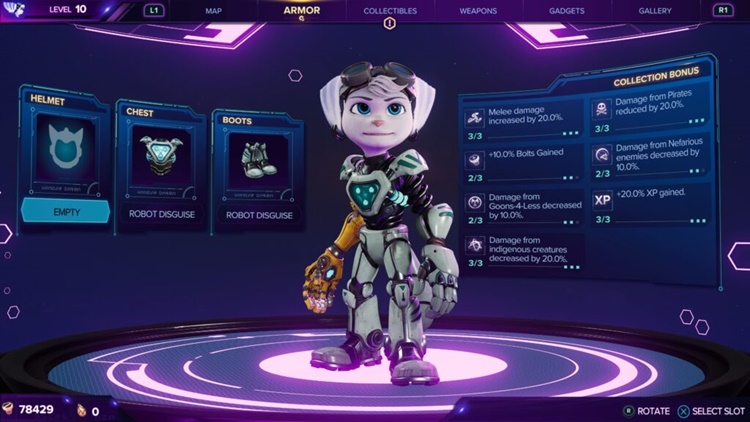 Character customisation
Of course, there are hundreds of boxes and enemies for you to break. Each time you do so, you will get some money that can then be used to buy new weapons in the store. You can also upgrade your weapons using the 'Raritanium' obtained in this game. On top of that, the game lets you change how Ratchet looks with different helmets, armour, shoes, and skin on. There are many enticing options and colours available, so do get creative!
Conclusion – 9/10
If you have a PS5, we think Ratchet & Clank: Rift Apart should be part of your gaming library. The graphics are breathtaking, the gameplay is fun, and the storyline is quite engaging. There may be some repetitive game levels here and there, but it is still fun to play nonetheless. Without a doubt, this is indeed a next-gen video game specifically for next-gen consoles like the PS5.
A highly recommended game, we rate Ratchet & Clank: Rift Apart a 9 out of 10 ratings. Enough said.
Pros – Beautiful graphics and a great storyline with entertaining characters
Cons – Repetitive game level designs
Conclusion – An exclusive PS5 game that is fun to play