Razer Deathadder V2 Pro review: Ergonomic wireless gaming mouse with up to 5 days of battery life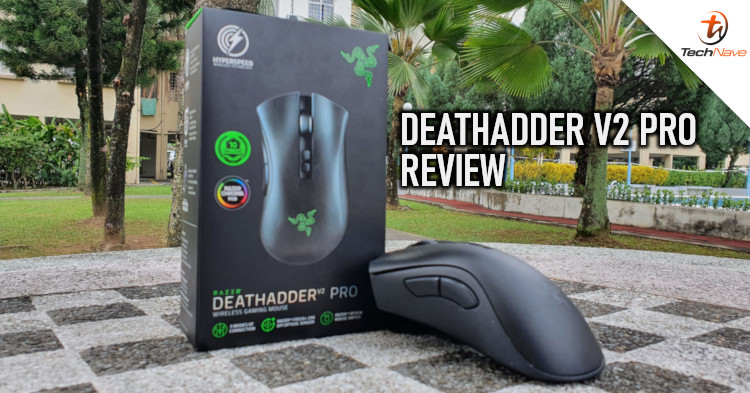 When Razer unveiled the Razer Deathadder V2 Pro on 22 September 2020, it was the first gaming mouse in the well-known Deathadder series to come equipped with wireless capabilities. With a price of RM619, it is more expensive than the Razer Deathadder V2 (RM349) and much more expensive than the Razer Deathadder V2 Mini (RM259). Does the wireless capability justify the higher price of the new Deathadder gaming mouse?
In this review, we take a closer look at the Razer Deathadder V2 Pro and see how it stacks up in a competitive gaming environment, as well as for daily use. With that being said, let's get into it.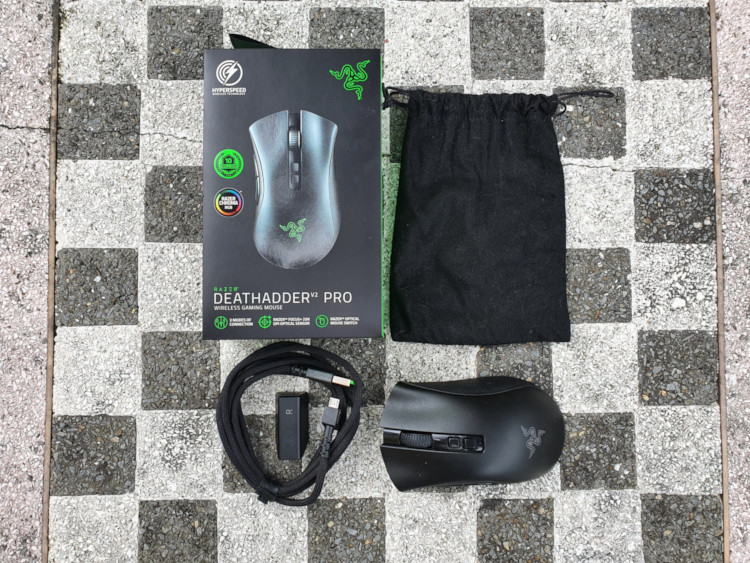 The box contains the Deathadder V2 Pro, braided Speedflex cable, bag, and a USB dongle adapter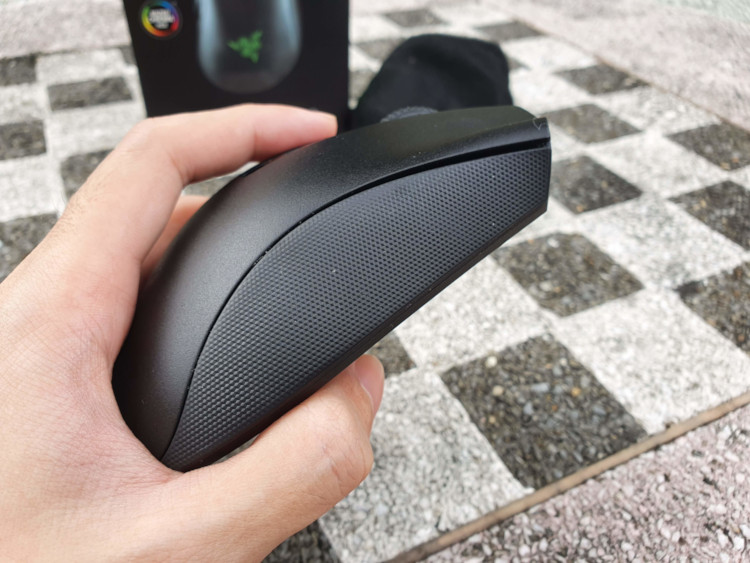 Injection-moulded rubber sides
Just like all its other Deathadder siblings, the Deathadder V2 Pro comes with an ergonomic design, which makings gripping the mouse extremely comfortable. The injection-moulded rubber sides also provide excellent grip. They ensure that the mouse does not slip away from your fingers while you're repositioning it.
Speaking of which, the mouse only weighs around 88g without the dongle. It's not the lightest wireless mouse in the world, but it's still light enough for me. Even after gaming for several hours straight, my hand wasn't tired from moving it constantly. As for battery life, Razer's official website claims that the Deathadder V2 Pro can last up to 120 hours on a single charge on Bluetooth, and up to 70 hours with the Razer HyperSpeed Wireless feature enabled.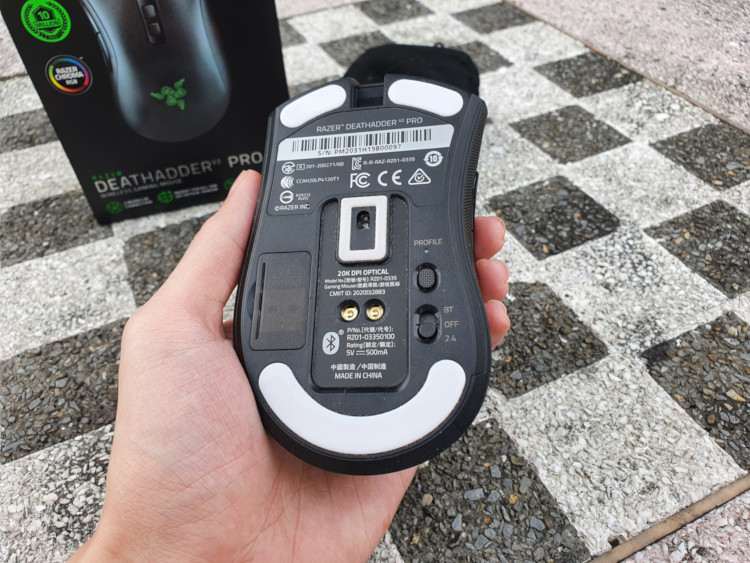 The underside of the Deathadder V2 Pro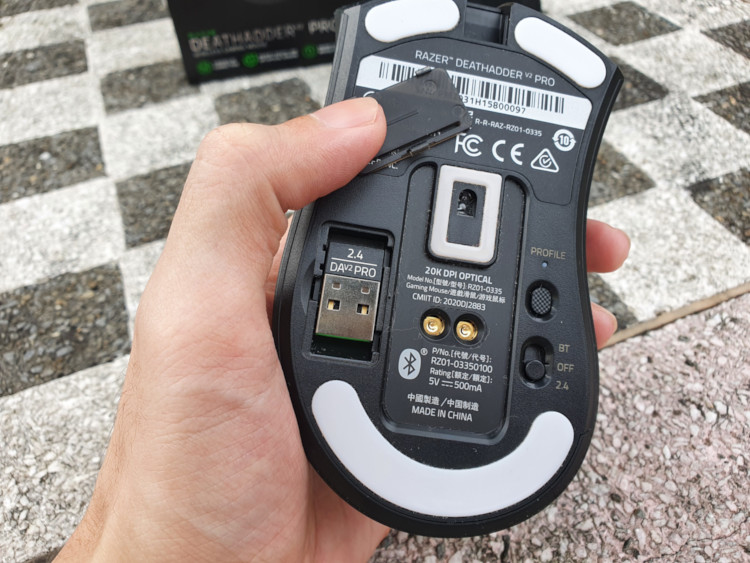 You can store the wireless dongle in the mouse when you're not using it!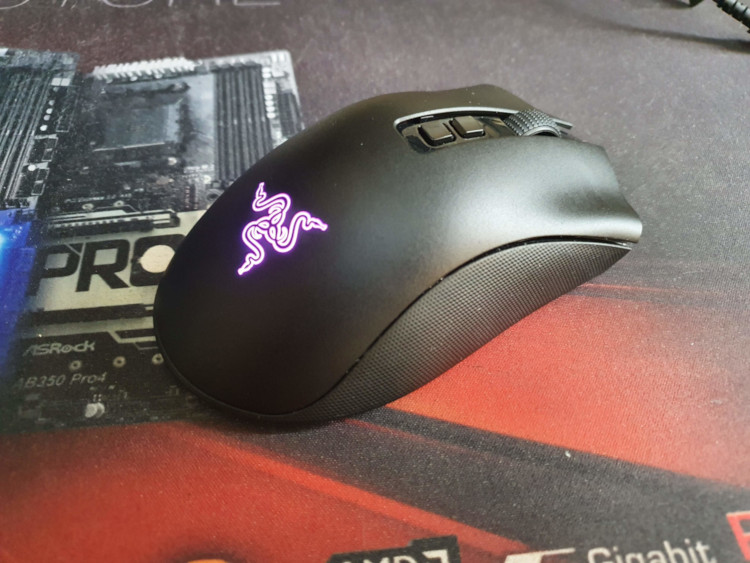 The RGB is quite bright
However, do note that the battery life fluctuates depending on the brightness of the RGB lighting. Speaking of that, it comes with several display modes such as Audio Meter, Breathing, Reactive, Spectrum Cycling, Static, and more via the Advanced Effects tab.
There are PTFE mouse feet towards the top and larger mouse feet below that, as well as mounting points to attach the mouse to the Razer Mouse Dock Chroma (sold separately for RM249). Right above the mounting point, you will find the Razer Focus+ Optical sensor that's capable of achieving up to 20000 DPI with 99.6% accuracy. Finally, there is a profile button on the right side to switch your mouse profile. There are also buttons to enable Bluetooth, the Razer HyperSpeed Wireless feature, or to turn off the mouse.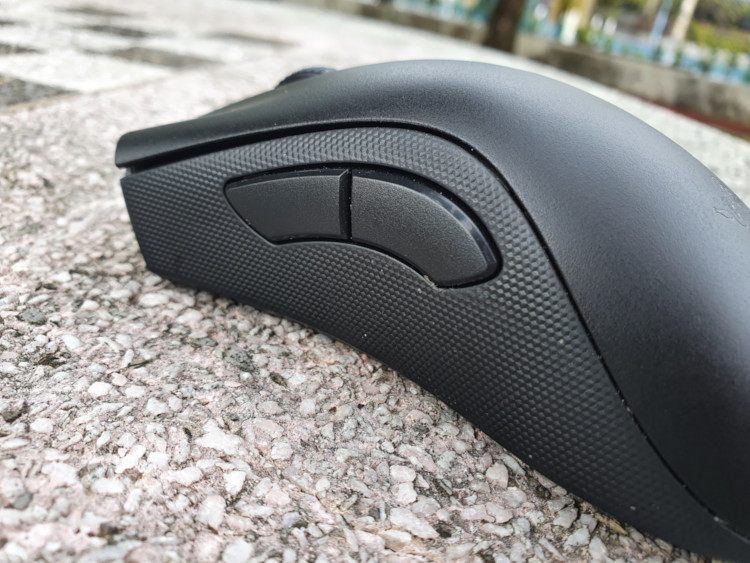 Two additional buttons on the sides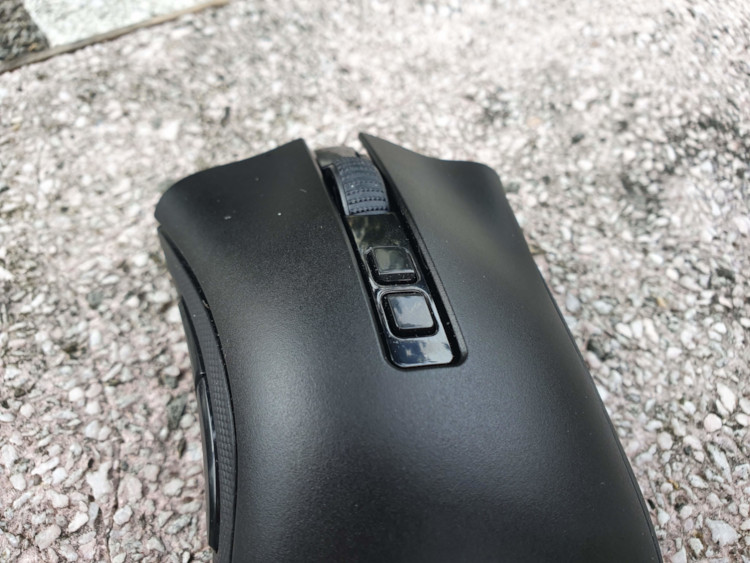 Two more additional buttons right behind the scroll wheel
In addition to that, there are two more side buttons on the left and below the scroll wheel. You can use the Razer Synapse software to bind these buttons to various functions, including Play/Pause, mouse sensitivity, and more. But that's not all, the software also allows you to check the battery status of the mouse, as well as finetune the sensitivity, polling rate, and more.
The left and right mouse buttons both use Razer's second-generation Optical Mouse Switches, which can last up to 70 million clicks. On top of that, they solve the problem with previous Deathadder series mice, which came with the dreaded double-click problem. Furthermore, it seems that the Razer's Optical Mouse switch can achieve a response time of as low as 0.2ms.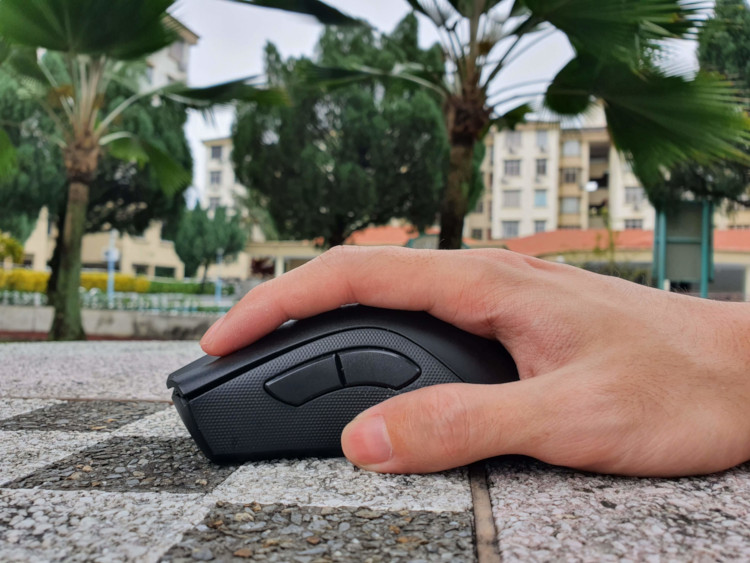 I prefer "palming" my mouse as it's more comfortable for me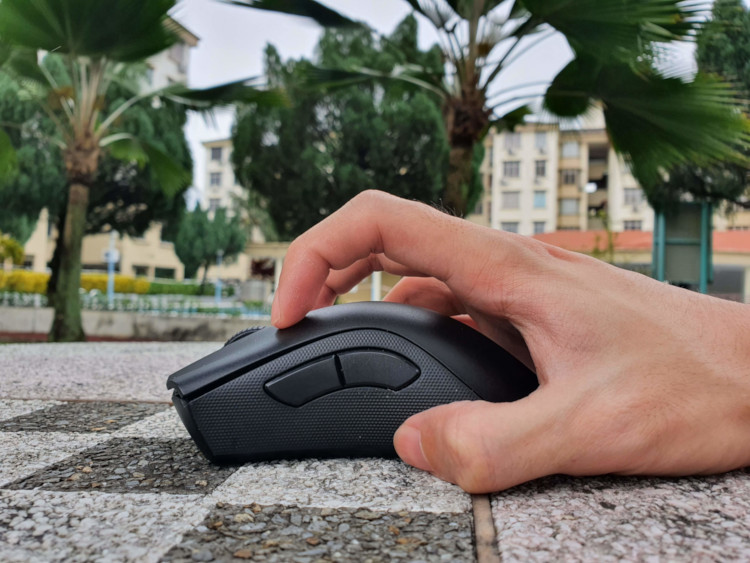 Some might prefer "clawing" the mouse instead
Moving onto, the mouse itself feels extremely comfortable for me. This is mostly due to the size of my hand, as well as my semi-palm grip style. Due to the size of the Deathadder V2 Pro, those who prefer the claw grip or have smaller hands might struggle a little due to how large it is.
The buttons on the mouse feel extremely tactile and responsive, giving me an audible click whenever I press them. However, the left and right mouse buttons feel particularly light. I've accidentally pressed down a few times simply by resting my hands on the mouse while browsing the web.
That's not necessarily a bad thing since I can rapidly and effortlessly tap on the buttons without missing a beat, which can be the difference between life and death in certain games. While the optical sensor can go up to 20000 DPI, I wouldn't recommend using a sensitivity level that high, as it is almost impossible to control.
Personally, I prefer using a sensitivity of 400 DPI as it allows me to aim more accurately in first-person shooters just by making small adjustments. After using the mouse for almost 2 weeks, I found it hard to switch back to a wired gaming mouse. The cable would sometimes get caught onto something, which affects my accuracy.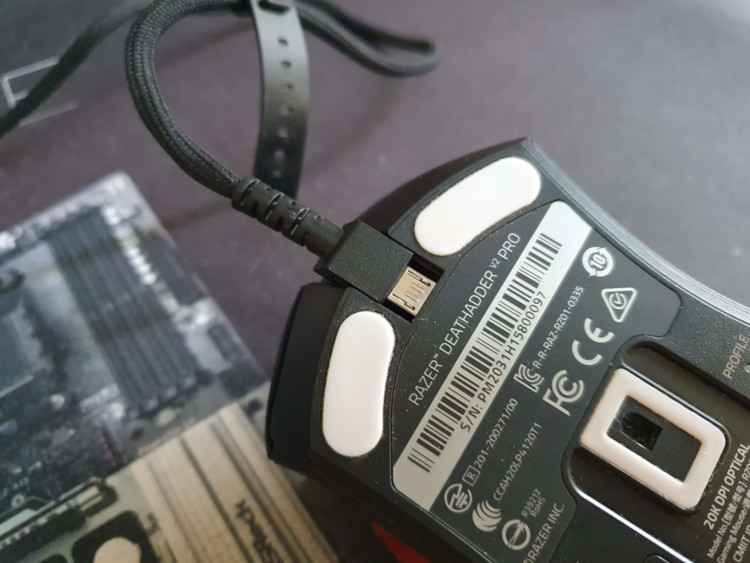 You can use it as a wired mouse while it's charging
Since it is a wireless mouse, it comes equipped with an internal battery that's capable of lasting more than 3 days on a single charge. It doesn't take too long to fully charge the mouse with the 1.8 meter Razer Speedflex cable either. All you need is half an hour to get around 1 to 2 days of use. In Bluetooth mode, the Deathadder V2 Pro can last up to 5 days on a single charge, if you play any games.
Besides that, I also found that the mouse feels extremely smooth on my cloth mousepad while gaming. This was mostly thanks to the PTFE mouse feet underneath.
I also have not experienced any tracking issues that could affect my gameplay, such as mouse acceleration, jitters, or mouse drift. Even though it's a wireless gaming mouse, I did not experience any instability or loss of connection at all, even while playing at a local Valorant competition.
In conclusion, the Deathadder V2 Pro would be a great choice if you're a huge fan of the Deathadder series and its ergonomic design, but don't want to deal with cable management. You can also pick up the Deathadder V2, which is priced at RM349. It's a much cheaper model, albeit without the wireless feature.
On another note, if you have a smaller pair of hands or you prefer to "claw" your mouse, the Deathadder V2 Mini at RM249 might make a better candidate. For more updates and reviews like this, stay tuned to TechNave.com.
Tech Specs
20000 DPI Razer Focus+ Optical sensor

2nd Generation Razer Optical Mouse Switch

Razer HyperSpeed Wireless

Up to 120 hours of battery life

Size 127 x 61.7 x 42.7mm and weighs in at 88g (excluding dongle)
Pros and Cons
Pros - Great battery life, can last up to 5 days of continuous usage before needing to recharge. Performs virtually the same as a wired gaming mouse
Cons - Additional RM270 just for the wireless connectivity
Conclusion - Great for those who dislike cable management, or frequently plays competitive esports games