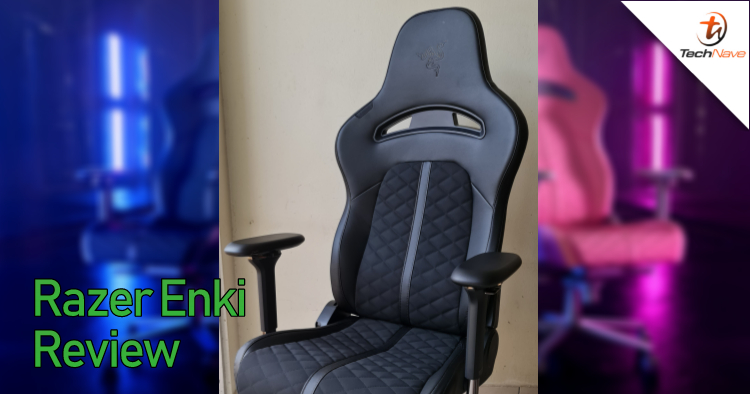 After a long session of gaming or work, one of the first things you'll notice is how stiff your back might be. As such, whether you have a back full of aches and pains or one which is still relatively fine, depends entirely on the quality of the chair you've used. This is where the Razer Enki Gaming Chair comes in so do read on for the full review below.
The Razer Enki Gaming Chair arrived in a box so some assembly was required. However, even a teen could do it. Mine did. Instructions were clear and easy to follow, while the parts were well packaged in rigid plastic. It even comes with a custom corkscrew like L key and black with green trim gloves.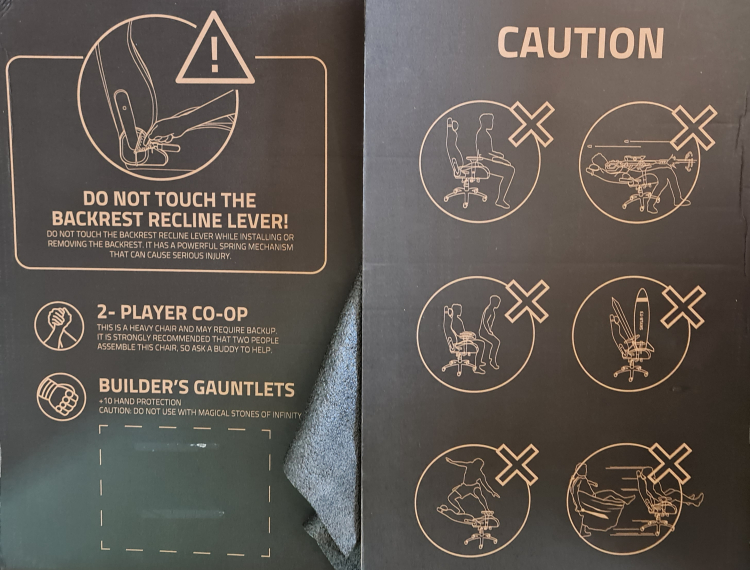 Box instructions ~ All we can say is that Razer really know their audience well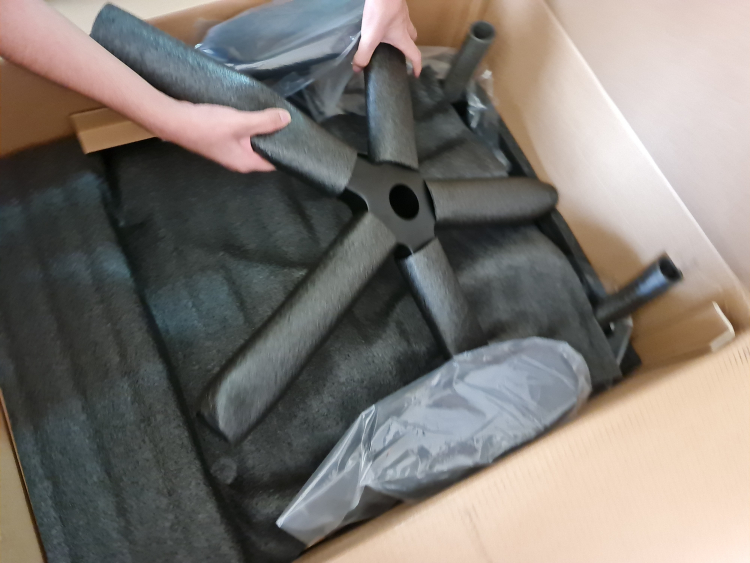 Some assembly required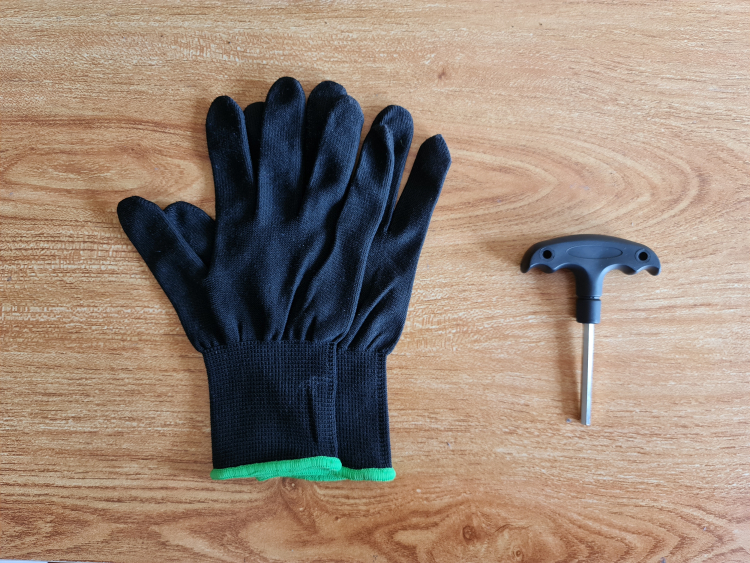 The builders gauntlets and the L-key tool
At first glance, the Razer Enki Gaming Chair certainly doesn't look like a Razer product. There's no RGB, no bling, no neon green Razer trim on the chair at all but perhaps this is because it's the black coloured version. There are still Razer logos on the headrest front and back, detachable headrest pillow and the side joints but none of them have any neon green. Regardless of that, it still looks like a very premium gaming chair nonetheless with well stitched tougher EPU synthetic leather.
The headrest pillow seems to be made from some sort of suede fabric or plush (in tasteful Razer black of course) and it attaches to the headrest nicely via click-on straps. I can see that it might be a pretty good dust magnet as well, but it is good for us taller people, offering more ergonomic support for my head that the rather hard headrest doesn't offer on it's own.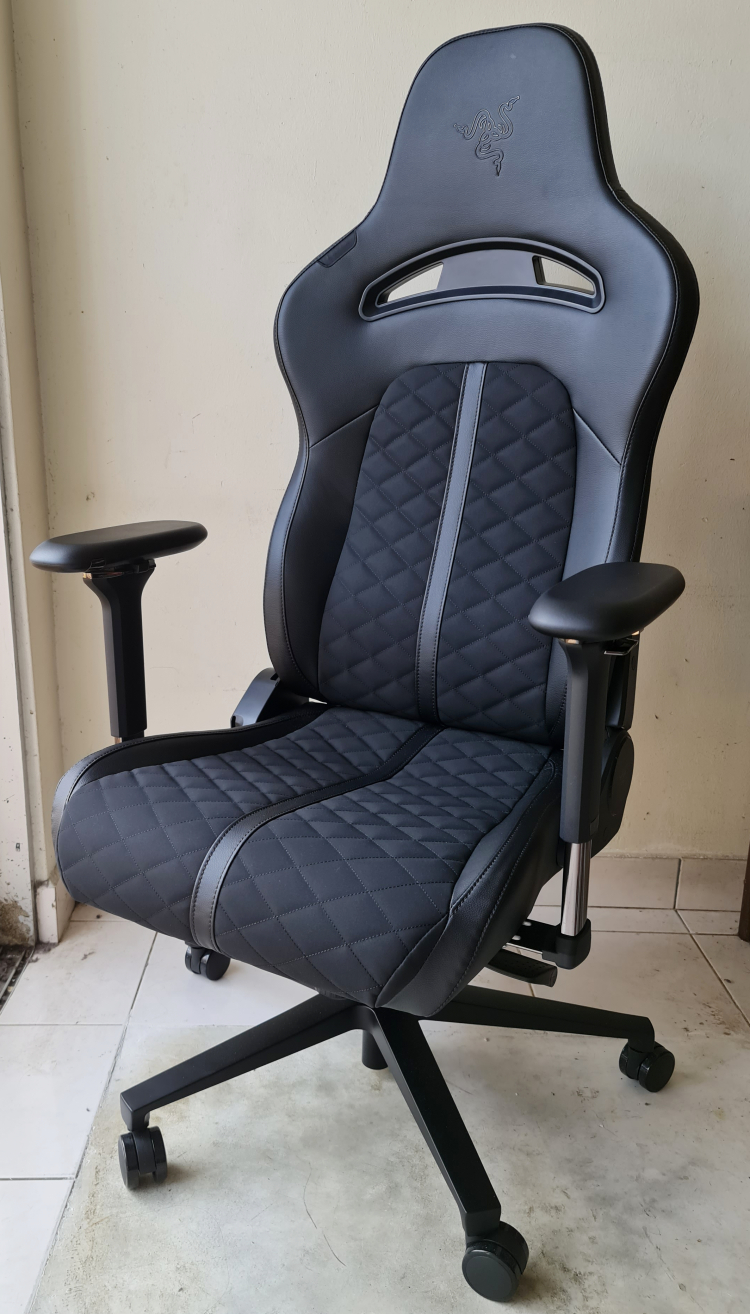 The Razer Enki Gaming Chair once it has been assembled ~ the black version has almost none of the usual Razer bling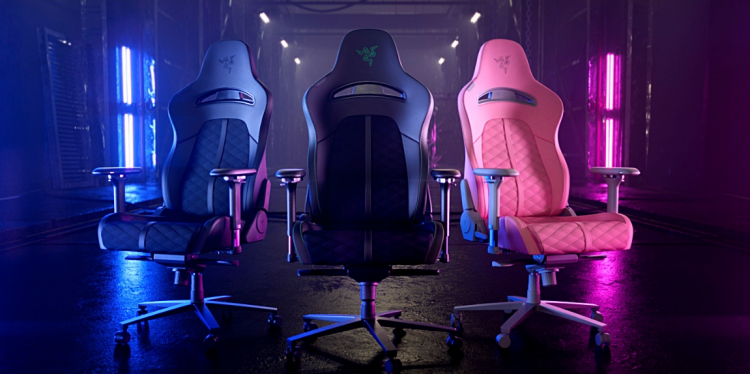 There's also the usual green and a pink version as well
Featuring super adjustable arm rests (perfect for gaming mouse support), the chair is big enough for my 6 foot frame. The aforementioned arm rests can be elevated or lowered and slid forward, back or side to side. I could easily adjust these arm rests as I wanted to the rather higher desk height that my table was, and they are stable for the most part. They can feel a bit loose due to all the moving parts though, but they stayed safely in place throughout testing.
The chair itself can be adjusted back almost to the point of going flat and there are locks to keep the back firmly in place. You can also adjust the height of the chair (like most other swivel office chairs) while the 5 spoke black metal base feels solid. There's no locks for the wheels though, but they stay in place well and roll only when you want them to.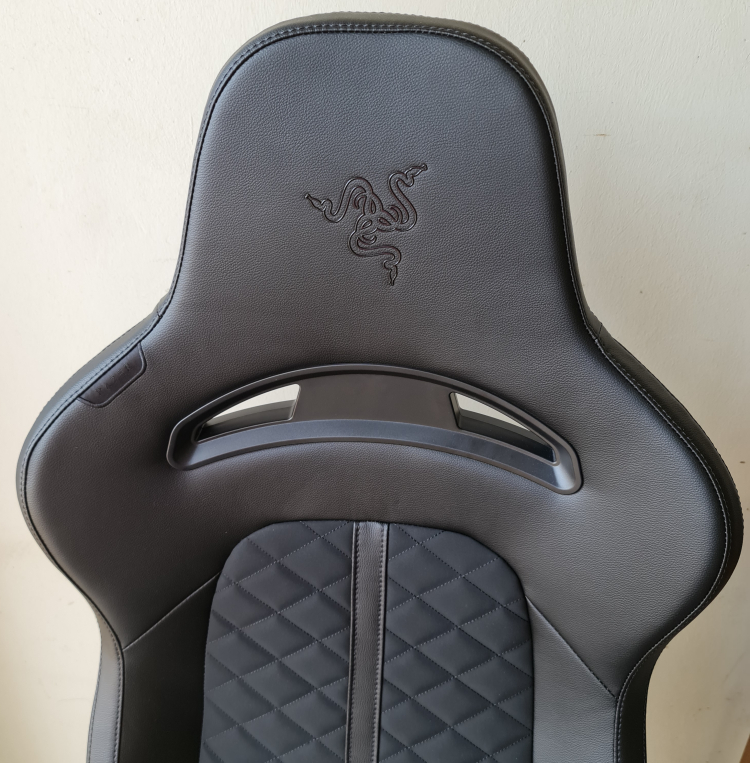 The wide arms provide good support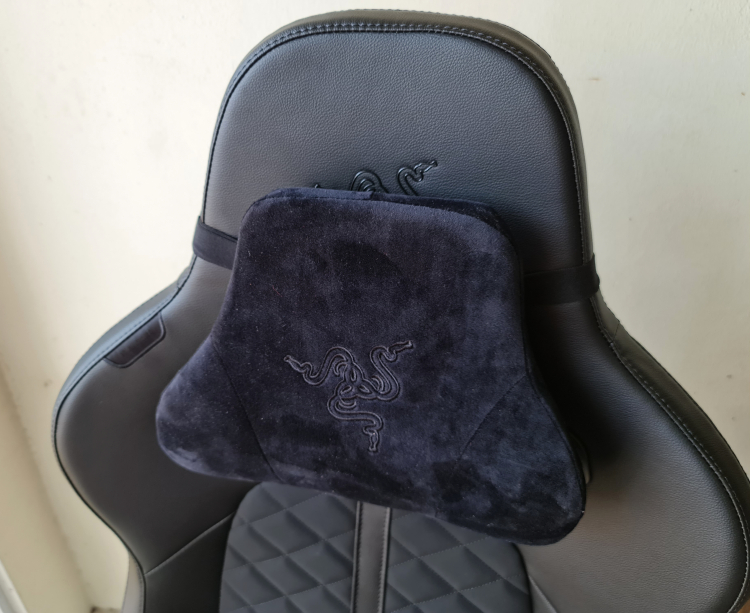 You can also attach the plush pillow for some extra head support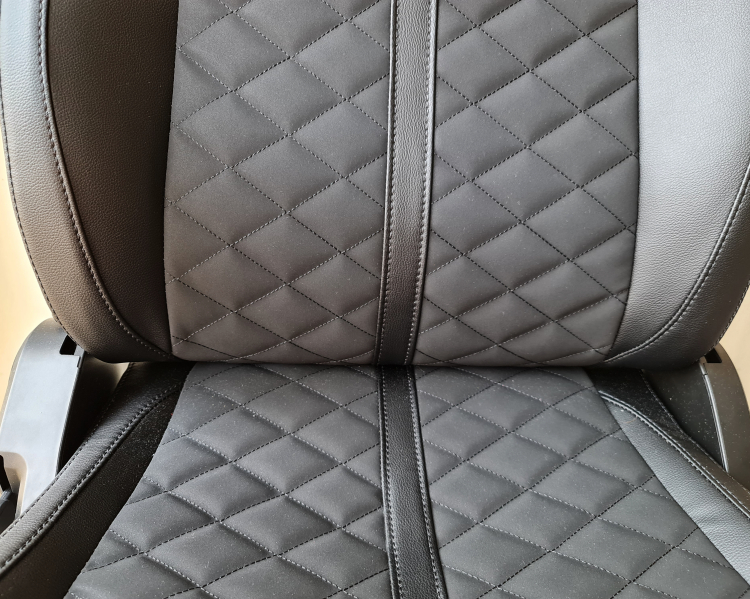 The EPU synthetic leather feels good while the diamond patterned material does well to absorb sweat while lumbar support keeps your back comfortable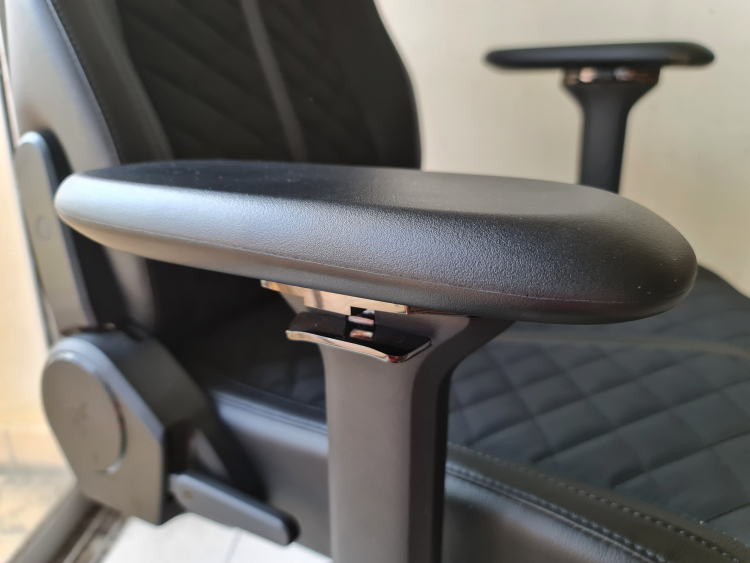 The arm rests for the Razer Enki are fully adjustable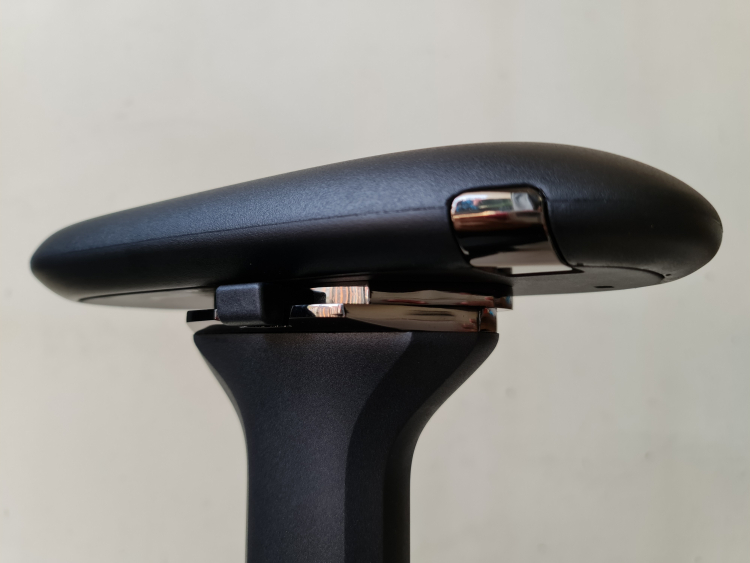 You can adjust the arm rests back, front, side to side and up or down
The 21-inch wide seat base is fairly comfortable for my big butt and there's enough space left over, so it's great for those gamers or people with slightly bigger than average backsides. I did notice that when leaning to the side, my extra stomach fat accidentally pressed the side adjustment button for the armrest, causing it to move out of place, but asides from that, the Enki Gaming chair should be big enough for all gamers and users.
Above all, the Razer Enki Gaming Chair is very comfortable to sit in over long periods of time. The EPU artificial leather does not get as hot as say a normal PU leather sofa, but your back does get hot from it after a while. Your back may also sweat after a marathon gaming session, but the diamond patterned fabric lined areas in the center does a great job of keeping that moisture contained. Mobile gaming might be a bit less comfortable though, as it seems to be designed more for the laptop or desktop user.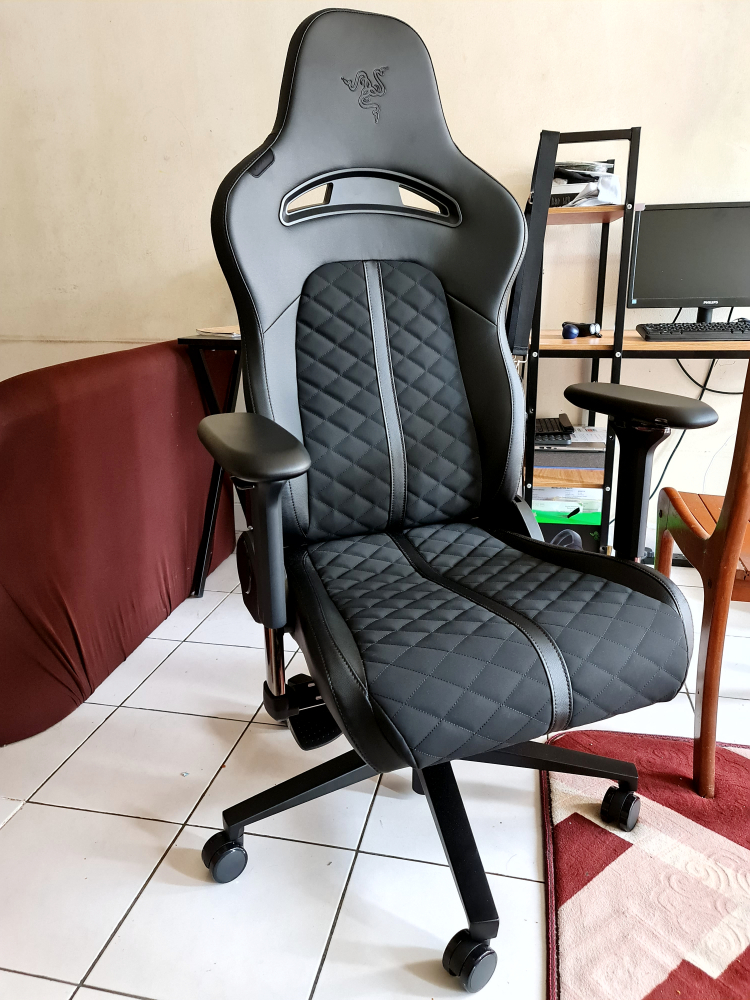 Plenty of space for a big sized gamer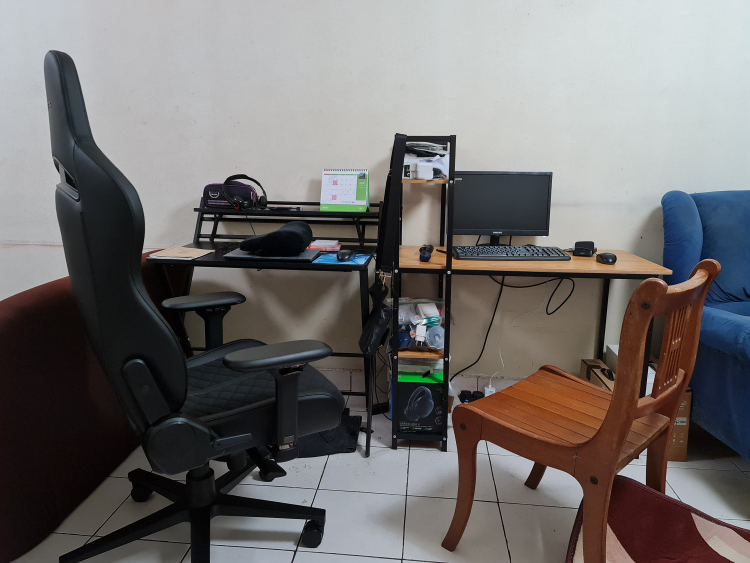 Here's how it looks like at my work desk
Testing it out for normal non-gamers, my wife said that there's plenty of support and it's great for long hours of work at the desk as much as it is for gaming. The wide seat base also means you can sit cross-legged or on the side too. However, at the price tag of $399.00 USD (~RM1656.25), it may be a bit on the high-end for casual users but if you're looking for a WFH (Work From Home) chair or replacement office chair with no budget constraints, then the Razer Enki Gaming chair is an excellent chair for you too.
At this price range you could probably get 2 or three high-end office chairs or several other gaming chairs but they won't necessarily guarantee the same level of long-term ergonomic support that the Razer Enki Gaming Chair might offer. It's certainly something to consider if your back aches a lot from long WFH or gaming marathon sessions so if you're thinking long term, then the Razer Enki Gaming Chair should definitely be on your consideration list.
Tech Specs and Features
These are the tech specs and features of the Razer Enki Gaming Chair:
Recommended weight: <136kg

Recommended height: 166.5 ~ 204cm

Chair cover material: EPU leather

Base: Aluminum

Frame: Steel

Armrests: 4D

Casters: 6cm caster wheel

Gas lift class: 4

Foam type: High Density PU Molded Foam

Total recline angle: 152 degrees

Measurements: 67 x 68 x 131 ~141cm | 24.1kg
Pros and Cons
Pros: Super comfortable premium ergonomic gaming chair for long gaming (or work) sessions, even for big people. Fully adjustable armrests.
Cons: Rather pricey. Some assembly required.
Summary: One of the better gaming or ergonomic work chairs out there.