Razer Kraken V3 HyperSense review - Immersive haptic HyperSense headphones for PC Gamers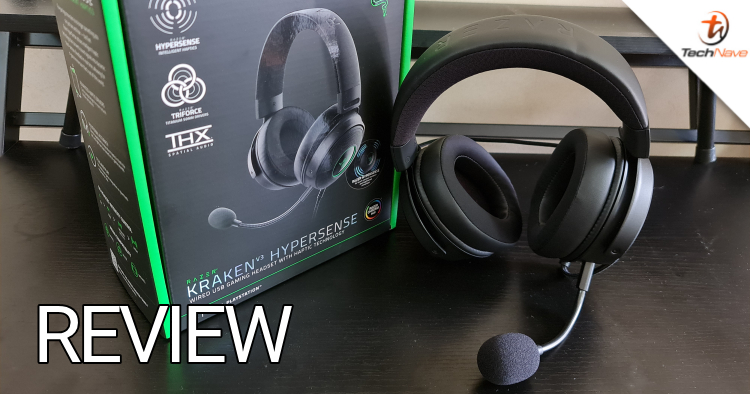 Really getting into a game is often called immersion and this is the reason why many gamers go for huge curved displays or even VR goggles. Having good audio that lets you hear the sounds of battle around you also helps make game immersion better, which is what the Razer Kraken V3 HyperSense is looking to take to another level with built-in haptic or HyperSense technology.
What it does is to basically vibrate your ears in tune with the sounds you hear. Will it deliver the gaming immersion you're hoping for? If you're interested in finding out then do read on for our full review of the Razer Kraken V3 HyperSense wired USB gaming headset with haptic technology.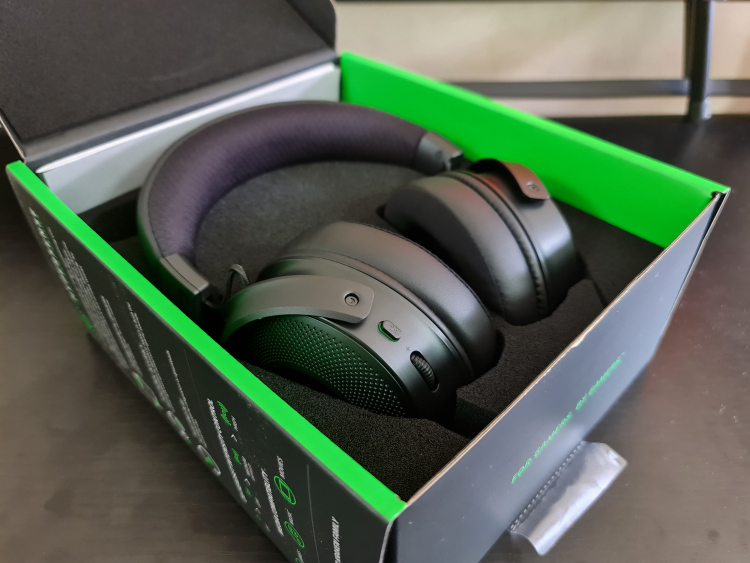 The Razer Kraken V3 HyperSense in the box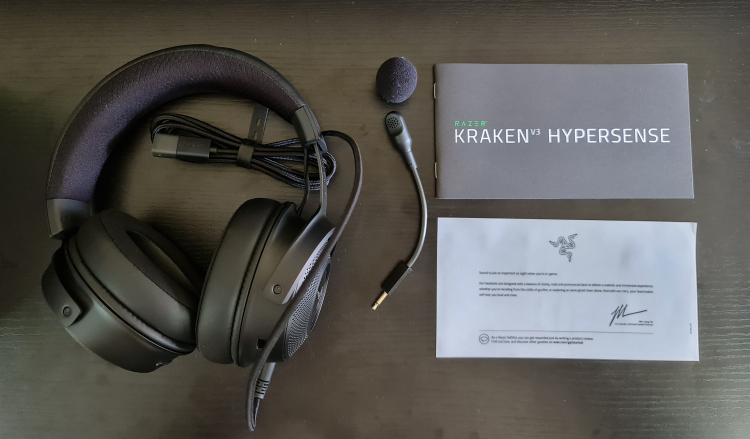 Here's all the stuff that's in the box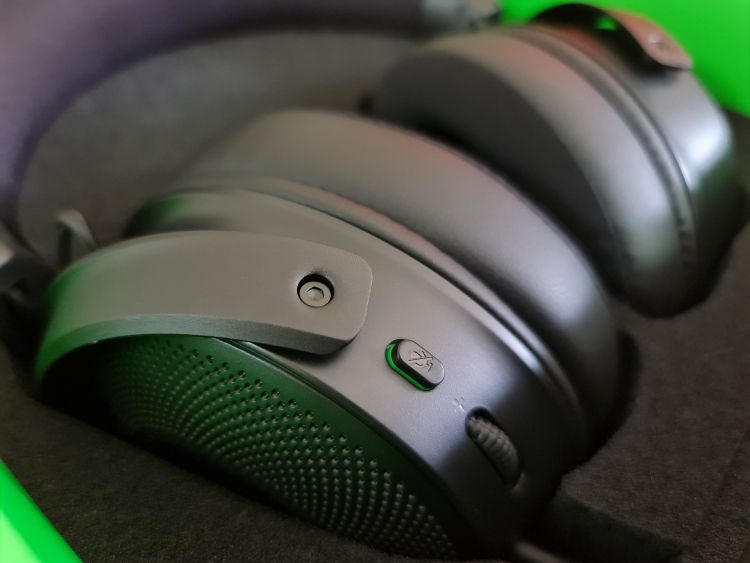 The mic and volume wheel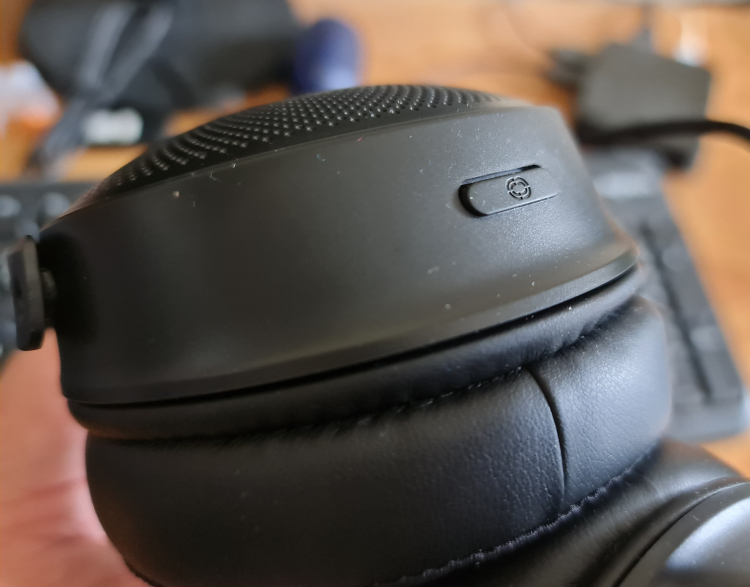 The HyperSense button
Looking much like a pair of premium headphones with a detachable microphone, the Kraken V3 HyperSense is big, bulky and wired to a USB Type A connector. The 5xmm drivers are covered by PU foam that are in turn covered by sweat absorbing neoprene material of some sort. The headband also has more of this sweat absorbing neoprene facing the head while on the outside it's mostly soft PU or artificial leather.
Controls are located on the side with a green button for the mic and a volume wheel on the left earpiece. Another button is located on the right earpiece to manually turn off or turn on the HyperSense function. On the sides of each earpiece are Razer logos encircled by colourful and controllable RGB Chroma LED strips. Overall, it feels good and premium but due to the 2m long USB Type A cable and bulky design, we expect that it isn't meant for portable use aside from laptops or desktop PCs.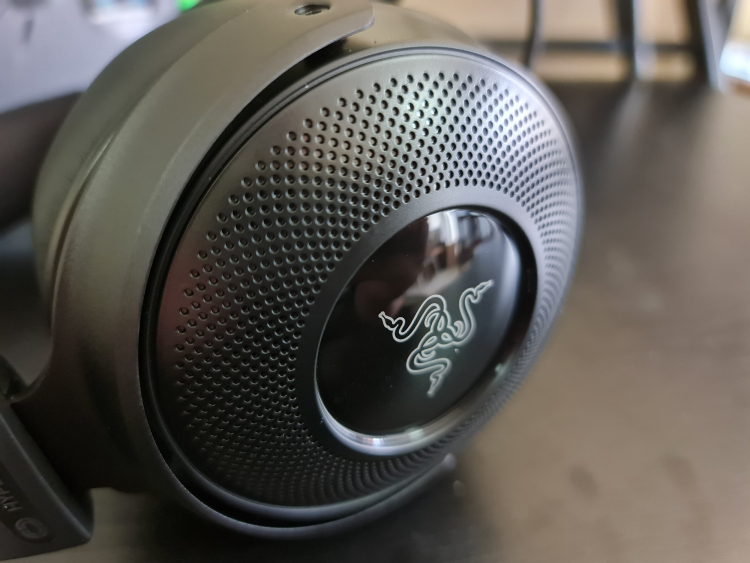 RGB Chroma lights are located on the sides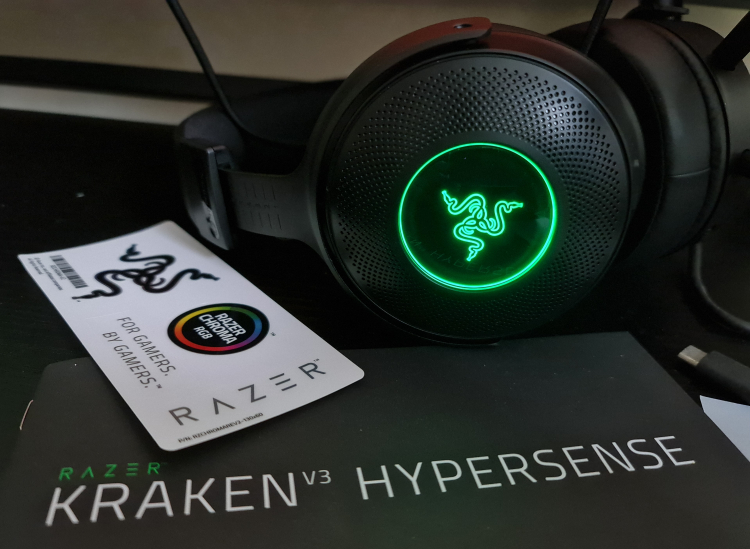 You can customize the colours after you install the Razer Synapse app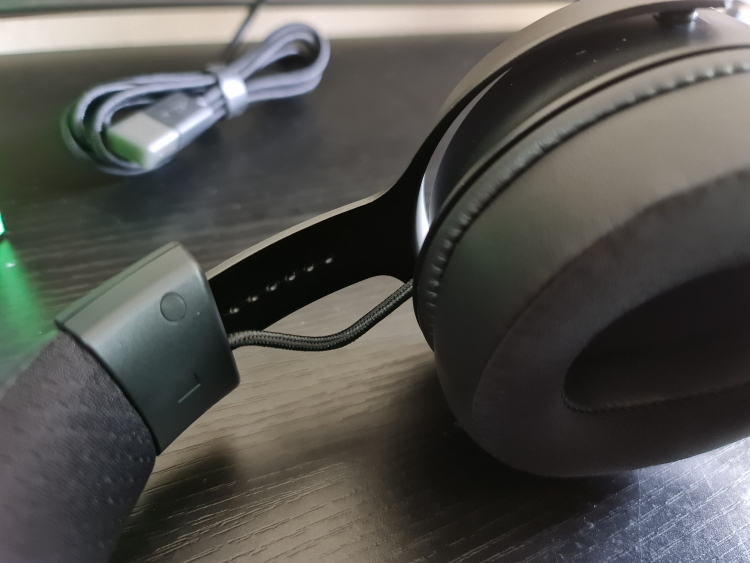 You can adjust the size accordingly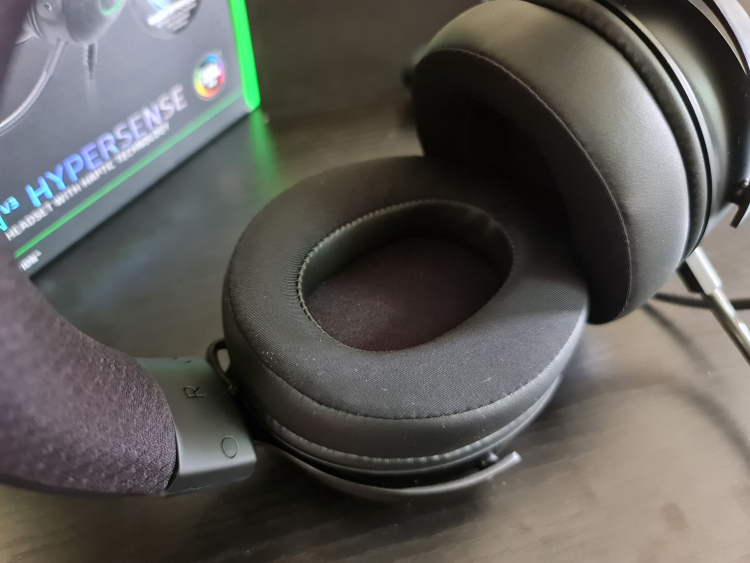 The cups are covered by sweat absorbing fabric while there's PU or artificial leather on the sides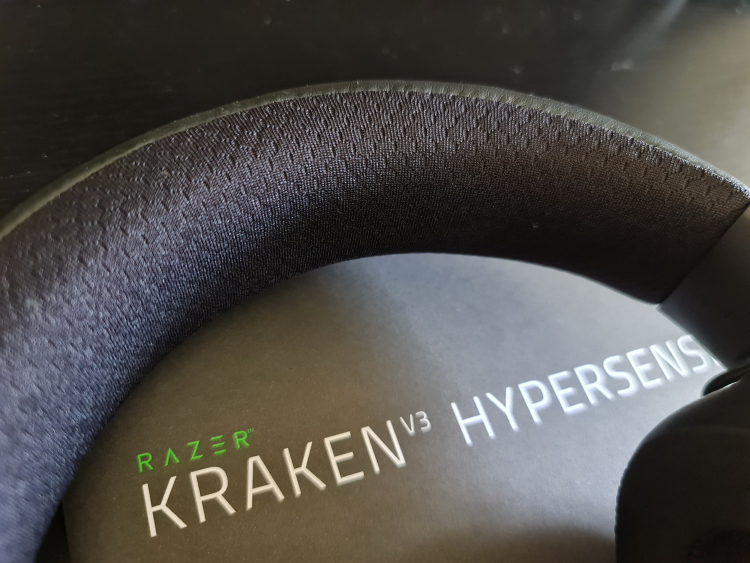 The padded fabric headrest makes for a comfortable fit
The microphone is detachable
Plugging in the Kraken V3 HyperSense into such a laptop results in a prompt to download their Razer Synapse app and more. Be aware that it's a pretty big download of about 426MB though, but once you sign up or sign in your Razer ID, you can pretty much leave it alone to install everything.
Once it's been installed you can then choose what colours or patterns the RGB Chroma LED on the outside of the earpieces will show. There's also audio equalizers and various profiles that you can set to customize the audio according to your needs. This includes the HyperSense haptic technology.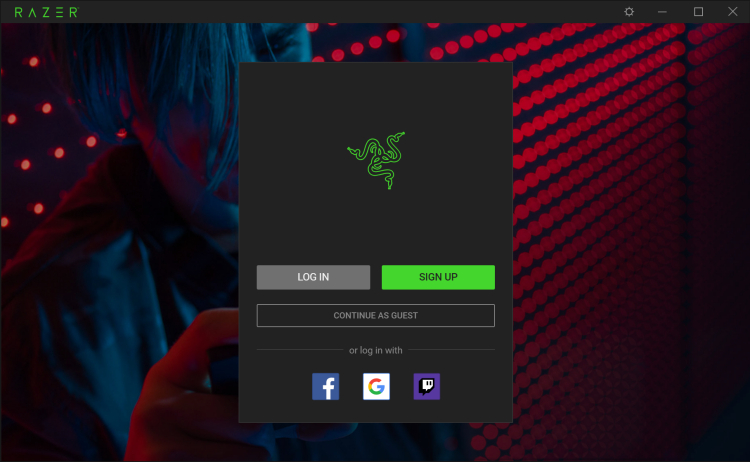 Everything downloads and installs the moment you plug in the Razer Kraken V3 HyperSense headphones and sign in
You can customize more than just the lights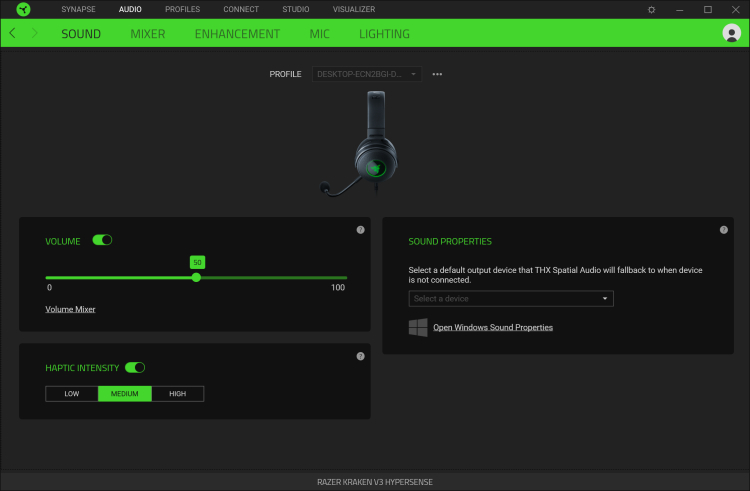 You can choose how strong the haptic vibration is
For those who don't know, Razer's HyperSense haptic technology basically vibrates in tune with the audio. What the haptic HyperSense does is almost like having a special power like Spiderman who can sense danger. The only difference here is that instead of a tingling SpiderSense, Razer's HyperSense vibrates stronger the louder (usually this means closer) the sound is in the game.
When used in games like First Person Shooters, this sort of immersion really helps to not only bring you deeper into the game but is actually useful, especially when you're sneaking behind enemy lines. It's not so useful for some other games like racing or strategy though but the microphone does provide clear speech between you and your teammates.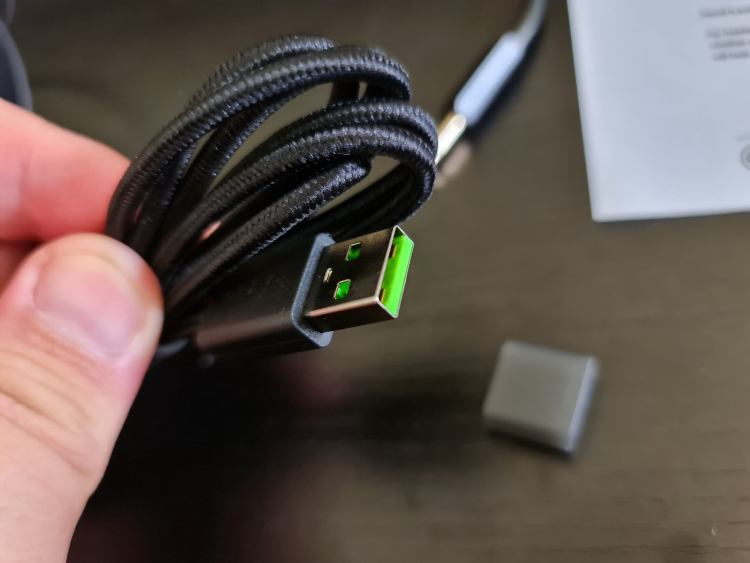 The 2 meter long cable can only connect to a USB Type A port
Once everything has been set up, audio performance is top notch, with full bodied sound that is clearly distinguishable between each individual instrument or voice. This applies for both games and music but you can turn off HyperSense by either pressing the button on the right earpiece or via the Synapse app if you don't want to have your ears vibrate as you listen to music. It's certainly a novel experience on techno tracks like Escape (ft. Summer Haze) which is like getting a Beat Saber massage for your ears.
Audio performance outside of the PC (it also works for Macs but we didn't test that), like on mobiles or others is somewhat hollow. It does improve a bit if you raise the volume but without Razer Synapse installed, you lose out on the richness of the audio, the colour RGB controls and the HyperSense haptic feedback. The mic also still works but again, it's not very good without the Razer Synapse settings.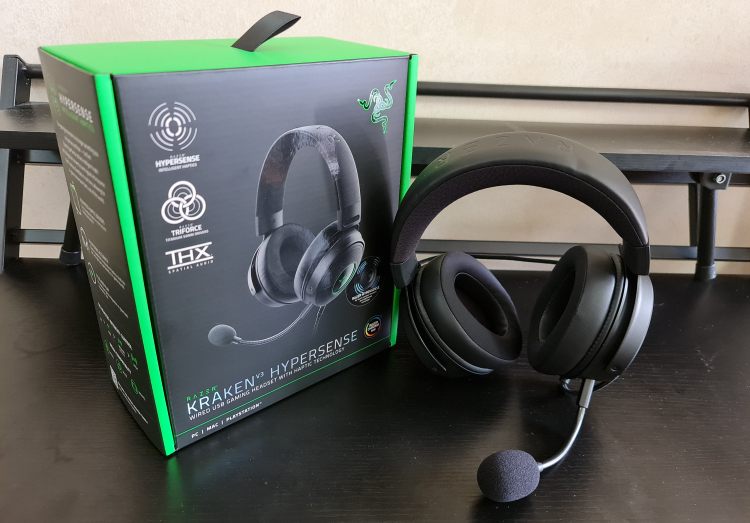 Overall, the Razer Kraken V3 HyperSense are some unique looking headphones that we think would look great on any game streamer, especially if you like oscillating RGB Chroma lights that you can customize. The haptic HyperSense feature certainly does help raise the immersion but only really helps in certain types of games like FPS shooters, an atmospheric adventure game or perhaps even Genshin Impact, and even then, only for PC (or Mac) gamers.
This makes the Razer Kraken V3 HyperSense a very niche device that would likely please most PC FPS specialist game streamers but at $129.99 (~RM544) it is a bit pricey for the rest of us. What do you think? Would the Razer Kraken V3 HyperSense be perfect for what you do? Let us know on our Facebook page and stay tuned to TechNave.com for more tech reviews.
Tech specs and features
These are the tech specs and features for the Razer Kraken V3 HyperSense:
Frequency response: 20Hz - 20kHz

Impedance: 1kHz

Sensitivity:96 dB SPL/mW @ 1kHz

Drivers: Customizes Dynamic 50mm Driver

Inner ear cup diameter: 62 x 42mm

Connection Type: USB Type A

Cable length: 2m
Pros and Cons
Pros: Brings useful haptic immersion to another level. Great audio. Customizable Chroma RGB
Cons: Just for PC gamers and only certain types of games (FPS, etc.). Pricey.
Summary: Razer's Haptic HyperSense headphones vibrate in tune for the PC Gamer specialist