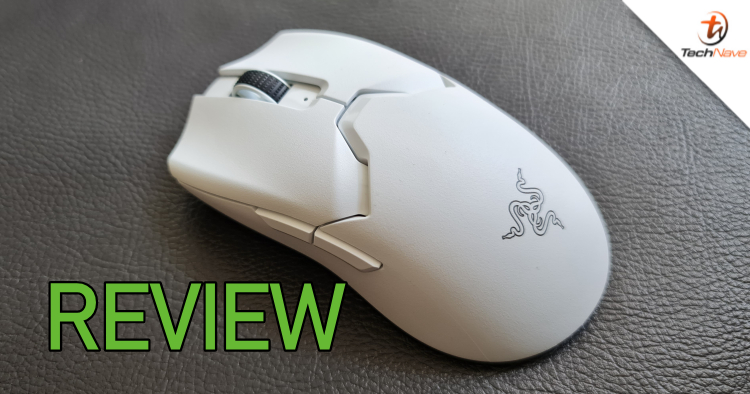 Gaming mice are major tools of the trade for gamers, so it's small wonder that many gamers are passionate about their gaming mice. One of the major debates going on are those who want the lightest gaming mouse possible while some others want heavier mice.
It does stand to reason though, that a lighter mouse wouldn't be so heavy or likely to cause long-term fatigue for a long-term battle or major battle against another seasoned gamer. For those types of gamers, Razer has come out with their Razer Viper V2 Pro gaming mouse, which at 58g is the lightest gaming mouse we've seen so far. Check out our review of the Razer Viper V2 Pro gaming mouse to find out more.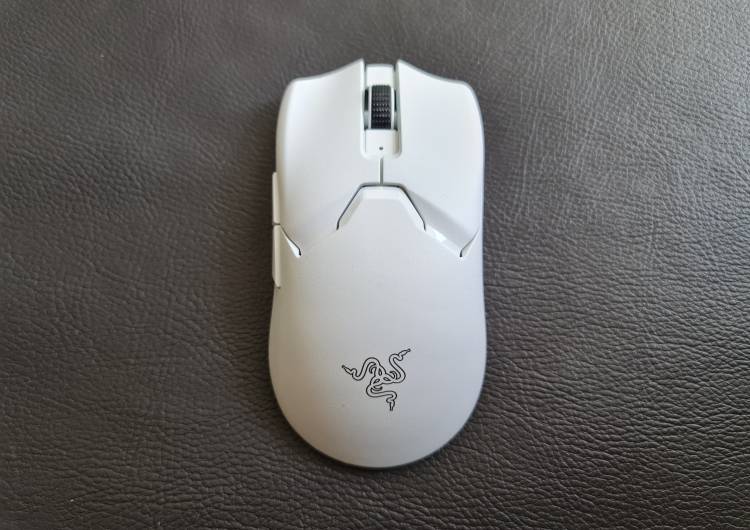 Top view of the Razer Viper V2 Pro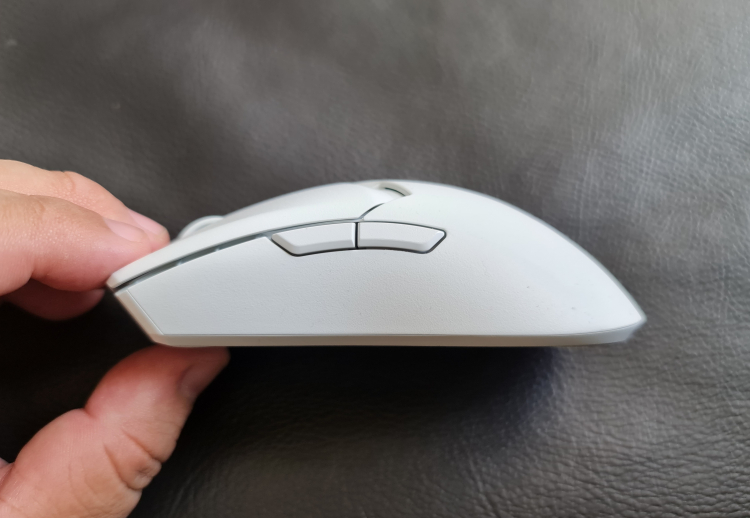 Customizable buttons on the left side make this a gaming mouse for right-handed gamers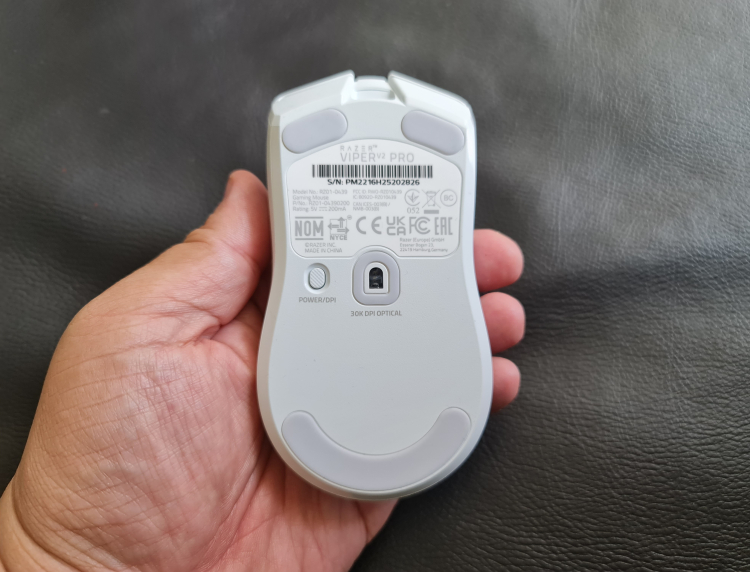 On the bottom there's the 30K DPI Optical sensor and power/DPI button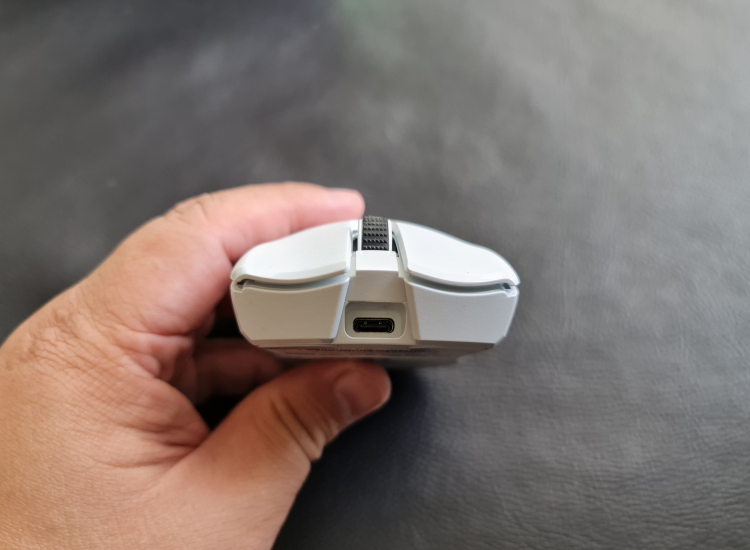 There's a USB Type C port on the front for the cable, but the mouse itself can be charged for Razer Hyperspeed 2.4Ghz wireless connectivity
At first glance, the Razer Viper V2 Pro goes for a lightweight plastic body with a sort of paper like texture (perhaps for better grip?). Like most gaming mice, it has a slightly longer, sleeker body with the standard left and mouse buttons and a scroll wheel in the middle. A Razer logo is printed on the body and there appears to be no signs of any RGB underneath it at all.
On the bottom of the mouse, there's a 30K DPI optical sensor along with a power / DPI settings button. The bottom seems to be pretty standard and the mouse slides along on most surfaces with ease. On the front, there's a USB Type C port for the cable while on the left side, there are 2 customizable buttons (making this not so friendly for lefties).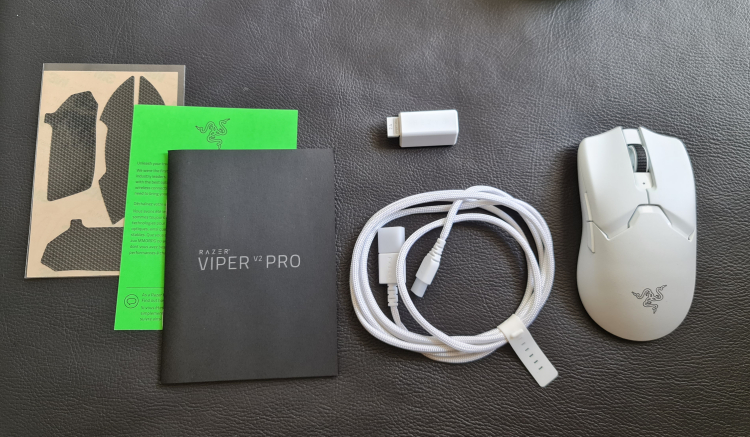 In the box there's the grip stickers, manual and documentation, adapter, USB Type A to USB Type C cable and the Razer Viper V2 Pro gaming mouse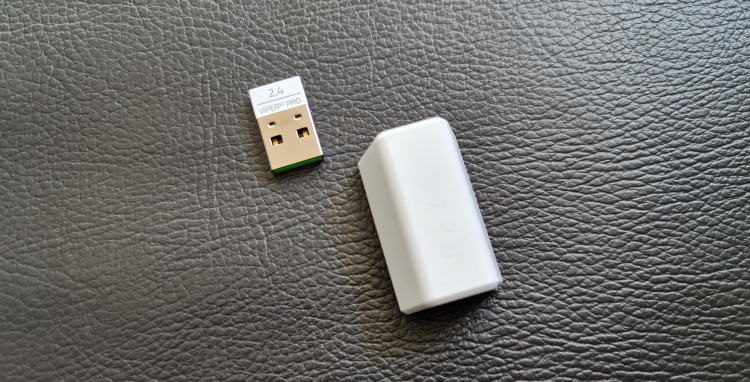 The adapter actually hides the Hyperspeed 2.4Ghz wireless dongle but the adapter itself can be used as an OTG adapter
In the box, the Razer Viper V2 Pro comes along with the manuals and other documentation along with a USB Type C to USB Type A / 2.4Ghz wireless adapter. There's also black grip stickers included if you need a bit more of a grip on the sides and back.
In terms of performance, the Razer Viper V2 Pro is both responsive and accurate, but it isn't so light that it could fly out of my hand accidentally. Nor does it feel like a toy, like some other lightweight mice tend to feel like. It's definitely lighter than my usual Razer Pro Click Mini which weighs in at 65g.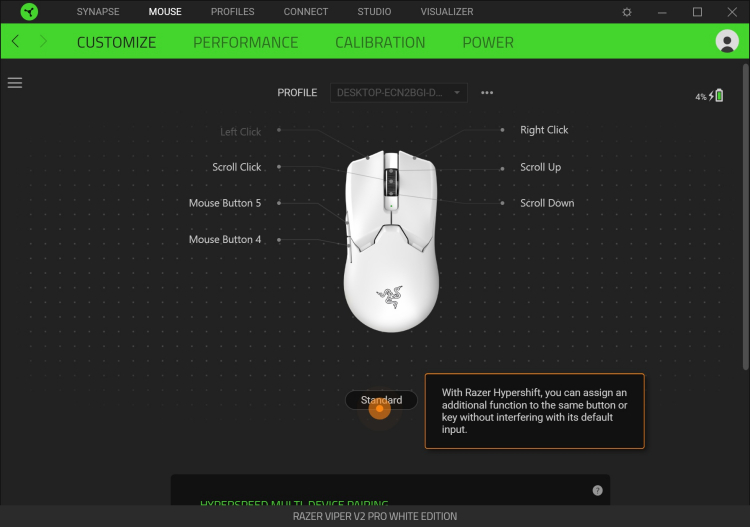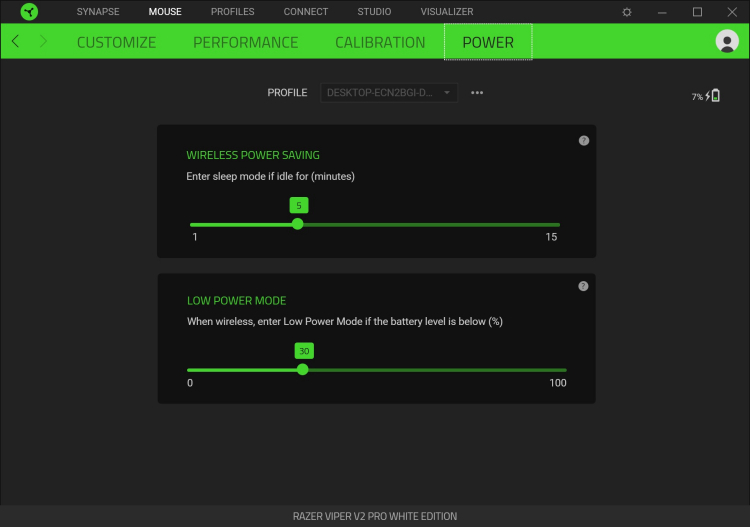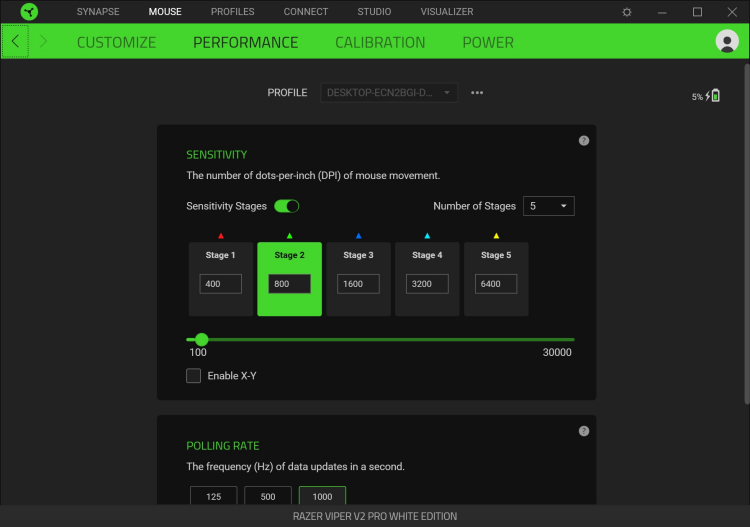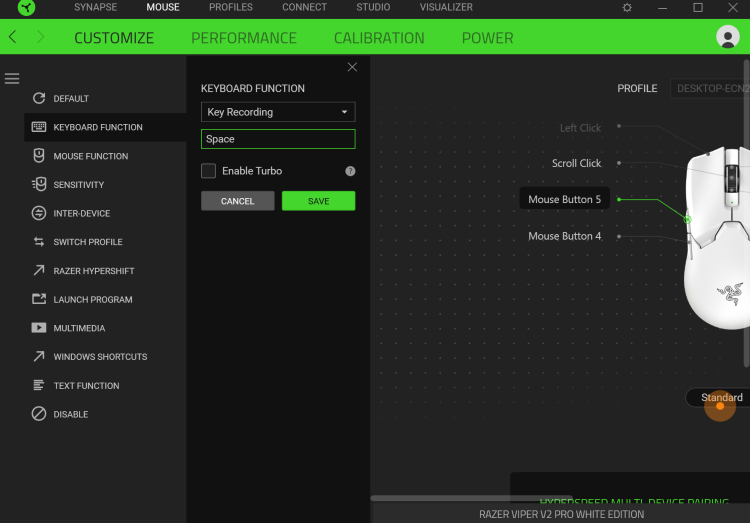 You can customize the buttons in the Razer Synapse program
Once you plug the Razer Viper V2 Pro into a PC and install Razer Synapse, you can customize the keys on the side and play around with the mouse button customization a bit. However, since there's no built-in RGB the Viper V2 Pro will always be the colour it came in (ours is white, but there's also a black coloured variant as well). The buttons are powered by Razer Optical Mouse Switches Gen-3 and are nicely clicky and responsive.
Playing games with the Viper V2 Pro gives a feeling of light mobility, especially if you're more used to heavier gaming mice, and this does take some getting used to. Trying it out for a long marathon gaming session shows that it does reduce the fatigue somewhat compared to a heavier gaming mouse but you'd have to be a serious gamer (or a reviewer watching for the weight) to actually notice.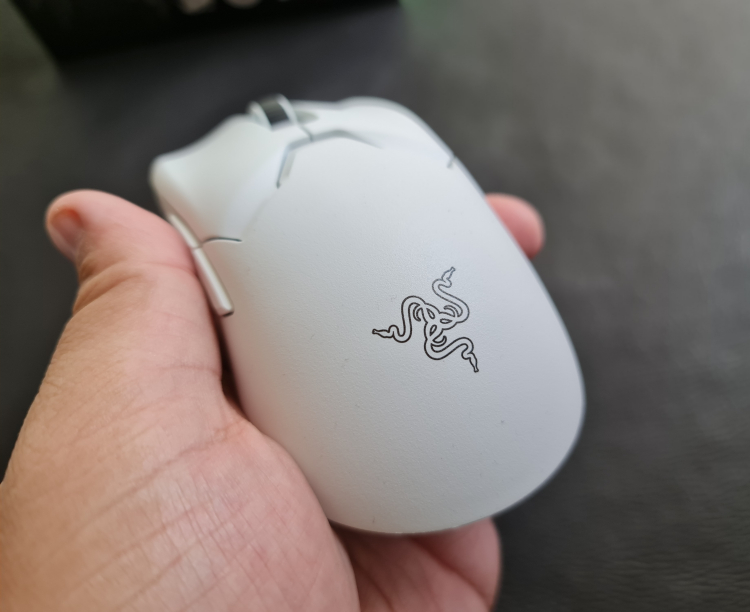 There's no RGB here to cut down on weight
Trying out the mouse on different surfaces shows that it can play on glass with little to no loss of accuracy. However, while you can charge the mouse and use the 2.4Ghz Razer Hyperspeed wireless connectivity, there may be some lag. Again, it's something only a serious gamer (or a reviewer watching for it) would notice. I also noticed that perhaps due to the lightness of the mouse, I could feel every little bit of dust or minute bumps from the surface the mouse is on so do make sure your mat is clean.
Overall, the Razer Viper V2 Pro is another niche gaming device for those gamers who want a lighter gaming mouse. If you're into heavier gaming mice, it probably won't convert you to the lighter side and it's likely not very useful for non-gamer users unless you have very weak wrists or hands.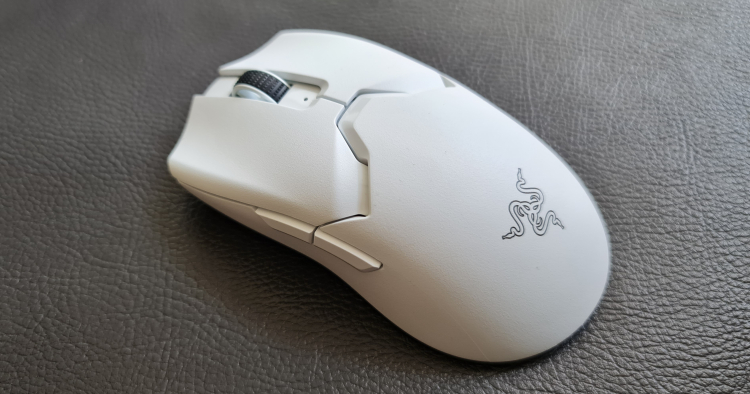 Do you need a 58g gaming mouse?
Quite obviously, it works better for PC gamers due to Razer Synapse, but you will have to make do with the lack of RGB lighting. So, if you wanted your entire rig to glow in tune with the Razer Chroma like most game streamers, you might also want to give the Viper V2 Pro a pass as well.
At $149.99 USD (~RM660) it is quite pricey, but the Razer Viper V2 Pro is the only lightweight gaming mouse of its kind we've seen so far, so there's not many other contenders. If you're one of those niche gamers looking for a lighter gaming mouse but don't mind sacrificing the RGB bells and whistles, then the Viper V2 Pro gaming mouse could be the one for you.
What do you think? Would you be interested in the Razer Viper V2 Pro or do you have something to say about ultra-light gaming mice? Let us know on our Facebook page and stay tuned to TechNave.com
Tech Specs and features
These are the tech specs and features for the Razer Viper V2 Pro gaming mouse:
Right-handed Symmetrical

Razer HyperSpeed Wireless

Wired - Speedflex cable

Up to 80 hours battery life (@ constant motion of 1000Hz)

Focus Pro 30K Optical Sensor

30000 Max Sensitivity (DPI)

750 Max Speed (IPS)

70 Max Acceleration (G)

5 programmable buttons

Razer Optical Mouse Switches Gen-3

90-million click lifecycle

1 On-board memory profiles

100% PTFE Mouse Feet

measures 126.7mm x 57.6mm x 37.8mm

weighs 58g

Available in Black and White
Pros and cons
Pros - One of the lightest gaming mice around. Supports both wireless and wired.
Cons - No RGB support. Pricey. Mostly for PC gamers only.
Summary - The lightest no-frills gaming mouse for right-handed PC gamers you can buy