Redmi Note 9S review - Staying true to its roots
Xiaomi Malaysia launched the middle child of the Redmi Note 9 series, the Redmi Note 9S, back in March. In an increasingly competitive market for mid-tier smartphones, what makes this particular phone stand out from the seemingly endless choices in that category? Does its low price make it sufficient to beat its competitors? Let's find out in our review below.
Design - Very shiny, definitely a head-turner
So first, let's look at its exterior. The body of the Redmi Note 9S is sandwiched between two Corning Gorilla Glass 5 panels at the front and back. The solid build quality is immediately felt when I hold the phone and it doesn't feel cheap like some of the other phones in this price range.
Its back panel features a very reflective and shiny surface. In fact, I would say I can even use it like a mirror even with the Aurora Blue-coloured version. Of course, a shiny surface also means that it is an instant magnet for your oily fingerprints so you should probably equip the included casing as soon as you take your Redmi Note 9S out of the box.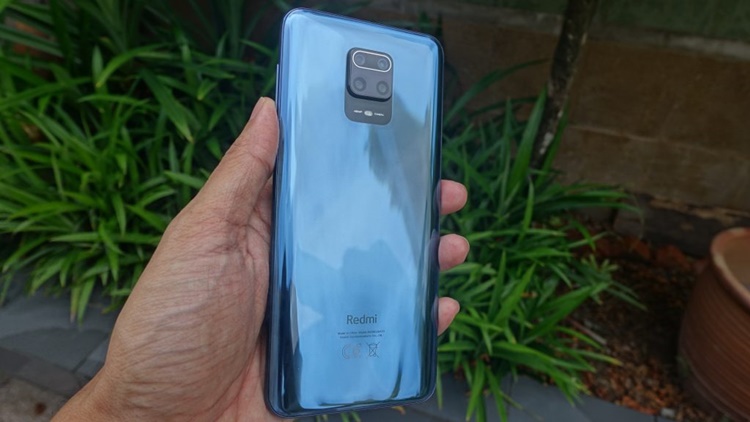 A mirror-ish reflection on the back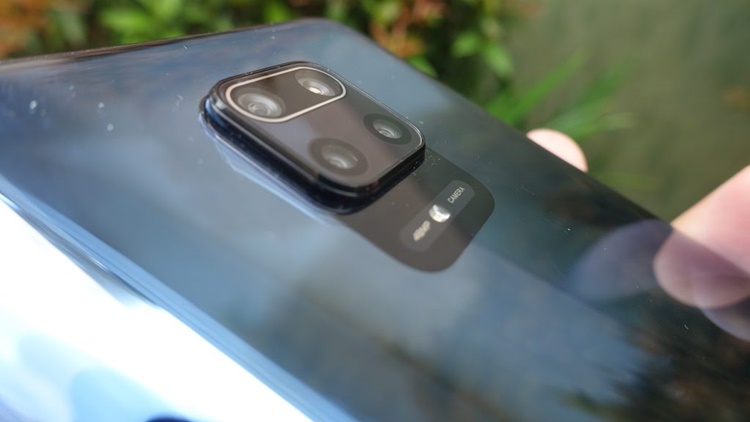 There is also a camera bump that is quite thick which houses the quad-camera setup that I will elaborate on later in this review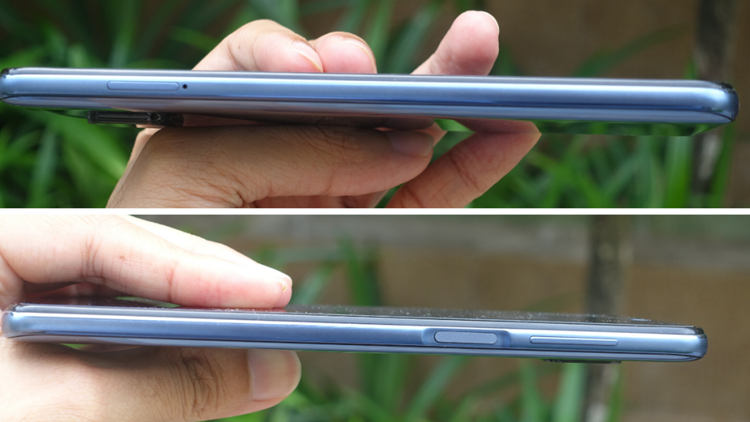 On the right side is the volume rocker and a power button that also acts as a fingerprint sensor, while on the left, there is a tray for the dual SIM and microSD cards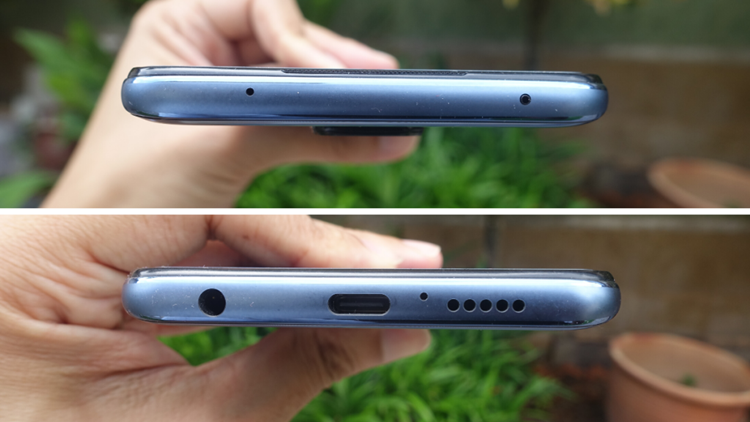 At the bottom, you have your standard ports for mid-range phones which are USB Type-C and 3.5mm audio jack. Interestingly, an infrared (IR) blaster is present at the top, which I highly appreciate since that feature is not common among phones at this price point. For those of you who are not familiar with the IR blaster, it enables your phone to function as a remote control for many electronic appliances such as television, air conditioning and so much more.
The Redmi Note 9S's screen is a 6.67-inch DotDisplay with a Full HD+ resolution which is 2400 x 1080 pixels. At the top centre of the screen is a punch hole that features the 16MP selfie camera. I have to say that I prefer this front camera design rather than the bothersome notch as this allows the screen of the phone to be practically bezel-less, with a high body-to-screen ratio of 91%.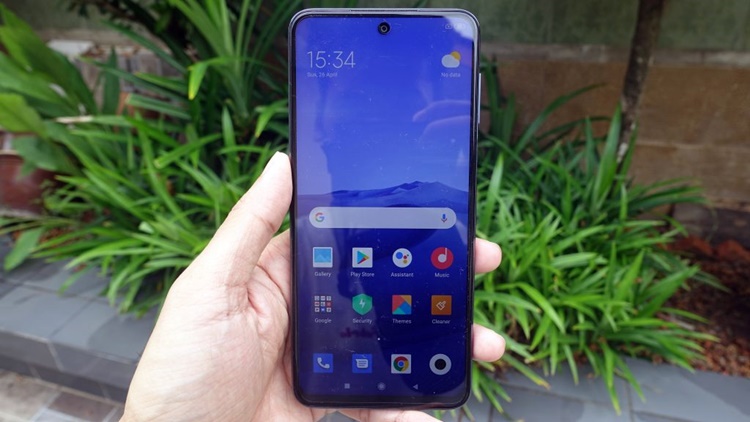 Welp, gotta get used to the dot
Tech Specs and Features - A new chipset and that huge battery
Below is the full tech specs and features list for the Redmi Note 9S:
Snapdragon 720G chipset
4GB RAM + 64GB storage or 6GB RAM + 128GB storage
DotDisplay screen with a 6.67-inch screen and Full HD+ resolution (2400 x 1080)
48MP main camera, 8MP ultra-wide camera, 5MP macro camera, 2MP depth sensor
16MP selfie camera
5,020mAh battery with 18W fast charging
MIUI 11 based on Android 10
Fingerprint sensor, IR blaster, 3.5mm audio jack
The Redmi Note 9S is powered by a Snapdragon 720G chipset, which is the first Redmi Note phone to be powered by this chipset and among the earliest in the smartphone industry. The newly-launched Snapdragon 720G is a chipset that is designed for increased performance during gaming and multimedia consumption while increasing the efficiency of battery's usage.
Just like other mid-tier phones nowadays, the Redmi Note 9S is equipped with a four-camera rear setup, consisting of a 48MP main camera, 8MP ultra-wide camera, 5MP macro-camera and 2MP depth sensor, while the front is a 16MP selfie camera that comes with AI technology.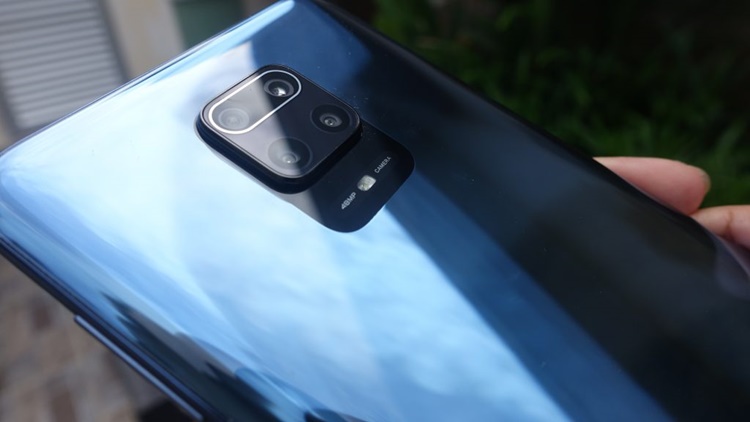 The top row is the 8MP ultra-wide camera (left) and the 48MP main camera (right), whereas at the bottom row are the 5MP macro camera (right) and the 2MP depth sensor (left)
Perhaps one of the most stand-out features of the phone is its big battery which has a capacity of 5,020mAh. Otherwise, its 18W fast charging is pretty normal and nothing to brag about for a mid-tier device. A full charge from 5% took me more than an-hour-and-a-half, which is alright.
The side-mounted fingerprint sensor is incredibly fast, I would argue that its responsiveness matches that of other flagship smartphones. On the other hand, the DotDisplay screen displays nice images when I watch my videos or play mobile games. Even though it has a standard refresh rate of 60Hz, it's smooth enough to be used for your regular apps.
Performance - More focus on gaming than photography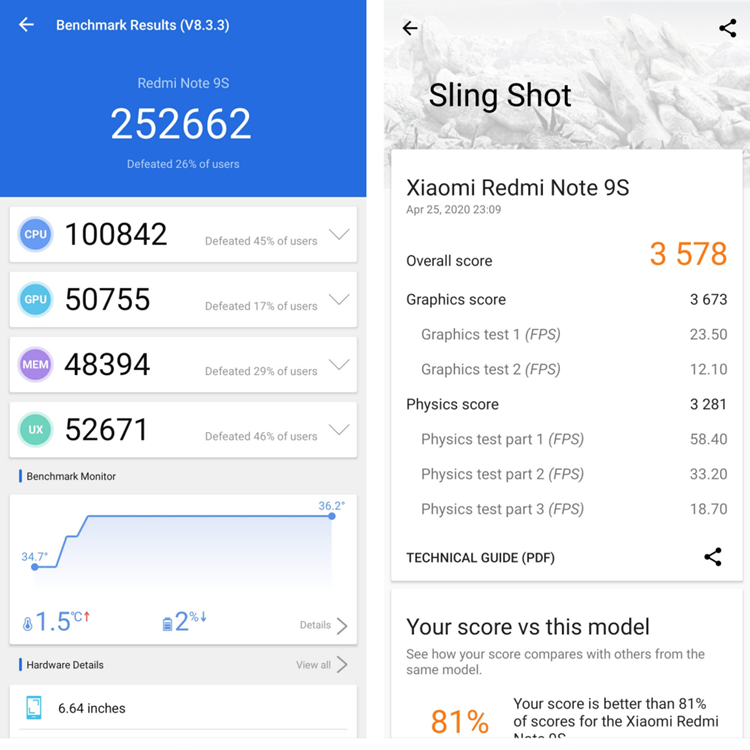 The AnTuTu (left) and 3DMark (right) score
Before I dive in further with my experience of using this phone, let me present the results of some benchmark tests I have done on it. The Redmi Note 9S scored 252662 in the AnTuTu Benchmark and got a score of 3578 in the 3D Mark Sling Shot test.
For a mid-tier device, those are more than average scores, so how does it translate to daily real-world usage? As soon as you turn the Redmi Note 9S on, you will be impressed with the minimalist features within the MIUI 11 operating system. Any swiping is smooth and app launches happen instantaneously. However, when I open several applications at the same time, the performance becomes noticeably slow and it does lag quite a bit.
In other features' performance, the image quality displayed from the DotDisplay is beautiful and colourful, even though it's not as bright as flagship screens. If you view it under direct sunlight, you won't see much as the brightness is not high enough to combat the glaring reflection of the sun. The speakers produce clear audio but it is not very loud. It's fine if you want to jam out to your favourite songs in your bedroom but if you want to use it as a music player during a house party, you'd be better off with an external speaker.
Pew pew
How about the gaming experience? I am happy to report that I am very satisfied with the gaming performance on the Redmi Note 9S. I played several graphic-intensive mobile games such as PUBG Mobile, COD: Mobile, Asphalt 9 and Mortal Kombat which I did not experience any drop in frame rate even during hour-long gaming sessions. Even though I could feel the phone becoming warmer during these long gaming sessions, it never became distractingly hot.
Considering this phone has no notable cooling technology, I would say that the chipset is doing well in managing the phone's thermal output. Combined with the 5,020mAh battery, I could play games for a long time without sacrificing a huge chunk of the battery life. In fact, with a full charge and regular usage, I was able to use my Redmi Note 9S for two full
days, including some sparse gaming sessions throughout.
Photography-wise, Redmi Note 9S can take good-looking photos in most situations. Below are some examples of photos taken using the 48MP main camera: I also grew fond of the 5MP macro camera that allowed me to take detailed pictures of close-up subjects. The fine details are clearly shown in bright colours. Below are examples of macro shots: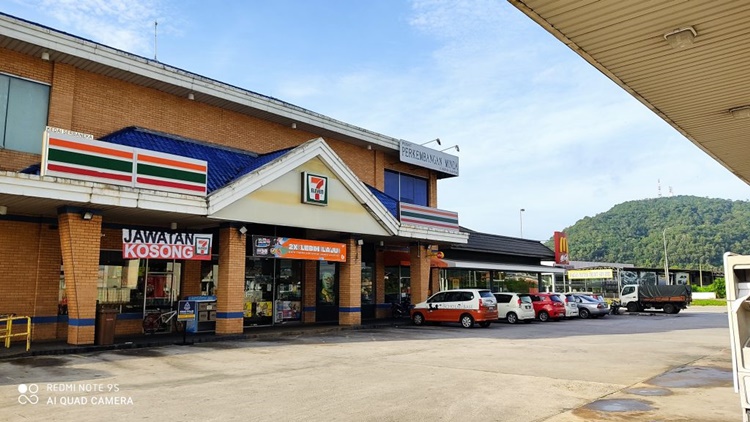 The resulting colour looks clear and beautiful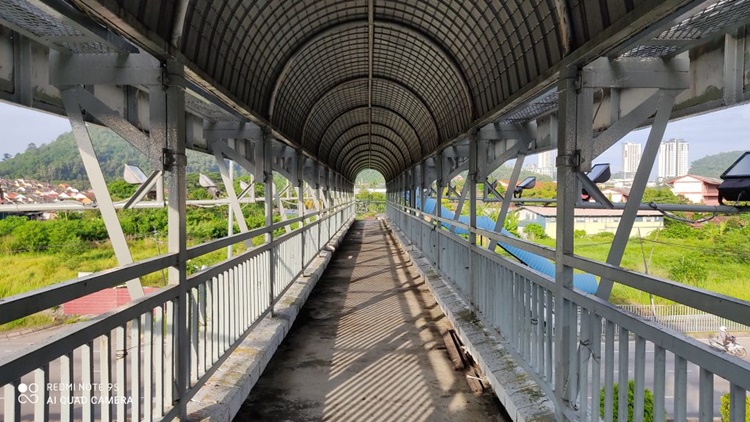 The dynamic range is not too bad on this phone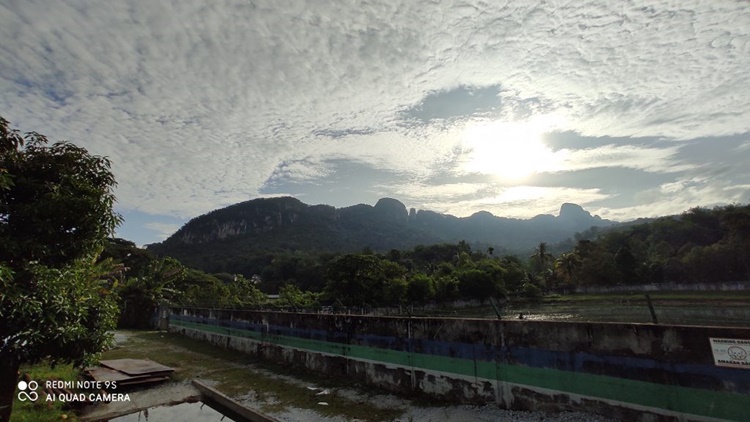 Successfully obtained the entire silhouette of the hill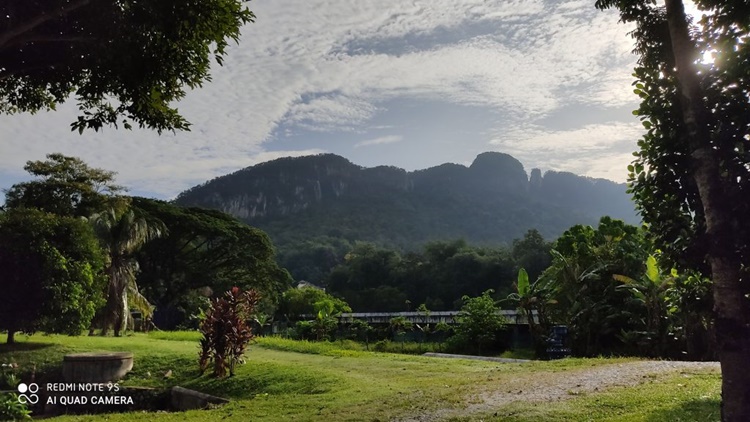 Despite the backlit, the picture of Bukit Tabur is still beautiful and not too glaring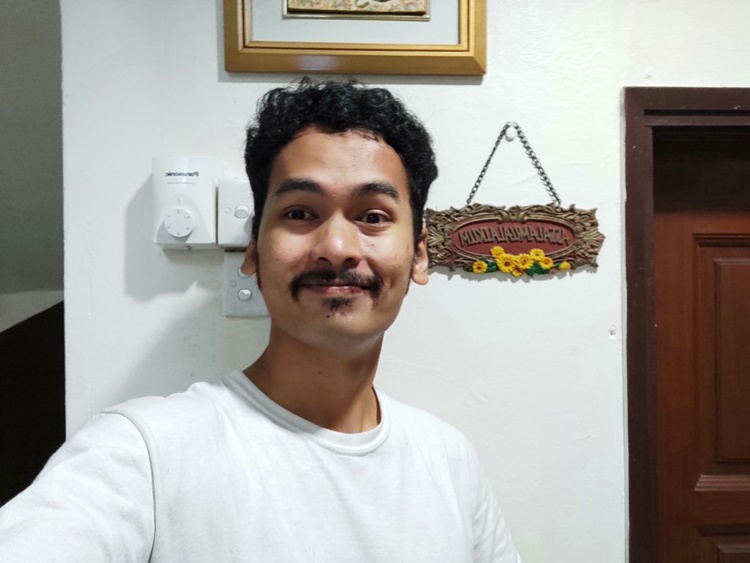 A selfie photo, it as Beauty Mode turned on by default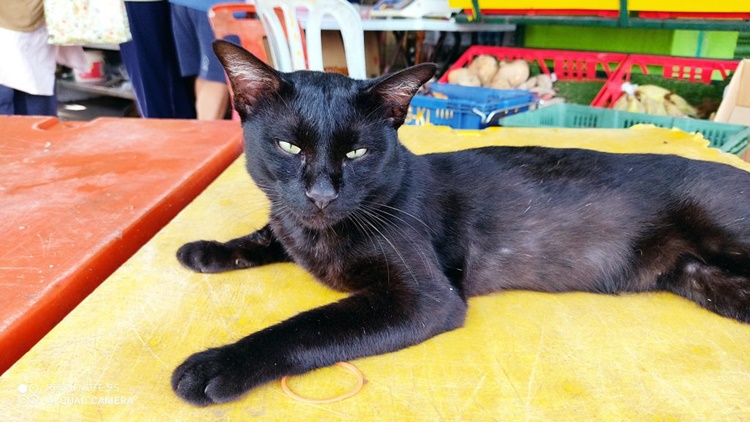 Macro shot - the cat's fur is clearly visible
Macro shot is not degrading the colour contrast so that's good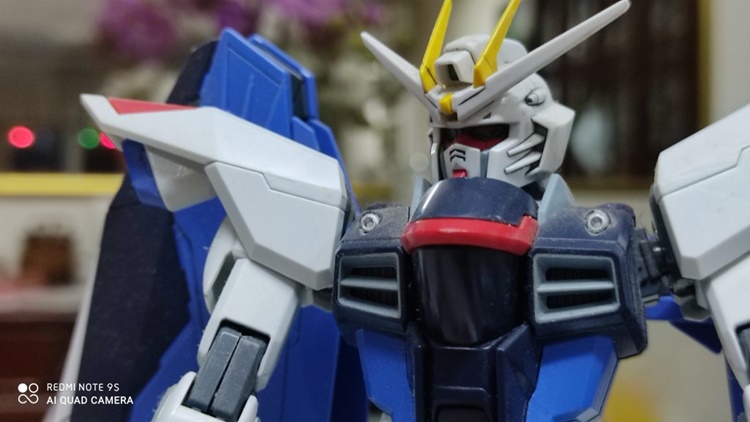 You can see the dust collected on this Gundam (ew lol - other admin)
A little distortion can be seen on the lamp posts while shooting in ultrawide mode, this depends on your distance between the subject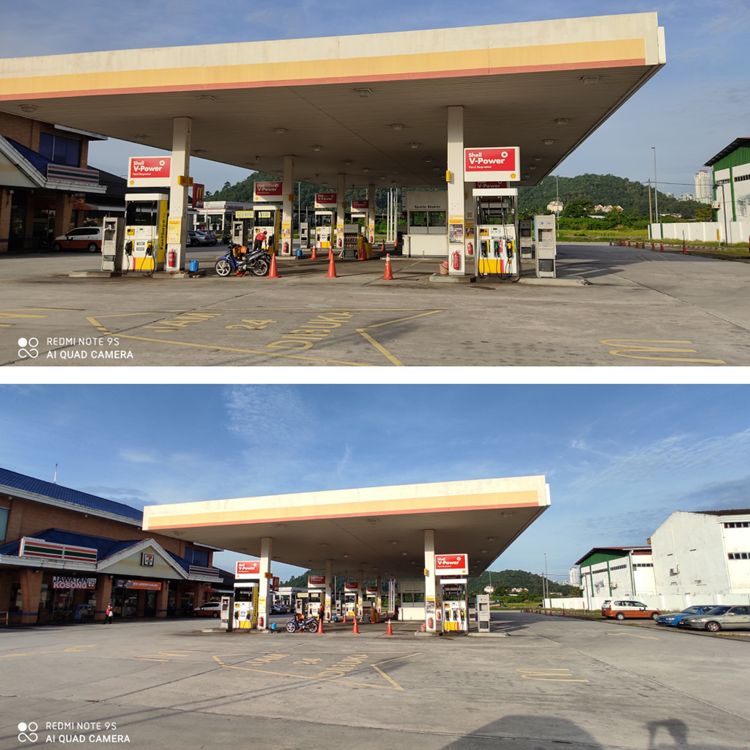 Comparison between the main camera (top) and ultrawide camera (bottom)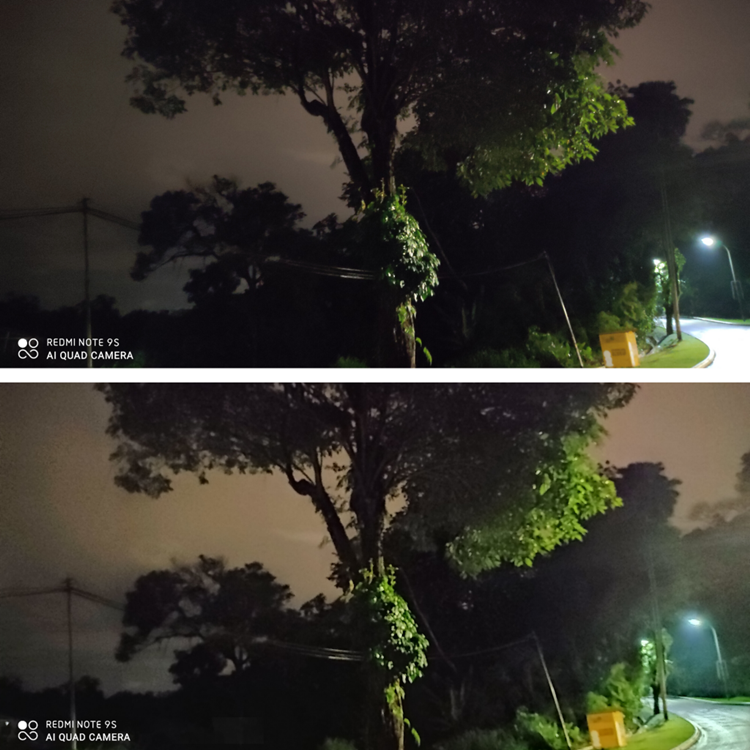 Comparison between the main camera (top) and Night Mode (bottom). Even though Night Mode is a lot brighter, its quality is not so convincing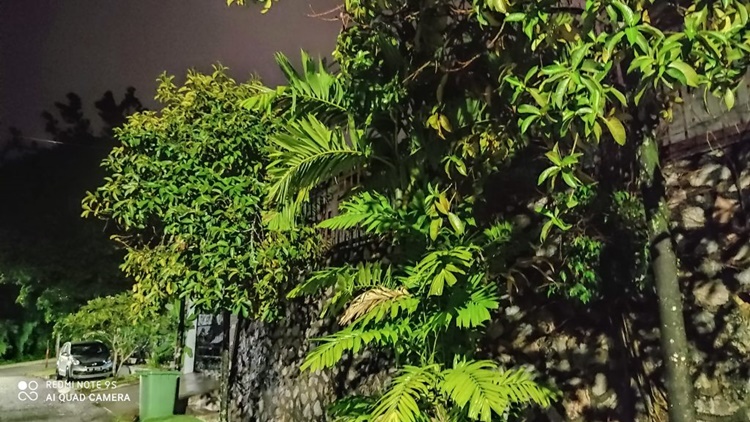 However, it's not bad if you have enough light sources but that defeats the purpose of Night Mode
All in all, it is a great camera to be used under sunlight or very bright lighting. Unfortunately, its low-light photography is not as great. The photos are clearly riddled with noise even when taken with Night Mode. If clear low-light shots are what you are looking for in a phone, you won't find it with the Redmi Note 9S. On top of that, the 8MP ultra-wide camera is fun to use too, even though some unwelcome distortion artefacts may appear in your pictures. Still, most of my photos were produced beautifully.
As for video recording, the Redmi Note 9S can record up to 4K at 30 frames per second. The video quality is good, but its low-light performance suffers just like its photography counterpart as the video becomes blurry without enough light. You also have to note that the phone does not have any image stabilisation so in any video, you record when you are walking, expect some significant vibrations or shake. Below is a sample footage from the Redmi Note 9S:
Conclusion - A gaming-focused mid-tier phone that is very worthy of its price
After using the Redmi Note 9S for two weeks, I can conclude that this will be a fantastic device for consumers who are looking for mid-tier phones that prioritises gaming performance over other aspects of their phones. With the Snapdragon 720G chipset and the 5,020mAh battery, these are great mid-range features to power through your long gaming sessions with the smooth gameplay experience. Even if you are not into gaming, the big battery will last you more than a day with ease.
With a competitive price of RM799 for the 4GB + 64GB and RM899 for the 6GB + 128GB variants, you will be hard-pressed to find a similarly-priced phone that offers similar specifications. If you are looking for alternatives, you can always look at other models in the Redmi Note 9 series, realme 6 series or HONOR 9X.
We hope our review has helped you in making your purchasing decision. Leave your feedback and comments on our Facebook page and stay tuned for more tech news, reviews and updates at TechNave.com!
Xiaomi Redmi Note 9s Specs & Price >