Reminder - MCMC can 'saman' you up to RM50,000 or go to jail for doing fake news and hate speech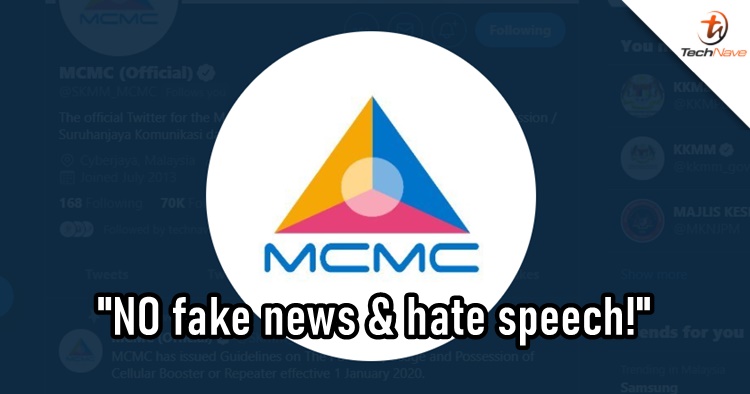 MCO 2.0 will begin tomorrow (13 January) in Malaysia and with that, the Malaysian Communications and Multimedia Commission (MCMC) would like to once again remind everyone on checking facts instead of sending fake news around, as well as behaving nicely when posting comments online. In fact, MCMC will punish anyone who shares any fake news or threatening social posts online with a hefty fine.
According to the latest statement issued by MCMC, anyone who did the following aforementioned acts can be fined to a maximum of RM50,000 or imprisonment for a year or even both at the same time. As long as it falls under Section 233 of the Act Communications and Multimedia (AKM) 1998 that is related to the 3Rs (Royalty, Religion and Race), you could be in trouble big time. Also, the enforcement will be conducted based on complaints from the public according to the provisions of the current laws to protect the public's interest and peace.
Kenyataan Media:

PENGGUNA MEDIA SOSIAL DIINGATKAN JAGA KESOPANAN DAN KESUSILAAN KETIKA MEMBERIKAN PANDANGAN ATAU ULASAN

Klik pautan ini - https://t.co/Yy0BepaRPP#EtikaMediaSosial#MCMC#SKMM pic.twitter.com/W7hvRTexPH

— MCMC (Official) (@SKMM_MCMC) January 12, 2021
If you happen to see any misleading fake news or hate speech on religion and race online, you are encouraged to report to MCMC via Whatsapp application at 016-220 6262 or email to [email protected] Besides, the public can also channel information or report fake news through link https://sebenarnya.my/salur/. We hate fake news too so do your part!
Always check the facts before blindly forwarding to your friends and family. Stay safe and stay tuned for more trending tech news at TechNave.com.