Rumours: 3GB RAM Samsung Galaxy Note 3 Coming in September 2013?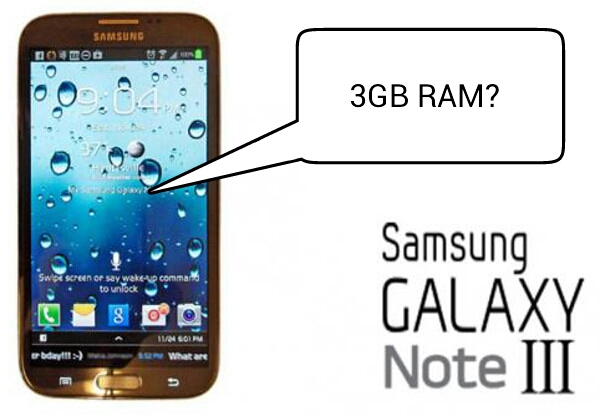 Samsung's next big smartphone, the Galaxy Note 3 is rumoured to finally make a launch appearance on 4 September 2013 at a Samsung Unpacked event. This event will be held just before the IFA 2013 event. These rumours probably started because the first Samsung Galaxy Note was introduced at IFA 2011 while the Samsung Galaxy Note II got revealed at a similar Samsung Unpacked event in September 2012 (again right before IFA 2012). Tech specs for the Samsung Galaxy Note 3 now include:
2.3GHz Quad-core Snapdragon 800 processor
3GB of RAM
13MP rear camera (OIS)
5.7-inch Super AMOLED (1080p) / Flexible 5.99-inch AMOLED screen
Supports LTE-A
8mm thick | 183g
Of note is the 3GB of RAM, which would make the Note 3 the first Android smartphone to ever have more than 2GB. This rumour comes from a report in a South Korean newspaper. In addition to this it also mentions LTE-A support which could mean limited release in just South Korea or the LTE-A bit deactivated through firmware. With it still being July, it's just another 2 or so months before the rumoured event happens, but smartphone fortunes can rise or dive in just a month as has been shown by Samsung's own Galaxy S4 (which we blame on Samsung's deliberate fragmentation of the flagship smartphone). Other rumours include the fact that while the chassis of the Samsung Galaxy Note 3 may not be metal, it may be made from something other than the typical plastic. Alternative materials so far are carbon-fiber but it could just as well be Kevlar like the recently rumoured Motorola Droid Ultra.