Rumours: Accidental Reveals of Samsung Galaxy S4 mini and Samsung Galaxy Tab 3 7.0 Price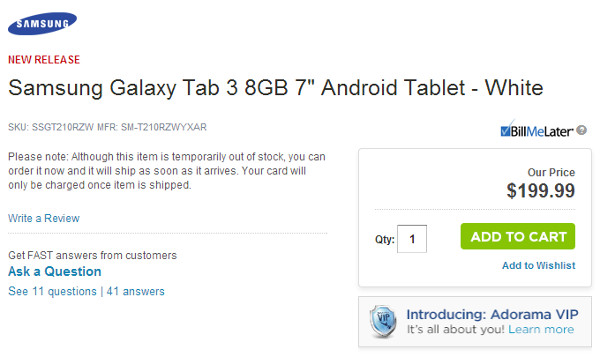 Those waiting for the Samsung Galaxy Tab 3 7.0 could start saving for the tablet a little earlier as the price seems to have been accidentally revealed already. Listed recently by Adorama, a New York retailer, the Samsung Galaxy Tab 3 7.0 was listed as $199 (RM600). Other specs available during the listing include the fact that it was a white device, had 8GB of internal storage, a 7-inch 1024 x 600 display, 1.2GHz dual-core processor and 1GB of RAM. It also had a 3 MP rear camera with a 1.3MP front camera along with a 4000mAh battery. This listing has since been taken down so we can't give you a reference link, however, there is no reason that the price may change. However, don't expect a direct currency conversion as even the $199 priced Google Nexus 7 tablet got priced around RM1000 when it came here in Malaysia.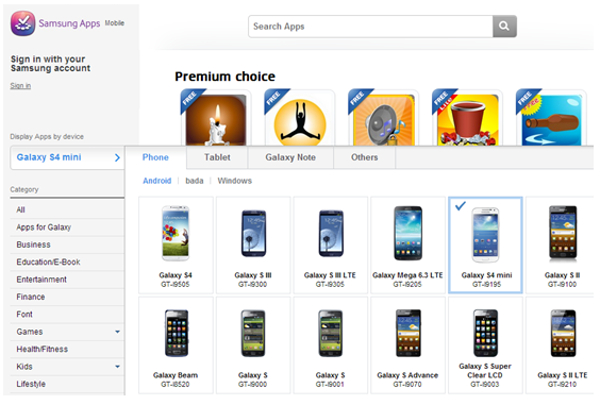 In related news, the Samsung Galaxy S4 Mini was also accidentally revealed, this time by Samsung's own website (SamsungApps), where it listed tech specs such as a 4.3-inch Super AMOLED 540 x 960 display and a 1.6GHz Exynos 5210 processor. Unlike the other accidental reveal, this one is still up which makes it seem as if Samsung may be releasing the Samsung Galaxy S4 mini soon (or at the end of the month as some rumours indicate). However, while this listing seems to still be there for certain countries, it isn't available in the Malaysia Samsung Apps site, so we may have to wait a while before it comes to our part of the world.
[Source]
Samsung Galaxy S4 Mini Specs & Price >