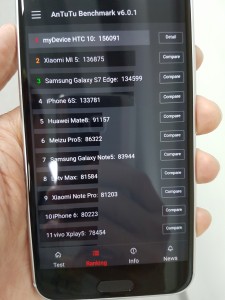 If you're one of those who aren't excited of the upcoming HTC 10, here's a good reason that you should be because according to this recent leak of its AnTuTu benchmark test; the results are power overwhelming.

Beating out other two new flagships of this year such as Xiaomi Mi 5 and Samsung Galaxy S7 edge, we aren't sure if the HTC 10 is carrying an Exynos 8890 or Snapdragon 820, but nonetheless, with that score the HTC 10 could be a force to be reckon with.
Aside from that, we can confirm the device will feature dual rear cameras, a BoomSound technology, fingerprint sensor and possibly a fullmetal body. Stay tuned at 12 April 8pm as we will be covering the HTC event online.
[Source]