Rumours: Leaked Manual confirms Sony Interchangeable lens for Smartphones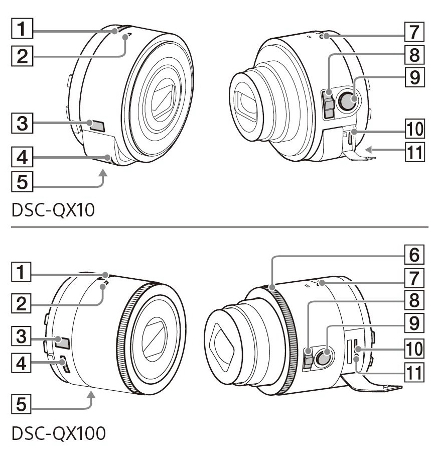 What appears to be a leaked manual of the upcoming Sony DSC-QX100 and DSC-QX10 or interchangeable wireless lens for smartphones that Sony has been reportedly developing has appeared. The images show the two lens along with what appears to be a parts list for all the various parts of the lens. This includes a Power button, microphone, display panel, zoom lever, shutter button, jack and reset button which is listed below:
Power Button
Microphone
Display Panel (shows the card is not inserted / shows the remaining battery charge)
Hook for belt
Tripod
Ring Control (DSC-QX100)
The power / charge / movie (Green: Power on / Orange: running charging / Red: running video)
Zoom lever
shutter button
Multifunctional jack
RESET button
Other information gathered from the manual include some tech specs and measurements for the two interchangeable lens which include 62,5 mm × 62,5 mm × 55,5 mm (W / H / D) for the DSC-QX100 and 62,4 mm × 61,8 mm × 33,3 mm (W / H / D) for the DSC-QX10. The DSC-QX100 will weigh in at 179g while the DSC-QX10 will be going at 105g. Still no news on pricing or availability in Malaysia but supposedly these lenses could be released along with the upcoming Sony Honami smartphone at the IFA 2013 in September.
[Source]