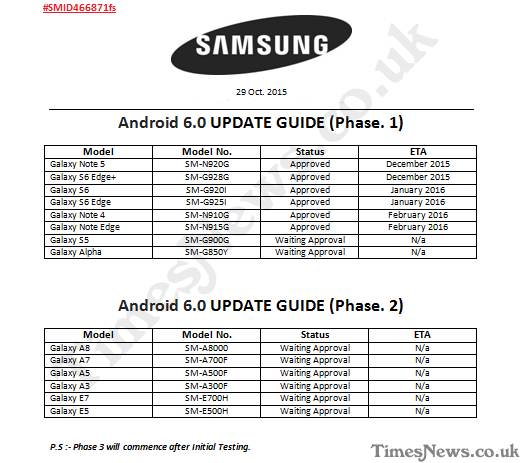 So apparently, there's a leaked image showing various Samsung Galaxy models to be updated with Android Marshmallow. Similar to Marvel Studio Cinematic Phase plans, the image is showing 2 phase plans of which model will be updated first. There's also a third phase, but as of now there are no plans yet and it will only commence after initial testing (same goes to the n/a status below).
Here is the list of update plans if the timetable is too small for you.
Phase One
Phase Two
Samsung Galaxy users should look forward to this because of some neat features. Doze, one of the new features in Marshmallow; puts your smartphone to sleep when it is left idle for a long time. This is different from auto locking, or putting your smartphone to sleep because it also shuts down your background apps saving your battery juice. There's also Google On Tap, which functions like a search bar but more contextual and depending what is on your screen. And lastly, users can permit access to certain features while running an app at the same time.
[Source]