Samsung 43" M7 Smart Monitor review - All-in-one bigger display for your smartphone or other device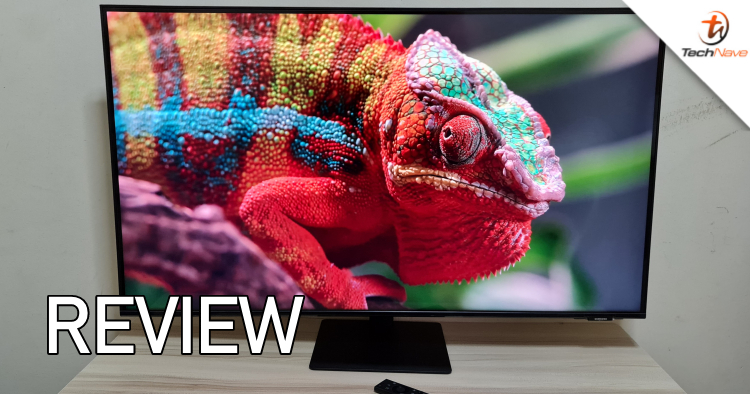 As people are becoming more and more tech savvy with their smartphones, they often become so used to them that they don't even need a laptop or PC. However, there's always that time when you'd like to watch something on your phone on a bigger display. For that reason, there's the Samsung Smart Monitor series, which offers a bigger display for your compatible Samsung phone (and a few other devices) without having to use your laptop or desktop.
The 43-inch Samsung M7 Smart Monitor not only delivers all that in 4K UHD but offers all-in-one support for productivity, gaming and entertainment. Is it the right monitor for your needs? Find out in our full review of the 43-inch Samsung M7 Smart Monitor (S43AM702UE) below.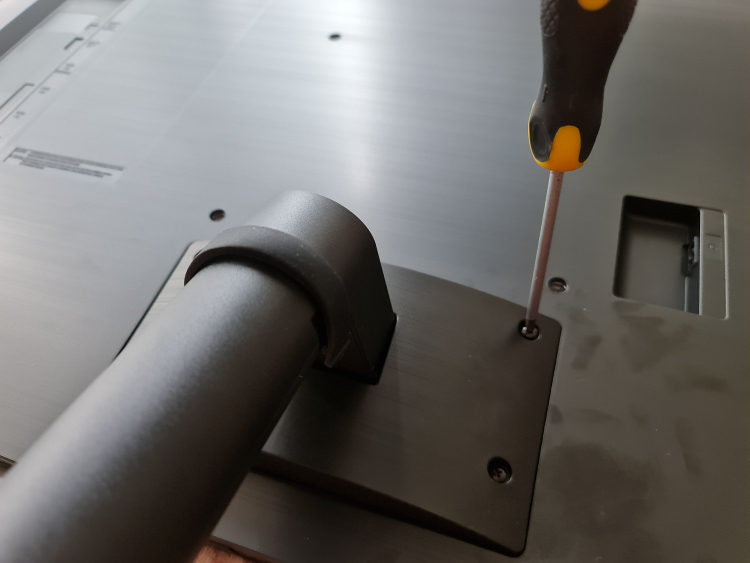 Some assembly required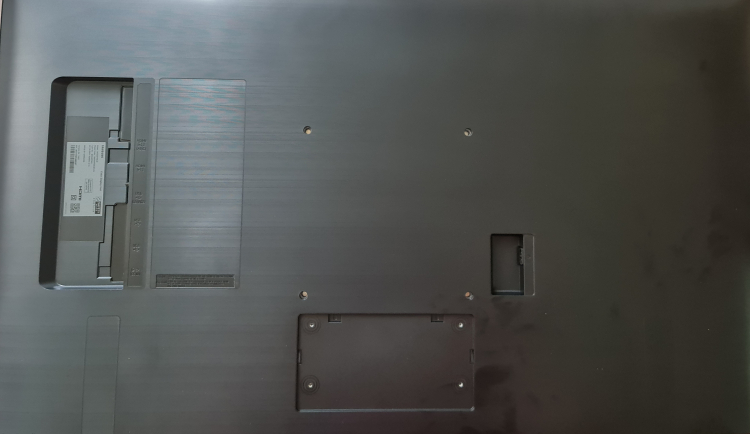 The back panel of the Samsung M7 Smart Monitor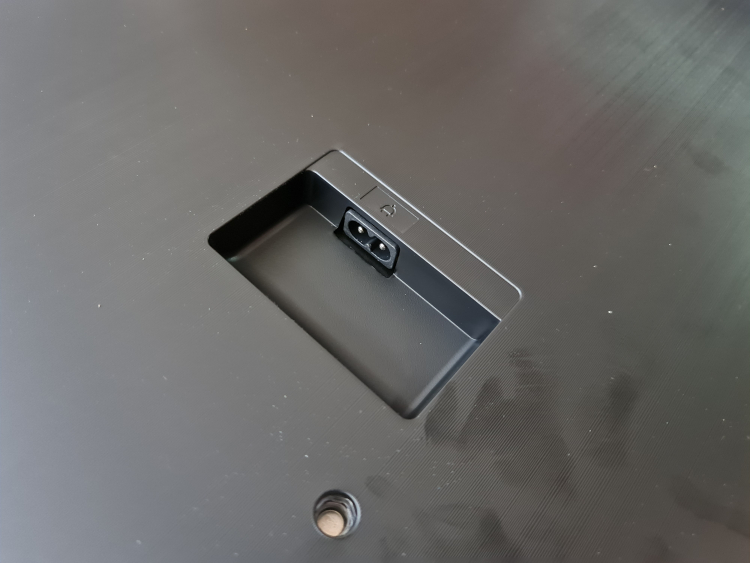 This power adapter socket is inset so you can do a wall mount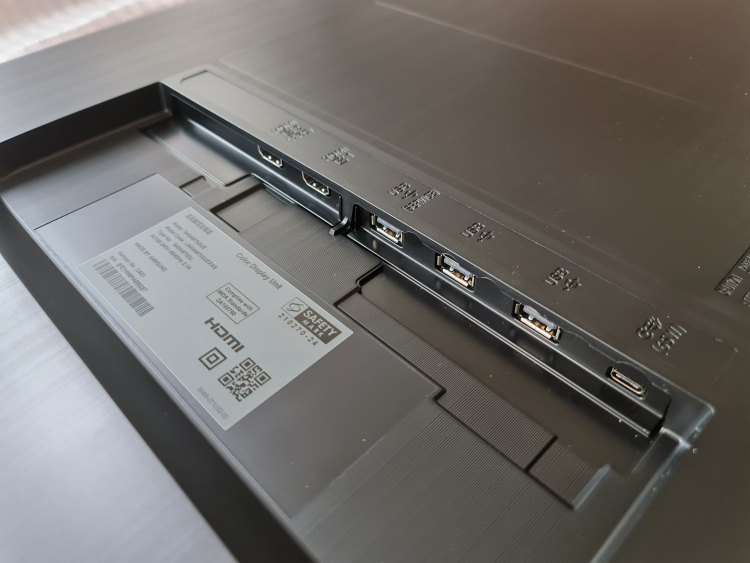 All the ports turns the Samsung M7 Smart Monitor into a full fledged USB Hub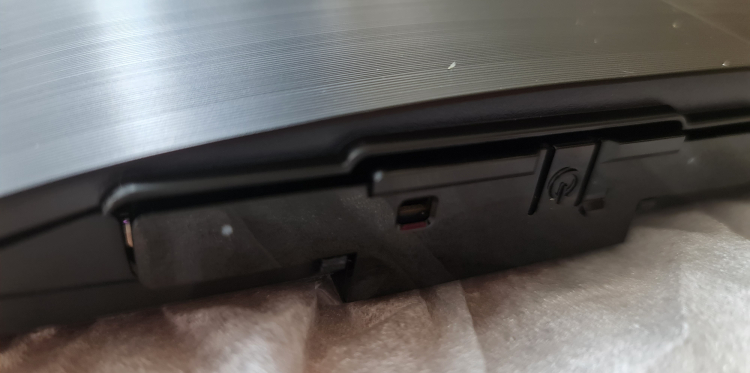 The power button
At first glance, the box of the 43-inch Samsung M7 Smart Monitor reminded me of those 70-inch Smart TV's (yes, it's that huge, or at least the box is), but inside, the 43-inch M7 is just 7.5mm thin. The Simple stand on the other hand is quite heavy but it's understandable given how big the display actually is.
On the back there's the sockets for wall mounting, the stand socket, the power socket and the ports. In terms of wired connectivity, there's 2x HDMI ports, 3x USB Type A ports and 1x USB Type C port. The single USB Type C port also offers up to 65W pass-through charging for your device (laptop or smartphone) too. For wireless connectivity, the M7 offers both WiFi5 and Bluetooth 4.2.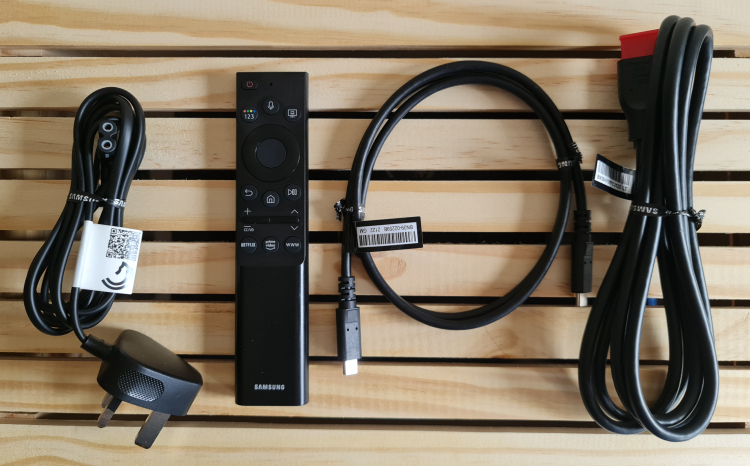 What's in the box for the Samsung M7 Smart Monitor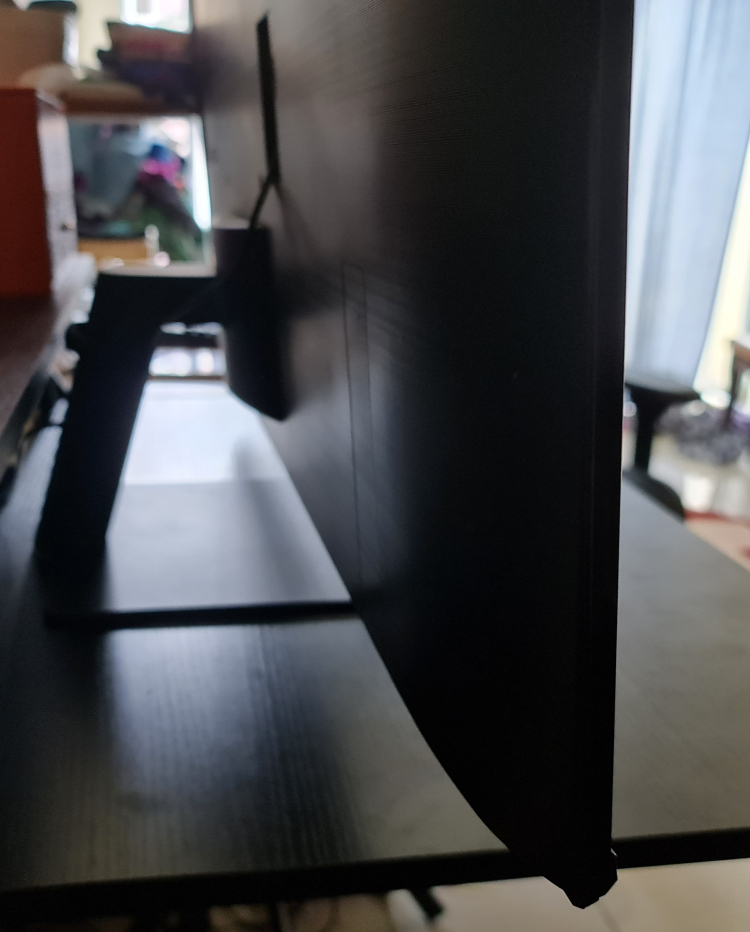 The monitor is thin and light, but because of it's size, the stand takes up a lot of space
The monitor itself is thin and flat which is probably why Samsung recommends that you get 2 people to lift it up or handle it. I expect if I did it myself it would probably flex and damage the screen, so make sure you have someone to help you take it out of the box and set it up. Once you've assembled it, the stand only allows a small amount of tilt though. It also juts out a bit (taking almost half of the space for a 120cm wide desk), so you'll need a fairly big desk.
Unlike the usual curved remote controls you'd normally see for Samsung TVs, the M7 remote control is slim, flat and sports a rather large solar panel on the back. It also has a USB Type C port on the bottom, so instead of inserting batteries, you can charge the remote control via cable or the solar panel. On this remote control, there's the usual omnidirectional circle, volume and channel rockers along with dedicated buttons for NetFlix, Amazon Prime Video, PC Connect and Voice Control.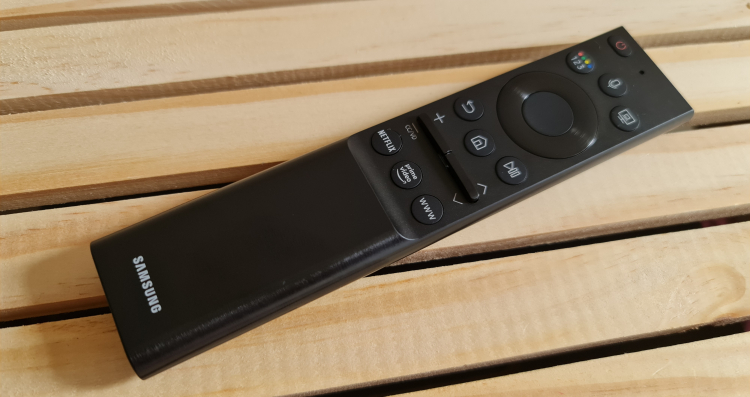 The remote controller for the Samsung M7 Smart Monitor is flat and slim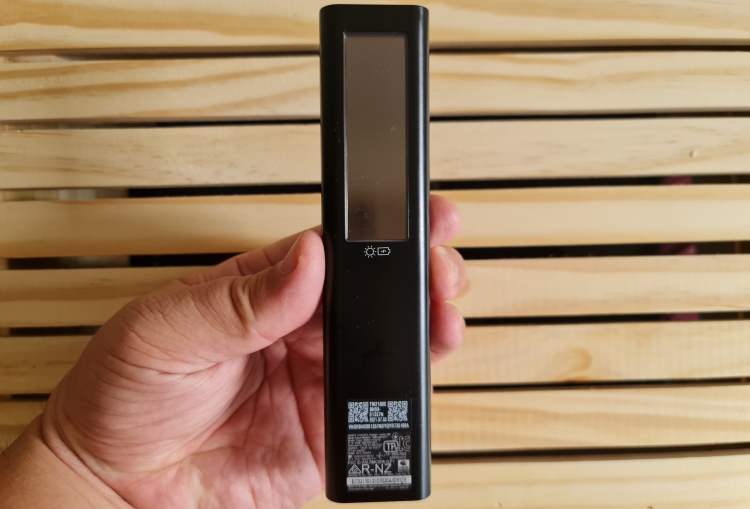 There's a big solar panel on the back of the remote control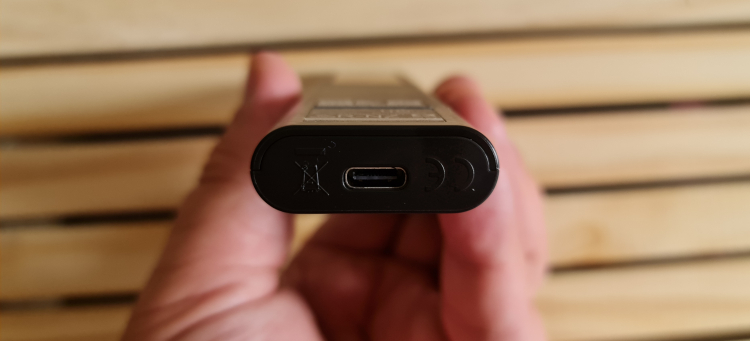 You can also charge the remote control via the USB Type C port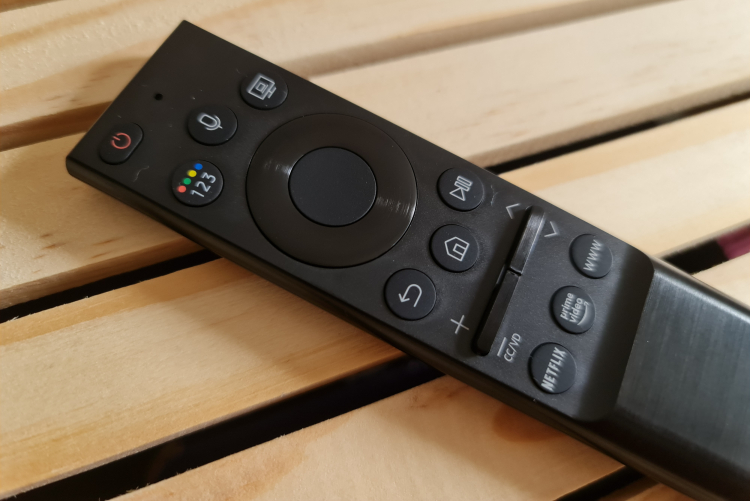 There's a dedicated button for Netflix, Amazon Prime Video, PC Connect and Voice Assist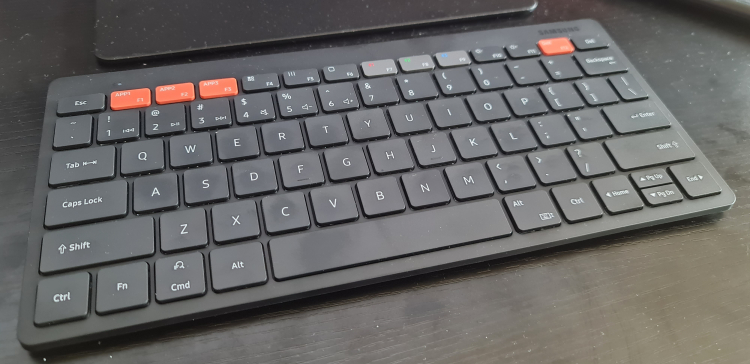 The Samsung Smart Keyboard Trio is also bundled with the Samsung M7 Smart Monitor
Our review unit (and some bundles) came with the bluetooth Samsung Smart Keyboard Trio, which looks a lot like the Logitech K380 bluetooth keyboard, but with rounded square keys. There's dedicated keys for the app navigation, volume and more but like the Logitech K380, the Smart Keyboard Trio needs a pair of AAA batteries. There's also 3 device switch keys near the Esc key in orange, so you can switch to your phone, laptop or the M7 as you need.
Setting up the Samsung Smart Keyboard Trio and a Bluetooth mouse to the monitor is relatively painless, but you do have to be patient as the interface lags with the remote. The steps you have to go through include Home > Settings > External Device Manager > Input Device Manager > Bluetooth Device settings, which can be quite slow and tedious. Alternatively, you can use the monitor like a USB hub and connect a wired keyboard and mouse or a wireless dongle.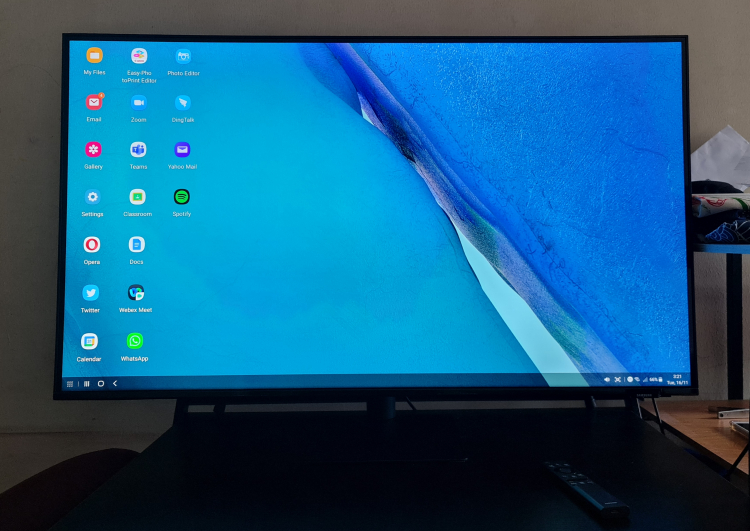 You can use the Samsung M7 Smart Monitor wirelessly with Samsung DeX on your smartphone
You can also use the Samsung Internet browser to do work via Google Docs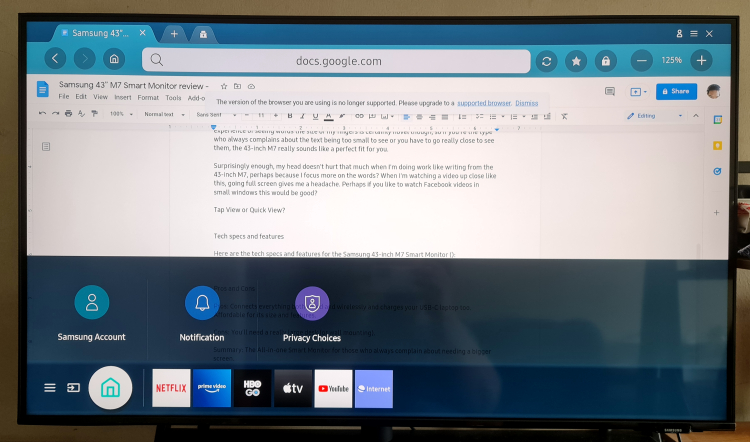 The interface is much like most Samsung displays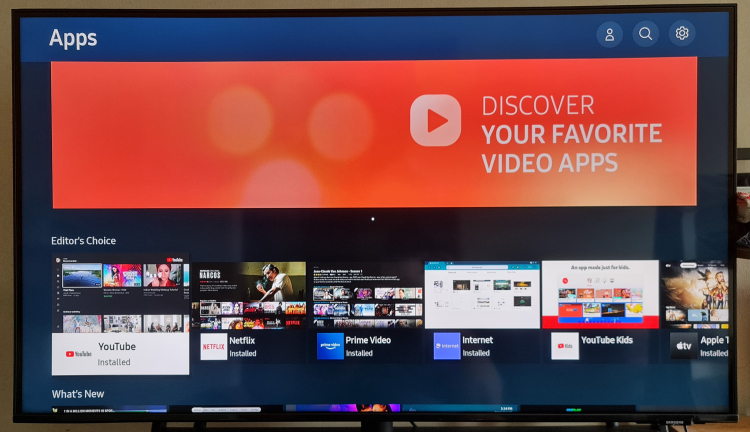 There's plenty of apps to choose from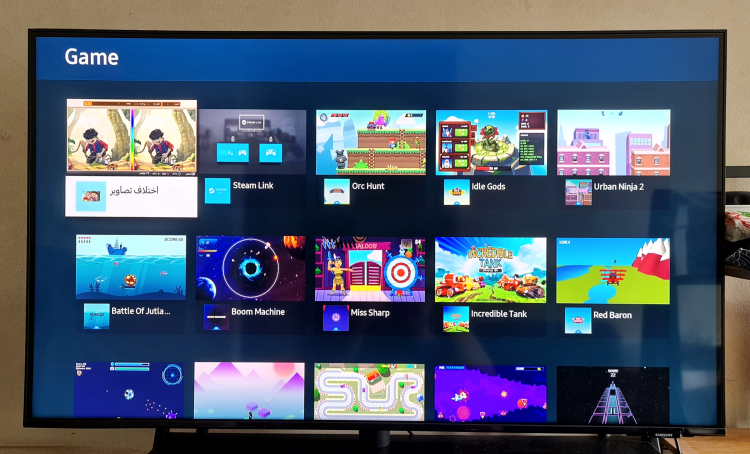 Fancy a game on your Samsung M7 Smart Monitor?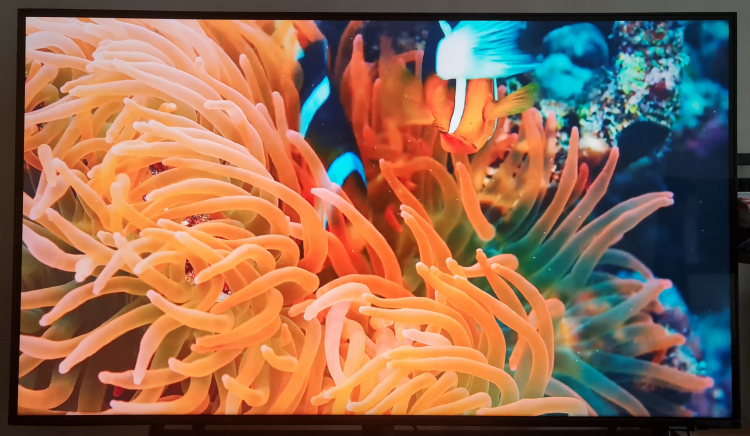 Colours are bright and vibrant on the Samsung M7 Smart Monitor
Trying out the M7 reveals the usual TV and monitor interface as The Premiere projector and other Samsung Smart TVs which is good. As usual, there's a number of apps, games and so forth you can install. We found most streaming video apps like NetFlix, YouTube, Amazon Prime Video, HBO and more, but no Disney+ just yet. The monitor does make most tables seem small though, but it also looks like it'd be more immersive than say a triple monitor setup. The two 10W speakers are loud and clear as well.
The PC to connect menu has an Office 365 shortcut but this actually just opens it up in the Samsung Internet browser. This means it's rather laggy. While there's no shortcut for it initially, you can also use Google Docs via the Samsung Internet browser, but again, it is a bit laggy. The experience of seeing words the size of my fingers is certainly novel though, so if you're the type who always complains about the text being too small to see or you have to go really close to see them, the 43-inch M7 really sounds like a perfect fit for you. Samsung DeX works both wirelessly or via a dock and/or a HDMI cable.
Watching video is awesome thanks to the 4K display on the M7. Colours and details spring out and the various gradations of black and grey means you'll actually see what's going on in night time or dark scenes. Gaming is relatively smooth as well even with the M7's 60Hz refresh rate. The action is still fast, furious and responsive though, so playing games on the M7 is still a fairly enjoyable experience.
Overall, the 43-inch Samsung M7 Smart Monitor works surprisingly well for individual use, especially if you do everything with your Samsung phone but also if you need a single monitor to connect all your other devices and do work without a laptop. We'd say it'd be great for a small meeting room or even as a Smart TV replacement unit as well, but regardless of how you use it you're going to need a large enough space or desk to put it. Alternatively, you could also wall mount it as well.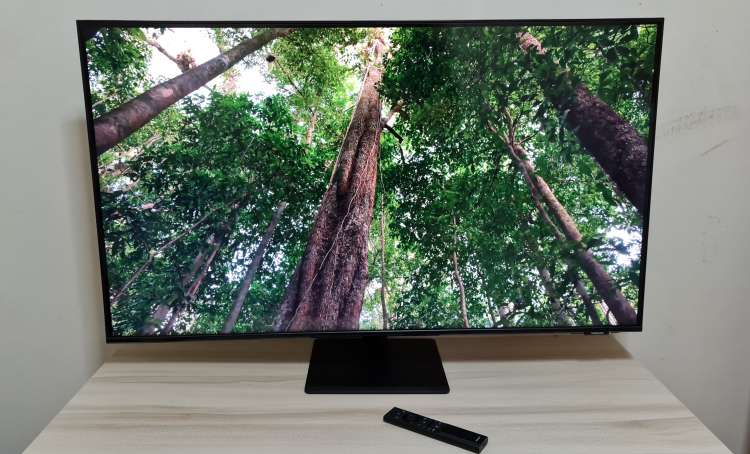 Video looks clear and smooth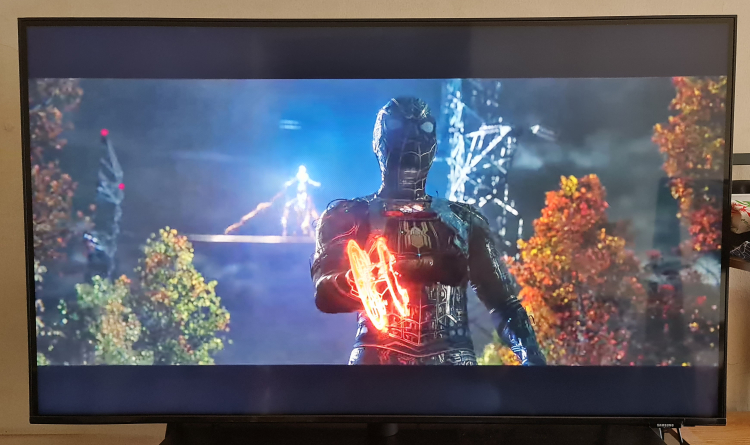 You can clear see the different shades of black for dark scenes on the Samsung M7 Smart Monitor
There's a good amount of ports and connections for nearly all your devices with the M7 so you don't need to get another USB hub, but we would have liked it better if there were more HDMI ports. With Airplay 2 support the M7 should also be good for those looking to extend their screens for their Apple MacBooks as well. However, the rather standard 60Hz refresh rate does mean that it's not that suitable for gaming purposes as well, especially if you're already used to displays with higher refresh rates.
While you can tap your compatible Samsung phone on the side or top of the monitor with the M7's Tap View to do screen mirroring, you can also use the phone's Quick View to connect wirelessly. I wish you could do this for other peripherals like Bluetooth headsets but perhaps this will be updated in the future.
For its price tag of RM2888, the Samsung M7 Smart Monitor is an excellent All-in-one monitor but then again, there's also larger 4K Samsung Smart TVs for around that price tag as well. Granted, the M7 does offer somewhat faster overall performance and can be used more readily for practically every type of use but this depends entirely upon you. If you don't need an all-in-one display without a laptop, this might not be the one for you. Personally, I'd go a size smaller to the 32" M7 Smart Monitor, but that's just me.
What do you think? Would you buy the 43-inch Samsung M7 Smart Monitor for your brand new XL sized computer table and Samsung phone or MacBook laptop? Let us know on our Facebook page and stay tuned to TechNave.com.
Tech specs and features
Here are the tech specs and features for the Samsung 43-inch M7 Smart Monitor (S43AM702UE):
43-inch display (3840 x 2160 pixel resolution)

300 nit brightness

60Hz refresh rate

16:9 aspect ratio

5000:1 contrast ratio

8(GTG) ms response time

178°(H)/178°(V) viewing angle

Supports HDR10+, 2x HDMI ports, 3x USB 2.0 ports, 1x USB Type C (65W charging), WiFi5, Bluetooth 4.2

Features 2x 10W speakers, solar remote controller, Microsoft 365, Tap View, App Casting, Airplay 2, Bixby

Operating system: Tizen 5.5
Pros and Cons
Pros: Connects everything both wired and wirelessly and charges your USB-C laptop too. Affordable for its size and features.
Cons: You'll need a really large desk (or wall mounting).
Summary: This All-in-one Samsung Smart Monitor is for those who always complain about needing a bigger screen to do anything.